August 17, 1945 is the day when Indonesia declared its Independence. That means, just a couple days from now Indonesians are going to celebrate the 68th anniversary of Independence Day. Back then when the whole nation still fought for independence, the Indonesian freedom fighters and the National Army units often shouted "Merdeka!" (victory) to boost up their spirit against the imperialism. Today Indonesians still occasionaly shouts "Merdeka!" to the top of their voices as a symbolic gestures of the joy of attaining independence.
There can be many ways to enliven the celebration. Citizens demonstrate their unique tradition like slippery pole climbing to get various attractive prizes on the top of it, crakcers eating competitions and many other games. What about celebrating it in jazz? Why not. Klab Jazz is setting the next edition of Sunday Jazz to fit the theme, serving it by the name of Sunday Jazz Merdeka.
For this special edition of Sunday Jazz, 6 bands are ready to participate. This episode of Sunday Jazz is special not only because it celebrates the Independence Day but also be used as one of the Pre-Event of the upcoming Indonesian Jass Festival which will take place at Istora Senayan Jakarta on August 30-31, 2013.  This new festival also suits the spirit of nationalism since they only present jazz artists from our own land. Indonesian Jass Festival hopes to unite everyone, rising up the nationalism and supporting the jazz development in Indonesia. 6 stages will host no less than 120 musicians for two days with around 10 hours duration per day, that would surely bring lots of fun. This festival will gives you all the opportunity to see that we have enormous number of great jazz talents along with the idealism and creativity in crafting up their packages. The legends, today's top of the game, the potential newcomers/young lions, big labeled artists and the indies are going to merry this two-day jazz fest. You can read all about this event here: http://jazzuality.com/jazz-events/indonesian-jass-festival-2013/ and find our exclusive interview with the Director, Adrian Bramantyo Musyanif here: http://jazzuality.com/interview/exclusive-interview-with-adrian-bramantyo-musyanif-director-of-indonesian-jass-festival/. Plenty of pre-event has been held in Jakarta and some other cities, now it's time to have it in the capital of West Java, Bandung.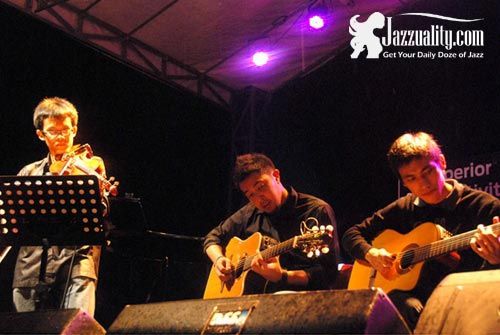 Now let's take a look at the participants. Coming all the way from Jakarta are Sketsa and Danilla. Established in 2009, Sketsa started as a dynamic guitar duo consists of Gerald Situmorang and Dimas Wibisana. One album "Childhood Dreams" has released with good result in the market. They serve music in pure joyful acoustic sound without thinking too strictly about the genre. You can get many musical flavors during the play from pop, Latin, country to fusion. Some songs are relaxingly smooth, some packed with intense actions, some high octane and even epical can come out from them too. Now the duo has a violist Dika Chasmala, young but skillful and experienced jazz violist resides in Jakarta who has played with the duo for quite some times. What kind of jazz would come out from two guitars and one violin? That should grab your interest and bring excitement.
Danilla is the new force in the field of soulful jazz singing. You might have not heard her name that often yet, but this lady holds the key to success. She has beautiful and sophisticated vocals, she can write good lyrics and nice melodies, but for us the major key that can differ her from the rest is her distinctive musical scent and strong concept. She stands in the middle between loungish jazz vibe and the specific nuance of indie scene, then serves her music subsequently in 'darker' tone. Her songs are ear catchy, easy to listen but unique in many ways.
The frontliner of Klab Jazz, quartet Halfwhole Project also joins the lineup. This quartet gets better and better in terms of good jazz playing, spontaneous improvisation and spirited performance. You can see smiles in cheerful mood, rich drumming and wild saxophone playing. Cameo is a band who just found their way back to the surface. This band has five personnels. They are all still young but able to play like a pro. Beautiful smooth jazz/light jazz fusion is their thing, but they often go futher to reach post bop and beyond. After acted as the opening of Sekapur Sirih "Hello Goodbye" concert some months ago (http://jazzuality.com/jazz-event-report/sekapur-sirih-hello-goodbye-the-report/), here they are back again in one solid unit.
If you think variety as something important, what about having jazz fused with traditional Sundanese ethnic? That's what you're going to get, because this particular field will be represented by an ensemble named Sasadana. Five players are going to use the combination of modern, western and traditional, eastern instruments all at once. Last but not least, another fusion performance will be brought by Dazzling Barboovie, a group of five.
So six bands it is for this special edition of Sunday Jazz Merdeka. As usual, this event brought to you free by Klab Jazz in cooperation with the venue, Potluck Kitchen in Bandung and supported by many partners including Jazzuality.com. The Sunday Jazz Merdeka is coming soon on August 18, 2013. Think of merrying your Sunday from early evening until late at night with jazz? This event will give it to you. Don't miss it.
Sunday Jazz Merdeka
Date: Sunday, August 18, 2013
Time: 5:00 pm – 9:00 pm
Location: Potluck Kitchen, Jl. H Wasid no 31, Bandung
FREE EVENT
Featuring (in alphabetical order):
:: CAMEO [fusion post bop]
– Desal Sembada drums
– Valentinus Febri bass
– Iwan Popo piano
– Bagaskara Fulki gitar
– Billy Ramdhani saxophone
:: DANILLA [sultry jazz vocal]
– Danilla vocal
– Lafa Green guitar, director
– Jalu bass
– Christ Stanley Khoewell Kainama piano
– Edward Manurung drums
:: DAZZLING BARBOOVIE [fusion]
– Praga bass
– Gifari guitar
– Rexa drums
– Afkar saxophone
-Sangga keyboard
:: HALFWHOLE PROJECT [post bop]
– Christ Stanley Khoewell Kainama piano
– Gallang Dalimunthe bass
– Edward Manurung drums
– Kenneth Timotius Djaja saxophone
:: SASADANA [ethnic fusion]
– Pangestu Hning Bhawana biola
– Rifky Adam Rahman bass
– Digun Guntara Barnas drum, tatabeuhan
– Lingga Angling Raspati suling
– Mikhael Jason Aditya keyboard
:: SKETSA [ smooth jazz guitar ]
– Gerald Heras Situmorang guitar
– Dimas Wibisana guitar
– Dika Chasmala violin