Ever since 2 years ago we have been entertained by Serambi Jazz with series of jazz delights. Once every two months Goethe Institut with the curator Riza Arshad presented group(s) both from our own resource and also from Germany (twice each year) with certain criterias. Last time on April was a brilliant group named Yakou Tribe which brought a unique concept of picturing the wide scope of the American land and the quiet German night altogether. One must wonder what will it be for the next one, and now here's the answer. For the June 2011 edition of Serambi Jazz it's going to be a "mini festival", since 3 groups (2 from Indonesia and 1 from France) are ready to land at the GoetheHaus for a two-day show. They are: Benny Likumahuwa Jazz Connection, Sandy Winarta Quartet and Éric Legnini Trio. Let's see their profiles one by one.
Benny Likumahuwa Jazz Connection
Benny Likumahuwa is a legendary jazz artist that has already experienced for more than half a century. He's one of the legends who popularized "brass section" in a combo size in the Indonesian jazz history. He might be known as a trombonist, but actually he's a multi instrumentalist. While he's said to be a senior jazz musician, many of us surely still remember that he was one of the artists who trigerred the jazz rock with Jack Lesmana and of course his participation in the supergroup The Rollies in early 70s.
Benny Likumahuwa was born Kediri, East Java in 1946. He started his career profesionally at 11 years of age and became attached with jazz later on. He started to be noticed when he joined The Crescendo in 1966. Two years later he entered the rock group The Rollies in Bandung. With The Rollies he performed all the way to Malaysia and Singapore, even made a record under Polygram Singapore. He merged with Jack Lesmana Combo in 1974 and joined Didi Chia, Pattiselano brothers (Oele, Jack and Perry) in another legendary group named Jazz Raiders two years later. He played with many musicians from all over the world such as Australia, Singapore, Thailand, Malaysia, Laos and Vietnam too during this era.
After Jack Lesmana passed away, he built a team with Abadi Soesman and Candra Darusman before he decided to join Ireng Maulana All Stars that was famous with their dixieland style and also The Syncopators Dixieland Band shortly after. While active in these groups, he was also busy as a sessionist and teacher, something that he still does up until today.
All through his career, Benny has participated in many international jazz festivals. Name some like The Singapore International Jazz Festival (1986), The Jakarta Jazz Festival (every year since 1988), The North Sea Jazz Festival, The Hage, Netherland (1990, 1997), The Asean Jazz Festival di Kuala Lumpur,  Malaysia (1992), Malaysian Jazz Festival (1994),  The International Dixieland Festival, Dresden, Germany (1997), Bali International Jazz Festival (2004),  Festival ala Carte around Bali Island (2004),  Pattaya Music Festival, Thailand  (2004),  Bali Jazz Festival 2005,  Jazz Goes to Campus (JGTC) every year since the first one in 1976 and of course at the Java Jazz Festival.
Yes Benny Likumahuwa has an illustrious career, but until now he likes it better to be called a freelancer. His children are following his footsteps as well. Jilly Likumahuwa stands as an artist who deeply submerges into the Brazilian cultures (music and capoeira) and Barry Likumahuwa is one of the most popular jazz musicians at present, especially among youngsters.
One of the group he's established a couple of years ago and still active until now is Benny Likumahuwa Jazz Connection. This is the group where he shows his happiness by playing with young guns. It's more than a project, because the Benny Likumahuwa Jazz Connection is also used as a ground zero for appreciation, a place to learn and sharing ideas, besides of being a bridge crossing generations and a body where we can still see his everlasting contributions in jazz and our music history in general. While rooted on mainstream jazz, along with the younger partners such as his own son Barry Likumahuwa (bass), Donny Joesran (keyboard), Indra Aziz (vocal & sax) and Dimas Pradipta (drums), Benny uses his weapons such as trombone, saxes, flute and bass to bring more colors into the concept, from neo-bop, Latins, swing, fusion and funk. This is not a surprise since he teams up with young musicians with different backgrounds. "With all said, this group is highly suitable for jazz aficionados in our nation and really deserves to be given a shot at the Serambi Jazz stage", said the conceptor Riza Arshad.
Sandy Winarta Quartet
Speaking of a phenomena, Sandy Winarta is one of the most interesting phenomenas in Indonesian jazz. "He is now an important icon in our jazz scene, someone to look up to for the next generations." said Riza Arshad. The native Balinese son Sandy Winarta actually started with organ electone before he switched to drums after he finished high school. He registered at the Australian Institute of Music in Sydney majoring drums-performance and obtained his Bachelor of Music Performance in 2004. When he returned to Indonesia, he played in many kinds of concert, from small to big sized orchestra and performs with long list of artists/groups such as Glenn Fedly, Balawan, Tjut Nyak Deviana Quartet, Tohpati, Dewa Budjana, Aminoto Kosin Big Band, Benny Likumahuwa, Magenta Orchestra, Dwiki Dharmawan World Peace Orchestra, to the more current ones such as Sarimanouk, Pitoelas Big Band and the most recent one, the outstanding LLW along with Indra Lesmana and Barry Likumahuwa.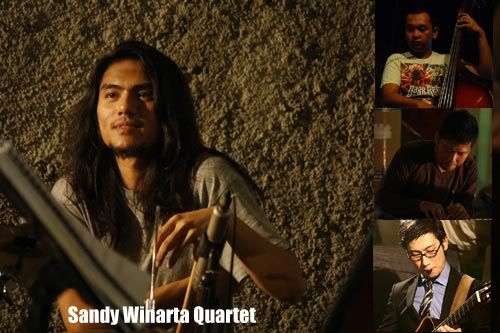 As if these all are not enough, Sandy still needs to bring out his own self by establishing his own groups. We saw the Sandy Winarta Quartet for the first time at Sunday Jazz @ Potluck IV last year. At that time he shared to us his basic ideas of making his quartet. "It's going to be the group to play standards in our own way… I just love to take standards as the template and then go on with our creativity in playing." Just a couple of days ago we saw him in smaller set, Sandy Winarta Trio at Sunday Jazz @ Dago Plaza. With the smaller group he stated to have a slightly different concept. It's still holding the concept of twisting standards into a whole different nuances, only it's set to be cooler. Sandy will bring back his quartet for Serambi Jazz this month with a big change on the formation. Andy Gomez will sit behind the keyboard, Robert Mulyarahardja on guitar and Chaka Priambudi on contrabass. Standing tall as one of the most versatile drummers and composers in Indonesia besides his other activities like doing lots of workshops, teaching and working on his "learn how to play drums" website, it's exactly a perfect time for us to see this wiz that can make his drum sings and communicates fluently.
Éric Legnini
Éric Legnini was born in Belium in 1970. After learning under the guidance of Richie Beirach in New York, he started to play with famous artists such as Serge Reggiani, Henri Salvador and Claude Nougaro. Today he stands as one of the highly talented pianists in the international jazz scene.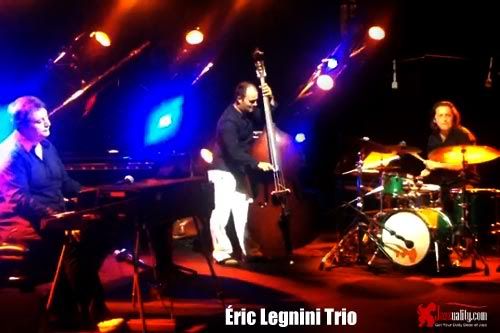 The most recent work of Éric Legnini Trio (with drummer Frank Agulhon and contrabassist Mathias Allamane) called "Trippin'" got good reviews from critics all around the world. Soul, groove, gospel, blues, jazz, swing and funk, all melt inside his interesting musical concept and soon will be ready for us to listen. After three decades of musical journey, Éric now embeds the multitude of all his influences into one stunning concept. The profile he listed at his myspace might introduce him better in more simple way. "Éric Legnini paints a black and white self-portrait, more consistent with the diversity of his pianistic originality." Cette identité, multiforme, those we will find in the magnifique Éric Legnini  from France. The participation of Éric Legnini is the result of cooperation between Goethe Institut and Centre Culturel Français (CCF), Jakarta, Indonesia.
There all the info. Get ready to have a mini festival at the GoetheHaus, courtesy of Serambi Jazz. Three different groups, across generations and across nations will be there to make you drown into two days of pleasantful jazz. Mark your callendar right away. On behalf of Riza Arshad and Goethe Institut, we invite you to join this two-day event. See you there!
SERAMBI JAZZ JUNE 2011 EDITION:
Benny Likumahuwa Jazz Connection & Sandy Winarta
Date: Thursday, June 9, 2011
Time: 08:00 pm – onwards
Éric Legnini
Date: Friday, June 10, 2011
Time: 08:00 pm – onwards
Location: GoetheHaus Jakarta
Jl Sam Ratulangi 9-15, Menteng, Jakarta
Free Entrance, Limited Seats