There's an old saying: "Start Someting Big When You Start". This is one of the old wisdom I always believe in my life. And that's what was happening at GoetheHaus Jakarta last night. Phew, what a night. It was the first concert, the opening of special mutual collaboration between German and Indonesia, in the form of culture and education of music, in jazz to be exact, that will be held all through this year of 2009. Serambi Jazz is an interesting concept about exchanging knowledge and information between two great nation that have always been having jazz in their history of music. Two great nation, that once, had a long history of tremendous relationship in jazz. And now, I'm so happy with this, that relationship is back again ellegantly. It could be seen through last night's concert. I know this is going to be a start for something big. I believe in it.
Riza Arshad, the curator of the program is a man that consistently speaks loud about jazz throughout his career. What a blessing to have this man behind the wheel. With his presence, we all can be sure that Serambi Jazz will be a continuous supply of high quality concert. No doubt about it at all. This great concept came from the Goethe Institute, by Frank Werner, the head of Cultural Program of South East Asia, Australia and New Zealand together with Noviami Dewi, the GoetheHaus manager. Frank Werner explained before the show, that eventhough there are many skillful great jazz musicians in German, they are not too familiar in Indonesia. And vice versa. Therefore a project like this is very important, to introduce the great talents of both nations to each other. Not only by series of events, the partnership will also be extended in workshops. There will be some workshops coming up for composition and band leading.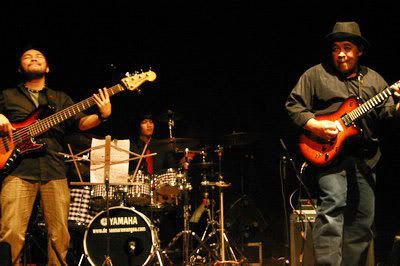 Donny Suhendra Project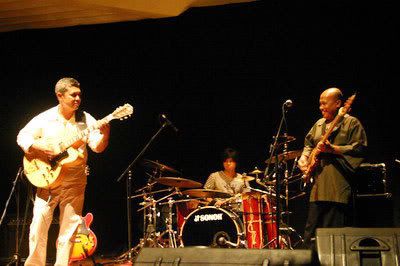 Ligro Trio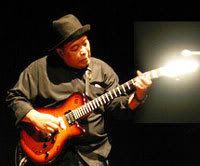 The first concert of this partnership started with two great high skilled group: Donny Suhendra Project and Ligro Trio. Donny Suhendra Project started with a trio. Donny Suhendra (electric guitar), Kristian Dharma (bass), and the amazing young talent, Demas Narawangsa (drums). Together they brought 3 songs. The first song was a brand new composition that hasn't even been titled yet. The second and third one were taken from the album, "Disini Ada Kehidupan", an remastered album of Donny Suhendra Project that just has been released recently. Those two songs were "Pagiku" and "Water". Nice sounds of fusion were given by this trio.
Then a guest vocalist with amazing soulful voice came on stage. Hans Bartell gave a soulful touch to Donny Suhendra Project's fusion style with the song called "Akulah Aku". It was great. Then came a special reunion. Samuel Budiono, a keyboardist came on stage. Samuel is a long time friend of Donny. They were together once in a band named D'Marzio, a fusion band established in Bandung in the 70s. What a great idea to have the reunion on stage. Along with Samuel on keyboard, they brought two compositions. One was taken from D'Marzio album, "Sandiraga" and then followed by Chick Corea's Spain. Donny Suhendra Project's performance closed with their new song: "Jazz Goes To Campus", a song that was made for an annual event with the same name. After the show, Kristian said that he always loved performing at Goethe, because he loved the sound system. In many events his bass sound usually got covered by drums, but not in Goethe. I could see how much he enjoyed his performance last night. Donny Suhendra is always known as one of the greatest guitarist in Indonesia today, and he proved it again. Demas is a boy wonder. He already started his career as an amazing drummer from the age of 7. He gave out a strong play. Great and enjoyable performance by this group indeed.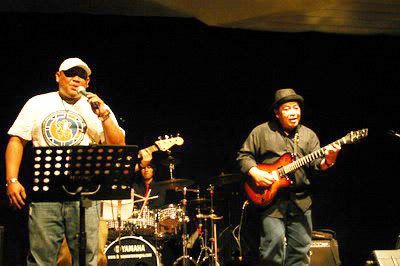 Hans Bartell with his soulful voice blends harmoniously
The reunion of old friends that once were together in D'Marzio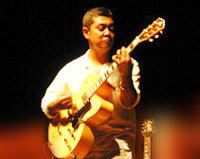 Then came a group that's difficult to describe. A group called themselves Ligro Trio came on stage and the night would never be the same. Ligro Trio consists of Agam Hamzah (electric/acoustic guitar), Adi Darmawan (electric bass) and Hendi "GIGI" (drums). Let me try to explain why. They brought the audience to an unforgettable journey into the darkest side of jazz. Manic. Wild. Crazy. Or whatever you may call this. They played a rebelious free form of fusion, with heavy rock and blues taste, plus a little ethnic/world music touch here and there. There were 4 kendangs (traditional drums) tied on Hendi's drumset. In short and easy sentence I would say "Jazz Rock", but believe me, if you heard them, you'd know that you'd get a lot more than just that. The audience were like hypnotized. I saw many photographers  got stunned and forgot to take pictures along their show. Imagine this. A nonstop set of songs that could steal your soul and place it in a rollercoaster ride through the dark tunnel, and find yourself pleasuring all the dark side of jazz. I'm exaggerating? Nope, It was absolutely insane. Wait until you see them, you'll understand what I'm talking about. It was a performance that glued you to your seat. Yes, they brought their compositions like "Saman Spot", "Garba Biru", "Radioactive", "Bliker", "Green Powder", "Paradox", but seriously, I don't even want to call them songs. I would rather call it "episodes", which were related from the start to finish. It was a continuous journey, the brilliantly set the audience from the beginning, placed us into the crazy ride, got deeper and deeper, and then safely drove us back to the surface in the end. It was absolutely intense. What an unforgettable experience of listening.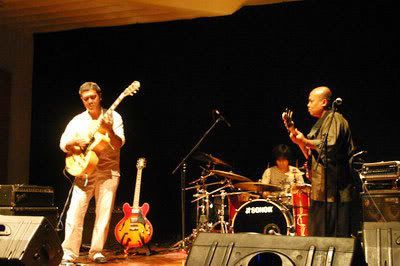 Ligro Trio in action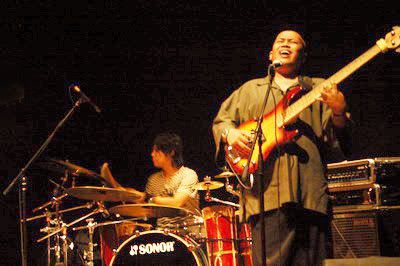 Adi Darmawan with some ethnic vocal touch
Again, it was a fantastic night. Strong performances by two high skilled group delivered successfully at GoetheHaus. In the end I said "wow… this is jazz." The music of art, that can brilliantly fuse many things in it and deliver an extraordinary sound as the result. I urge you not to miss the next event, "Floriant Ross Trio concert with Indra Aziz Project" on April, 16 & 17, 2009 at UPH (Pelita Harapan University) and Goethe Haus. (check the complete schedule for a year here). Big standing applause to Goethe Institute in collaboration with Riza Arshad for this Serambi Jazz event. Also thank you for everybody involved in it, thank you for making this great project. May this project benefit and enrich the culture of both Indonesia and German. I'll close this article with a lesson learnt from Serambi Jazz: "When you start something, start it big." See you at the next event!
Reporter: Riandy Kurniawan
Photographer: Novan Yahya Renatal