The year 2013 marks the 5th year of Serambi Jazz, a fruitful program made by Goethe Institut Jakarta which celebrates the harmonious friendship between two great nations, Germany and Indonesia through jazz. Since it was launched in 2009 we have seen many success story almost in every edition. Today there are many die-hard fans of Serambi Jazz, and on the other side, there are also bands that started their journey from the workshop of this program.
So, what's next? Is there anything else that Serambi Jazz hasn't done yet? Actually there is. For the past 4 years they held concerts every two months mostly by featuring a band (sometimes two), presenting skillful musicians who have dedicated their life to jazz; two of the episodes would feature German (or European) artists/bands who also hosted a workshop. For 2013 they move on with something new, it's the collaboration between German and Indonesian musicians which will happen for the very first time in Serambi Jazz series! What a way to start this challenging new project by involving two genius from two different sides of sphere: the curator himself, key-wiz Riza Arshad and guitarist Kai Brückner . There are many important highlights that will appear from this collaboration. Curious? Don't worry, we will spill it up for you.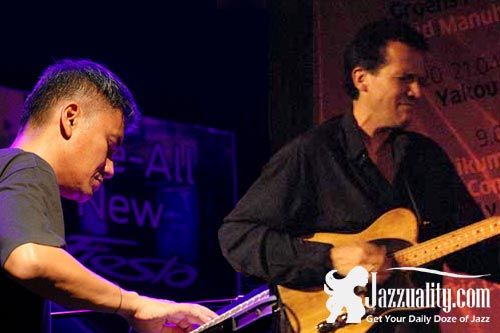 First, let's hear what The Assistant Cultural Programme of Goethe Institut Indonesia who also acts as the Coordinator of Serambi Jazz, Dinyah Latuconsina wants to say. According to her, this kind of collaboration between Indonesian and German musicians will happen more often in 2013. "This is according to one of the goal of Serambi Jazz, to provide space for sharing knowledge and experience." says Dinyah. Still according to her, there are many other moves that Serambi Jazz wishes to do, including widening the territory to reach Surabaya and building synergistic connection to other European countries. ""We always give the possibility for musicians from the other parts of Europe to participate at Serambi Jazz too." said Dinyah. Back to the collaboration, Dinyah also stated that Serambi Jazz wants to keep the consistency by placing variety as one of the most important keys in running it. So if you have seen so many high quality jazz bands/artists under the flag of Serambi Jazz, it's time for you to see the next step of this program by combining two worlds into one distinctive, unique and magical jazz craft.
If the showdown between Riza Arshad and Kai Brückner alone already give you bumps, wait until you hear this: Riza Arshad will bring his simakDialog rhythm section which consists of Endang Ramdan, Erlan Suwardana (kendang) and Cucu Kurnia (metal toys), while Kai will be accompanied by Paul Philipp Kleber on bass. Now you can imagine how they are going to melt two different cultures and backgrounds with jazz as the glue. Where does this come from? Let's hear the story from both angles to get a complete frame.
"I've been initiating a group which plays jazz with Indonesian nuance as a part of introducing and socializing how jazz grows and assimilates in Indonesia, the way I do in simakDialog – where the set of drum is being replaced with Sundanese kendang. This becomes interesting because all through the Serambi Jazz program I've been observing many German jazz musicians, which according to me, have specific jazz color the way it grows and assimilates in there. Eventhough I'm not familiar with the kind of music that Germany has traditionally, you can clearly differ their jazz sound than the origin of jazz, USA." said Riza Arshad. From there, he offered his music to Kai Brückner who has participated in Serambi Jazz under his band, Yakou Tribe exactly 2 years ago. He was interested and very much agreed to collaborate. "Eventhough it may sound 'odd', but the freedom which is layered by strong, universal grip in jazz will make this cooperation interesting to play", Riza added. "I truly believe that this asimilation in the democratic jazz will give benefit to me, Kai and every other involved player, and of course to you all, jazz lovers." Riza continued while also hoping that the collaboration like this would strengthen the good connection between German and Indonesian jazz musicians. "That's the mission of Serambi Jazz and at the same time, complimenting the world's jazz development." he said further.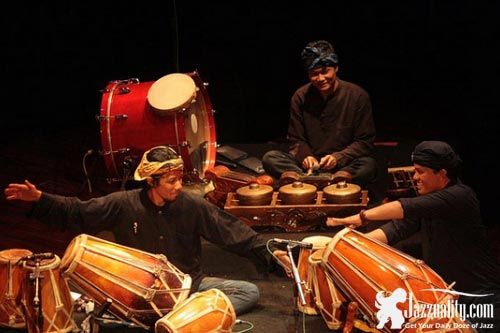 From Kai we got his side of the story. "I met Riza when I was doing a tour and a workshop in Indonesia for the Goethe-Institute in 2011. Since I had never been to Jakarta before, I was overwhelmed by music scene and its diversity. It was then already that Riza suggested a cooperation of some kind in the future. How could I say no? I had already listened to some of his music and liked it a lot." Kai carried on by explaining how he feels about working on this unique project. "International projects like this are very rare because it is usually an established band that travels to present their repertoire. In this case we will be developing a whole new concept and play our original music in a setting that is very different for each one of us. The instrumentation will be new for me and it will be giving our tunes a sound that we never heard before." In the end he wraps with "I am very excited and looking forward to this."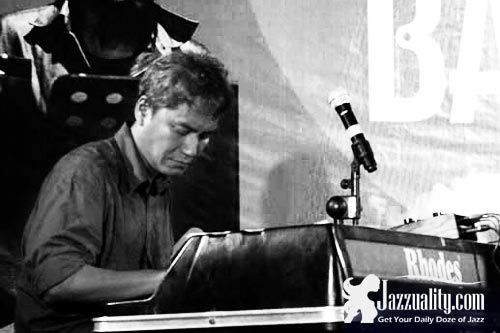 Let's see a little profile of them. Riza Arshad is one of the most important jazz icons in Indonesia who has dedicated most of his life to deal with the progress of jazz development in Indonesia. He established two highly interesting groups which for us should be listed in the Indonesia's jazz historical timeline: the subtle funk with ECM taste and other toppings, #3scapes (formerly known as the Trioscapes) and the ethno-jazz progressive ensemble, simakDialog. With his simakDialog, he has been observing, experimenting and inventing the role of Sundanese kendangs and metal toys to replace the drums for almost 2 decades. Their albums have been distributed internationally by MoonJune and so far received so many praises from critics and jazz fans all over the world. The #3scapes who recently rebooted jazz performance at the famous ITB's landmark Aula Barat (…) has successfully shown that their music is far different than the usual fusion pattern. It's 'beyond expectation', challenging and bravely filled with total freedom. Other than his activity as playing musician, he also works as the curator in ITB and Serambi Jazz, also constantly helps younger jazz players to grow either by giving suggestions, discussions or providing time and place for them to absorb the spirit of playing live on stage. Once he told us that "Brain provides enormous facilities. There's no technology can measure the capacity of a brain since it is complex and complicated. When it receives the good information, the brain will produce good things that can be beneficial for us and others. I'm living in jazz music. For me, jazz is a culture with values that we really need to understand. My brain produces jazz in wide scopes." This quote would be perfect to explain what he has on his mind and how creative he is as a jazz genius.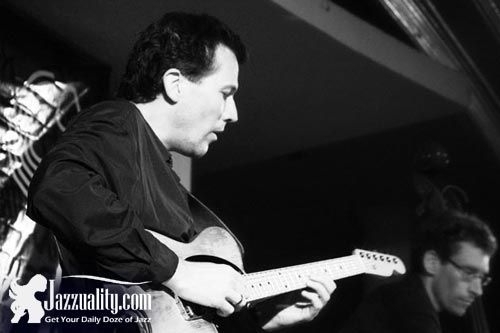 Kai Brückner began his journey by learning guitar since he was still 8 years old, or in his own words he describes it as "as long as I can remember." In 1984 his family moved to New York and started to get hooked with jazz through his father's collection, most especially with Chaka Khan's "I Feel For You" album and the funk legend Sly & the Family Stone, as he told us before. During his teenage years he played with various rock bands around Berlin then decided to study at the Hochschule der Künste (College of Arts) from 1990 to 1994. His teachers are, among others, John Abercrombie, Mike Stern, Charle Banacos, Wayne Krantz and Richard Boukas. In 1999 he received a scholarship from Berlin senate to continue his study at the International Workshop in Banff, Canada, learning from the likes of Dave Holland, Dave Douglas and Kenny Werner. Among many groups he's in, he came to Indonesia as a part of 2011's Serambi Jazz program with Yakou Tribe. We came to the concert in Bandung and tasted his ellegant guitar playing for the first time (read the report here: http://jazzuality.com/jazz-event-report/serambi-jazz-presents-yakou-tribe-the-report/). At that time Kai and his 3 other companions rolled out their music which more or less gave us chance to feel the wide scope of American land and the quiet German night altogether within their modern jazz approach. We still remember the way he performed. He could look seriously into his play, at other times he could smile and tease his compatriotes. We never forget his full-spirited action, how good it is to know that he's back again to Indonesia with a very special project like this. Since he's been doing different projects from East Africa, China to India, this one would surely add another gem into his account.
6 musicians from 2 sides of the world, two different cultural backgrounds and traditions will unite inside one universal 'language', jazz. Imagine Kai's strong modern jazz texture with fine blend of European-American style collides with Riza Arshad's magic touch over the keys and the set of Sundanese kendangs and metal toys, that will surely give something different, if not creating a whole new dimension of jazz. You may say that you have watched many of Serambi Jazz editions, but you ain't seen nothing yet if you haven't seen this one. The concert will be held in 4 different locations: at Sekolah Tinggi Seni Indonesia Bandung (April 16), Institut Teknologi Bandung (ITB), Aula Timur (on April 17), GoetheHaus Jakarta (April 18) and Insitut Musik Indonesia, Jakarta (April 19). As a part of the educational side of the program, Q/A session will be provided in both of the music schools/academies and 3 days Workshop at GoetheHaus Jakarta from April 20 to 22, 2013. Get ready to taste the madness, witness the birth of unique jazz vibe through the collaboration of two different worlds.
SERAMBI JAZZ: Kai Brückner And Riza Arshad
Featuring:
Kai Brückner – Guitar
Paul Philipp Kleber – Bass
And
Riza Arshad – Piano
Endang Ramdan – Kendang
Erlan Suwardana – Kendang
Cucu Kurnia – Metal Toys
BANDUNG
April 16, 2013: Sekolah Tinggi Seni Indonesia (STSI)
Jl. Buah Batu, Bandung
7:30 pm – onward
Concert and Q/A Session
April 17, 2013: Institut Teknologi Bandung (ITB), Aula Timur
Jl. Ganesha 10, Bandung
7:30 pm – onward
Concert
JAKARTA
April 18, 2013: GoetheHaus, Jakarta
Jl. Sam Ratulangi 9-15, Jakarta
7:30 pm – onward
Concert
April 19, 2013: Institut Musik Indonesia (IMI)
Basuki Building, Jl. Pulo Lentut no 2, Jakarta Timur
7:30 pm – onward
Concert and Q/A Session
April 20-22, 2013: Workshop at GoetheHaus Jakarta
ADMISSION FREE/GRATIS