For 3 years now Serambi Jazz has been in service. Since 2009 we have been spoiled with so many groups both from our own source and selections from Germany. By holding the quality in tremendous spirit, Serambi Jazz has built its loyal fans ever since. Not only it provides such alternative for jazz lovers especially those who reside in Jakarta, this event has successfully worked on the educational side. Keep in mind that Serambi Jazz will continue to run for the fourth year in 2012. We are excitedly waiting for the lineup for next year, but before that, here we come to the last edition of Serambi Jazz for the running year of 2011. For this final show Goethe Institut and the curator Riza Arshad has prepared a very special collaboration between Shadow Puppets Quartet and Mian Tiara.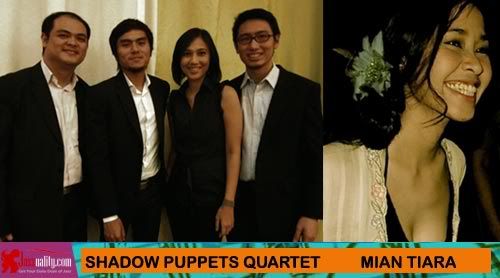 Let's see their brief profiles and the concept they are going to bring on this edition of Serambi Jazz. Both of them were the alumnis of workshops made by Serambi Jazz. While Shadow Puppets was formed right after four of its founding members (pianist Irsa Destiwi, guitarist Robert Mulyaraharja, contrabassist Indrawan Tjhin and drummer Yusuf Shandy Satya) sparked an instant chemistry when they attended the Henning Sieverts' workshop back in December 2009, Mian Tiara attended Kristiina Tuomi and Wolfgang Haffner's workshop in February and November, 2010. "Both of them were the alumnis of Serambi Jazz, but at the same time their existance gives compliment to the Serambi Jazz itself." said Riza Arshad about this December lineup. "To have them as the alumnis of the workshop has become a proof that this program has been running so well." he further added. Indeed it's true. Both Shadow Puppets Quartet and Mian Tiara now has become two of the force in our independent music scene, particularly in the jazz corner, and they are certainly not a stanger to Serambi Jazz at all. That's something interesting of course.
Since 2009 Shadow Puppets has released two albums; one EP: Extended Play and one full album: Strings Attached-Live at Birdcage (both albums are available at our online store, click each album to purchase). This group is interesting not only by their individual skill but also by their way in offering many flavors while still deeply rooting their work in the rich tradition of jazz. With each member having different background- Irsa with her classical and music industry background, Robert and Indrawan with their jazz background, both graduated from overseas (Indrawan was from Koninklijk Conservatory of Den Haag and Robert was from Berklee College of Music, Boston, USA), and Shandy with his raw talent- Shadow Puppets sets out to bring a fresh sound to the music scene in Indonesia. Shadow Puppets' compositions vary in styles, from straight up bebop to lyrical themes of homecoming, longing, and loved ones to folk inspired melodies, all thick with nuances and soulful improvisation.
Now Shadow Puppets Quartet appears with a new color. Yusuf Shandy Satya resigned from the group in mid 2011. They moved fast to find the reliable substitute, and they found it in Sandy Winarta. He's one of today's busiest drummer. Other than leading his own Sandy Winarta Quartet and being a sideman in many groups, he's also working alongside Indra Lesmana and Barry Likumahuwa in LLW and the list goes on. It's going to be interesting to check how the new color of Shadow Puppets appears with the presence of Sandy Winarta.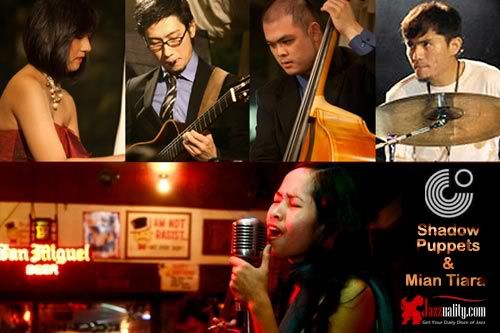 Now let's see the multi-talented girl Mian Tiara. She's been doing her thing in music as a lyricist, singer, songwriter, back up singer and jingle maker back since 1997. She had her first project in 1999 as a lyricist for Ermy Kullit's "Saat Yang Terindah". There she got the opportunity to meet and work with who's who in this industry such as Indra Lesmana, Riza Arshad, Aksan Sjuman, Benny Likumahuwa and many others. TWo years after that she continued to work with Indra Lesmana for Andien's then album, "Kinanti", followed by "Rumah Ke Tujuh" OST. With this soundtrack, both Indra Lesmana and Mian Tiara received the AMI Awards and Bandung Film Festival. She also gave her signature in the famous compilation album "Jazz Masa Kini" in 2006. She was featured in Goodnight Electric, The Upstairs, Leonardo, and with other musicians/bands. Apart from this activity, she was the tour manager of White Shoes & The Couples Company.
She has performed in many prestigious festivals such as Java Jazz Festival and Bali Spirit Festival both in 2010, Djakarta Artmosphere 2010, the 33rd Jazz Goes to Campus, Musik Perempuan at Salihara, Langgeng Art Foundation Yogyakarta, Interlude 6th edition and one unforgettable gig in Sunday Jazz Festival at Segarra Beach, Ancol. Her album "The Comfort of My Own Company" was released a year ago and received praises from many. (The album is available at our online store, click here to purchase). Recently finished a recording for one music project – a band called Yo Grabo, with her drummer, Reza Achman and a two of their friends from Sydney, TJ Eckleberg and Didi Mudigdo – besides preparing her second album which will be out in the near future.
So, what are they going to bring on stage for Serambi Jazz? Hear this, they are going to give a very special collaboration. Shadow Puppets will play their own songs, but also will accompany Mian Tiara as well. That means we will have the chance to listen to Mian Tiara's songlist in Shadow Puppets' flavor. How will they sound? It's something that you should see and listen yourself.
About the Serambi Jazz itself, we have received a good news that this program will continue to run in 2012. This regular two monthly event hs been running very well so far. No matter who performs, the attendances are always spectacularly high. That shows how the jazz aficionados appreciate this event that goes along side by side with the educational packages. "We're happy to inform you that this program will keep on running for the fourth year. We have prepared the schedule for 2012." Riza Arshad said. He also wishes Serambi Jazz will continue its role in giving up such contribution in our own jazz development. "It's our commitment to present Serambi Jazz for our own goodness and as a media to connect the jazz communities in our nation, and also between Germany and Indonesia. That's a really good news, and we are more than happy to continue our support for this very good cause.
All said. Mark your calendar now and make sure you won't miss the Serambi Jazz 2011's final edition. See you there!
Serambi Jazz 2011 December Edition: Mian Tiara and Shadow Puppets Quartet
Date: December 9, 2011
Time: 7:30 pm – onwards
Location: GoetheHaus
Jl Sam Ratulangi 9-15, Jakarta
FREE OF CHARGE, LIMITED SEAT
For more info, please contact Goethe Institut: +62 21 23550208 ext 147 or email them at kultur@jakarta.goethe.org