Think of this: how lucky Indonesia is, 'jazzly' speaking. Eventhough jazz wasn't originated from this part of South East Asia, from time to time we do have amazing talents who already shone since the early years of their life, almost in every position in a band. Subjecting the piano, there have been many great pianists who actually sparked some magic even before they became teens. Indra Lesmana surprised everyone when he performed with his father Jack Lesmana in Bandung exactly 37 years ago at the age of 10, we got David Manuhutu, currently studying at Berklee College in Boston USA, these are just two of the examples of 'wonderkids' who started early and now achieve success. Like David Manuhutu, there's a very young pianist from Bandung who we have been keeping our eyes on since at least 3 years ago, his name is Yonathan Godjali.
We met him first of all when he was a member of Fifteen Plus, a group consists of mostly teenagers, later he stepped higher by becoming the keyboardist of Tulus' band. With both of these bands he already tasted the glory by performing in the Java Jazz Festival three times, in 2010 edition (with Fifteen Plus) and in 2011-2012 (with Tulus). Other than this, he won the Jazz Goes to Campus 2010 Competition, both with the band and as the Best Keyboardist. For someone so young with these kinds of achievements, normally one could think that he doesn't need anything to show anymore. But Yonathan thinks differently. Listen to this: he's going to have his own piano recital for the very first time as a part of the regular two monthly event of Institut Français d'Indonésie (IFI) Bandung, Saung Jazz. The concert of Yonathan Godjali comes with the title of "My Favorites."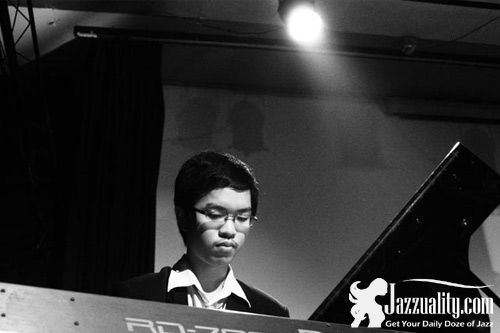 Just like some of you might ask, we also wonder how he came up with the idea. Yonathan answered that question by explaining that he first thought of it at the end of 2012. "All of a sudden I wanted to make a solo concert, which later turned into a resolution" said Yonathan. What's it for? According to him, he needs some space where he can bring out his own soul and style, what kind of jazz he's really into or songs he takes as something personal. "Usually I played alongside my bands or supporting others, by performing in a band I can't bring out my innerself too much." he said. Lucky for him, Saung Jazz responded his wish and place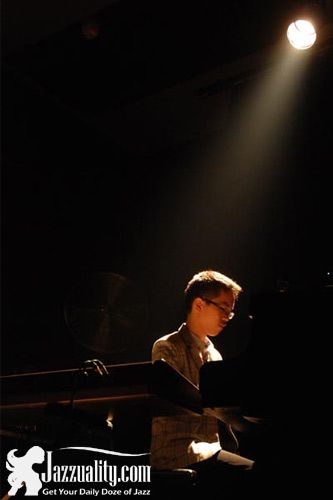 d him in schedule for the April's edition. What does he feel? "I'm kind of nervous since this is going to be my first time, but I'm really, really excited!"
Before we carry on, let's see a brief biography of him. Yonathan started playing piano since 4 years old in Kelas Musik Anak (Children Music Class) then took two private classes, classical with Liestyani and pop with Bambang Purwono (the keyboardist of Kahitna). At the age of 9 he learned jazz from Yahya while carrying the classical lesson with Indrawati. He took a big leap after that by learning from the maestro Bubi Chen for 3.5 years where he finally built to find his own playing style. He carried on learning both jazz and classical from senior teachers such as Stephen Michael Sulungan and Bambang Nugroho. Having learned by a lot of maestros in both jazz and classical fields has made this boy full with skill. Add it with natural talent and gift from above, he emerged so early as a young pianist who could play serious jazz with fine improvisation while on the other hand strengthened by a very solid basic received from his classical lessons. Currently he's out of the lessons and  focuses on developing his playing style. He can play very serious like a scientist doing research, but he can also be playful, the way you see his act in the e-flyer above.
After enjoying his colorful piano play from Fifteen Plus and Tulus, it's time to find out his own self in music. Through this event, Yonathan is inviting you all the enter his world, listening to the songs he favors along with his fine interpretation over them. If you have noticed him before, it's not difficult for you to guess that this kid does have a very special talent, if you still never pay special attention to his ability, it's time for you to check him out. He single handedly picked all the songs for this concert, that means each of them means personal to him, and for sure has story or memory to share. Even if that doesn't interest you, you should still watch him, because this kid got magic attached in every finger.
Saung Jazz Presents: MY FAVORITES – Yonathan Godjali's Music Concert
Date: Wednesday, April 17, 2013
Time: 7:30 pm – onward
Location: Institut Français d'Indonésie (IFI) Bandung
Jl. Purnawarman no. 32 Bandung (right in front of Bandung Electronic Center)
Entrance Fee: IDR 20.000
For ticketing and further info, please contact: Eva Caroline: +62 85720098018