Talking about 4 Peniti will bring our memory to their gig about one and a half years ago at Bumi Sangkuriang, Bandung. At that time they were performing in Jazz Break August 2010 edition  along with some other performers headlining bass as the main subject. We still remember how the crowds popped when they came in and how fast they managed to grab their audience's attention by serving their cool acoustic concept and also fresh, spontaneous jokes which mostly came out from the vocalist/guitarist Zaki both in words and lyrics. They love to joke on stage, sharing the joy and fun with their fans, but they are serious in playing their music. As they are preparing their second album following the Selftitled debut several years earlier, 4 Peniti is going to give a very special concert for the first IFI (Institut Français Indonesia) Bandung (formerly known as CCF: Centre Culturel Français)'s Saung Jazz program in year 2012.
The name 4 Peniti (4 Pins) is unique and funny to choose. You might wonder where the name came from, but according to them it was created from a twist of Pat Metheny's name, the legendary jazz musician that they all look up to.  Four men behind the band: Zaki Zakaria (vocal & guitar), Arifandi Renaldi (drum), Rudy Zulkarnaen (contra bass) and Ammy Kurniawan (violin) are all fully experienced after being active for quite a long time in the music industry, both collectively and individually. They all base in Bandung, but they also involved in many recordings and shows in Jakarta too for many years, supporting many artists from wide array of genres. Realizing that they had the same vision right after they joined forces making up a recording as a wedding gift for a friend in 2002, they decided to continue they journey as one force. A decade later, they still stand strong together and established as one of the popular indie bands from Bandung.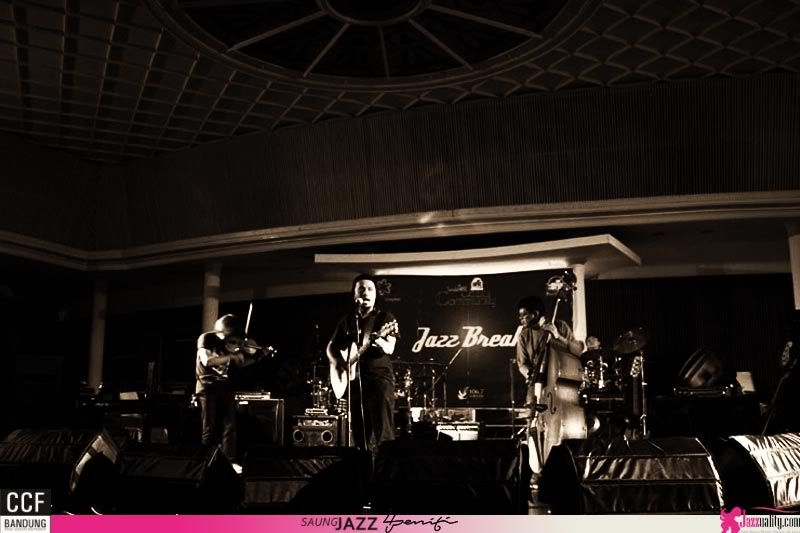 There are many interesting things that we can discuss when we talk about 4 Peniti. First of all, look at how they describe their music. "4 Peniti is connecting deconstructive logarithm with the touch of live jamming in acoustic instrument." This sentence might puzzle you, but actually their music is far from complex and difficult. They love to bring something simple that can entertain just about anyone in general. Still, the quality can be felt throughout each note they play, that somehow create enough space for them to explore beyond limit, unpredictable and spontaneous at the same time. Another thing to note is that their music never stays in one narrow box. They can come out with just about any style or even bring the combination at once. The folkish acoustic guitar, easy going singing style and lots of jokes from Zaki, the steady and ellegant beat from Ari's drumset, essential rhythm base from Rudy's double bass and the unique flavor from Ammy's violin touch are always a catch in 4 Peniti live gig.  Add it with creativity in arranging, composing and writing plus their experiences, you get one complete package for your own enjoyment.
One mini album was released in 2010 after being in process since several years earlier. Amazingly, this album was all made by themselves, from the recording, mixing, mastering, cover design, packaging to the videoclip. In the mastering process they got help from Tim Grieg of Sonamax Studio in Sydney, Australia who finalized the whole 6 songs in his studio. (The album is available at our online store: http://store.jazzuality.com/products/4-peniti-4-peniti/). The second album is coming real soon, still produced independently by them. You can hear the sneak peek of their new album from their soundcloud: http://soundcloud.com/4peniti/4peniti-jalan-ajaib.
Shining portfolios as individual musicians, endless creative ideas, full of passion and strong chemistry to each other has enabled them to create one powerful force as one unit. 4 Peniti will bring you not only good music but also the kind of entertainment that will fill you with a happy smile. The time is right for them to grace the January 2012 edition of Saung Jazz in Bandung, now let's make sure you won't miss it.
SAUNG JAZZ PRESENTS: 4 Peniti: Latihan Konser
4 Peniti are:
Zaki Zakaria (vocal & guitar)
Arifandi "Ari Aru" Renaldi (drum)
Rudy "Rudy Aru" Zulkarnaen (contra bass)
Ammy Kurniawan (violin)
Date: Wednesday, January 18, 2012
Time: 7:30pm – onwards
Location: Auditorium CCF
Jl. Purnawarman no 32, Bandung
Entrance Fee: IDR 30.000
The ticket can be purchased at the entrance or you can also get it at Aru Studio (+62 22 7271177) or Eva (+62 85720098018)