By consistently presenting jazz live event 5 times a week featuring nothing but the best artists/groups with various flavors, Red white Lounge and Inline's Red White Jazz Lounge has now become a popular hangout place for all the jazz aficionados in Jakarta and beyond and also the fellow artists. From legends, today's top stars, the great ones from the independent circuit, surprising collaborations to interesting projects/themes that you may not find elsewhere can be found in the program. The efforts of Indra Lesmana, Honhon Lesmana, the venue Red White Lounge and of course all the musicians who join regularly are enormous in providing good quality live jazz show this frequent. Thanks to them, now we don't have to wonder where to find jazz during the resting hours.
The last edition of April was spectacular by featuring Peter F Gontha and the host Indra Lesmana. Both of them led the all stars cast to celebrate the very first International Jazz Day. As we are already entered the month of May, many fans of this show have been asking for the schedule. Today we received the full program for this month, so allow us to guide you through it.
Mian Tiara
The fans have surely known that she's capable to make a great show either by full band or with minimalistic group. She has a really nice vocal tone. Her facial expression and body language suport her 'stories', from the simplest thing she feels to the most painful ones to scream out in poetic lyrics, heartfelt melodies and expressive singing style. Having lots of experiences in wide scope made her as an all-rounder artist. Listen to what Riza Arshad said about her: "With all her experience, she's simply can't be put into a particular box." One successful solo album and lots of album she involved should be able to show where she stands today. We have seen/listened to her recordings with full band, appeared in just a trio (with only guitar and bass) or doing her thing alone, all are simply amazing. As now she appears again in Red White Jazz Lounge under the formation of  three (with Andrie Jonathan – keys and Dimas Pradipta – drums), something cool will come again for sure.
Mian Tiara will perform on Wednesday, May 2, 2012
First Drink Charge: IDR 50.000
Krishna Balagita "Light of 7 Dreams"
This keyboardist/composer/arranger seems to reach success in anything he touches, build or create. He's famous with his bands including Ada Band, De Spectrum and 6nam 9embilan. The youngsters may think that he's not familiar to jazz, but the fact is he actually has a jazz background. He had even learned from Jack Lesmana before he went to Australia to master the technique of composition. He had played with some of the all time top jazz cats such as Maryono, Ireng Maulana, Indra Lesmana, Tohpati and so on. Some of you maybe remember his jazz project in 2002 which resulted an album entitled "Sign of Eight" featuring lots of guest stars. We believe it's time for him to go back to his root, having his fingers dance above the keys in jazz again. Light of 7 Dreams is the name of his new project. How's it going to be? Will it be an album? Anyone miss Krishna Balagita's jazz touch? If you have these questions in your mind, why don't you come and see yourself?
Krishna Balagita will perform on Thursdays, May 3 and 10, 2012
First Drink Charge: IDR 50.000
Sandhy Sondoro (SPECIAL SHOW)
He was born in Indonesia but later moved to California before leaving for Germany to continue his study. There he built his music career by singing and playing guitar. From playing in clubs, bars and metros, his rising career made him able to release an album "Why Don't We". Then came the golden moment of his career. We still clearly remember when Sandhy Sondoro was all over the news when he won New Wave, an International constest of Young Pop singer in Latvia with perfect score in 2009. After that luckily he chose to return to his homeland to continue his path. It's not a bad choice at all, since he now stands a very popular artist today in Indonesia. His unique 5 stars bluesy voice can be enjoyed in his solo album, also now in Trio Lestari, a widely popular group that he does together with Tompi and Glenn Fredly. Step aside from this collaborative project, this is the chance to focus on Sandhy Sondoro himself in this show. Either you love his "Malam Biru" or wishing to hear his golden rendition of Percy Sledge's classic, "When a Man Loves A Woman", just ask him to sing it. So all of you his fans, be there.
Sandhy Sondoro will perform on May 4, 2012
First Drink Charge: IDR 100.000
Mian Meuthia: Swing of the 90's
If Mian Tiara opens up this month's calendar, here's her twin sister who also shares the same gifts from God. Her mid-tone voice is always a highlight, but more than that she can always reach the high tone with no difficulties. Since both of them rose in a family who often played music in wide spectrum from rock, blues, country to jazz, from classical to pop to disco, that shaped Meuthia's musical experience wide as well. You can expect a nice blend of folk, rock and jazz with soul. She has tried playing with MIDI and some other stuff, but she loves to describe herself more acoustic. She was on scene several years ago with his band Nayamul (with Nikita Dompas on guitar and voice, Indra Perkasa on contra bass, Philippe Ciminato on percussions and Ali Akbar Sugiri on keys). For this time this singer/song and music writer/teacher will bring her group, the Mian Meuthia Quintet. Joining her are Fanny Kuncoro (keys), Dezca Anugrah Samudra (drums), Donna Koeswinarso (sax/flute) and Yudha Himawan (guitar). Together they will bring the 90's hits in swing. Interesting isn't it? Come on this date and enjoy their play yourself.
Mian Meuthia Quintet will perform on May 5, 2012
First Drink Charge: IDR 60.000
Sandy Winarta Trio (Open Jam Session)
We don't know how he manages his time, but the fact of the matter is he stands as one of the busiest drummers  by his involvement in many groups both as a leader, member and sideman. One of the example of his busy activity reflected at Java Jazz Festival 2012 where he played several times under different groups. While he always gives his best in every group he's in, he always uses his own group to express his true-self in playing jazz. "I like to use my own group to play standards, using them as the template and then play it the way we like, as far as our creativities go." he once said to us regarding to his own band. For this month at Red White Lounge he brings his trio consists of Johanes Radianto (guitar) and Chaka Priambudi (bass) for open jam sessions.
Sandy Winarta Trio will perform on Sundays, May 6 and 13, 2012
First Drink Charge: IDR 60.000
Bubu Giri
The dynamic acoustic-soulful duo Bubu Giri is back again on the lineup for the third month in a row. Contra Indigo's vocalist Bubu and Giri the guitarist of Stonation is scheduled for 2 shows this month.
Bubu Giri will perform on Wednesdays, May 9 and 16, 2012
First Drink Charge: IDR 50.000
Emerald (SPECIAL SHOW)
If you're a jazz fusion fans especially during its hey-day in Indonesia around the late 80's to early 90's, you should be familiar with the band called Emerald. This band was formed back in 1986 with the formation of Iwang Noorsaid(keyboard), Morgan Sigarlaki (gitar), Roedyanto (bass) and Inang Noorsaid (Drums), plus Ricky Yohannes (Ricky Jo)'s delightful voice on compositions with vocal. You will also recall the stunningly action-packed "Karapan Sapi" in Madura's ethnic nuance that brought them to the top at Light Music Contest in Jakarta, Band Explosion Asia-Oceania in Hongkong and finally World Final Band Explosion in Japan. The band was in hiatus for so many years, but surprise, surprise, now they are back! We have seen the comeback of Emerald-BEX since last year, this time they are going to bring the super fusion group Emerald! Either you want to have one lovely nostalgic moment, you want to see what Emerald's new path, or simply you just want to taste uplifting fusion with lots of action, this show is a must for you!
Emerald will perform on Friday, May 11, 2012
First Drink Charge: IDR 100.000
Matthew Sayersz
From his part as the vocalist of Barry Likumahuwa Project, this young man who has a lovely soulful voice has been riding his career going up in the fast lane. Later he joined Martin Denev too, substituting Colonel Red in Denev's show in Indonesia. Then he made a breakthrough by going solo. Lots of performance and one successful debut album are the result, and here he is now, standing as one of the top-notch artists especially among the teenagers/youngsters. If you're one of his fans, it's time to watch him in a very close range under an intimate show, something that surely you won't dare to miss.
Matthew Sayersz will perform on Saturday, May 12, 2012
First Drink Charge: IDR 60.000
Endah & Rhesa
Two dynamic duos are ready to blast this month's program. Besides Bubu Giri, the real-life/stage couple Endah & Rhesa is also on the list. Once again they will bring one romantic mood to us all. Endah's lovely vocal tone, his crunchy guitar playing and Rhesa's essential bass part are always entertaining to watch and listen. Standing as one of the top acoustic groups in the independent scene, humble and friendly stage act and also very interactive, story-telling approach in making up the songs are just some of their strength. Now they are back in Red White Jazz Lounge. Let's share the love through lovely acoustic ambience with them.
Endah n Rhesa will perform on Thursday, May 17, 2012
First Drink Charge: IDR 50.000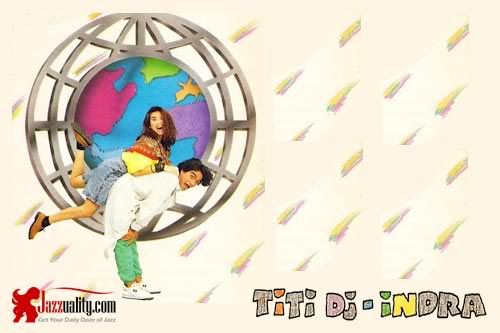 Titi DJ & Indra Lesmana Group (SPECIAL SHOW)
With all their past both in real life and recordings, we can't deny the strong chemistry between them. Look at how popular some of the songs which came from their collaborations such as "Dunia Boleh Tertawa" or "Ekspresi", also some of the albums which appeared during the late 80's to the early 90's. Later they also worked together on the jury desk of Indonesian Idol (from 2004-2008). This is another big surprise of May edition of Red White Jazz Lounge! Titi DJ and Indra Lesmana team up again after a long years. A golden moment like this is surely not to be missed.
Titi DJ and Indra Lesmana Group will perform on Friday, May 18, 2012
First Drink Charge: IDR 100.000
Bonita 'n the Hus-Band
The distinctive, powerful and expressive vocal character of Bonita is always a catch everytime this group is on. Let's not forget the role of the whole band in supporting her soulful voice. The group is back in this May edition, so we have another chance to find out why Oddie Agam once mentioned Bonita as the Indonesian Aretha Franklin.
Bonita 'n the Hus-Band will perform on Saturday, May 19, 2012
First Drink Charge: IDR 60.000
Indra Dauna Middle C (Open Jam Session)
For two Sundays the emerging young trumpeter Indra Dauna will bring his group Middle C to host the open jam session. His 'deep' playing style often reminds us of the way Chet Baker or Chris Botti blew their trumpet. Speaking of the Middle C, this is the group he played on his first gigs which usually played at Au Lait Cafe. As now he becomes more mature and steady as a jazz trumpeter, let's see what he and the Middle C will bring during the open jam session.
Indra Dauna Middle C will perform on Sundays, May 20 and 27, 2012
First Drink Charge: IDR 60.000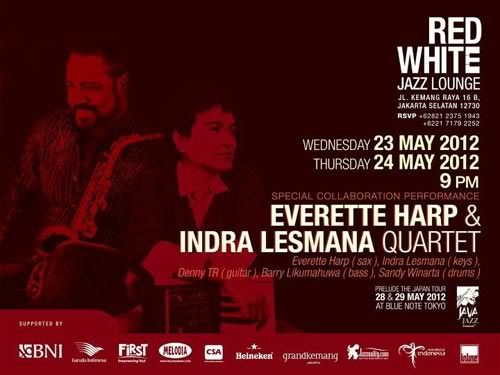 Everette Harp and Indra Lesmana Quartet (SPECIAL SHOW)
Indra Lesmana, Barry Likumahuwa and Sandy Winarta's LLW had a tremendous breakthrough when they performed in Blue Note Tokyo last year. Following that step, this year Indra Lesmana is scheduled again to perform at the same venue with a famous American saxophonist, Everette Harp on May 28 and 29, 2012. But that's not the only schedule to see the collaboration between Indra Lesmana and Everette Harp , since during their Asian tour they will also visit KL Jazz Fest (May 20) and also give a very, very special performance at Red White Jazz Lounge. As you can see in the flyer above, this show's labeled "Special Collaboration Performance", made as the prelude to their Japan Tour at Blue Note Tokyo. Standing in Indra Lesmana Quartet are Denny TR (guitar), Barry Likumahuwa (bass) and Sandy Winarta (drums).
With these two shows provided at Red White Lounge, you don't have to go far to Tokyo to see this magical collaboration. We call it magical because we have seen how great they were together back at the Java Jazz Festival 2012 when both of them involved in Tribute to Herbie Hancock show. Make sure to catch this rare opportunity and watch the moment when two great cats (along with Indra Lesmana's Quartet) deliver their spontaneous improvisations in stunning world-class skill.
Everette Harp and Indra Lesmana Quartet will perform on Wednesday and Thursday (May 23 and 24, 2012)
First Drink Charge: IDR 150.000
Yance Manusama Funky Thumb
If you usually watch Yance Manusama play calm, wait until you see him in his Funky Thumb. Here he often acts expressive while pouring the heavy dose of funk in a way that only he can do. Yance Manusama has been famous as a jazz bassist with authentic, pure and magical funkline for over three decades. We can feel it in so many recordings, in his role as a part of Riza3scapes (formerly known as Trioscapes) and of course in the Funky Thumb where he acts as the band leader. Be there and get high with funk!
Yance Manusama Funky Thumb will perform on Friday, May 25, 2012
First Drink Charge: IDR 60.000
Tohpati and Friends
Tohpati is, without a doubt, one of the guitar maestros of Indonesia. He's been famous for over 20 years and famously known as an all-round guitarist that can play just as great in every style. Other than playing jazz, he's also great in doing pop and of course rock, just like how he shows lately with Tohpati Bertiga and Supersonic. He's also great in writing/composing song even capable to stand as the music director for big band. Three of the group where he's in, Tohpati Bertiga, simakDialog and Tohpati Ethnomission are distributed in the international market by MoonJune and gained many praises from medias all over the world. This time this ever-cool artist will have his session under Tohpati and Friends.
Tohpati and Friends will perform on Saturday, May 26, 2012
First Drink Charge: IDR 60.000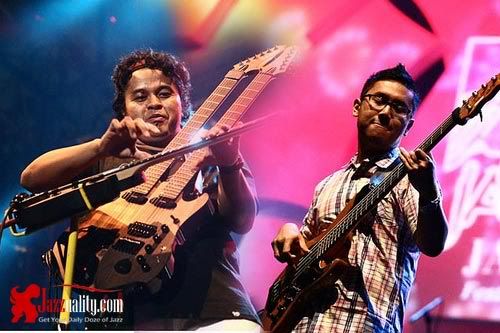 Balawan Bifan Trio (SPECIAL SHOW)
Balawan Bifan Trio will sealed up the May program of Red White Jazz Lounge. If last month they only played once, this month they will serve two special shows. So if you missed their gig in April, now you can have two more chances to see them. This newly shaped trio consists of the guitarist with magical finger I Wayan Balawan, the outstanding young bassist Fajar Adi Nugroho and drummer Dion Subyakto. What's unique about this group is they have two formations that are ready to play according to the needs. In Java Jazz Festival 2012 they played in duo, but later on Dion comes in whenever the trio is in demand. We saw their great action at Java Jazz Festival 2012, so now we can say that this one is recommended.
Balawan Bifan Trio will perform on Wednesday and Thursday, May 30 and 31, 2012
First Drink Charge: IDR 100.000
All shows start at 9 pm, the door open at 7pm.
Location: Red White Lounge
Jl. Kemang Raya 16B, Jakarta 12730
RSVP: +62 82123751943 or add BB pin: 325DDAE0
Log on to Red White Lounge's website or follow their twitter: @RWLounge