Red White Jazz Lounge: July 2012 Calendar
Loads of stars, plenty to choose, 5 days a week. That's been the scene of Red White Jazz Lounge, previously known as Mostly Jazz since many months ago. As the brainchild of Indra Lesmana and Honhon Lesmana, this regular event has been doing much in providing jazz enthusiasts in Jakarta and nearby with top quality jazz shows. As we are now in July, many of the regular fans want to know who will fill up the whole program throughout the month. Some also questioned whether or not the Red White Jazz Lounge keep its service since the month of Ramadhan, the ninth month in the Islamic lunar calendar will begin at this month too. Now it's confirmed that the Red White Jazz Lounge will still continue the program until July 18 and then they will take a break. So it's going to run only for around half of the month, but look at the shiny list of artists to fill up the calendar, such a lineup that will make you busy in choosing your fav ones. As usual we provide you short profiles of the performers. Can't wait to see it? Here we go.
Like Father Like Son
This is the collaboration that will be interesting to watch for many reasons. The combination of living legend who has been doing it for more than half a century, Benny Likumahuwa and one of today's most popular artist especially among youngsters, Barry Likumahuwa. The father-son connection will also be nice to see because you can feel the respect of a son towards his father, and on the other hand the proud father to see his son's achievement. On top of that, love will become a major case in this too. Enjoy the moment when father and son place the groove over the pure jazz extacy.
Like Father Like Son will perform on Sunday, July 1, 2012
First Drink Charge: IDR 60.000
The Brag Pack
We have reviewed their debut album "Just Braggin'" (click here to read the review and here to buy the album), we also have covered their two shows at the 5th Asean Jazz Festival (Read the Day 1 report here and the Day 2 here), so we know this group is really THAT good! Not only they bring back the magical atmosphere from the bop emergence era (with some modern approaches too here and there, like the modern groove for example), but they also dare to (re)build the Javanese pentatonic scales with their way, by using all western instruments. Is it possible? Ask Indra Lesmana, he would say it all possible, like the way he does in Kayon. Actually if we go further back, the Indonesian All Stars (Bubi Chen, Jack Lesmana, Jopie Chen, Kiboud Maulana, Maryono and Benny Mustafa) had done it too when they performed at the Berlin Jazz Festival 1967 which was followed by the "Djanger Bali" album. Other than the manic way of playing the instruments and challenging compositions which are highly entertaining in any way, this group also has four daring music-stunts in the group. How proud we are to know that a very young talent from our own land, Sri 'Aga' Hanuraga' is sitting as the pianist for this group. Other than Aga there are Hungarian Dániel Mester (saxes), German Paul Rutschka (electric bass) and Roald Becher from Holland (drums). Having sponsored by the Embassy of Netherlands, finally we all have the chance and access to watch their stunning live performance in Indonesia. If Batam crowds had experienced the madness, this is your chance, Jakarta jazz lovers!
The Brag Pack will perform on Wednesday, July 4 and Thursday, July 5, 2012
First Drink Charge: IDR 50.000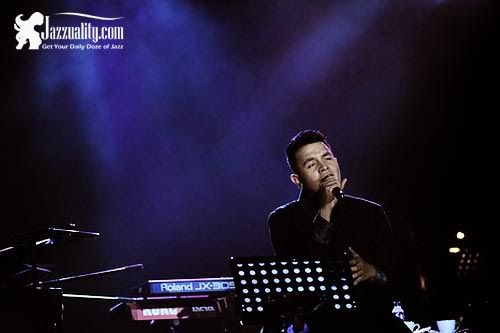 Tulus
Like a comet blazing across the starry sky, Tulus has now established himself as one of the top contender in the music business. He actually needed some years to prepare himself ready, but when he released his debut album independently, the result have been amazing, even far exceeding his expectation. For us, he's more than ready to stand in this position. His sparkly crooning voice is flawless both in studio and live performance, his charm shines on stage, he always tries to be connected to the fans, and on top of these factors, he knows how to choose songs without denying his own taste and passion. If crooners usually take the swingin' jazz road, Tulus decided to fly wider. He's still rooted in jazz, but he can do pop with full band, acoustic or even with orchestra really well too. Last time we met him was when he held a grand concert "Tulus – Beyond Sincere" at Gedung Kesenian Jakarta, now it's time for him to land his feet on the Red White Lounge's ground. We have received many of requests and questions about Tulus to hold a gig in Jakarta, now here's your chance to catch him upclose and personal. Mark the date and don't be late.
Tulus will perform on Friday, July 6, 2012
First Drink Charge: IDR 60.000
Rafi and the Beat
Imagine a 10 year-old boy played drum like a pro, made an album produced by the one and only Harvey Mason and featured no less than 18 international jazz superstars, from Bob James, Nathan East, Paul Jackson Jr, Tom Scott to Michael Paulo just to name some of them. Not even in every generation we could have such a thing, but in 2007 this rare chance occured from a boy now 15 years old, Muhammad Rafi. From that surprising debut album, he felt the need to estalish his own band, hence, Rafi and the Beat was born. They have released one album in 2010 titled "Music From Our Soul". As Rafi and the Beat is preparing a new album, projected to come in a couple of months from now, it's time to have their classy and trendy pop with funky jazz, RnB and soul attached. Bite the beat and swing with the groove!
Rafi and the Beat will perform on Saturday, July 7, 2012
First Drink Charge: IDR 60.000
Oele Pattiselano Organ Trio
No one would argue that Oele Pattiselano is a highly respected legend. He's a jazz guitar virtuoso who started his career more than 5 decades ago and amazingly still highly active up until now. He's very well known as a guitarist that can bring the beauty of swing at best whenever he holds his guitar. Being experienced for half a century in jazz makes him able to pour out pure jazz in the most natural way. He never intends to overcook his play with too many ingredients, instead he loves more to focus on the beauty of song by releasing the melodies efficiently. In many ways, Oele always know how to speak his music and send it to reach our deepest heart in no time. This time surprisingly he's set to perform under the group he called Oele Pattiselano Organ Trio. This title brought our memory back to his performance at Java Jazz Festival 2009 when he played alongside Tony Monaco, one of the world's best organist. How beautiful will it be to hear his swingy world class guitar playing with the sound of organ? That's something more than worth to check out.
Oele Pattiselano Organ Trio will perform on Sundays, July 8 and 15, 2012
First Drink Charge: IDR 60.000
Dis & That
This band was formed around 2 years ago by Yudis Dwikorana, also known as Dis, previously known as the He guitarist of Guest Band in the 90′s, Iwa K's guitarist and involved in many soul, RnB also rap as a producer. He established this group based on his concern towards the product of today's music industry, which according to him is lack in varieties. In carrying the mission under Dis & That he's heavily supported by great young musicians including bassist Fajar Adi Nugroho (also in Urban Phat, Indro Hardjodikoro and the Fingers, Jemima and the Orgasmic Brothers, Bifan Duo/Trio and many more), drummer of ESQI:EF Sirhan Bahasuan and Agus Salim Luqman on vocal. They have original songs which mostly out of any tight, segmented genres by involving Jazz, Rock, RnB, Soul and Funk/Groove. Idealist and ground-breaking doesn't always has to be difficult or too complex to listen, that's what we all should learn from them.
Dis & That will perform on Wednesday, July 11, 2012
First Drink Charge: IDR 50.000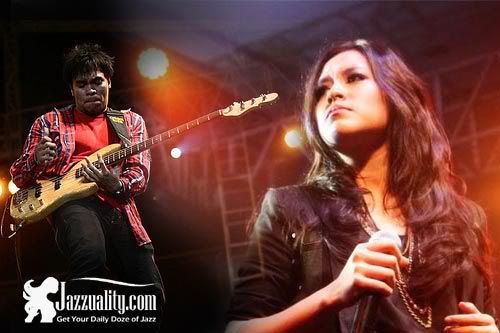 Raisa with Barry Likumahuwa Project (BLP)  [SPECIAL SHOW]
Raisa Andriana, that's the real name of this lady who successfully established her career in fast lane. She rose to fame when her single "Serba Salah" was released, which also existed in her independet self-titled album, produced by Asta Andoko of RAN and Ramadhan Handy and Adrianto Ario Seto of Soulvibe. As a part of promotion, the videoclip was placed on youtube and soon after received lots of praises by both music fans and music VIP's. She took leap after leap and here she stands today among the top female artists. A beautiful lady with beautiful voice, who could resist that? Whether you're her fan or not yet, this show is definitely worth to see. If Raisa alone isn't enough, hear this: Barry Likumahuwa Project (BLP) is going to play alongside her. Can you feel the heat? If you feel it, prepare yourself to be burned by them fully.
Raisa ft Barry Likumahuwa Project will perform on Thursday, July 12, 2012
First Drink Charge: IDR 100.000
Karen Pooroe
Fail to win the Indonesian Idol doesn't always mean that one's career is over. We can see the evidence from so many singers who reach success eventhough they didn't make it to the top. Other than Monita and some other names, Karen Pooroe is also listed in this category. Her soothing soulful voice with clear pronounciation and lovely vibra enables her to be an all-round singer, from pop, soul, RnB and jazz. Her duet with Marcell in "Bukan Lagu Cinta" became a big hit a while ago along with other radio hits of her. After a lively performance at the 5th Asean Jazz Festival in Batam less than 2 weeks ago, it's time to have her standing at the Red White Jazz Lounge. This time she will perform under Karya (Karen & Arya Satria) and the East Side Project.
Karen Pooroe will perform on Frieday, July 13, 2012
First Drink Charge: IDR 60.000
The Groove  [SPECIAL SHOW]
Which bands started the acid jazz movement in Indonesia? We should agree that one of those was The Groove. The Groove launched their ship in 1997 and became big in the music scene in no time. Phenomenal album sellings, lots of evergreens and millions of fans everywhere are just some of the stuffs found inside their track record. What's even better is the fact that they never lost it all even after a long hiatus. After their return about 2 years ago, today they still stand strong and rule the stage. The generation has changed, but they still manage to keep the long time fans as well as pleasuring the new ones with their groovy songs and rockin' stage acts. In many occasion they stole the show. Two of them, Rieka Roslan and Ali Akbar even infused The Groove's influence over the most recent Urban Jazz Crossover 2012 concept. Now let's welcome the kings (and queen) of acid jazz to the Red White Jazz Lounge. Wear your dancing shoes and have fun with them!
The Groove will perform on Saturday, July 14, 2012
First Drink Charge: IDR 100.000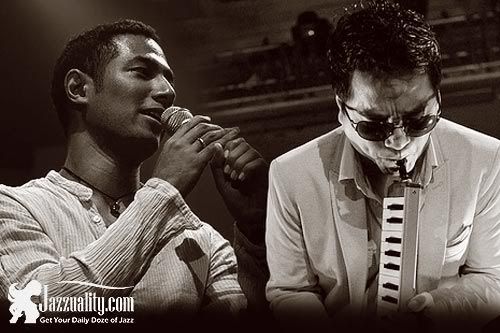 Indra Lesmana and Marcell  [SPECIAL SHOW]
Fans or not, you should agree that Marcell really has a unique, beautiful crystal clear and soulful voice of a natural crooner. He's famous as a soul/RnB singer, but from time to time he has surprised us with his jazzy rendition, for example when he reshaped Armada's hit "Mau Dibawa Kemana" into the different league in sweet swing. Some of us may wonder what will happen if jazz icon like Indra Lesmana teams up with him. Soon we no longer have to wonder, because it's going to happen for real! This month they finally able to arrange their schedule together. Speaking specifically of Indra Lesmana, this become another great news from him after he released new Jazz-Dubstep single "Two Steps at a Time"  a week ago which was brilliantly made by using iPad (read the article about it here). So Marcell and Indra Lesmana's fans, you can gather at the Red White Lounge on July 18 to see this! Who knows, maybe from this point they will find the ideas to continue it to recordings. We certainly hope so. But before anything happens, make sure you won't miss this one.
Indra Lesmana and Marcell will perform on Wednesday, July 18, 2012
First Drink Charge: IDR 100.000
All shows start at 9 pm, the door open at 7pm.
Location: Red White Lounge
Jl. Kemang Raya 16B, Jakarta 12730
RSVP: +62 82123751943 or add BB pin: 325DDAE0
Log on to Red White Lounge's website or follow their twitter: @RWLounge