In 2010, KlabJazz presented a special event to celebrate the National Mother's Day, which is celebrated every December 22, 2012. You can read our report from it here: http://jazzuality.com/klab-jazz-events/sunday-jazz-special-jazz-perempuan-the-report/, but what's more important is that this year this Bandung's solid jazz community is going to launch the 2012 edition of it, entitled "JAZZ & PEREMPUAN" (Jazz & LADIES) as a special theme for the Prime Time Friday Nite Jazz episode #06.
As they carry Mother's Day as the theme, this time we can see some of the successful ladies in jazz who are going to present some of the masterpieces of female composers and/or playing songs that speak about female/mother.
No one can deny that there have been many great female composers throughout generations, also in Indonesia. There have been a lot of fantastic songstress too, in fact many jazz lovers would prefer female singers too to be listed in their favorite choices. But when we talk about the ladies who play the instruments, the number might decrease, except of course on the piano. Is it really true? The number could be lesser than male, but that doesn't mean that we don't have skillful ladies with other music instruments. Now we even have some ladies band who can play as good as the male ones, if not even better. They have been doing really well in playing instruments like drums, saxophone, bass, guitar and so on.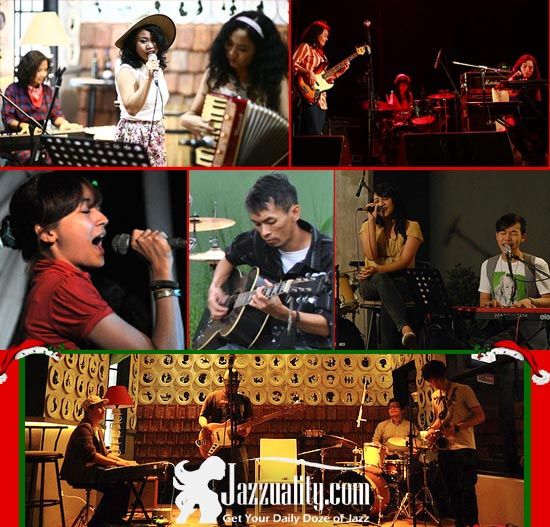 For this special edition you can see two well established young ladies bands, representing the 'girl power' in our jazz scene, both are coming from Jakarta. First, let's see Starlite. Once you see Starlite, you'll never underestimate the power of ladies over the instruments anymore. Consisting of Jeane Phialsa (drum), Sheila Permatasaka (bass) and Rieke Astari (piano), they have been living in the local jazz scene for at least 7 years. All three of them received their formal education from Farabi Music Education Center where Dwiki Dharmawan is in charge. You can catch the attractive action on the drumset courtesy of Alsa who started to learn at Farabi since 11 years old and taste a satisfying fusionesque eargasm when the three girls work as one solid unit. We have seen them many times, they still wow us in each occasion.
Rieke Astari will play not only in Starlite but also in Nona Ria Trio, a group with three ladies inside. A singer with soulful/classic jazz vocal character Nesia Ardi and pianist Nanin Wardhani is the rest of the girls inside this group. What's unique about this trio is that their concept is this. They love to bring one of the oldest forms of jazz, ragtime with strong Indonesian taste in their repertoires which mostly consist of collections from our own golden oldies resources. To make it even more entertaining, they bring it with funny/cute stage act, including telling some stories about the songs. Different, with lots of fun, that's what you're going to get from this act.
Then there's a duet of Puspallia Panggabean, a singer with beautiful wide range of vocal and keyboardist/arranger AJ TheReal called Aperture of Pleasure (Aperplea). Started with series of collaborations as a trio (with Kanggep Kusuma) at some Starbucks outlets, they quickly found the sweet chemistry to each other and decided to continue as a duo. Their songs selection could surprise you, since these two can fly wide in genres and choose the songs you never thought of listening it in jazz way before.
The lineup continues on with Raisa Fatma, a lovely girl who has an energetic performing style. We heard her soulful voice for the first time when she was still with her band Sunday Ice Cream, but nowadays she's pursuing her solo career. For this session she will be accompanied by Ismail Haryadhi, a smooth, gentle jazz guitarist active in his bands PAGI and Kania Belle. A soulful acoustic jazz is to be expected in this session.
Agis Kania, a vocalist who have been participated in several previous edition of Prime Time Friday Nite Jazz will be there too.
As we are approaching Christmas, along with this Jazz & Perempuan event KlabJazz is going to give a special "Christmas Jazz Session" with Halfwhole Project. This band had just held the Christmas Jazz Concert as a Saung Jazz December edition last week at IFI Bandung. If you miss that show, now is your chance to see them pouring Christmas songs in swingin' straightahead. pianist Christ Stanley, drummer Edward Manurung, bassist Gallang Perdhana Dalimunthe and 'busybee' saxophonist Kenneth Timotius Djaja are ready to bring the joyous Christmas celebration with their signature.
So, two celebrations packed in one event, all free of charge. Prime Time Friday Nite Jazz #06 with Jazz & Perempuan and Christmas Jazz Session will come on December 21, 2012 at Prime Cafe & Bistro in Dago area, Bandung. Tell your friends and family to come, especially your mother and sisters. It's time to give a special respect to the mothers and ladies for making our lives worth living. Hope you all  enjoy the show!
Date: December 21, 2012
Time: 7:30 pm – 11:00 pm
Location: Jl. Ir. H Juanda/Dago no 92, Bandung
FREE EVENT!
Featuring (in Alphabetical order):
:: AGIS KANIA
:: APERTURE OF PLEASURE (APLERPLEA)
– AJ TheReal (piano)
– Puspallia Panggabean (vocals)
:: NONA RIA TRIO
– Nesia Ardi (vocals)
– Rieke Astari (accordeon)
– Nanin Wardhani (piano)
:: RAISA FATMA
– Raisa Fatma (vocals)
– Ismail Haryadhi (guitar)
:: STARLITE
– Jeane Phialsa (drums)
– Rieke Astari (piano)
– Sehila Permatasaka (bass)