The beautiful island of Bali has been listed as one of the world's most famous tourist haven for many decades. The tropical weather, ancient temples, sandy beaches, rainforests, paddy fields, paintings, sculptures, colorful religious ceremonies, friendly people, all the way to the typical traditional music that you can easily differ from other sounds. What's not to love about this island? If you're a jazz fan, now you can add another reason to visit Bali, especially Tanah Lot and the 5 star Nirwana Bali Resort. Why? Because jazz lives happily in that very spot, and just a couple of days from now, a big jazz fest with important social cause is going to paint the whole area with "bluenote" colors. Prepare to meet the Nirwana Bali Jazz Series 2!
It was last September 2012 when we informed you about the premiere of this event (http://jazzuality.com/jazz-events/nirwana-bali-jazz-series-a-tribute-to-jazz-lovers-inspired-by-tanah-lot/).  Held for two days at Pan Pacific Nirwana Bali Resort at Tanah Lot by involving combination of artists from Jakarta and Bali, this event gained great response from the jazz lovers, especially those who live in this Island of Gods. Looking at the result, the Hotels & Resorts unit of PT Bakrieland Development, Tbk (Bakrieland) in cooperation with Prime Time Jazz is ready to host the Nirwana Bali Jazz Series 2 (NBJS #2). This event which will once again feature Indonesian top jazz stars shows the continuous support from Bakrieland Hotels and Resort Unit (BHR) towards the Indonesia's jazz development.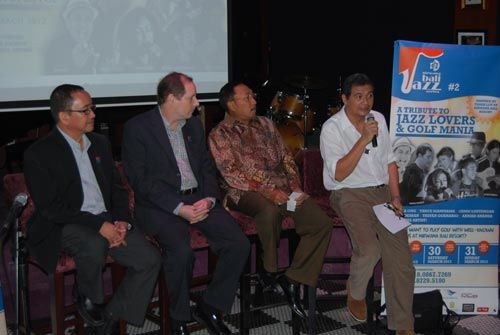 "As a music form, jazz is fully filled with the spirit of improvisation and creativity to build beautiful harmony. That perfectly fits the Nirwana Bali Resort's character that always loves to collaborate with local people to push the tourism forward." said Nugroho Santosa of BHR, the chairman of Nirwana Bali Jazz Series #2. Furthermore, he explained that the event was made as an effort to provide creative space as well as appreciation to our nations' and local jazz artists. "They can uprise the progress of jazz in Indonesia," he added. About the number of attendance, Nugroho is optimist that the event will gain more audience comparing to last year. "We are targeting around 2000 jazz-goers this year." he said. That's about 3 times more than the first edition last year. Paul Counihan, the Managing Partner, Prime Time Jazz also expressed his full support to NBJS #2.
For this second edition, the lineup looks fantastic with more artists comparing to last year. NBJS #2 features top stars such as Syaharani, Idang Rasjidi, Tompi, Asty Asha, Amelia Ong, Yance Manusama, Cendi Luntungan, Barry Likumahuwa, Taufan Goenarso, Achmad Ananda, Doni Joesran, Koko Harsoe & Friends, Ito Kurdhi Quartet and more artist. Not only the lineup is shining, you can also expect a lot of surprises from highly interesting collaborations between them (See the complete list below). If last year the Nirwana Bali Jazz Series was served for 2 days, this year the event will be held for 3 days, from March 29 to 31 (Friday to Sunday) 2013. So, 3 days of jazz pleasure, that's what you're going to get from this jazz fest.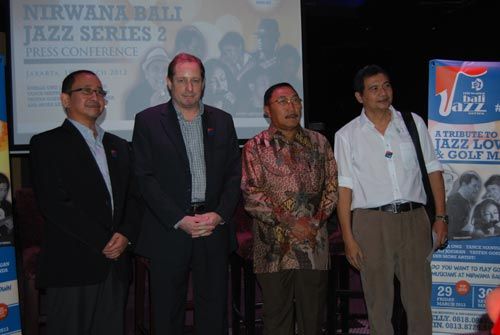 While the first day is set to be the "VIP Jazz", the next two days will be served with something unique. At the second day (March 30), NBJS #2 is combined with Golf Fun Game in cooperation with Kadin Golf Club and Industri Kecil Menengah (IKM) Merchandise Gallery. Thus, this second day show is labeled "Golf & Jazz Concert." How does jazz get along together with golf, or, can you play golf with well-known musicians? That's something for you to find out. Last but not least, on the third and final day (March 31), by using the theme of "Jazz Clinic & Jazz Concert", the musicians are looking orward to share their skills and knowledges to the society and children around Beraban Village. The jazz clinic will be open to let anyone interested to learn jazz from the experts. As it contains social activity, BHR will donate significant amount of funds to Yayasan Pendidikan Desa Beraban Bali (The Educational Foundation of Beraban Village, Bali) to support the uneducated children living in Beraban Village, Tabanan, Tanah Lot, Bali.
In the end, Nugroho wishes the continuous support towards Indonesia's jazz scene and its musicians through this event can inspire the artists to give their best. On the other hand, Nugroho also hopes that the jazz lovers would continue their support to our jazz development and show their participation in helping the uneducated children which will strengthen Tanah Lot's position as one of the most important target of tourism in Bali.
So if you're in Bali or planning to go there during the Easter holiday, make sure to visit Pan Pacific Nirwana Bali Resort at Tanah Lot, Bali. A Tribute to Jazz Lovers & Golf Mania, that's the theme to fulfill your jazz needs. 3 days of jazz pleasure, presented in a 5-star resort in Bali, featuring nothing but the top players, that should sound too good to be true. Call the contact numbers below if you need more assistance, but most importantly, don't miss it.
NIRWANA BALI JAZZ SERIES #2: A Tribute to Jazz Lovers and Golf Mania
Rundowns:
Friday, 29 March 2013
– Opening act Bali Jazz Community
– Tompi feat. Fun Attact (Barry Likumahuwa, Taufan Goenarso, Achmad Ananda, Doni Joesran)
– Koko Harsoe Feat Syaharani
– Trigonia (Idang Rasjidi, Yance Manusama, Cendi Luntungan feat. Amelia Ong (Vocal)
– Ito Kurdi feat. Asty Asha
Saturday, 30 March 2013
– Opening act Bali Jazz Community
– Tompi feat. Fun Attact (Barry Likumahuwa, Taufan Goenarso, Achmad Ananda, Doni Joesran)
– Trigonia (Idang Rasjidi, Yance Manusama, Cendi Luntungan feat. Amelia Ong (Vocal)
– Ito Kurdi feat. Asty Asha
Sunday, 31 March 2013
Jazz Clinic (Idang Rasjidi, Koko Harsoe, Taufan Goenarso, Amelia Ong/Bertha, Other Musicians)
Date: Friday-Sunday, 29-30 March 2013
Location: Pan Pacific Nirwana Bali Resort
Jalan Raya Tanah Lot, PO Box 158 Tabanan 82171, Bali – Indonesia
For more information and booking, please contact:
Elly: +62 818 0867 7269
Iin : +62 813 8729 5180
email: guestrelations.ppdps@panpacific.com
website: http://panpacific.com/bali, http://nirwanabaligolf.com
twitter: @panpacificbali