Some jazz events are being held within beautiful natural environment and landscapic surroundings. Take an example, the annual Jazz Gunung which takes place up on the mountain high. There were jazz presented in the jungle, park, beach and some other exotic natural locations. If we don't care about it, one day we won't be able to make something like this anymore. Imagine if we don't have such landscape anymore, if everything is nothing but disastrous lands, over-heated temperature and damaging radiation rate. This should not happen, not for us, nor for the next generations.
On the other hand, it's a sad fact  that Indonesia is listed as the third largest emitter of Greenhouses Gasses in the world. Illegal logging, the burning of forest, air pollutions and so on  are causing it. Some of us do care, but we don't know what to do. One of a friend said, "Even if I do some actions individually, it won't give any significant impact if millions of others are still damaging the world." Well, that's not really true, because imagine how dangerous it is if everybody think that way. We have to do some actions, either individually or as one of the unit. It's time for us to wake up, stand up and start to do something. It's time to restore Indonesia and the world we live in.
For us jazz lovers, the question is simple. Is it possible to cook 'JAZZ', with a certain kind of creativity, to move it closer to the nature and blended with it? Can it appear more than just music, but embracing the universe, our surroundings and life? Can jazz even become an 'idiom' that drives the public to give more love and respect to the environment?
We live in the tropical nation that lies at the equator, eventhough some metro/mega-politan cities now shows lesser friendliness towards the nature, there are still many areas covered with the beauty of greens. Grasses, trees, beautiful natural landscapes, those can be found throughout the archipelago. This fact should help us in making songs while picturing the beauty of the nature in mind: green forest, the well-cared ecosystem, fresh and healthy life, fertile soils.. whatever you imagine of the beautiful nature.
We should realize that this is not just the goverment's task, because there can be some political issues that might stand in the way if we let it be that way. We have to show that we care, we should also take part of the action. It should come from our wish to live in harmony with the nature, being friends and respecting it with full awareness, and realizing that we are living on it and live from it. We have to preserve it, so the next generations can still get the best of it, the way God intended when He created it first of all.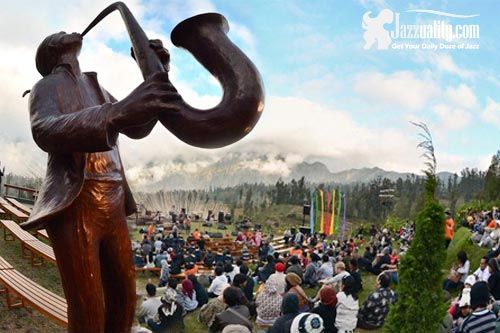 Hundreds of people enjoying jazz being served in the beautiful uphill surroundings, the 2013 edition of Jazz Gunung
Back to the music, can we push this cause with a complete songs, ready to listen and enjoy? This will bring different meaning of music, stretching it further to send the positive message about environmental care that will make the earth (or even the universe) a better place to live in. What's even more interesting (and of course challenging) is, it should be presented in Jazz!
Speaking of  commitment, WALHI (Wahana Lingkungan Hidup Indonesia; Indonesian Forum for the Environment) has been consistantly doing it for many years and will keep on working on this subject along with the world's existance. For the last one year this organization has been developing the "Promoting Ecosystem Carrying Capacity and Services Based on Local Knowledge" program. With this program, WALHI together with IUCN-EA (International Union for Conservation of Nature in East Asia) conducts some activities with the main mission to make sure the preservation of life resources by using environmental supports, ecosystem serices and local knowledge approaches. One of the most important agendas in this program is to make campaigns as a media of information dissemination to build the public opinion. The projected outcome is to have public supports, either by directly involve in the activities or indirect, by sharing/spreading the information to others.
Now WALHI 's campaign has reached the music people: the artists, practitioners and fans/listeners. WALHI thinks that music has 'emotion' that can deliver messages to the simple form through music, therefore able to build a massive 'familiar' connectivity, something that WALHI hadn't optimized before.
Here's a question: If WALHI decides to get into the music, why do they choose jazz? WALHI gives a simple answer: "Why not?" They must have seen how fast jazz grows at least for the last 5 to 7 years, how jazz manages to attract new fans, more familiar to common listeners, even for some becomes 'identity' and 'lifestyle', the condition that promises jazz to have a better future, especially in Indonesia.  It's true that WALHI appreciates and respects all kinds of music, but they chose Jazz as a starting-point. So, here comes the competition for you to join: KOMPETISI MUSIK JAZZ HIJAU (GREEN JAZZ MUSIC COMPETITION).
It will be interesting to see how the Jazz musicians would do to translate all the important message of enviromental care into songs. What will be the result? For WALHI, that's the most interesting side of the idea. Creativity plays a very crucial part in it. So, if you're a Jazz musician and feel challenged, this is for you to step in.
What you have to do is this: Create a good Jazz song that contains messages of healthy nature environmental care and send it to them. As simple as that. You can do it with or without lyrics. Can it be actually done without any lyrics? We say why not. That's another challenge for you to prove.
WALHI together with some friends such as musician/producer Bintang Indrianto, senior music/jazz journalist, photographer and founder of IndieJazz Gideon Momongan, ex-music director of jazz-oriented radio station that now is active as music journalist and photographer Indrawan Ibonk want to make it happen. On behalf of them, we invite all Jazz artists, bands, musicians and singers in Indonesia, wherever you are. Make your creation the best you can, send it to them. The panel will choose 6 best original compositions to be included in an album entitled "JAZZ HIJAU" which will hit the market in February 2014. This album is planned not only for national selling but also international.
The contestants have to send their jazz song in complete track, including mixing-mastering process. It can be done in duo, trio, combo or even bigband. You can send more than one song. The material should be packed in CD. Send it to:
Kompetisi Musik JAZZ HIJAU – NewsMusik
Taman Lestari Indah Blok N 17-18
Jl. Lebak Bulus Raya
Jakarta Selatan
This JAZZ HIJAU album will contain 12 tracks. 6 will be selected from the competition, and the other half will be filled with top Indonesian Jazz artists. It will also involve Heleen van de Homberg, a top singer/songwriter from Netherlands who also stands as an environmental observer. Right now Heleen is focusing on preserving rainforest in Kalimantan (Borneo).
The registration is open from November 6, 2013 to December 15, 2013. The winners will be announced on December 20, 2013 in a special event and workshop called Musik JAZZ-HIJAU, featuring Jazz artists who care about the environmental care, also a special performance by Heleen van de Homberg. The show will be held as a part of Jajan Jazz at Teras Kota, BSD, Tangerang.
If you're a musician and concerns of a variety of environmental problems which affect our entire world, it's time for you to speak up. You can do something by giving your best according to your field. Even if you fail to win, at least you have done something to support the cause, showing how much you care to the healthy future of the next generations. Are you one of those who care about the environment? Say it out loud with jazz!