As a jazz festival that began in 1978, Jazz Goes to Campus (JGTC) stands as one of the oldest annual jazz festival in the world and the oldest in Indonesia. It started simple. At that time some students from the Faculty of Economics and Business of University of Indonesia (FEB UI) got the idea to create an art event consisted of painting, photography and music. Speaking of music, Candra Darusman who was still a student at that time initiated Jazz Goes to Campus for the first time in the late 1978. It was held in the old location, Salemba, with minimalist stage and very cheap ticket price, only IDR 500. The history proved that it was a start of something great.
From the very beginning they have set the goal of Jazz Goes to Campus, that is to be an event that's emotionally connected to the jazz musicians, audience and every other parties throughout the years. Today the students of FEB UI can (and should) be proud of it. Not only because it's still alive healthily but also kicking hard in significant growth. So folks, since we have entered the month of November, get ready for the 38th JAZZ GOES TO CAMPUS! This 38th edition is set to run on November 29, 2015 as usual at the campus ground of FEB UI.
This year the theme is "The Thrill is Back", intended to create such emotional and thrilling experience to all the stakeholders. The thrill will represent the feels you got from all the previous edition (including last year's theme, The Ultimate Jazzperience") plus the new sensation that you can expected to get this year.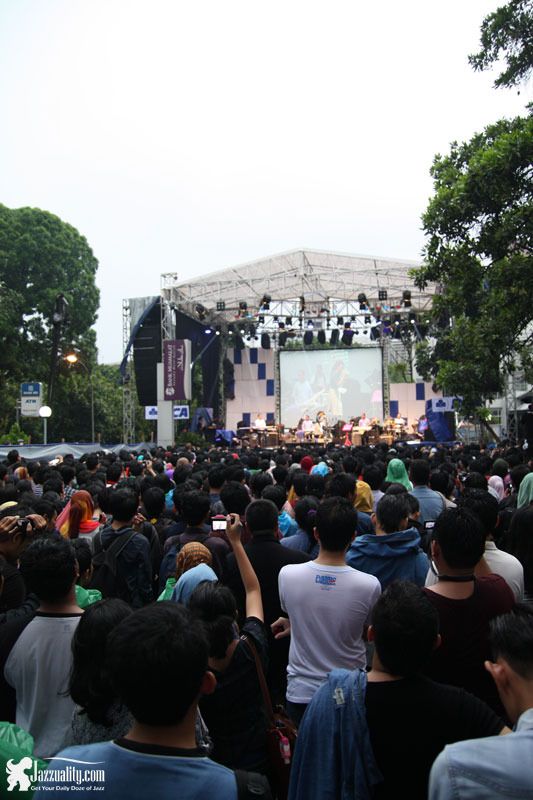 Yes the main event will be grand, full of stars and merry. But Jazz Goes to Campus doesn't stand only with just that. There are series of events that build momentum to the final main event, starting with the JGTC Opening and Press Conference on October 30, 2015 at the Institut Francais de Indonesia.
Then on November 1, 2015 located at The Resonanz Music Studio and Entertainment, Kebayoran Baru there was JGTC Clinic given to the JGTC Competition participants. The mentor was Achmad Ananda, Gilang Ramadhan, Sri Hanuraga and Kevin Yosua. They equipped the participants with many knowledge about the jazz industry in Indonesia and technical skills in playing music specifically.
Next: JGTC Competition. This competition has produced many fruits from one edition to another. There are many successful musicians today that were once competing in it. This year the judges comprises of active and experienced musicians including key-wiz Riza Arshad, one of the all-time best drummers of Indonesia Gilang Ramadhan and the Berklee College of Music cum laude holder, guitarist Robert Mulyarahardja. The Qualification Round will be held on November 7, 2015 and the Final Round scheduled on November 21, 2015 at Lippo Mall Kemang Village, Jakarta.
Following last year's visit to Surabaya, this year JGTC Roadshow is coming to Solo, at the Universitas Sebelas Maret (UNS) on November 13 2015. Strectching the promotion wider to reach other cities intends to create such euphoria over the Jazz Goes to Campus and of course, introducing it to the jazz lovers living outside Depok and Jakarta. Sri Hanuraga Trio is to perform in the roadshow.
To show the Social Responsibility, Jazz Goes to Campus is ready to give JGTC Scholarship to FEB UI students. The fundraising event is called JGTC Gathering & Charity Night, made as an appreciation night for the previous JGTC committees and donors. It will be held at Grand Mahakam Lounge, Borobudur Hotel on November 14, 2015 with special performance from Solace.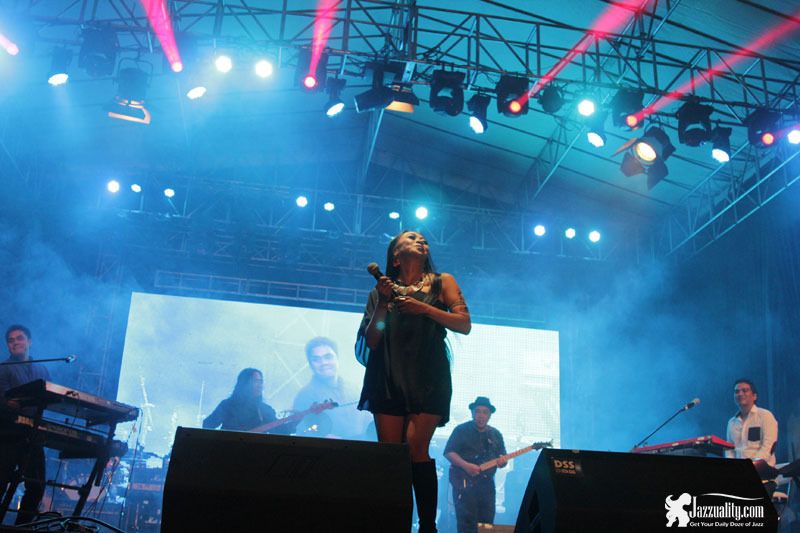 All of these pre events build momentum all the way until the peak: the JGTC Festival. This festival is a grand event that has successfully brought in more than 20.000 people over the last several years with hundreds of musicians per year being divided into 4 stages. International stars like Nouvelle Vague, Kyoto Jazz Massive Live PA, Ray Harris and the Fusion Experience, Depapepe and Sondre Lerche have participated before. This year JGTC Festival will bring musicians from Australia: Lenka and France: Eric Legnini Trio. Speaking of Eric Legnini, this will mark his second performance to Indonesia after Serambi Jazz, June 2011. The latest news, another star from the Land of the Rising Sun, Japan, is confirmed. It's the smooth jazz pianist/composer Rei Narita. You can expect glittery, beautiful, attractive melodies from her.
From the local source, get ready to have who's who in the music business. The most famous formation of the legendary supergroup, Krakatau Reunion (Indra Lesmana, Dwiki Dharmawan, Trie Utami, Donny Suhendra and Gilang Ramadhan) is going to bring everyone into beautiful memory lane with their classic hits. Indra Lesmana will get his own session featuring his daughter Eva Celia. Indonesia's proud son with international reputation Dewa Budjana is listed, also Gugun Blues Shelter and Baim will share madness on one stage.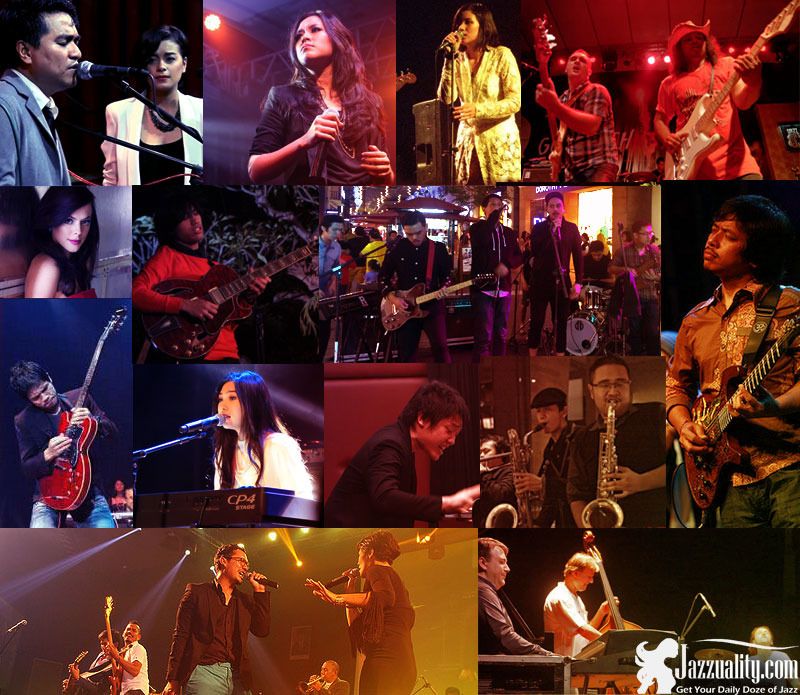 Famous beautiful girs with great talents Isyana Sarasvati, Raisa and Danilla are found inside the lineup. Band with balanced portion of jazz, hiphop, soul plus some other colourful toppings the Art of Tree will show you a modern, lounge-ish side of jazz that will definitely suit the youngsters' heart. A highly skilled young man with successful career in Europe Sri Hanuraga will play in trio format. Also in group of 3 is Gerald Situmorang Trio. Curious of how jazz would sound when it meets ska? Sentimental Moods will let you know in a good and fun way. A joyful party will be served as usual by Maliq n D'Essentials. All these, and more. Don't forget to check out JGTC Museum that will feed your brain with the history of jazz and JGTC, JGTC Choice Awards and also bazaar at the venue on the D-day.
Be a part of the 38th Jazz Goes to Campus and enjoy the thrilling experience. All you have to do is secure the ticket now before it's too late and while it's still in pre-sale price. The clock is ticking, the countdown has begun. Make sure to claim your spot before it's too late.
The 38th Jazz Goes to Campus: The Thrill is Back!
Date: Sunday, November 29, 2015
Time: 12 noon – midnight
Location: FEB-UI Campus Ground, Depok
For ticketing and more info, log on to:
Website: http://www.jgtc-festival.com/
Twitter: https://twitter.com/JGTCfestival
Facebook page: https://id-id.facebook.com/pages/Jazz-Goes-To-Campus/221746584515318
Instagram: jgtcfestival