Last June we launched the trial of Javana Jazz Bistro in cooperation with Javana Bistro, a yummy eatery at Paris van Java (PVJ). In that event, the ladies jazz band Jazzy Juice and the playful pack of artists led by Erwin Saz successfully made a strong mark that gained many attention and positive responses from the crowds and among our readers/social media followers (Read the report here: http://jazzuality.com/jazz-event-report/javana-jazz-bistro-premiere-the-report/).
What's next? Well, proud to inform you that the event is going to continue. Javana Jazz Bistro 2nd Edition is set to go on July 26, 2015. That means one thing: you can expect vibrant jazz colors being painted over the Paris van Java sky. And most possibly, you will directly feel that vibe just when you enter this popular shopping centre in Bandung. How can that be possible, you might ask? Why not, since Javana Bistro is located right in the front row of the mall. Easy access, good quality of friendly jazz will be available for you. Plus, you can also join the jam session after the live performances. How cool is that.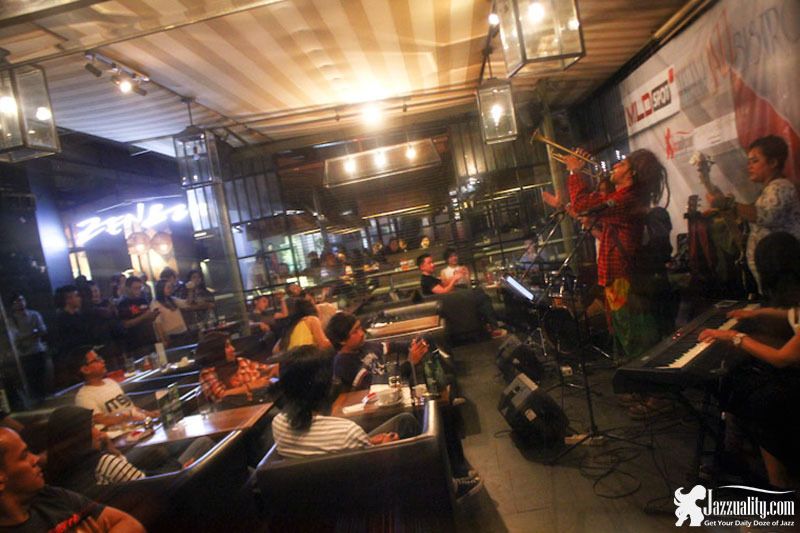 The first Javana Jazz Bistro, June 14, 2015
So, what's the menu for this edition? We have prepared two sessions that offer different sides of jazz. First, let's take a look at Imelda Rosalin Trio. Imelda is one of the siblings that have been doing great in the entertainment business at least for the last decade. Arina Mocca, Dewi 'Dee' Lestari and Key Mangunsong are her sisters which shine in each of their fields. Imelda can sing and play piano just as good, as well as arranging, composing and writing. She was famous with the album, "Di Ladang Stroberi (In Strawberry Field)", the soundtrack of successful tv series aired in 2002. Years of classical piano training was first, but then she established herself in light swinging sweet jazz. It's always fascinating to hear her jazz approach that can suit anyone's ears any time.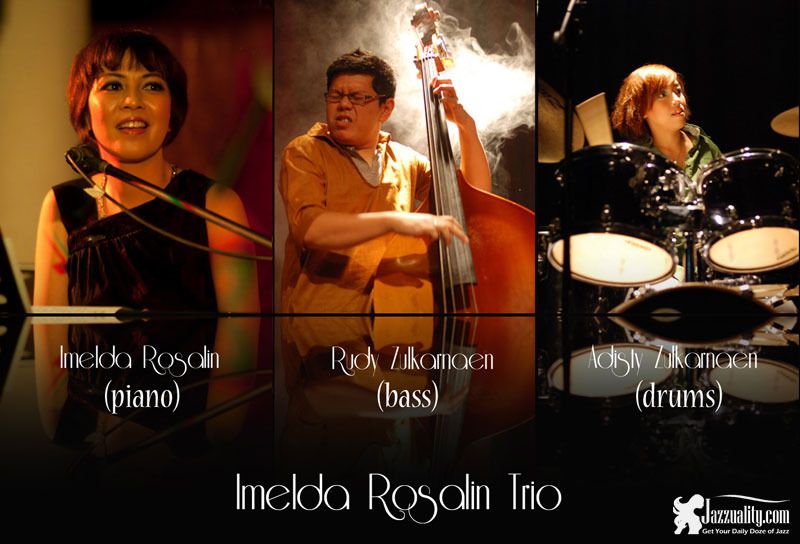 Recently she's busy with some recordings. Last August 2014 she launched an album entitled "Sahabat" with band from Institut Teknologi Bandung (ITB), The Last Eighties. In this album she composed one song, piano and vocal. In July 2015 she involved the compilation album "ITB Menyanyi Bimbo" (ITB Sings Bimbo". She sings and plays piano in "Citra". A month earlier, she did a recording for LA musician, Chris Miller.
Speaking of festivals, she has tasted the atmosphere of many, including Java Jazz Festival, JakJazz, and also Jakarta Blues Festival. Last year she played alongside Kara Grainger. A few years back at the same festival, she played with a stunning blues duo from the beautiful land of Shillong, India, Soulmate. Last January she appeared together with her sisters at @America, tributing The Carpenters. She plays regularly every Friday at Panghegar Hotel an once a month at TP Jazz Papandayan.
Is music the only thing she does? No. She is also a successful architect that involves in building better infrastructures in Bandung especially in transportation matters. For that, she currently continues her study for doctoral degree. So far her paper was accepted in three conferences, from Bandung, Malaysia to Shanghai. Let's not forget that she's also a wife and mother. Amazingly, she can do it all.  What an honour to be able to feature this superwoman for this event.
For this event she will appear in a trio format, with her long time partner, a senior bassist with international reputation Rudy Zulkarnaen and Rudy's wife who's famous with her band SHE, Adisty Zulkarnaen. Swingin' pop in friendly musical atmosphere, sweet, sad and cheerful, whatever comes out from her will be beautiful. You don't believe us? Why don't you come and see yourself.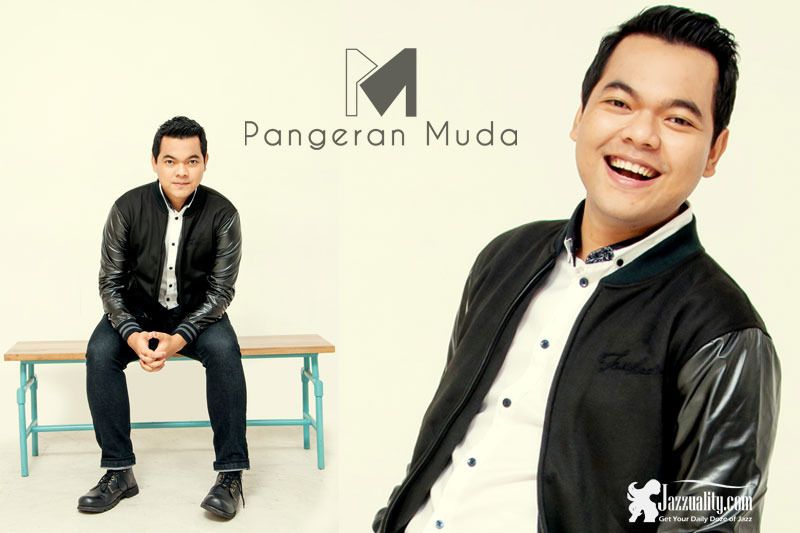 Next, get ready to be blown away by the new prince of pop jazz, Pangeran Muda (literally means Young Prince). He holds more than 200 achievements, he has landed on prestigious festivals, performing overseas, recording and acting, all before he even reaches 30 years of age. He has a great vibe when standing on stage, his clear, crisp but soft and tender voice sounds really nice.
Pangeran did great in competitions he's been in since 15 years ago. He won the Sherina Star Kids Competition in 2000, McDonalds Kids Awards in 2002, Heartline Gospel Singing Contest (2006), the winner of talent search show produced by Trans TV "Suara Indonesia" and runner up of Bintang Radio Festival in Jakarta, 2005. Last year he reached the Top 20 in Indonesian Idol 2014.
Since last year he's been busy preparing his debut solo album. He launched his single "Terpaku" on March 14, 2015 that quickly hit the spot in many radio charts all the way to Bali. The song's produced by Tommy Widodo (co producer of Pongky Meet the Stars Album). Amazingly, throughout the process of making the album, Pangeran invites everyone to support him by being Co Producer through the Crowdfunding Go Panda! Campaign. That's the reflection of the spirit of unity, something that he has inside his soul.
Musically speaking, this man decides not to be trapped in any particular genre. He describes his music as "Complicated Pop" that accomodates all music styles and genres that he likes. Having said that, jazzy vibes are often felt during his performance.
More about his album, he has prepared 6 songs, which all are written by himself. Pangeran based these songs on what we experience in life in daily basis. "True, there are so many love songs already, but we don't fall in love everyday. So many other stories in life that we experience every day." he says. Not just talking about love, he speaks loud on life motivation, family, friendship, nature and even anti bullying.
Last month Pangeran made his first Appreciation Concert in Jakarta. Looking at the result, Pangeran is preparing to make another one in different city.
For Javana Jazz Bistro pangeran is going to bring a full team, consisting of Andi Rustandi (of T-Five) on piano, Yabes Chrismanuel (bass), Michael SW (guitar) and a drummer (tba). Warn you ladies, this dandy young man is a heartrob. For you guys, you will enjoy his songs and voice too. Make sure you don't miss this.
As we said before, we will definitely prepare an open jam session. Whoever you are, whatever your music background, you are invited to feel the atmosphere of jamming in Paris van Java. Keyboard and drums are available. Other than that, do bring your own instrument to join the party. If you're a jazz/music lovers, you are also invited to be a part of this event. Also, you can get special discount to dine in Javana Bistro during the show.
So mark the date. Once again, Javana Jazz Bistro 2nd Edition will come on Sunday night, 26 July 2015, starting at 8:00 pm onwards. Together with Javana Bistro, we will be really happy if you join in. The highly experienced musicians and a new sensation is ready jazztertain you to the max while you're enjoying tasty dinner. Let's have fun together, see you there!
JAVANA JAZZ BISTRO #2
Date: Sunday, July 26, 2015
Time: 08:00 pm – onwards
Location: Paris van Java
Jl.Sukajadi no. 137-139 , Bandung
For reservation:  +62 (22) 820 63518, +62 822 1470 8842