Jatinangor nowadays is known as a student sub district, yes it is not even a city and quite far from Bandung. But when you drop by you will see many students thronged the road, the public places, restaurant, and the dormitories are everywhere. It happens because there are four universities in Jatinangor which are IPDN, IKOPIN, UNPAD, and the newest one, ITB. This surely changes the situation and condition at nangor, as the result of the youngster who dominate the society. Jatinangor is a small area and young people require consolation as get away of daily routine in their campus. Realizing this need, many students rack their brains for something fun and relaxed. Clearly, music is one of the answers and it is proven by several gigs are held in Jatinangor throughout the year.
Fakultas Psikologi (Faculty of Psychology)  Universitas Padjadjaran is fully aware of the fact that these days a lot of youngsters have become lover of Jazz. Yes, once again it breaks the myth of 'high-jazzy-class' or 'old-jazzy-people'. They are going to show that only with IDR 50000 (early bird) or IDR 55000 (on the spot), people, mostly student, will have a wonderful jazzy night with full performance of many great artists. Starting in 2008 and then continued last year in 2011, FAPSI UNPAD undoubtedly has organized an annual event named Jatinangor Jazz Event. 2012 is the third year they present an epic yet the biggest jazz event in Jatinangor. Great news! The successfully make it better and getting better every year. You can see from the line up this year where they bring up more artists than last year into Jatinangor.
Speaking of the tagline, this year  they hold the 'naughty' theme of  "ORJAZZM".  If you look at the lineup, you'll find out that the tagline does suit to this year's edition.  So, let's take a look at the lineup, shall we? Just like we said before, this year the Jatinangor Jazz Event 3 brings loads of artists, both the nation-wide popular stars from the capital Jakarta and the promising young rising stars from Bandung.
Get ready to dance and sing a long with the iconic pop jazz band The Groove! They first emerged in 1997 and had their paused moments for several years, but they have been back again, successfully capturing the new fans from younger generation while maintaining their loyal fans. Famous songs, danceable groove, catchy melodies and energetic/interactive performance always promise a full pleasure entertainment to the audience. Rieka Roslan, Reza, Ali Akbar, Rejoz and the whole team are ready to shake the crowds of Jatinangor like never before. Then there's also Soulvibe, a 7 piece band who's popular especially among the high schoolers and university students. Like The Groove, they also have songs that you all should know so well, so while they spread the groovy, funky soulful vibes, you can dance and sing together with Abenk and Bayu too.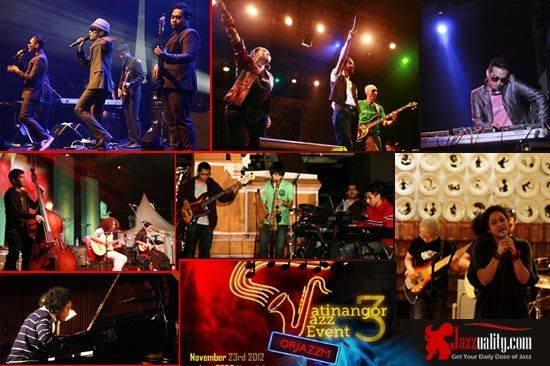 One of the trendsetter of NuJazz/Electro Lounge/Chillout musicians who is equally capable in playing bass, composing and abusing the turntable as DJ named Edward Andez is listed as one of the most awaited performers for this fest. Better known as Andezzz, he just launched his new album titled "Electric Love" with released singles such as "Lepas" (ft Juwita Sumbu) and "Bawalah Aku" (ft Cindy Karolina). This album unleashes the electro groove that would definitely steal wide listeners as far as the clubbing people. It's time for you to be electrified with the electric love courtesy of Andezzz and his Departure People.
If you ask who's the indie band who recently gains a lot of fans with their breezy colorful acoustic tunes, the name Payung Teduh should appear in the list. This band is unique since they know how to combine jazz with a lot of other musics, including the vintage 60's style and keroncong, an traditional Indonesian music style which kind of similiar to Portuguese's Fado and some sounds of Hawaiian ukulele. Starting with Comi (contrabass) and Is (guitar/vocals), now the band is in quartet formation by having two more players in: Cito (drummer) and Ivan (guitalele player). We saw them last time at the 2nd Ramadhan Jazz Festival 2012 at the end of last July (read the report here: http://jazzuality.com/jazz-event-report/2nd-ramadhan-jazz-festival-2012-the-report/). 2 albums and several hits, you should enjoy this one as well.
Representing the pop soulful jazz is Grace Sahertian. After the huge success of Tulus, Grace is the next big thing from Bandung. She's started some years ago through some bands/projects but now she decided to go by herself, fully backed by her friends. As she's preparing her debut solo album, it's time to catch her at the Jatinangor Jazz Event. She will melt your heart with her beautifully gifted voice.
Then if you're looking for pure jazz bites, two groups are going to fulfill that wish. First, David Manuhutu Project will definitely bring it. Led by the young jazz pianist prodigy David Manuhutu (age 20) who comes home during holiday from his study at the Berklee College of Music in Boston, this group is set to bring the graphic jazz attack including free improvisations and spontaneous twists. The same thing will be brought by Halfwhole Project. If you came last year at the 2nd edition you should remember the tasty bop lines served by this band, or at least you'd still remember the wild saxophone playing of Kenneth Timotius Djaja. With Kenneth, Christ Stanley (piano), Edward Manurung (drums) and Gallang Perdhana Dalimunthe (bass) are back again this year to spread more boppin' tunes. All these great lineup plus three bands coming from the auditions will make this Jatinangor Jazz Event 3 bigger and merrier than ever!
Fellas, maybe you hear many topics about jazz everywhere in your daily life; the standard of a jazz event should be held, or maybe the jazz artist itself, which one is precisely labeled as jazz artist, which one is not. However, for young people, no matter what, music is music which powerful enough to gather people in one place, looking up to the stage, then dancing shouting and clapping at one time for the sake of having fun and enjoying the moment. What are you waiting for? Fakultas Psikologi UNPAD once again provides the thing you looking for spend the Friday night, grab the ticket, call some friends, then heading to Jatinangor. Go along with the jazzy rhythm and mingle with another youngster. See u there, and let's feel the ORJAZZM coming!
Jatinangor Jazz Event 3
Date: Friday, November 23, 2012
Time: 02:00 pm – onwards
Location: Lap. PPBS Unpad, Jatinangor
Entrance Fee: IDR 55.000
Featuring (in alphabetical order):
Andezzz
David Manuhutu Project
Grace Sahertian
Halfwhole Project
Payung Teduh
Soulvibe
The Groove
+ 2 bands from auditions
For ticketing, please contact @revildast (085220159780, BB pin: 2367e8b9) or just come to the Faculty of Psichology (FaPsi), Jatinangor
For updates, follow Jatinangor Jazz Event's official twitter: @JJEofficial
Written by: Mellysa Anastasya and Riandy Kurniawan