If you love movies, you must have known Mr and Mrs Smith played by Brat Pitt and Angelina Jolie. This movie stood tall in the box office a couple of years ago, even until now people still watch it once in a while. The chemistry between them is one of the strength that makes this movie works very well. In the crime world we have Bonnie and Clyde, a couple who also had a very strong chemistry even when they committed a crime. We're talking about some couples who really made to each other. Love can be like a jigsaw puzzle, where only one person can fill up the missing piece to complete it once and for all. Some matches are made in heaven, and you can tell that just by looking at them. In our music world we have perfect couples like that who carry their daily romance up on to the stage, playing together harmoniously to make all their audiences feel their love. Name some like Aksan and Titi Sjuman, Yance Manusama and Otti Jamalus and of course, the highly popular acoustic couple, Endah N Rhesa.
Ask Endah N Rhesa how wonderful it feels when you find the perfect match, they will tell you all about it. Endah Widiastuti and Rhesa Aditya met for the first time in a rock band in 2003. Shortly after they quit the band, Rhesa played in one of the song of Endah's very limited mini album. The song was "When You Love Someone", a song that still remain as one their biggest hits to date. They quickly found out how they really matched to each other and how the combination of three elements (vocal, guitar and bass) could make something really fascinating, they decided to go on together, just the two of them, and then Endah N Rhesa was born. The last piece of the jigsaw puzzle was found. They must have realized that they were really meant to be, as later on they got married and become one perfect "partner in crime" on and off the stage.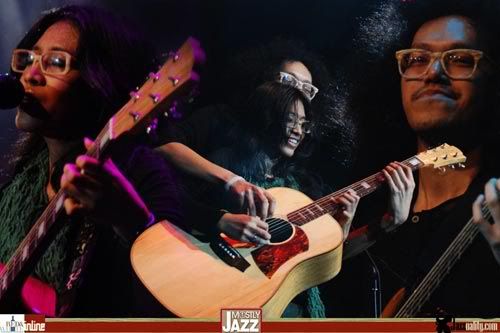 In their music concept Endah N Rhesa loves to play wide without going to any specific genre. Playing around folk, jazz, rock and roll, blues and also pop ballads area is what they've known for. Endah said, "We can have as much references as we want to, it can come from any styles or genres, but more than anything we just want to play music." Just using 3 elements, they really know how to make a fully entertaining perfomance and now they have brought the joy of acoustic into a whole new level. They are very interactive, really connected with the audiences and one more thing that we have to mention is their love to use their music as a vehicle of story telling. Rhesa once said "Instead of writing about our personal daily lives, we actually are more into story telling." That's why you see many stories brought in ear catchy easy listening music by them.
They have been influenced by wide array of artists, but certainly jazz has been one of the major inspiration for them. "I always love jazz. I love to try Louis Armstrong, Wes Montgomery, Joe Pass and Jim Hall's songs among others, and play a lot of swing as my reference." said endah. While Endah shows her tight connection with these jazz legends, Rhesa is not a stranger too to jazz. He listen to Béla Fleck and the Flecktones, Victor Wooten and Richard Bona. "Yes, it's true that we don't play pure jazz, but there are always jazz elements attached in our songs eventhough it's not that much" Endah continued.
Endah N Rhesa is also known as a very humble artists who always spend their times to greet their fans, no matter where they perform. While not every artist are willing to spend some of their precious times for the fans, Endah N Rhesa are always happy to do that. About this Endah has something to say: "We were once fans just like them too. Even until now we have our own idols. It feels really good when you meet your idols, taking pictures with them, talk to them… so we know how it feels to be a fan. If we are happy to have that chance, we want to give the same happines to our fans too." It's not easy to maintain a personal connection with tens or even hundreds of thousands of fans spread all over Indonesia, but they always try to do their best for that.
We have spotted Endah N Rhesa's appearance at Mostly Jazz a couple of times, also appeared at the regular Inline's Friday Night Jam session at Indra and Honhon Lesmana's Inline Music studio. If last week Andien had a very sweet gig at Mostly Jazz XXI edition, this time it's going to be Endah N Rhesa's turn to stand right at the center of Red and White Lounge as the special guest star of Mostly Jazz XXII. So far this regular weekly jazz event which came from the idea of another perfectly romantic couple Indra and Honhon Lesmana has worked successfully. Various artists or groups have been featured. At the Mostly Jazz ground zero, all these artists present their music signature that enable us to taste jazz in wide variety week by week. This is not something easy to make, especially when you're committed to make it as frequent as this. But up until now they have managed to make it exactly as planned. For that we salute them. This is what Endah said about Indra Lesmana. "To me, Indra Lesmana is someone to look up to. He is a maestro who has gained so much experiences throughout the years. He's a mentor, not only about music, but also in opening up our horizon of how the music industry goes. His humbleness is inspiring and for that we learn a lot from him."
It's time to have the romanticism in the shape of acoustic this Sunday! Either you're a fan of Endah N Rhesa or just a music lovers who are really into ear catchy and easy listening acoustic, if you want to have some jazz presented in good quality or you're one of the Mostly Jazz fans, we invite you to join in this weekend. Jam Session will be there as usual, hosted by Indra Aziz. See you there!
Indra Lesmana & MOSTLY JAZZ XXII : Endah N Rhesa

Date: Sunday, May 22, 2011
Time: 08:00 pm – onwards
Jam Session starts at 10:30 pm
Location: Red and White Lounge
Jl. Kemang Raya 16B, Jakarta
Entrance Fee: IDR 50.000
including first drink cover
Limited Inlines Music & Friends' CDs are also available
RSVP: +62 21 7183184/71792252/81932337226 (sms only)