Tell you what, this doesn't come everyday. There's a young French bassist who have played with so many giants and gained respect from every corners are heading to Indonesia to play alongside some of our own musicians. Not that long ago we got stunned to his electrifying bass lines in Chick Corea's latest album, "Chick Corea & The Vigil". Chick Corea? Yes, you heard us all right. If that name can already be a guarantee, this young bassist has played with so many other big names that we will tell you a bit later. When being asked about him, John McLaughlin said: "…for me, he's the new Jaco (Pastorius)." For sure he's the true heir to the Jaco Pastorius' throne, or you can say that he's the modern day of Jaco. Still don't get it? It's none other than HADRIEN FERAUD.
None of us dare to predict that Feraud would visit our nation this soon, not just to play once but will land on many spots from Bali, Jakarta to Bandung. So if you're a musician especially a (jazz) bass player, his coming should make you really excited. There are a lot to learn from him, even if you don't feel like learning, you can just enjoy his play and find out why McLaughlin gave him that compliment. You can find the complete schedule of his Indonesian Tour Debut and who will be his playing partners in each trip. (He will also perform in our own Terraz Jazz too!) But before that, let's take a closer look at Feraud first.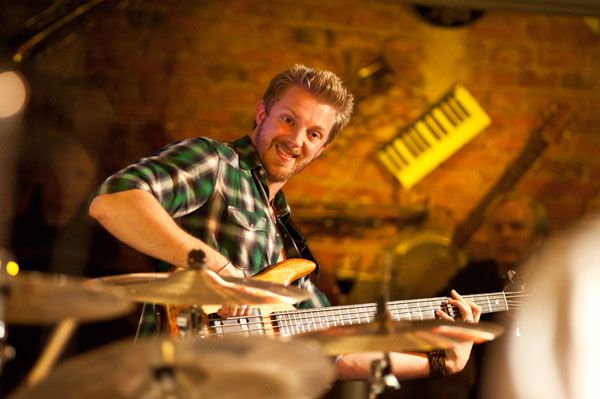 Hadrien Feraud
Hadrien Feraud was born in Paris and grew in a musical family. That's why he became familiar with wide arrays of genres, including Jazz. He then learned guitar when he was still 8 years old from his own father. He was once interested in drums, but when he received Jaco Pastorius' "The Birthday Concert" CD (at age 12), suddenly everything was clear for him. He was born to play electric bass.
Right after that turn, he seriously analyzed the techniques of some masters in the bass land, ranging from Jaco Pastorius, Christian McBride, Victor Bailey, Gary Willis, Anthony Jackson, Matthew Garrison, Richard Bona, Skull Sverrisson, Linley Marthe and Jeff Berlin. As he seriously digged and chewed all these heavy stuffs, he was ready faster than expected. He already performed and involved in the recordings with iconic figures and famous names like John McLaughlin, Chick Corea, Dominique di Piazza, Billy Cobham, Jean-Luc Ponty, Jada Pinkett, Dean brown, Chris Coleman and Scott Kinsey, just to mention a few, while he was still in his 20's!
Hadrien Feraud has been announced as "Rising Star, Electric Bassist of the Year" by the Down Beat Critics Polls, also the "Most Exciting New Player" by Bass Player magazine.
He recorded some remarkable albums with John McLaughlin (including the Industrial Zen" which marked his first appearance in the recordings) and Chick Corea, but he actually has released his own album in 2007 which amazingly featured so man renowned musicians such as John McLaughlin, Bireli Lagrene, Flavio Boltro, Jean-Marie Ecay, Jean-Pierre Como, Marc Berthoumieux, Mokhtar Samba, Jim Grancamp, Jon Grancamp, Dominique di Piazza, Thierry Eliez, Linley Marthe.
Who will play with him  in his tour debut? Feraud will be accompanied by three musicians: one keyboardist: Erik Sondhy and two drummers: Sandy Winarta and Yandi Andaputra.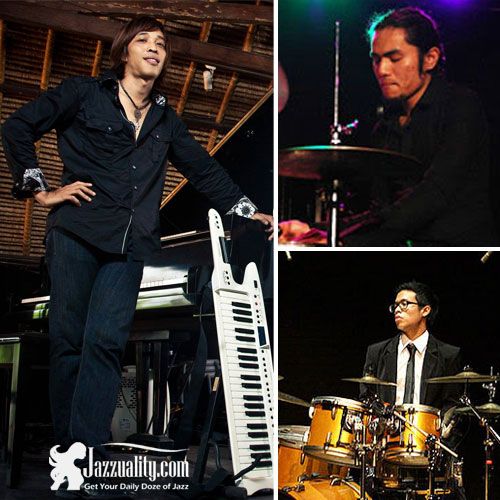 Erik Sondhy
Born Balinese, Erik had a wide range of musical influence. He's being surrounded by the Balinese tradition, beginning with family who played the gamelans and many other instruments, Erik's mother a professional Balinese dancer, as other members of the family. With an unquestionable desire and passion, at a very young age he began learning to play organ for church recitals at the tender age of 11 years old. He's a self taught, learning to read and write music from friends and other resources. Piano has been his reliable weapon in penetrating Jakarta's pop scene with his bands. Erik got the jazz bug, although he really didn't know he was playing jazz, in 1998. Just a year later he entered the JGTC (Jazz Goes to Campus) competition and he won. His success story was quickly established. He's known as a virtuoso. Clubs, concerts and studio recordings soon followed. In 2001 Erik came back to Bali despite all the promising career he would gain in Jakarta. Upon arriving Erik had a vision for Bali on a musical scale. It's his quest and calling, Erik's called to bring jazz to Bali by teaching and influencing students and other musicians. Soon after he already played at every venue Bali has to offer.
This man can do anything, play anything. That's how he got the nickname Mr. Fingers. One album under his wings called Karma Trio and one more in the future called The Erik Sondhy Project will soon be coming your way.
Sandy Winarta
Indonesia has so many great drummers from time to time. When one talks about the great drummers from younger generation, Sandy Winarta would be one of the most frequent names to mention. His hardbop influence can be heard in his playing and great in taking on the traditional swing to all kinds of modern jazz. He has played in almost every big jazz events in Indonesia and already went to play in the international scene many times. Riza Arshad once said, "He is now an important icon in our jazz scene, someone to look up to for the next generations." Really, this man has tasted so many scenes in his young age. Eventhough he's great in drumming, this native Balinese son actually started with organ electone and only switched to drums after he finished high school. He registered at the Australian Institute of Music in Sydney majoring drums-performance and obtained his Bachelor of Music Performance in 2004.
He's involved in many bands, projects and played with who's who in Indonesia's jazz scene, but he has also performed in other countries like China, Malaysia, Australia, vietnam, Japan and Canada with different artists and formats. He was one of the finalists of Master-Jam Fest in Ukraina in 2013 and led some tributes to Bubi Chen. This man is a versatile drummer and know how to spice up any songs with his skill. He can just switch his drum style smoothly and turn a song to a different game without changing the course at all. A mastermind of beat he difinitely is, someone that can make the drum sing and talk jazz.
Yandi Andaputra
Whoever takes position on drums in Indro Hardjodikoro and The Fingers has to be great. Look at the previous dummers of this interesting bands: Demas Narawangsa and Yesaya "Echa" Sumantri. Now the torch has passed to an emerging young drummer possessed with good skill and ability to adapt with the great band, Yandi Andaputra.
We first knew him when he was still the drummer of Ginda & the White Flowers. He's a big fan of John Bonham but also favors Vinnie Colaiuta, Dave Weckl and Akira Jimbo. He was born in 1996, means he's still 18 years old. Yet you wouldn't think he's that young when you hear him play. Indro spotted him when he performed in Jajan Jazz. Soon after they were locked in the jam session, and Indro quickly found the energy and soul connection to him. Other than Indro Hardjodikoro and the Fingers, he's also the drummer of Emerald-BEX and session player for Tompi. He's very young, but we have no doubt that he will do great when being paired with Hadrien and Erik.
Now, let's see where Hadrien Feraud will play during his tour debut in Indonesia (plus one workshop) and who he will be playing with in each particular gig.
May 30:  Warisan Bar, Restaurants and Galleries. (BALI)  | 8:00 pm
Lineup: Hadrien Feraud, Erik Sondhy and Sandhy Winarta
May 31: Bass workshop at MSI (Melodia School) (JAKARTA ) 
Lineup: Hadrien Feraud, Erik Sondhy and Yandi Andaputra
June 2:  Jazz Spot, Rolling Stone cafe, Kemang (JAKARTA ) | 8:00 pm
Lineup: Hadrien Feraud, Erik Sondhy and Yandi Andaputra
June 3 : TERRAZ JAZZ: SPECIAL EDITION at Festival Citylink (Bandung) | 6:30 pm
Lineup: Hadrien Feraud, Erik Sondhy and Yandi Andaputra
June 4 : Hotel Tanjung Sari (BALI)  | 8:00 pm
Lineup: Hadrien Feraud, Erik Sondhy and Sandhy Winarta
June 5 : Warisan Bar, Restaurants and Galleries. (BALI) | 8:00 pm
Lineup: Hadrien Feraud, Erik Sondhy and Sandhy Winarta
3 cities will be visited by Hadrien to run no less than 4 shows plus one workshop. You can choose the nearest one to feel his high energy fusion bites. One thing you have to know is that he's called the new Jaco not because he plays like Jaco, but simply because his remarkable skill is hard to find elsewhere, that makes him a very interesting discovery similiar to Jaco in the 70's. Hadrien Feraud will soon be here, mark your calendar and don't miss this rare chance! Bassists, musicians, and all you jazz enthusiasts, time to groove and ride the thrilling bass lines. Be there and be fusionized!