What a night. What an event. What a place. It was truly a special night for me, because tonight I witnessed a great jazz event, with not one but two pianos, happened in an unlikely place. We often heard about jazz at cafes, restaurants, hotels, or campuses, but this time it was held at… a hospital! This is surely a history in the making. What an interesting year this has been for me. As I said before that this year is gonna be the year of jazz revival, and with an event with unique concept happened in the place that would never cross your mind to have a jazz event like this, it all came closer and closer to reality.

Imel Rosalin Trio & Michelle Efferin Trio
Melinda Hospital is a maternity hospital with totally different concept. It was designed from the beginning to be a different kind of hospital. They have paintings gallery, stores and many other facilities inside that you'd never find in any other hospitals. Melinda Hospital is an international class hospital with five star hotel concept with art gallery that provides health facilities for women, especially for mom and their babies. The owner, Mr Aryadi said, they even have live piano performance every Friday night at the lobby. Melinda Hospital owns two grand baby pianos to entertain the patients and their relatives. How cool is that? Maternity hospital is supposed to be a joyous place, and they just maximized the joy with music presentations. Tonight it was the first time for them to held acoustic jazz events with two trios, plus a special event piano duo.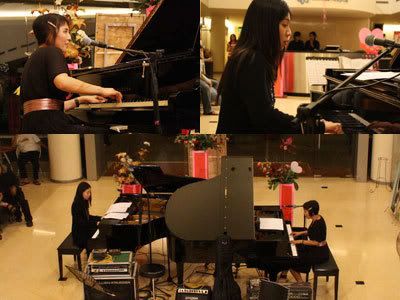 Imel Rosalin & Michelle Efferin
Grand Jazz Valentine event was made especially to celebrate Valentine's Day with the tagline "The beauty of the pink heart romantic love jazz standard piano". Valentine's Day is not a celebration only for lovers, but it has to be a special day where we share and spread love to everyone. Think about mom, dad and their children.. they share love to each other too, and they deserve Valentine celebration as well. And that was the concept, served brilliantly with the collaboration between The Art and Culture Department of Melinda Hospital and Klab Jazz. Mr Ibrahim Aliuddin, the Head of The Art and Culture Department said they had been thinking about making such an event like this from long time ago. At first he was thinking about one grand piano performer, but the owner Mr Aryadi suggested two instead. We don't see it often, especially at the hospital. But it happened tonight, right at the Lobby Melinda Hospital, Bandung, West Java, Indonesia.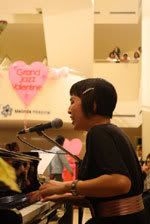 Imel Rosalin Trio was the first group performing tonight. Imel Rosalin is known as one of the greatest female pianist in Indonesia that also gifted with great vocal. As usual Imel was very interactive with the audience. Tonight Imel was accompanied by Edward Prasetya (guitar) and Rudy Zulkarnaen (upright acoustic bass). Imel Rosalin Trio played some all time great songs. They pinned Guns N' Roses' "Sweet Child O' Mine" in great mainstream jazz. Then followed by the classic "Makin' Whoopee", Irving Berlin's "How Deep Is The Ocean", Thad Jones' "A Child Is Born","Malaikat Juga Tahu", a song written by Imel's sister, Dewi Lestari and used for her novel Recto Verso, and then closed their performance with the popular song from the roaring 20's, "My Heart Stood Still".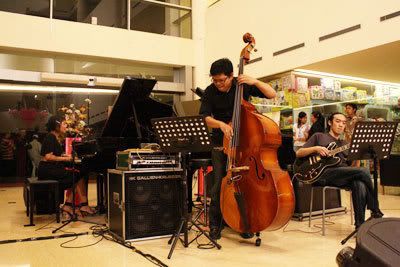 Imel Rosalin, Rudy Zulkarnaen and Edward Prasetya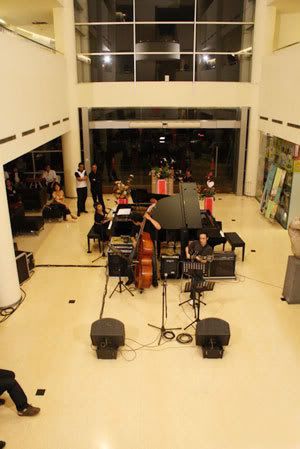 Imel Rosalin Trio – sky view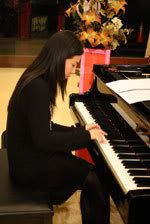 Then Michelle Efferin Trio took over. Michelle Efferin is also known as a great Indonesian female pianist. Tonight she was accompanied by a real life couple, husband Hery Wijaya (upright acoustic bass) and wife Fora Faforina (vocal). "This is the first time for me to perform at the hospital", Michelle said. Together they delivered some all time hits like "Let's Fall In Love", James Ingram and Patti Austin's famous duet, "Baby Come To Me", the classic "What A Difference A Day Made", Johnny Mercer's "Skylark", Anita Baker's signature song "Sweet Love", and some other songs.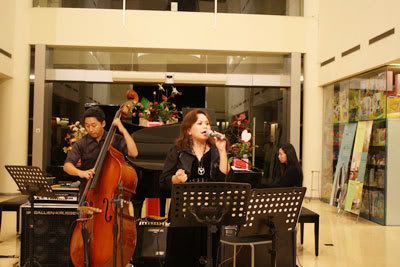 Michelle Efferin, Heri Wijaya, Fona Faforina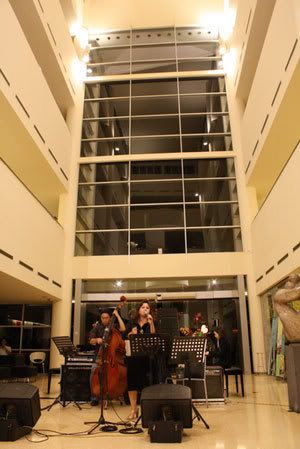 Michelle Efferin Trio
Then came the moment all had been waiting for. It was an amazing show of piano duo, a great collaboration of two great skilled pianists with two baby grands. Imel Rosalin and Michelle Efferin had a perfect chemistry between each other. They filled each other, completed each other. Together they built the compositions harmoniously, as they went on playing other classics like "My Funny Valentine", Snow White's "Someday My Prince Will Come", and then closed the show with two songs in jam sessions, Roberta Flack's "Feel Like Making Love" and the jazz standard we all love, a famous Nat King Cole's song "L-O-V-E".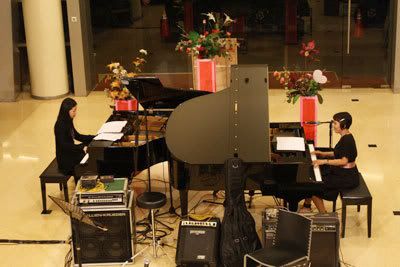 The Great Piano Duo by Imel and Efferin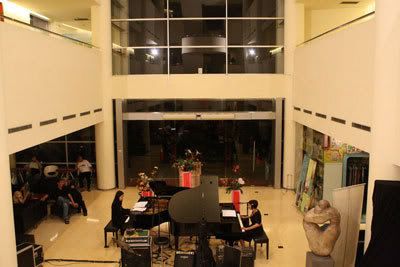 Baby Grand Piano Duo, sky view
It was an unforgettable event. A great jazz event, with two baby grand pianos, two great trio groups, plus special piano duo performance at the cozy lobby of a "five star hotel-alike" hospital. I do really hope this is just the beginning of many great jazz events to be presented at the Melinda Hospital in the future. Grand Jazz Valentine was an event that proved how jazz could be merged harmoniously with the hospital. Thanks to Melinda Hospital (especially their Art and Culture Department) and Klab Jazz for making this unique and wonderful event to celebrate Valentine's Day. Bravo!
Reporter: Riandy Kurniawan , Adott Jumbo
Photographer: Eghi 25