And the party reached the end.. It was a huge success, a lot better than what I was expecting. The tagline: "A Whole Lotta Jazz", plus the poster that stated many genres of jazz such as Swing, Soul, Fusion, Cool, Pop, Nu Jazz, Experimental, Funk, Blues,  Bebop and Bossanova, is in fact a perfect way to describe how the festival was.
Some friends of mine underestimated JakJazz 2008 because, according to them, the event was lack of huge international artists. But I do think those who choose not to attend this event should feel sorry for themselves. What JakJazz 2008 delivered was nothing but good quality. Great musicians with amazing skills, tons of unexpected show, wonderful colaborations, superb selections and colorful variations were all there, representing the amazing world of jazz. All performers proved why they should be a part of this international event, all of them showed amazing performances with their specialties and abilities that stunned the audience. It's been like that in all venue for 3 days.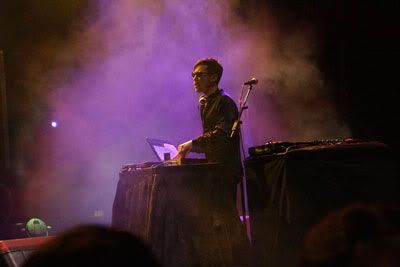 On day one, Vidi Aldiano got huge attention from the crowds. I saw many people dancing happily, and to my surprise, some mature even elders enjoyed his performance too. The legendary Oele Pattiselano was still as stunning as always with his guitar. Idang Rasjidi's New Generation was also remarkable with their high skill playing. Big band like Salamander Big Band and Van Alloy Big Band preserved the original swingy big band sound just like in the 30s. Tompi was also got huge attention.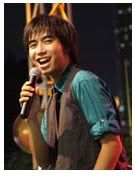 Ray Harris and The Fusion Experience gave a different color, playing rock-fusion music with The Doors or James Brown's influence. Maliq & d'Essentials rocked the stage with their danceable funk style. Boi Akih ft Mike del Ferro emerged as fans favorite instantly. Many people talked about their performance around the venue. The combination of three generation, Just The Three Of Us, brought back the memories into the new millenium. I was happy to see the legendary Rien Djamain and Vonny Sumlang appeared again elegantly. Saxophonist Devian with a former 70s child singer Dina Mariana delivered a nice performance. Michelle Nicolle Quartet, Marina Xavier & Enrique Marcos with Kiboud Maulana and Friends were also fantastic. In the end, Kyoto Jazz Massive was unbelievable. Showing jazz has no boundary, it could blend perfectly in harmony with jazz, and they made all the audience couldn't stop dancing.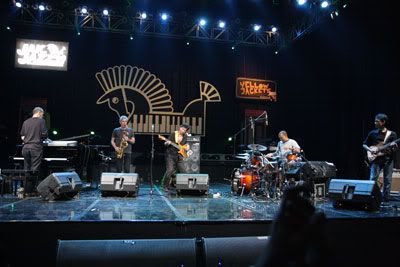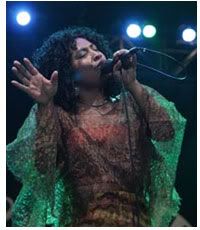 Day two, Boi Akih got bigger attention. The news about their great performance on day one spread over the attendance. Many people that missed her day one performance now got their chance. The same thing about Ray Harris on  their second show. Ireng Maulana's performance with Andien and Afgan was sweet. Indra Lesmana Reborn, a high skilled fusion show was favored by many audience. Roland Tchakounte with his acoustic guitar brought blues on stage.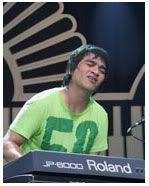 Barry Likumahuwa's chunky bass, together with father Benny and uncle Utha gave out a great interactivity in their performance. Lica Cecato with Zarro delivered bossa flavor that was as beautiful as a poetry. Bassgroove 100 showed that jazz also have an existance in Malaysia. Perhaps Daniel Sahuleka was the most wanted that night. It was fully crowded, so full that many people got dissapointed for not being able to see him. DJ Shuya, one half of Kyoto Jazz Massive turned the venue into a club house. Mixing many great danceable songs he made the crowds dance. And day two ended with the performance of the legendary Abraham Laboriel with his Open Hands Project. It's just a dream come true to see him together with some of his ex-Koinonia's friends.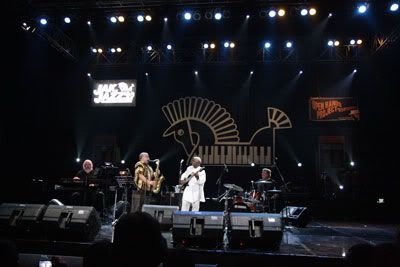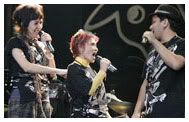 Day three, just when it was starting to dark, Syaharani and the Queenfireworks blast. They gave out an amazing performance in more than an hour. The crowds didn't even care of rain, they just danced and enjoyed their performance.  Sekapur Sirih, a band from Klabjazz was also great. Roland Van Straaten with his harmonica got good attention from the attendance. Two youngsters' favorite, RAN and Soulvibe redefine acid jazz into their style and brought the audience to dance. Nera gave a strong performance of world's ethnical music. Blues shouted loud from Abadi Soesman with Gugun and the Blues Bugs' stage. Yellowjackets got on stage together with Tohpati in a wonderful show. In the end, Sister Duke gave out a wonderful performance that watched by big crowds. At the same time, the closing show performed by 10 Indonesian best musician delivered in the other stage. Ireng Maulana lead the legendary Margie Segers (she still has it, even better than ever!), Syaharani, Tompi, Idang Rasjidi, Benny Likumahuwa, Yance Manusama, Sam Panuwun, Didiek SSS and Rudi Subekti in an unbelievable jam session full of improvisation. It was awesome!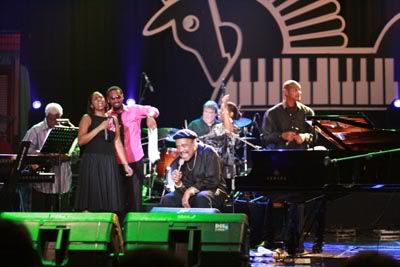 There are many names that I haven't mentioned yet, but believe me, they all rocked. Once again, JakJazz 2008 was exceptional. Well and carefully picked artists, good schedule, colorful tones, it can be the best example of what jazz world is all about today. A Whole Lotta Jazz for 3 days. Big applause and respect to all the organizers for making such an amazing festival like this. See you at the next JakJazz 2009!
Reporter : Riandy Kurniawan (jazzuality.com)
Photographer : Praditya Nova (kantorberita.com) ,Aldi Mahdi (kantorberita.com)