An interesting concept is coming right at you, brought by Klab Jazz in cooperation with the Institut Francais d'Indonesie (IFI), Bandung. It's called DUO TONE, set to be held on Thursday, August 28, 2014 at the Auditorium of IFI-Bandung, Jl. Purnawarman no 32 (right in front of Bandung Electronic Center/BEC). Surely you're curious to know more about this program, the lineup and some brief informations about them. We will let you know all the details right here in this article.
Duo Tone
Duo Tone is the smallest collaborative work of a musical pairing. It's made as a vehicle where two musicians try to interpret musics and lyrics, either from jazz, soul, blues, pop or their original works to the unity and harmony of taste and color that can really represent both sides.
Background
Perhaps you wonder where this idea came from. According to Dwi Cahya Yuniman as the founder of Klab Jazz, he got the idea after realizing that many bands had to pass the invitation to play at Klab Jazz's events because some of their personnels were having another activities elsewhere. Many of these bands are actually promising, but they are stuck due to the empty seats left by some of the team mates. Klab Jazz realized that those who are still staying actually have enough strength to carry on. It's a waste if they had to loose so many chance only because they require a combo formation (including drums and bass). That shouldn't stop them from expressing themselves musically, because there are still things can be done to support these musicians in order to fulfill their calling.
Duo Formation
The incomplete formation that often becomes an obstacle shouldn't be a problem any longer. Looking from the positive side, the lack of players can push the rest of the personnels to give their best shot. They have to work harder to fill up the empty spaces and to make a composition stands just as good as being played by full team.
We say, it can pushes their creativities or even skills. It will sharpen their sensitivities and make them smarter in creating a concept. Duo is the smallest collaboration between players that needs more than just ability to play instrument. It often needs charm, extra energy and ability to connect to the audience more than ever. That's the homework, that's the challenge. In other words, both of the players have to be strong and work in harmony to provide a musical dialogues that can be understood and accepted by the audience.
Repertoires
Repertoire-wise speaking, the concept of Duo Tone is being directed towards the classic pieces that have stand the test of time, but might have been forgotten or replaced by today's popular songs.
The Duo Tone will present four categories: Cole Porter, Nina Simone, Soul Jazz and Male Jazz Vocal.
In Male Jazz Vocal, this program will cover the present-time's songs. There are many outstanding international male jazz vocalists today, but unfortunately since they don't get enough air time in our radios and televisions, most of our music fans become unfamiliar with the fine works of recent male jazz stars like Jose James, Gregory Porter and others.
Opening the Chance to Play
Today there are many venues (from cafes, restaurants, meetings, parties or small festivals) that require bands with small formations to play. The reason may vary, like the size of the space, avoiding too loud sounds that can disturb their guests or the limited budget of the owners. Playing as a duo opens up a chance for musicians to be in this field, something that they might not get if they only choose to play in combo formation.
The Artists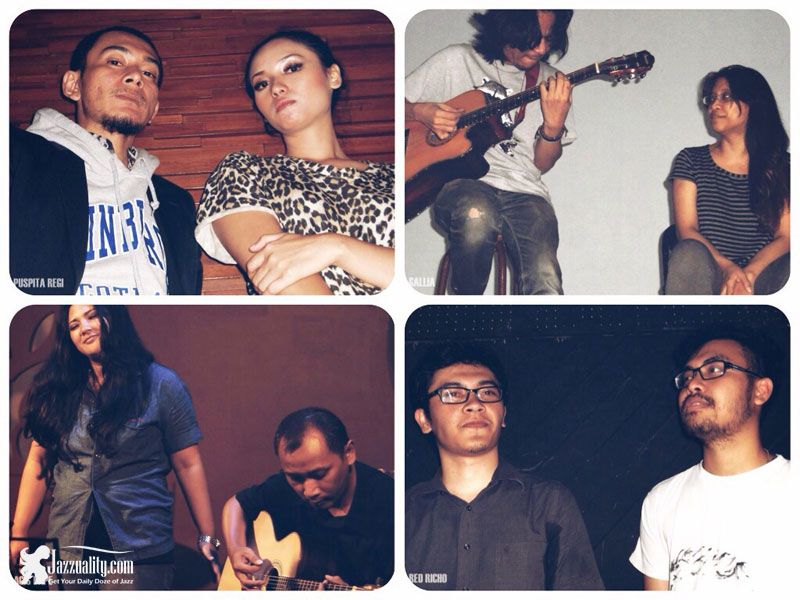 AGIS BAPE
This is a slice of a 'small' group that plays French Gypsy Jazz, Satura ft Agis Kania. This time two members from this group: Agis Kania and Opik Bape will go deeper into Soul Jazz. This is a good choice since Agis is has a strong soulful vocal character. Step aside from the Django Reinhardt's style that Satura is into, Agis and Opik will definitely give something tight and clean, the way they always do everytime we see them on stage.
GALLIA
This is the combination of Galant Yurdian, the bassist of an independent band 70's Orgasm Club that also plays guitar with a superb jazz songbird, Puspallia Panggabean. We knew her since a couple of years ago when she used to play with Halfwhole Project, in another duo project with AJ theReal or in any other special sessions and we love her ever since. She has a regular gig at cafe Laos with Benyamin on guitar. What's interesting in this act is to see how a indie-rock oriented musician/guitarist like Galant would sound when he takes on Cole Porter. As for Puspallia Panggabean, this young lady is the perfect one to carry this task. Let's see how they cook the meals.
PUSPITA REGI
This is an experimental project between the vocalist of La Belle, Puspith March and a new sensation Reggie Badh. Reggie Badh once played solo, tackling both melodies with guitar and sing in Klab Jazz's event "Et Alia" at the beginning of this year. Puspita Regi is going to pin the masterpieces of Nina Simone.
REO RICHO
This is a newly-formed duo that was made especially for this Duo Tone event. Unlike the other duos, Yuricho Billy and Alvis Gusreo of Reo Richo combines vocal and piano. As the only male jazz vocalist in this event, Klab Jazz asked them to take on Male Jazz/Soul Vocal's repertoires, ranging from the 70's up to present.
GUEST STAR: SARAH N' SOUL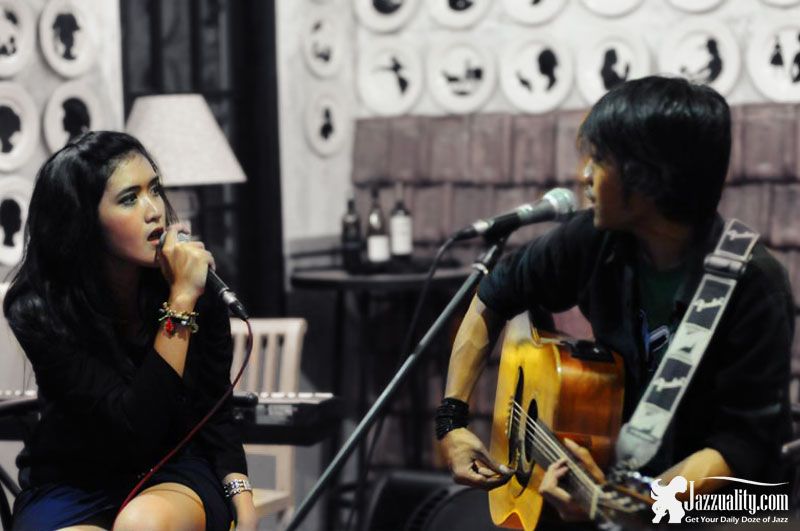 Other than those 5 duos, this event invites a successful duo Sarah N' Soul as a special guest star. Sarah Herliani Saputri and Nissan Fortz spread their musical horizon around soulful Blues. They have supported KlabJazz's events three times before, and Sarah was once joined the jam session of our own Terraz Jazz some weeks ago. Both of them are individually outstanding and highly gifted, but when they become Sarah N' Soul, that's another story. They know how to combine everything they have inside to create the magical world of Blues. This sensational pairing has some singles that has been getting more and more attention from music lovers. From what we see and hear, we believe Sarah and Nissan is a musical soulmate.
Interesting concept we should say, and we're happy to support it. For the jazz, soul and blues aficionados, indie fans, those who love acoustic duo formations or even if you want to see the potential pairings that one day can rule our music industry, this is for you. Strong lineup, strong combination and strong concept in cool varieties can be enjoyed all at once.
DUO TONE
Date: Thursday, August 28, 2014
Time: 7:30 pm – onwards
Location: Institut Francais d'Indonesie (IFI) de Bandung
Jl. Purnawarman no 32, Bandung
ENTRANCE FEE: IDR 20.000 only