Attention folks! A very special concert that many of us probably didn't even dare to dream is right around the corner! The concert's called DUAJI & GURUJI , featuring two legends from two different part of the globe: our own Dewa Budjana and one of the pioneering figures in jazz fusion, the one and only John McLaughlin with his amazing team, the 4th Dimension.  This amazing show will be held at Arma Ubud Bali on Sunday Night, October 18, 2015 starting 7 pm. Lucky for you guys who happen to be in Bali at that date, but for you who are living in another city, there's still enough time to secure your seat. This one is simply a concert you don't want to miss, especially for jazz and of course, the fusion lovers.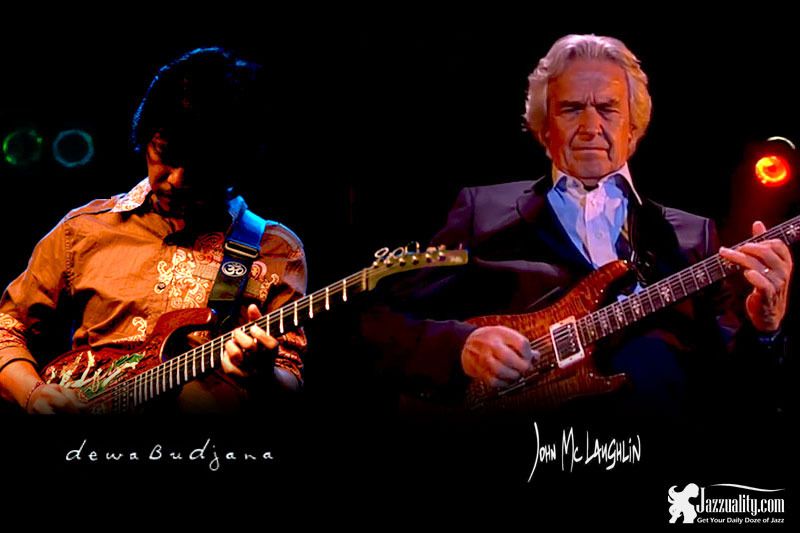 I Dewa Gede Budjana, with an extensive 30-year plus career as a guitarist, he began thinking of his legacy, not only for his next of kin, but also to the world of music, especially in Indonesia.  An idea arose to establish a guitar museum that does not only display the guitars he has played, but also a diverse number of other guitars with stories of their own.  The idea came to term as he realized that he was also inspired by other great guitarists, both from Indonesia and other corners of the world.  The museum is due to showcase signed guitars from the likes of Mike Stern, Pat Metheny, Ebiet G. Ade, Steve Vai, Allan Holdsworth, Bill Frisell, Mike Lukather, Ludwig Lemans, Robby Krieger, Michael Landau, Eross Candra, Scott Henderson, Michael Angelo Batio, Aria Baron and Guthrie Govan.
Museum Gitarku (trans. My Guitar Museum – www.museumgitarku.com) located in Ubud, Bali, will be the first guitar museum in Indonesia. This museum is also member of Wisesa Group. A number of guitars will be showcased there, some of which are adorned by Indonesia's great artists such as Nyoman Nuarta, Joko Pekik, Sunaryo, Srihadi Soeharsono, Agus Suwage, Erica Hestu Wahyuni, Teguh Ostenrikt, Midori Hirota, Nyoman Meja, Runi Palar, Nyoman Gunarsa and many more.
To complete the guitar collection, world guitar legend, John McLaughlin, who is also known as the pioneer of the jazz rock/fusion genre, will be part of the museum's debut.  For Budjana, John McLaughlin is person he looks up to, a teacher and a continuous inspiration.
Currently on an Australia-Asia tour with his group John McLaughlin & the 4th Dimension, the group recently released their latest album "Black Light" in September 2015. McLaughlin is due to perform with musicians he hails as his favorites: Gary Husband, Ranjit Barot, and Etienne 'Mbappé. The performance of John McLaughlin & the 4th Dimension on 18 October 2015 at Arma Ubud, Bali, will be part of the road to the Museum Gitarku (My Guitar Museum) launch.
John McLaughlin
A Mahavisnu amongst guitarists.  Pat Metheny mentioned that John McLaughlin continues to evolve within the many periods of his career.  McLaughlin is considered as a major influence in the genre of fusion.  In an interview for Downbeat Magazine, Chick Corea mentioned that he's never heard anyone play like McLaughlin – and that really was inspirational to Corea.  According to Frank Zappa, someone is considered a fool is he is unable to appreciate McLaughlin's techniques.  Jeff Beck simply said that John McLaughlin is the best guitarist alive.
From the onset of his career, the Yorkshire, England born guitarists (he was born on January 4th 1942), not only plays jazz, but also took part in R'n'B and funk groups.  He also found inspiration in Jimmy Hendrix's fierce guitar-playing.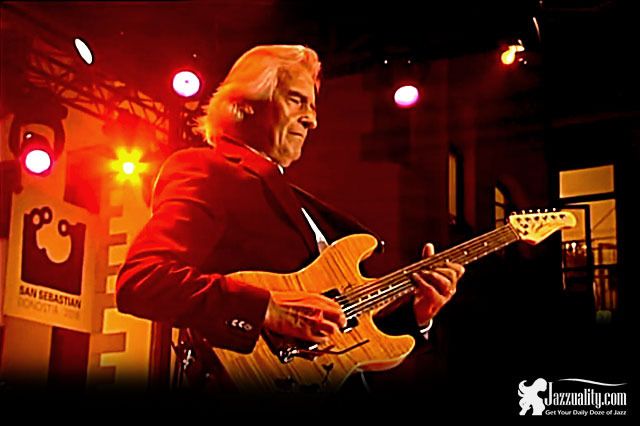 In 1969, McLaughlin relocated to the United States of America based on the invitation from drummer Tony Williams who first heard McLaughlin jam with Jack DeJohnette and Dave Holland. Williams involved McLaughlin in his prestigious project, the Tony Williams Lifetime.  In a short time, McLaughlin was already involved in the making of Miles Davis' "A Silent Way" album, which already incorporated a touch of electric in a jazz record.  This album was also hailed by music critics as the beginning of Miles Davis' writing and recording journey into fusion recordings.  A month later, in August 1969, McLaughlin took part in another of Miles' album, "Bitches Brew".  The recording became part of Miles Davis' experimental and highly revolutionary process.  Critics perceived the music within the album as laden with rock.  "Bitches Brew" was cemented as the milestone of fusion music.  Within those two recordings, John McLaughlin managed to steal some attention due to the stellar nature of his prowess.  Two years later, in 1971, McLaughlin formed the Mahavishnu Orchestra, the group noted as the pioneer for the fusion music wave.
The concept of the compositions was an amalgamation of diverse genres, with the intense marriage of various instruments, from electric guitar, violin and Mini Moog synthesizer within one ensemble.  Within the collaboration, a noticeable space for solo exhibitions and high-volume electric rock, Jimmy Hendrix-style, were present.  The music's complexity continued to escalate as McLaughlin made use of rhythms of traditional Indian music, funk and the harmony of classical European music.  Mahavishnu Orchestra was mostly active recording and touring during two distinguished period, from 1971-1976 and 1984-1987.
John McLaughlin's musical journey is certainly electric and exciting.  He never stopped to explore life, spirituality, art and culture, and, inevitably, music itself.  India with its robust art, culture and spirituality is part of McLaughlin's personal as well as musical journey.  He not only learned the Indian traditional music, but also a couple of instruments from different parts of the country.  Shakti (and then Remember Shakti) is a group he formed with India's renowned traditional musicians, among which, L. Shankar (violin), Zakir Hussain, (tabla), Ramnad Raghavan (mridangam), T.H. Vikki Vinayakram (ghatam), V. Selvaganesh (ghatam), U. Shrinivas (mandolin), and Indian traditional singer Shankar Mahadevan. Albums released by Shakti (active: 1975 -1977) and Remember Shakti (active: 1997-now) are constant reference for fusion and world music musicians due to the success of McLaughlin and crew's success to marry Euro-American music with traditional Indian music.  Not only did the McLaughlin managed to amalgamate the music of various nations, but also open and infect others with creative intelligence for musicians who became part of his musical journey and also those who admire him.
The exploration and experiment McLaughlin underwent with Indian music, did not hinder him from playing other music.  Take heed of the music and performance he had with the likes of Paco de Lucia, Larry Coryell (then replaced with Al di Meola) which resulted in two studio albums and one live album.  His collaboration with Trilok Gurtu (drums and table) and bassist Jeff Berlin and Kai Eckhardt is another musical treat from fusion music enthusiasts. McLaughlin's trio project with Joey DeFrancesco (Hammond), with either Dennis Chamber of Elvis Jones, was something else altogether.  Both versions of the trio presented a powerful and unalike experience.  In the album "Tokyo Live", most of the songs performed were created by John McLaughlin, with the exception of "No Blues" (Miles Davis), while in "After Rain", the trio performed compositions from world's legendary musicians.
In the album "Promise", released in 1995, John McLaughlin collaborated with musicians of diverse genres, among which Vinnie Colaiuta, Mark Mondesir, Jeff Beck, Pino Palladino, Michael Brecker, Trilok Gurtu, Nishat Khan, Zakir Husain, Paco de Lucia to Sting. In 2003 to 2005, John McLaughlin worked with his former student who became the renowned world contemporary music composer, Yan Maresz, to create an educational project named Europa.  McLaughlin did all compositions while Yan Maresz created orchestrations.  The album was titled "Thieves & Poets".  A DVD box set titled "This is the Way I Do It" was released soon after.
Prior to forming the group John McLaughlin & the 4th Dimension in 2007, John McLaughlin released three albums, "Industrial Zen" (2006), "Floating Point" (2008) and "Five Peace Band Live" (2009), where McLaughlin performed live with Chick Corea, Kenny Garret, Christian McBride and Vinnie Colaiuta.  All three albums received rave reviews.  "Five Peace Band Live" even won a Grammy Award for Best Jazz Instrumental Album.
In his youth, John McLaughlin once taught Jimmy Page a couple of guitar techniques.  He is widely known as an inspiratory for world guitarists in the likes of Steve Morse, Mike Stern, Al Di Meola, Scott Henderson, Omar Rodriguez-Lopez, to the hardcore punk guitarist Greg Ginn.
In his lengthy career, up til age 73, John McLaughlin has given birth to a total of 47 solo, collaboration and live show albums.  He was also involved in 46 albums by other musicians. It looks like McLaughlin is not slowing down.
John McLaughlin & The 4th Dimension
The initial formation of this group was John McLaughlin (guitar), Gary Husband (keys), Mark Mondesir (drums) and Hadrien Feraud (bass), who performed at Official Pirate: The Best of the American Tour 2007. In 2009, Etienne 'Mbappé replaced Hadiran Fereud who broke his finger. The new formation then launched their debut album "To the One" in 2010. The release of the album "Now Here This" (2012) marked the change of drummer, from Mark Mondesir to Ranjit Barot. John McLaughlin & the 4th Dimension third album was alive recording titled "The Boston Record" (2014).
John McLaughlin & the 4th Dimension tour to Australia-Asia began on October 6th in Perth.  After a tour of four Australian cities, John McLaughlin & the 4th Dimension is due to swing by and perform at Arma, Ubud, Bali, on October 18th, before continuing their tour to other Asian cities.  An exciting fact is, this is their first tour after the release of their fourth album, "Black Light", which will be available on September 21 by Abstract Logix.
(photo taken from http://johnmclaughlin.com/)
Gary Husband
For music lovers in Indonesia, the name Gary Husband is perhaps better known as the drummer of Level 42.  He is also an acutely active musicians who is involved in various group with his own unique style.  Husband is often involved in various musical projects due to his stellar drumming and keyboarding skills, a rare talent on its own.
The first instrument he mastered was the piano.  He then developed an interest in drums and self-taught himself.  By the age of 13, Husband started playing music professionally with both instruments in tow.  By the age of 16, he became a full time drummer.  It did not last long, because when he was 18, he started starring in various groups as both drummer and keyboardist.
Gary Husband is widely known for his prowess in playing jazz, fusion, pop, rock, prog rock, funk, blues and classic.  Aside to being entrusted to play the instruments, he also often dabbled in compositions and music arrangements, including for big band format.
A lengthy list of musicians have worked and trusted Gary Husband's work, including Allan Holdsworth, Pat Evans, Billy Cobham, Andy Summers, Randy Brecker, Bob Berg, Mike Stern, Gary Moore, Jerry Goodman, Al Jarreau, and, of course, John McLaughlin who recruited him to record the album"Industrial Zen".  He also performed in Chicago Eric Clapton Crossroad Festival 2007, prior to the formation of John McLaughlin & the 4thDimension.  In 2014, Gary Husband was featured as one of the musicians of Dewa Budjana's album "Surya Namaskar".
Etienne 'Mbappé
"The bass player with gloves", that how people often recognize him. Etienne 'Mbappé always wears black silk gloves whenever he is playing bass.  However that was not the primary reason why the likes of Salif Keita, Joe Zawinul, Ray Charles, Robben Ford, Bill Evans, and even John McLaughlin selected him to safeguard the bass when jamming.  Aside from being a stellar bassist, 'Mbappé is renowned for his unique rhythmic Bikutsi-Makossa-Asiko-Mangambeu-Bolobo-Mbayasounds which originated from his birth land of Cameroon.
Born in Douala, Cameroon, then moved to France at the age of 14, Etienne 'Mbappé, learned to play classic contra bass and decided to learn electric bass autodidact.  Not only does he play formidable bass solo, 'Mbappé often incorporated a bit of scatting with African-based rhythms.
Etienne 'Mbappé, called ATH by his friends, has released three solo albums: "Misiya" (2004), "Su La Také" (2008) and "Pater Noster" (2013).
Ranjit Barot
Born in 1955, the son of Kathak style classical dancer, Sitara Devi, ensured that Ranjir Barot access and proximity to the likes of Indian musical maestro such as Zakir Hussain, Vilayat Khan, Rais Khan and Alla Rakha, from a very young age, as they often rehearsed at his parents' house.  Definitely not child's play, by the age of 17, Barot already became one of India's prominent drummers and often graced the stages of European jazz festivals.
In 1980's, Ranjit Barot became more active as an instrumentalist, singer, composer and producer for his fellow musicians and also the highly productive Indian film industry, including with A.R. Rahman.  When performing, Barot combines Indian traditional music rhythms with a modern twist.  He mentioned that two of his biggest inspirations are John McLaughlin and Zakir Hussain, both of which were featured is his album "Bada Boom".  Ranjit Barot's collaboration with John McLaughlin can be heard since album "Floating Point", which was released before he replaced Mark Mondesir at John McLaughlin & the 4th Dimension.  Barot does not only play drums, but also demonstrates his talent for Konnakol, a vocal technique where one emulates the sound of Indian percussions while performing solo drums.
John McLaughlin & the 4th Dimension is truly unique.  In addition to John McLaughlin's unquestionable prowess, this group is strengthened by rhythms warriors.  Aside from Etienne 'Mbappé and Ranjit Barot, keyboardist Gary Husband is also a formidable drummer.  Etienne 'Mbappé brings with him traditional Cameroon rhythms, while Ranjit Barot brings a bit of Indian traditional rhythms.  The band will surely elevate the uniqueness to a whole new level.  It is an intertwining and intricate musical treat inspired by the legacy of music created by the ancestors, to inspire the next generation.
The performance of John McLaughlin & the 4th Dimension will also be enforced by Indonesia's own I Dewa Gede Budjana, which also featured Yandi Andaputra, Shadu Rasjidi, Saat, and Martin Siahaan.  They are due to present a compositions from the album "Hasta Karma".   It will be a beautiful performance which fuses the roots of Indonesian traditional music.
So, mark your calendar and join this very special concert that we believe will be listed in Indonesian jazz's historical timeline. It won't come everyday, so make sure you won't miss it.
DUAJI & GUJRUJI : Dewa Budjana and John McLaughlin & the 4th Dimension
Date: Sunday, October 18, 2015
Time: 07:00 pm – onwards
Location: ARMA Ubud Bali
Jl. Pengosekan, Ubud, Bali
Ticket price: Regular IDR 500.000 (available at Rajakarcis.com)
For more info, please contact :
ph: +62 361 285 196  email: antidamusikindonesia@yahoo.com
*Special thanks to Widyasena Sumadio