It's the month of May, we are ready to launch the next stop for our event in cooperation with Venche Music School and Kanggep Kusuma, the BUMI SANGKURIANG JAZZ NIGHT #5. As you may already know, this event is set to run regularly on the second Thursday of each month. But for this edition, we have to move it to Tuesday (May 10th, 2016) because the ballroom will be occupied on Thursday. Because of that, please notice the time change so you won't miss it.
We start this event in the spirit of bringing jazz back to home, based on the jazz history the building has for almost 60 years. We are carrying the legacy left by those who had built it before us, we wish to keep supporting the young talents, pushing the regeneration ahead, showcasing the vibrant jazz colours and providing good quality alternative for jazz lovers. In order to bring this concept alive, we combine the good local talents and those who have given contributions to jazz development from Jakarta. There have been considerably young jazz musicians who graduated from abroad, legends and iconic jazz names. This time we invites a piano master who embraces Latin jazz especially the wonderful Cuban music like no other, a pianist who has been living and breathing inside the jazz scene for no less than 20 years, Rio 'El Montuno' Moreno.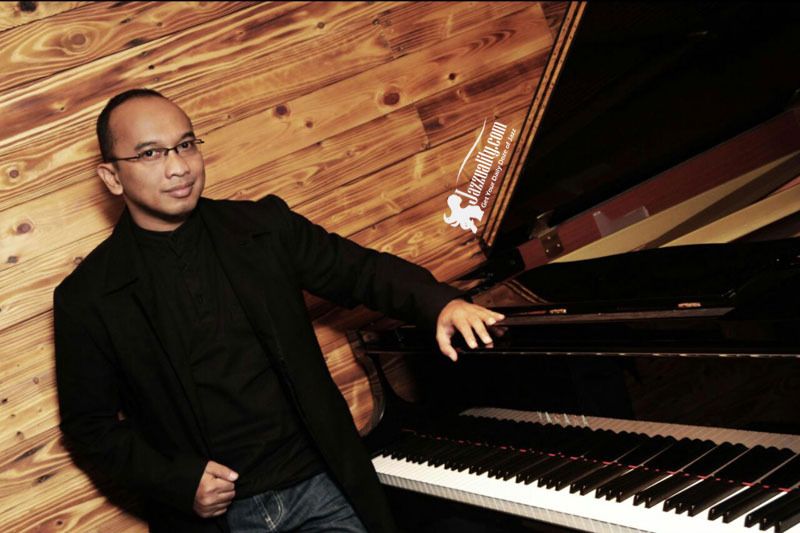 Perhaps some of you, our Indonesian readers, still remember a famous band at the turn of the millennium, Cherokee. It was Rio Moreno who formed it. The band consisting of talented young musicians who are into jazz. The album is rich in diversity by having influences from each member, including Rio's Latin touch, the style he's inspired in after listening to Michel Camilo and Arturo Sandoval.
Rio has been exploring his passion into the Latins by creating his own compositions that rooted in Brazilian, salsa, chacha, especially the Cuban son (music) Montuno. The Cuban music is simultaneously pianistic and percussive. It has its own rhytmic pattern, and that's one of the essences that made him fell in love with the son Montuno. He was really into it, staying true with it, so true that one of his composition from Cherokee titled "El Montuno" later was rewarded to be his nickname. A couple of years ago he released his solo album, consisting of 8 songs titled in English, showing his attempt to get the international attention. You can order his album here: http://store.jazzuality.com/product/rio-moreno-el-montuno/.
Other than recording, Rio is one of the top names in jazz festivals for years. He has also played for four Indonesian presidents throughout his career, an achievemnt that not many musicians could get. So, Afro-Cuban latin and some Brazilians are going to shine in this 5th edition. It's going to be melodious and rhytmical, let's see if you can hold yourself from tapping your feet or even dancing.
From local sources, we are happy to welcome two groups to taste the Bumi Sangkuriang stage for the very first time. Meet two ladies that recently joined forces and made impact in Bandung jazz/music scene, Puspallia Panggabean and Dyah Sekar who are establishing themselves as Puspa Sekar. Puspallia is like a acoustic duo specialist based on many duos that she was in, from Aperplea, Gallia to Uku et Alia. She was also stood as one of the vocalists of gypsy swing group Satura, and now still serves as the vocalist of the 'interplanetary' jazz joyride band, OCD. She now has more opportunities to establish her name in the capital by playing with jazz greats like Benny Likumahuwa, Oele Pattiselano and Nial Djuliarso. As for Dyah, this lady can be seducing whenever she puts her fingers on the keys. Dyah is mainly active in two ladies bands: the Jazzy Juice and SHE. Other than playing variety of genres on piano from jazz, classical, pop to Latins, she sings too occasionally.
Puspallia got interested in establishing a duo with Sekar when she watched her play at violinist Ammy Kurniawan's gig. At that time Dyah played more classical, cheerful and lively. So she thought of establishing a duo for playing children songs. Why children? "Because that's what I always wish to do." said Puspall. Turn out Dyah liked the idea. That's how Puspa Sekar was born. As time goes by, they decided to widen up the border. Not only playing children song, they are exploring other areas too like the American songbook or jazz standards. "Since we are still new, We want to try new things as many as possible." said Puspall. For us, that's a right choice. Looking at how passionate these young ladies are in jazz, we can expect beautiful performance from them. One is an flawless jazz vocalist, the other one is a sweet jazz pianist. Both have character and charming on stage. What could be wrong? We think it's perfect match. Oh yeah, both Puspa and Sekar means flower. That's a strange coincidence. We have been planning to invite these ladies to Bumi Sangkuriang Jazz Night with their each respective groups, but we actually got them together as a duo. It's going to be a lovely session, you can bet on it.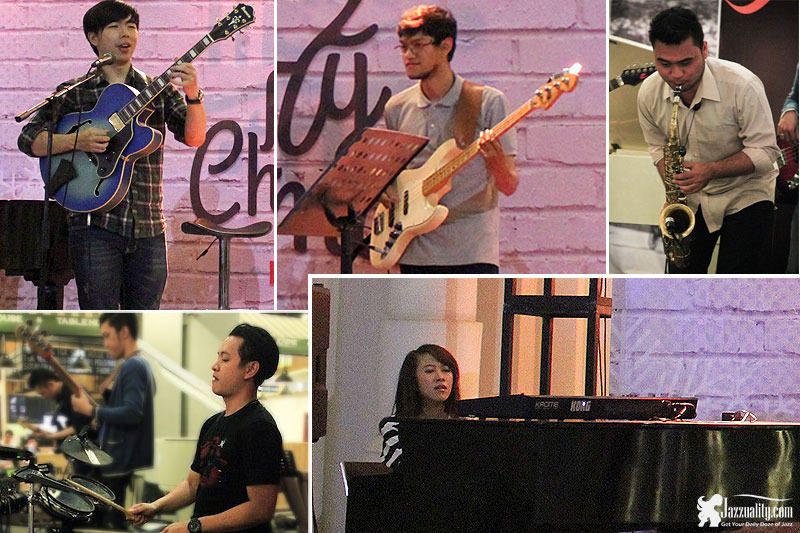 Next to mention is 5th Avenue. Since the moment the band began their journey some years ago, they set the music course towards jazz, funk, soul and rock. We have invited them several times at our other events and always love the way they bring jazz fusion and smooth jazz live from the stage. 5th Avenue is the Consolation Prize Holder of Jazz Goes to Campus 2014, but the guitarist Chris Alfeus actually won the Best Guitarist for this competition. No surprise, since Chris is a brilliant jazz guitarist that can make great arrangement. He can also scat singing along with guitar playing on the same note (or at the interval of an octave) just like George Benson and/or Mus Mujiono.
For Bumi Sangkuriang Jazz Night, 5th Avenue is going to try new colours. If usually they play by four, this time they are going to be a quintet. Other than the original members Chris, his girlfriend Stella Inke (piano) and their latest bassist Ilham Septia Inda Nugraha, they are having two new players on board: Ari Pramundito (drums) and Budy Prama Dongoran (saxophone). Eventhough these two lads are new, they are no stranger to us. We know they are good musicians with the same passion of fusion like 5th Avenue, so this should work nicely.
The concept of sharing the center stage with several melodious instruments are not new out there. Plenty of American jazz (fusion) bands have done it. In Indonesia there have been many bands adopting the concept too. But nowadays, more and more young musicians seem to go towards this path. As for 5th Avenue especially the frontman Chris, this is not something new. We have seen them executed the concept nicely. The quintet formation of 5th Avenue, guitar-saxophone-piano connection in front, that's going to be interesting.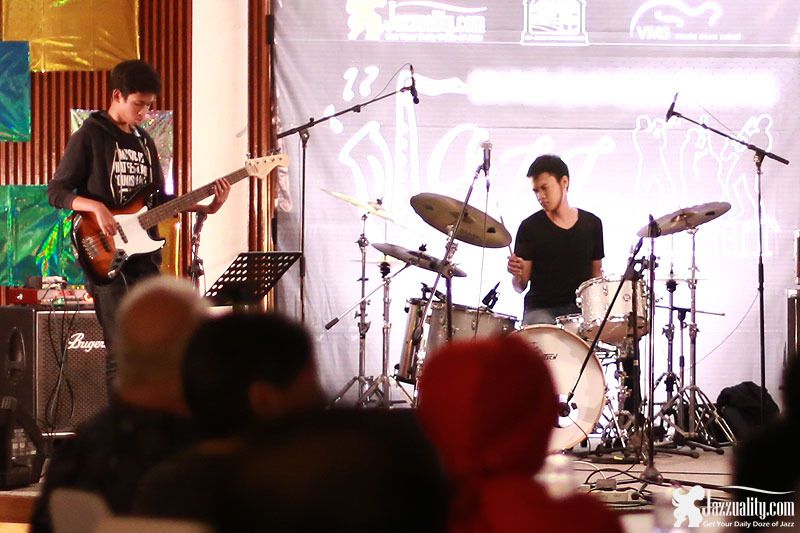 Last but not least, being set to accompany Rio Moreno's performance are two boys representing Venche Music School, the VMS Rhythm Section. On drums is Alman Naufal, and on bass we got the return of Ezra Manuhutu, the son of Venche Manuhutu, the founder of the school. If last time Alman stole the show with his manic, tranced drumming, let's see how these boys would do in digging up son montuno and other authentic Latin flavors of Rio Moreno.
As mentioned earlier in the first paragraph, for this edition the Bumi Sangkuriang Jazz Night #5 will come a couple of days earlier than the regular schedule, on Tuesday, May 10th, 2016. Eventhough the day is moved earlier, one thing remains the same: you can enjoy the whole event for FREE! Soulful smooth jazz/fusion, jazz 'flowers' and the Cuban son montuno, wouldn't it be cool? Alright. if you agree, come and have fun time with us!
BUMI SANGKURIANG JAZZ NIGHT #5
Date: Tuesday, 10 May 2016
Time: 07:00 pm – 10:00 pm
Location: BP Bumi Sangkuriang
Jl. Kiputih no 12, Bandung
FREE EVENT!