Last month we initiated the first edition of Bumi Sangkuriang Jazz Night, which marked the return of regular jazz community event back in the legendary, historical hall of Balai Pertemuan (Meeting Hall) Bumi Sangkuriang Bandung. As you might probably know, this building which was established in 1957 is one of the earliest homes of jazz here in Bandung. In 1981 Bumi Sangkuriang got the regular jazz event for the first time which stood strong for 9 years. Almost a decade later the regular event was back again and stayed for 2 years. Then it was off, and on again for a while, and then it's gone, for 5 years.
Jazzuality.com are happy to be able to bring it back. By collaborating with Venche Music School (especially the founder Venche Manuhutu and Kanggep Kusuma) and of course the venue, we are planning to provide an alternative for everyone to enjoy good quality of jazz without having to pay anything. We want to feature the best talents who know how to play jazz the right way, at the same time we wish to support young talents. Providing reliable and prestigious playground while at the same time giving them a chance to be known by the society, especially jazz lovers.
Here we come to Bumi Sangkuriang Jazz Night #2. We actually try to fit it to our original schedule, but since Bumi Sangkuriang has another agenda, the event is moved to Thursday, February 11, 2016. Starting at 7:00 pm to 9:30 pm. The event is open for public and totally free of charge. If last time we brought prominent jazz musicians from Jakarta (Robert Mulyarahardja and Ricad Hutapea), this time for Bumi Sangkuriang Jazz Night #2 we carry it on by inviting another important name in jazz: Dion Janapria.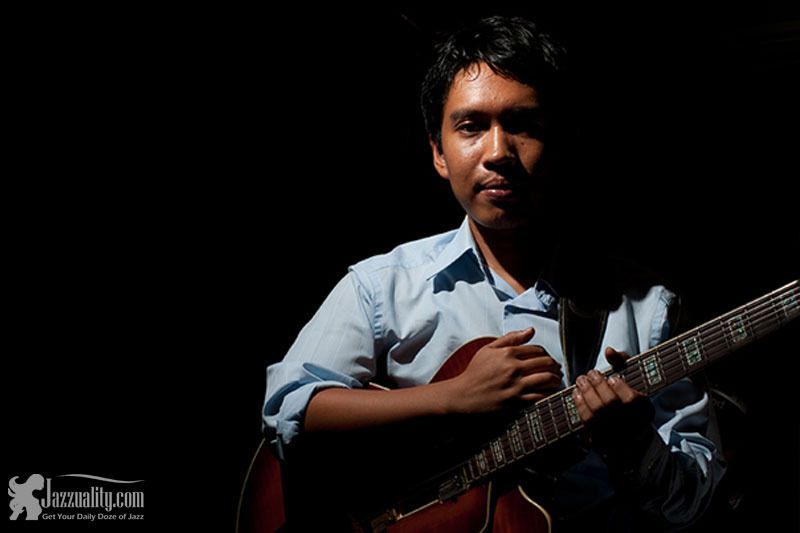 Guitarist Dion Janapria was born in Jakarta on 23 September 1980. He studied under Marcel Karreman and Eef Alberts at Hogeschool voor de Kunsten Utrecht, and Martijn Van Iterson at Amsterdam Conservatory. Dion Janapria's venture in music ranging from the eclectic Tao Kombo Collective Messkeepers sessions in 2009 to the experimental Aksan Sjuman's Committee of The Fest in 2012. He's also known for his studio works and sessions for Sandhy Sondoro and Rieka Roslan among others.
Step aside from all these, he has also established his solo career by releasing his critically acclaimed trio album, "Silver is The Color of The Blues" produced in 2014. For this album he plays as a trio with Kevin Yosua and Othman Djuliarso. In the educational side, he is a music teacher at Djazz Music School, Jakarta, a lecturer and jazz guitar coordinator at Pelita Harapan University (for Jazz Guitar, Jazz History and Improvisation Concepts).
He often looks reserved and calm while playing, but the way he serves jazz elegantly with his guitar will hipnotize you. He has graced many prestigious international jazz festivals including the Java Jazz Festival in Jakarta and Ubud Village Jazz Festival in Bali. Other than playing music, he is also a good writer. Plenty of talents can be found in this humble man,  you will love his play right from the very first note.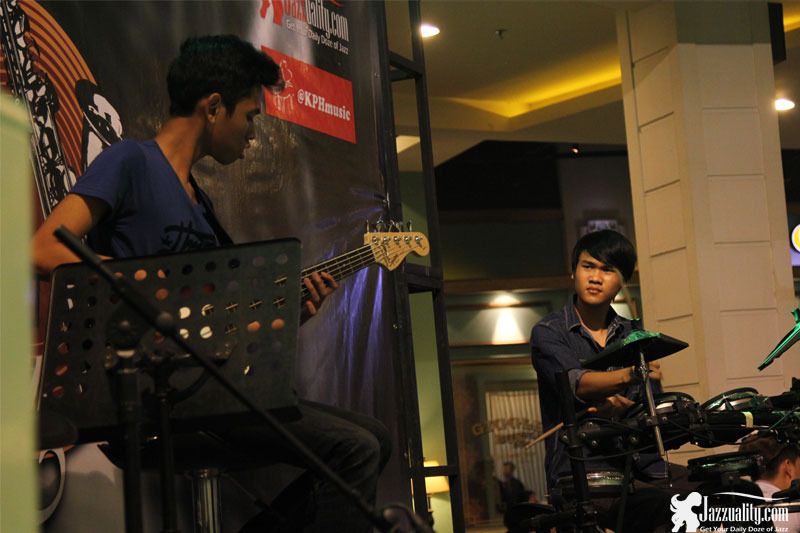 To accompany him, VMS sends its two young guns under the name of VMS Rhythm Section: Alman Naufal (drums) and Ezra Manuhutu (bass). Alman serves as a drum instructor for this music school, while Ezra is now settled with bass after sax. He is ready to follow his elder brother David Manuhutu's footsteps. Collaboration like this will give benefit to the young musicians since they can learn and get a lot of experiences from stylish jazz musician like Dion. It's going to be fun!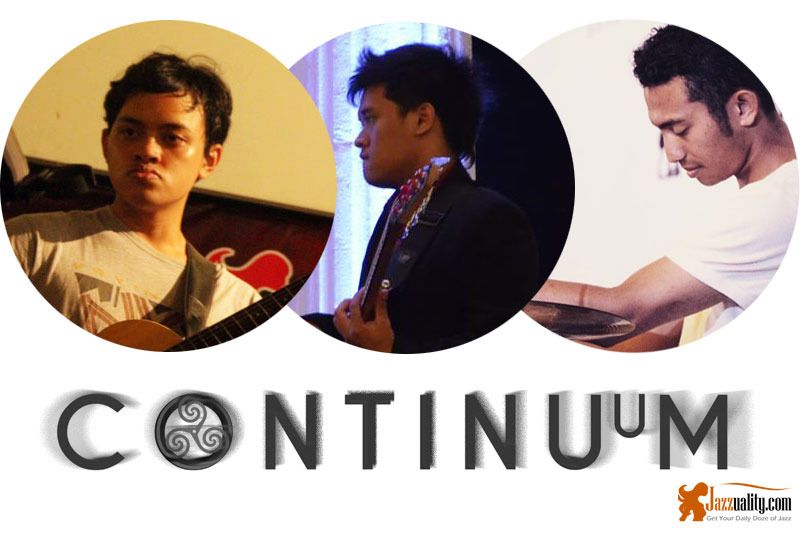 Also representing jazz from Bandung is Continuum. Continuum is a jazz trio built as a vehicle for the young aspiring musicians in Bandung to express themselves through their music. The band formed exactly a year ago in February 2015, consisting of guitar-bass-drums connection and occasionally, an additional vocal when needed. Today the band has three skillful players who are passionate with jazz: Hajar Asyura (guitar), Willyam Yuzaq (drums) and Satya Bayu (bass).
Continuum draws influences from wide array of jazz greats including Robert Glasper Brad Mehldau, Gilad Hekselman, Eric Harland, Wes Montgomery, Oscar Peterson, Lionel Loueke, Ben Williams and Herbie Hancock among others. So far they have participated in jazz communities in Bandung, Depok and Jakarta. Willyam is also the drummer of Radhini. As for Hajar, he's very active in the jazz circle both in Bandung and Jakarta and often joins jam sessions whenever possible. Speaking of jam, he has done it with some renowned musicians, including German-American pianist Benny Lackner. It's true that this band is still considerably new, but make no mistake because they 'speak' jazz fluently and sharp as a team. Claiming themselves as one of the strongest players in Bandung's jazz scene today, we say you will agree once you see them.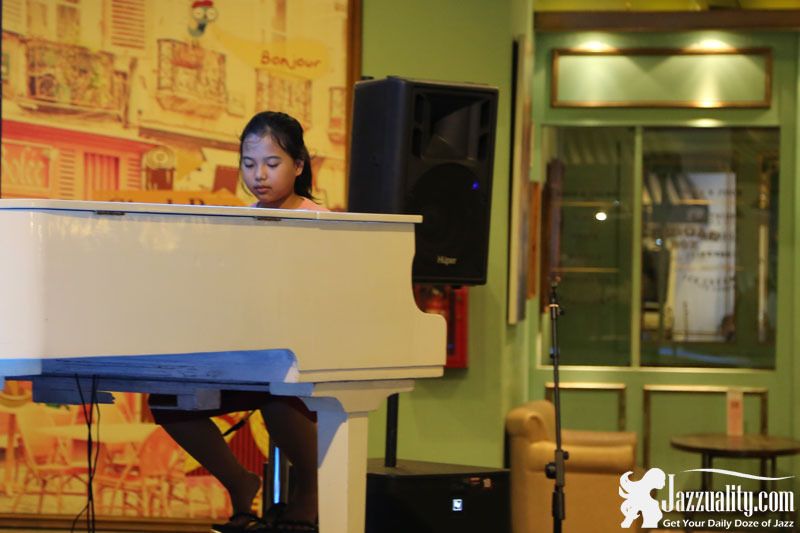 For the first time we are going to feature a magical little girl, still 9 year-old but full of jazz spirit. Her name is Nadine. If usually children around that age are still enjoying and having fun with their childhood lives, Nadine is already very motivated in responding her passion in jazz. Think about it. This girl is still studying. She has to attend lessons after school, both for her formal study and piano. But hey, she still forces herself happily to attend any jazz events everywhere. Staying from the start until the end, even if she has to fall asleep here and there during the show.
What she loves is the chance to play on stage during the jam session. She loves to browse the Youtube, finding the songs she likes and then plays them her way. And we are talking about a 9 year-old girl.
We have invited her to play a couple of times in our other event, and we see a tremendous growth. She has the ability to re-arrange the songs she found on the internet to suit her style, not making it simple but also contain cool jazz improvisations. She has overcame her nervousness and now enjoys her moment on stage. Another good thing is that her left hand is as strong as her right. She provides strong rhythm with the left hand that support the swinging sensation produced by her right hand.
The world is recently surprised by Joey Alexander who got nominated in two categories for Grammy Awards, now here's a girl, younger than Joey who is ready to follow his footsteps.
In a hope to bring jazz back to home, we think hard to feature variety of highly talented players who we think could represent jazz in a good way. What's interesting is that, in jazz there's no age limitation. And Indonesia, including Bandung, is blessed with amazing musicians who are deeply passionate in jazz and also knows how to paint more vibrant colors over the pallette. A community event needs your support in order to keep going. So please be there. You can enjoy variety of performance while at the same time supporting us and this event. See you.
Watch the teaser trailer:
Bumi Sangkuriang Jazz Night #2
Date: Thursday, 11 February 2016
Time: 07:00 – 09:30 pm
Location: Balai Pertemuan Bumi Sangkuriang
Jl. Kiputih 12, Bandung
FREE EVENT!
Supported by Tiga Negeri Music House, Music Gear, AB Production, Infobdg and Roemah Enak-Enak
.