For two months the Bumi Sangkuriang Jazz Night took a break due to the venue's policy to not running any event during the month of Ramadhan. Since we are approaching August, happy to inform you that we are ready to bring it back. In our (Jazzuality.com) cooperation wtih Venche Music School and the venue BP Bumi Sangkuriang, the 6th edition will feature three bands: two good quality local talents and one from Jakarta. Bumi Sangkuriang Jazz Night #6 is coming soon on Thursday, August 11, 2016. The event is totally free and open for public.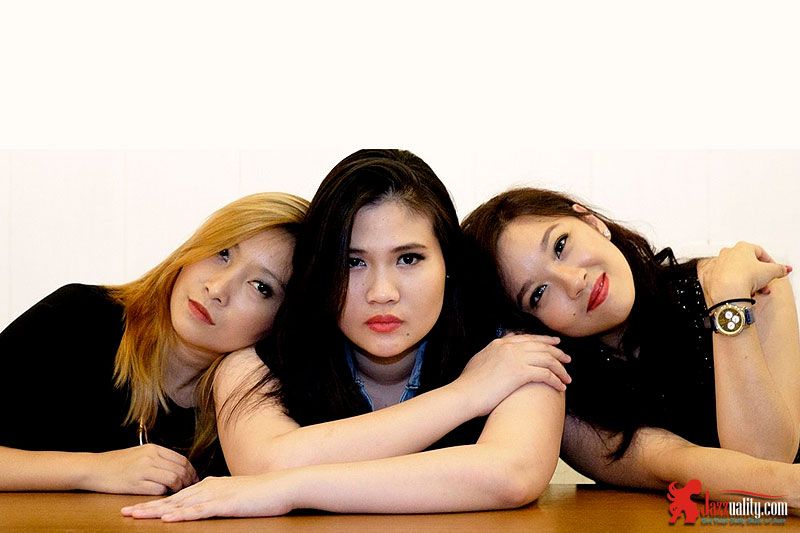 If in the previous editions we featured only one artist from Jakarta, this time we invite 3 talented beautiful girls to make their debut in this event and historical hall/building. The name is EUNOMIA. Based on Greek mythology, Eunomia was a minor Greek goddess of law and legislation, also can be translated as 'good order.' In this case, EUNOMIA is a trio female singers created by producer/composer/arranger/pianist Boby Limijaya, a Berklee College of Music alumnus who has made a couple of breakthroughs in his career such as making up a unique 8 Horns Band, collaborating with Budapest Jazz Orchestra and recorded the album that capital of Hungary as well (http://jazzuality.com/album-reviews/boby-limijaya-8-horns-with-budapest-jazz-orchestra-a-fine-jazzchestras-journey/), then combining jazz quintet and orchestra plus flute and clarinet as Quintchestra (http://jazzuality.com/jazz-events/serambi-jazz-2014-boby-limijaya-quintchestra/).
He formed EUNOMIA in October 2014, consisting of Sarita Wurangian, Cassia Agata and Priscilla Gladys. These ladies have unique vocal tone and character. They also has gone through formal music education. Sarita Wurangian graduated from a university in Korea majoring Classical Vocal. Cassia Agata graduated from Universitas Pelita Harapan (UPH) on Vocal Jazz and Pop. As for Priscilla Gladys, she also came from UPH on Classical Piano.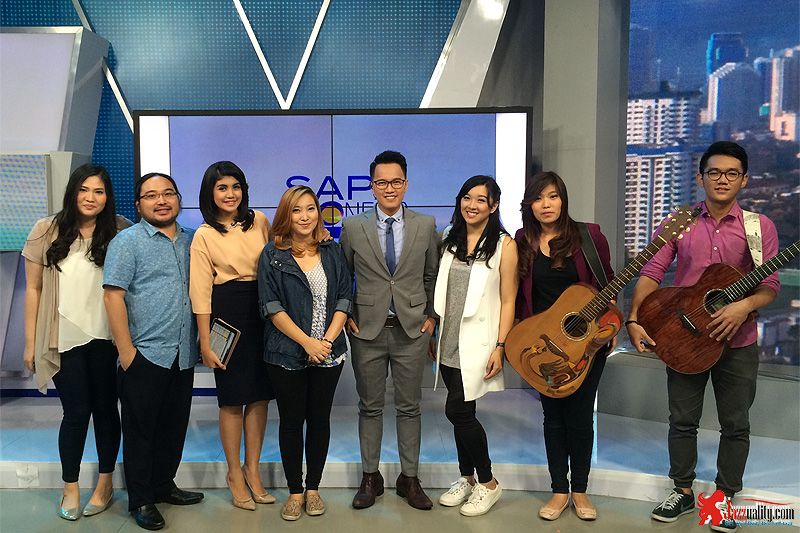 Eunomia at Sapa Indonesia Siang, Kompas TV (January 2016)
In April 2015, EUNOMIA released the first single titled "Terbang", digitally under Demajors. This single directly entered the charts over popular radio stations. Musicians involved in this single including Yesaya 'Echa' Soemantri (drum), Bonar Abraham (bass), Henry Budidharma (guitar), Boby Limijaya (producer, arranger, pianist) and Melky Patti who wrote the song.
Following the success of "Terbang", they released the second single a year later (May 2016), "Let Me Be Me". This song was written by the three ladies along with Boby Limijaya and Bernard Vincent Kusuma. They did really well in accomodating the current trend. For this second single, they are supported by Boby Limijaya and Bonar Abraham, plus Yehuda Manusama (guitar). What's interesting to know is that the mastering of this second single was done in Nashville, USA by Steve Carrao.
So far they have appeared not only in events but also on TV like on Binus TV CHannel, On Air with Ario Astungkoro and Sapa Indonesia Siang on Kompas TV. If usually we invited musicians as the special guest star, this time we are proud to present a trio female singer for the very first time.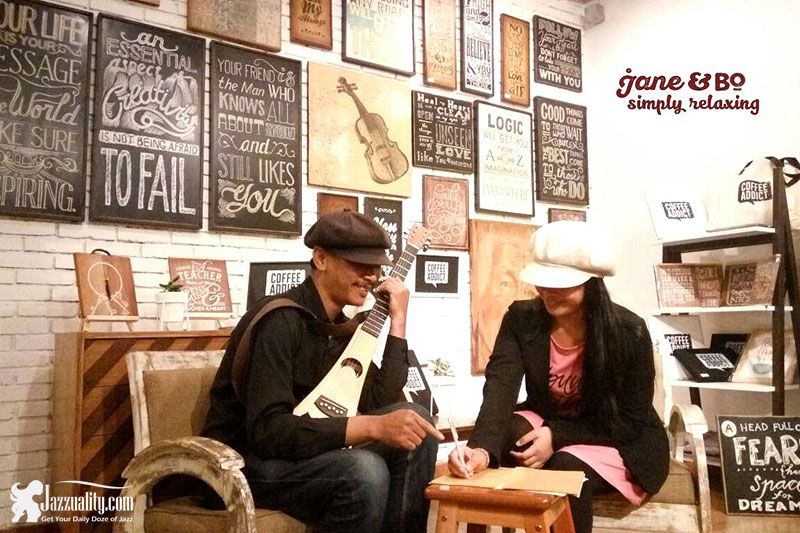 Next is also a new duo who we believe will shout loud in the music industry especially jazz. It's JANE & BO consisting of jazz singer Jane Doe and guitarist Opik Bape. Opik previously has made some unique bands and projects like the stunning Gypsy Jazz/Jazz Manouche called Satura and the dynamic duo Agis Bape. Jane has just came back from Netherlands and looked for a partner. She has a soft, soulful jazz character which reminds us of the classic female jazz vocalists of the golden era. Since they both share the same music taste, it didn't take long for them to establish a solid partnership. It happened in July 2016. Opik should be a perfect pairing for her, since he's experienced in working as a duo and due to his remarkable swingin' skill.
If you wonder what BO in their name stands for, at first it was referring to Bojangles, but then Opik twisted it to be the reverse of his initials. Speaking of repertoire, they love to sing jazz standards such as the masterpieces of George/Ira Gershwin, Irving Berlin, Hoagy Carmichael, Ella Fitzgerald, Billie Holiday, Cole Porter and so on.
The duo of JANE & BO is just started, but since they both are experienced, skillful and has chemistry, you can expect one lovely, intimate session from them. JANE & BO, Simply Relaxing, says Opik Bape in stating their motto and intention. So, if you want to feel the best of jazz relaxation brought by a remarkable female jazz singer and superb guitarist, this one will satisfy you.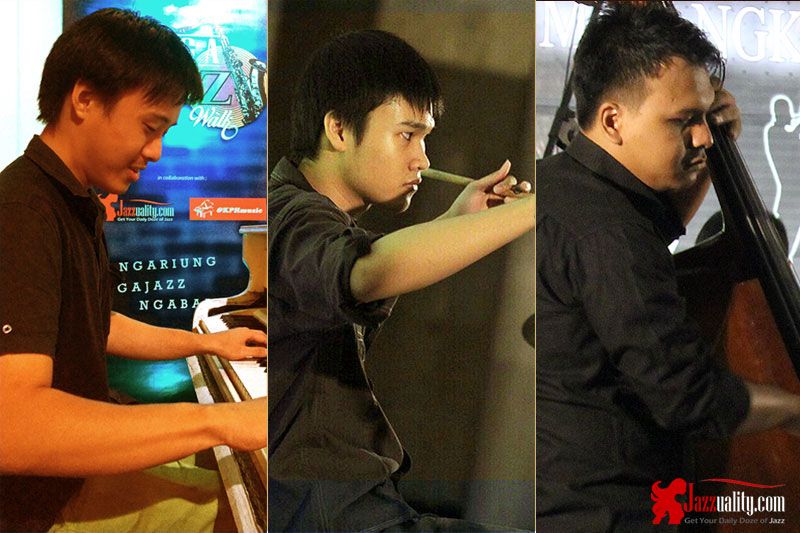 Last but not least, the boys of NEW EQUINOX will be more than happy to go wild again. This band was established around 4 years ago consisting of 3 young guns from Venche Music School (VMS). As time goes by, the band had gone trough some changes on the personnels, but the format of trio has been well kept.
Today this band become a solid collective unit for mainly young players. For this edition, New Equinox features three musicians: Alman Naufal (drum), Aries Ardiansyah (bass) and Jason Limanjaya (piano). Alman has a unique characteristic in drumming. His expression can go like something's going to explode from his wild style of playing. Other than serving as a drum instructor for VMS, he gladly helps many bands as a sessionist, other than settles in this band and YD Nafis Trio/Project. Aries is a smart bassist from young generation who can go funky and swing just as good. He has participated often in this event just like Alman.
The pianist Jason Limanjaya will reprise his participation as a member of this band. He began learning piano since he was still 11 year old. Jason actually lives in Singapore and only play in Indonesia during holiday. In there he learned jazz from school clubs, Raffles Jazz and NTU CAC Jazz and Blues. He just graduated from his formal study and soon will start working in Singapore. Before that, we can still enjoy his performance. This young man is an expressive player and risk taker. He loves funk too. Last week he just showcased his newly-build band Jean Denis Trio which resonates the joyful, playful French funk. HOpefully when he comes to Bandung again we can feature this unique band, but for now, let's enjoy Jason's performance as a part of New Equinox.
Three performances will be yours to enjoy. Save the date, the Bumi Sangkuriang Jazz Night episode #06 going to come soon on August 11, 2016, starting 7:00 pm onwards. On behalf of our partners, supporters and the featured bands, we humbly invite you to join us. Hope to see you guys there!
BUMI SANGKURIANG JAZZ NIGHT #6
Date: Thursday, 11 August 2016
Time: 07:00 pm – 09:30 pm
Location: BP Bumi Sangkuriang
Jl. Kiputih 12, Bandung
FREE EVENT!
Supported by: Classoundsation, AB Production, Tiga Negeri, 106.7 Mara FM, Pikiran Rakyat, Perfect Alkaline, Ultima Music Indonesia and Roemah Enak Enak