It's almost a month since we launched the last edition of Braga Jazz Walk. That means we have to be ready for another episode. And yes, we are ready. The Braga Jazz Walk #29 is set to go! As we said last month, to accomodate so many demand from bands and musicians to participate in, again we are going to feature four bands with different style, taste and flavor: from bossa, swing, bebop, straightahead to jazz-rock. Some of these bands have succeed in their career from playing in Java Jazz Festival, Synchronize Festival and other big events, appearing on television and in recordings.
We will let you know more about them, but first let us give you the date. Braga Jazz Walk #29 is coming soon on 17 November 2016 located at the front yard of Braga CityWalk, starting at 7:00 pm until the mall closes. If you still don't know, this event is totally free of any charge. This event is made under fruitful cooperation between us, Jazzuality.com, the venue Braga CityWalk and KPH Music.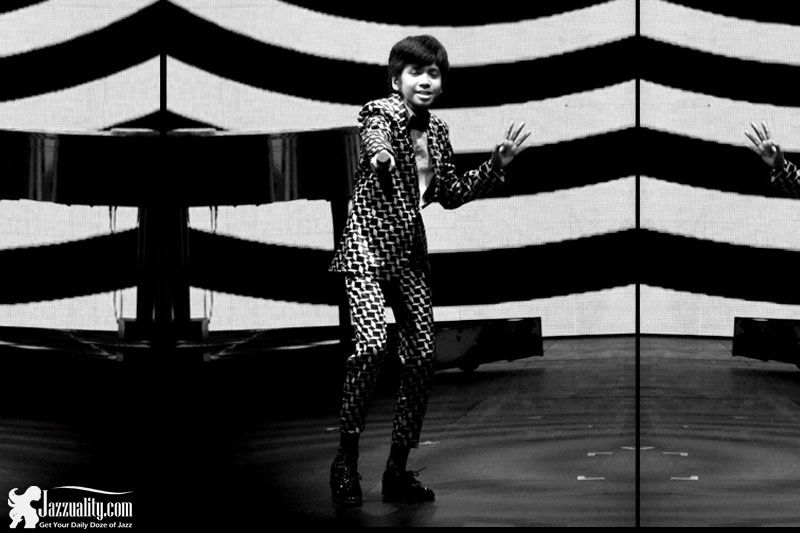 Now let's get down to business. First we would like to mention is the return of a boy, now in his mid-teens, Kafin Sulthan. This phenomenal boy is certainly not a stranger to us and this event. He was one of the first players we ever had when we started our regular event in the previous location almost three years ago. When we moved to this venue, we featured him twice eventhough he had to come all the way from Jakarta. One of the event was the Pre Event of the Java Jazz Festival 2015 that we held together with the Java Festival Production (JFP), the organizer of this biggest jazz festival in the world (read the coverage here: http://jazzuality.com/jazz-events/braga-jazz-walk-special-edition-pre-event-java-jazz-2015/). It was long time ago, so we asked him to be in again, gladly he agreed. We are happy and excited to have him again in this event in trio formation with Geby Christian (drums) and Arief Rosmadi (bass).
For you who frequently watch Metro TV, you should be really familiar with his face. He appeared there many times as one of 7 amazing kids under Erwin and Gita Gutawa's Di Atas Rata-Rata (Above Average) #2. What's cool is he is like presenting jazz in this group of highly gifted children in music. The official website http://diatasratarata.com described him as a boy who "has expertise in jazz". "Other than his fine vocal character in improvisation, he is also master jazz piano playing", as written in the website. We saw him in Metro TV in Voice of Refugees 2016 for United Nations High Commissioner for Refugees (UNHCR) show, where he sang Michael Jackson's "Man in the Mirror" and joining the All Stars singing and rapping on "Take Me In, Save The World". Other remarkable achievement was when he was interviewed by senior news presenter Desi Anwar for CNN Indonesia.
He has performed in many prestigious events like Prambanan Heritage Jazz Festival where he amazingly controled the whole stage and led everyone to sing with him, Synchronize Festival and something that made us really, really proud of him: collaborating with the one and only David Foster at the Java Jazz Festival 2016, singing Stevie Wonder's hit "Signed, Sealed, Delivered". Aside of his huge success as a part of Di Atas Rata-Rata, he previously involved in Mickey Mouse Club Indonesia and Mira Lesmana and Riri Riza's Laskar Pelangi Musical Theatre.
He is probably around 12 years old now, but he has become a star. As Joey Alexander shocks the world with his magical jazz piano playing, a phenomenal boy like Kafin shows that we do have many other phenomenal kids like him. Not just playing piano, Kafin also sings also great in keeping up and connected with the audience. Almost two years has passed, and after seeing him achieving huge success in his career, we are really proud to have him again. Let's welcome him and his trio and see how much he is progressing!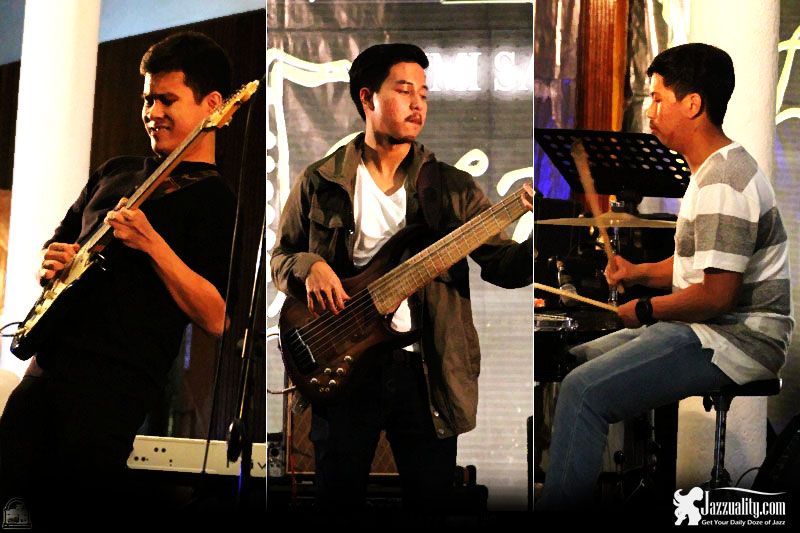 For you who fancy jazz fusion or jazz rock, the next band we are going to mention will definitely satisfy your taste. The band is called AFA Trio. This band was established about two years ago from frequent meetings and jammings at the Butterfield Jazz Society. The band has placed their signature on the Java Jazz Festival stage earlier in March 2016 and is currently productive in making more and more original songs. Today the band consists of Anjuan Julio (guitar), Fabian Gifariansyah (bass) and new drummer Raka Rizkyandi.
Speaking of their music style, some may refer it to fusion. It's not wrong, but they are taking it to the extreme. What these boys give is mad jazz-rock or even jazz-heavy metal and edgy rock approach on jazz where you can find (and feel) the combination of manic jazz improviastion and sound of distortion. What's also important to mention is their ability to use each song as a 'book' to tell story. If you like such band like Tohpati Bertiga or some of Dwiki Dharmawan and Indra Lesmana's fusion madness, these boys are digging that soil. Whether you are jazz, rock or fusion, you will love AFA Trio. High voltage jazztorsion is ertain!
The last time we got bossa nova on stage was four months ago at Braga Jazz Walk #25 presented by a fine and highly experienced artiste from Jakarta, Zarro de Vega. It's already been a long time, so we think it's about time to bring bossa under the spotlight again. The one who are going to bring it back is a duo consisting of two young men Billy Likumahuwa (vocal) and Joe Bastian (guitar). Together they are called Billy & Joe Bossa.
These boys are not a stranger to us. Billy's journey in music is already quite long even in his young age. He once sang dangdut, ethnic and campursari (a mixture between dangdut and other genres especially Javanese) before he came to Bandung, encountered jazz and then bossa. He once studied in a music college taking vocal as his major, he also took guitar lesson to equipt himself with enough resource. At first he tried singing jazz standards, but his baritone voice is quite tricky. Then we offered him to try bossa, and he directly clicked with it. As for Joe, this guy also plays bass, but when it comes to guitar he is also good, and surprisingly captivating in playing bossa.
This duo has performed last year in the 15th edition. At that time, they specifically took the songs of Jobim as the theme. For this time we let them choose anything freely, but according to Billy he will still take some of Jobim's songs he hasn't sung in this event. For you who want to hear bossa in baritone voice and delightful tone, make sure to see Billy & Joe Bossa.
A couple of years ago we came to see a band of three consisting of three young boys who named themselves New Equinox. What's interesting about them is their braveness to take challenging composition over jazz standards that most of young boys probably would try to avoid. We saw the band grew, and then they were on hiatus.
In 2016 suddenly the band pulses again and back active in action. It's natural that the personnel sometimes had their own individual agenda, but the band manages to keep its existance by having reliable backups – anything to keep the band alive. Not just performing, they even moved fast to work on an album which was released just last month. Today the band still stands as trio, consisting of Alman Naufal on drums, former saxophonist Ezra Manuhutu on bass and a lethal pianist who lives and studies in Singapore, Jason Limanjaya. Under this formation the band found its strong grip to face a fruitful future.
This band has been serving as the homeband for our other event, but they haven't played in Braga Jazz Walk for quite some times. It will be cool to have the straightahead mood over complex composition that often served wild from these boys in sync with promoting their album. Plenty of action guaranteed, let's see what they are going to deliver.
If there's still time, we will open the jam session. Anyone who wish to join are welcome. Bring your own gear except drum and piano, and we'd be more than happy to have you in.
The Braga Jazz Walk #29 is around the corner. Do mark your calendar so you won't miss it. It's coming on Thursday, 17 November 2016 at Braga CityWalk. Once again, this event is totally free of any charge. Do come and show your support, and at the same time, you can of course enjoy variety of jazz served by all young talents! See you there!
Braga Jazz Walk #29
Date: Thursday, 17 November 2016
Time : 07:00 pm – 10:00 pm
Location: Braga CityWalk
Jl. Braga 99 – 101, Bandung
FREE EVENT!
FEATURING:
:: KAFIN :: (of Diatas Rata-Rata #2, Jakarta)
Kafin – vocal and piano
:: AFA TRIO ::
Anjuan Julio – guitar
Fabian Gifariansyah – bass
Raka Rizkyandi – drum
:: NEW EQUINOX ::
Alman Naufal – drum
Jason Limanjaya – piano
Ezra Manuhutu – bass
:: BILLY & JOE BOSSA ::
Billy Likumahuwa – vocal
Joe Bastian – guitar