On 25th September 2016 the capital of West Java, Bandung, will commemmorate its 206th anniversary. There are plenty of events being held in Bandung made in order to celebrate it which have been running since last month up to the end of this month. As our regular jazz community event, the Braga Jazz Walk #27 is coming just a few days before the day as a product of Jazzuality.com in cooperation with venue Braga CityWalk and KPH Music, we are going to relate this edition to the Bandung anniversary celebration. Therefore we give the special theme for it: Bandung Jazziversary.
Having Bandung Jazziversary as the theme of Braga Jazz Walk #27 means that we have to feature bands or groups that can represent the occassion, especially since this event takes place in the historical location in Bandung, the Braga street. If you look at the poster above, the image actually shows the scene of Braga street circa 1930s. Almost 80 years later today, some of the buildings still stands as a part of Bandung heritage. We think the vintage scenery of this place has to be included too in cooking up the concept, along with our main mission to push the regeneration of jazz musicians and of course, presenting good jazz-tertainment for everyone in Bandung. As the result, we managed to invite three bands with unique and interesting concept. Curuous to find out more about them? Keep reading to get closer with them!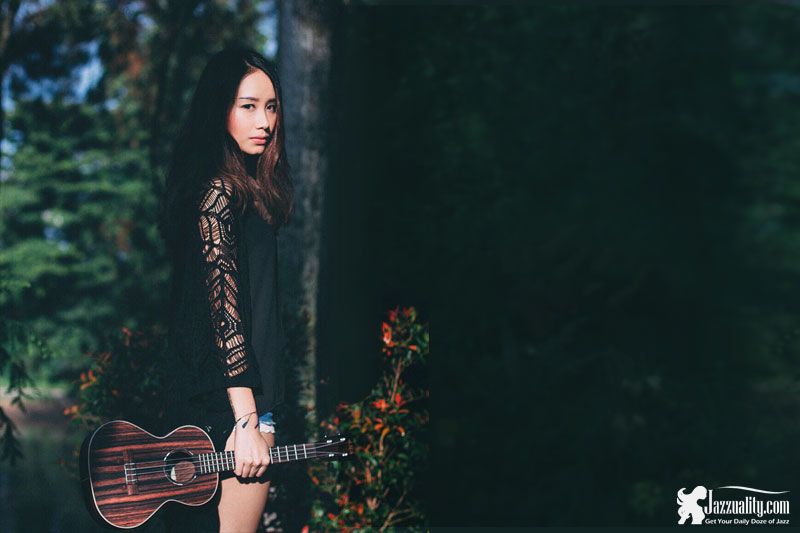 First of all, do you remember the song "Lava", a Disney-Pixar animated short film featured on the movie Inside Out? If you do, that's how beautiful the sound of ukulele is. Originally from Hawaii, ukulele is played in many countries for ages, including in Indonesia. The reason why we start with this ukulele story is because there will be a duo using it for the first time in this event, Celline & Ukulele.
The beautiful, talented Celline Indrawirawan has encountered music since 3 years old by learning pop piano. She also sings from early age by involving in choirs both in school and church. She once left her musical passion behind, but after finishing her high school she decided to embrace it again. It wasn't easy to focus because she had to finish her formal education at a university in Jakarta. We knew her for the first time when she was featured at Michelle Efferin and Friends' performance on the 21th edition (http://jazzuality.com/jazz-event-report/braga-jazz-walk-21-the-report/). She mesmerized us when she sang Etta James' "At Last" at that time, followed by another memorable appearance at our other event, Bumi Sangkuriang Jazz Night #4 (http://jazzuality.com/jazz-event-report/bumi-sangkuriang-jazz-night-4-the-report/). Based on these two lovely performances, we invited her to be one of the highlights, which she gladly accepted.
Ukulele isn't easy to find in Indonesia. Based on that, a lovely couple Rendy Hardiman and Celline Indrawirawan decided to make their own ukulele shop named "Kayu Tua Ukulele" (http://kayutuaukulele.com). With ukulele, Celline has performed at Live with Trio Lestari on August 7th, 2016 and gained more and more popularity among friends and fans.
For this event, Celline and Randy are going to introduce the beauty of ukulele on jazz to us. Michelle Efferin, the founder of M.E Music Centre where she learnt and Richard Sirait will support them too in some songs, stationed on piano and drums. As the Japanese ukulele virtuoso Jake Shimabukuro says: "If everyone played the ukulele, this world would be a much happier place", we are glad to support them and shows that jazz can be so charming through such instrument like ukulele.
In the last edition we featured the new duo called Jane & BO. This is the next chapter of swinging guitarist with old soul, Opik Bape after his success with manouche jazz/French gypsy group Satura and duo Agis Bape. What we want to tell you is, Jane & BO is not the only group he currently makes. There are two other brand new groups that he's involved with. One is Madame dan Toean, and the other one is the group we feature in this edition, BOA ft Jane Doe.
BOA is the band for him to fulfill his old soul, especially his passion in digging the vintage jazz manouche /gypsy jazz and ragtime. This band was established around 4-5 months ago when they all gathered in the community homebase Ruang Putih. The formation of this group is unique by involving two guitars and one mandolin, also an instrument in the lute family like ukulele. The name comes from the innitial of the personnels: Boiq (Mochamad Iqbal) on mandolin and Opik Bape and Achay (Charlie Septiana) both on guitars.
As mentioned earlier, BOA is rooted in the vintage style, from gypsy jazz/jazz manouche to ragtime, playing the music of Django Reinhardt, Martin Taylor and so on. Jane Doe (Jane Christina) is set to join them too. There are not many band play this concept anymore, especially after Satura decided not to continue the journey anymore. So, BOA is definitely important in keeping it alive. Bandung is called Parijs van Java since the Dutch East Indie colonial era. The exact spot of this event was one of the most happening location in the old days where the scent and scene of Paris were felt. So, BOA will perfectly suit the Bandung Jazziversary theme.
Speaking of vintage in jazz, the word "Big Band" should ring the bell on anyone's ears. Yes, the role of Big Band with its tasty brass section in the early years of jazz is simply undeniable. We have been wishing to have it grand on stage since the beginning, but it seems impossible due to the limitation of space and equipments. But now for the first time we could enjoy the 'mini' big band serving not the traditional swing but more to modern fusion sound. This big instrumental ensemble is P3 and the Gank.
P3 and the Gank was shaped in 2015 when a bunch of mmusicians regularly played at the Trans Studio Bandung gathered inside the third basement of the building. This third basement is called P3, which explains where the name of these cool cats came from. Through a chitchat between one of Salamander Big Band's trombonists Ijo and bassist Feby, the idea of creating a project led to the birth of this ensemble, meant just for fun as a vehicle to play on stage or competition. They got the chance fast in the community, including at Klab Jazz's event Sunday Jazz. But then they dissapeared a year later because they didn't get enough event and commitment.
Luckily the band didn't dissapear for long. Ijo decided to gather all the personnels again and asked them to commit more seriously. So the band is back on track with complete formation. The personnels are: Muy (vocal), Armin Fauzy Hamid (keyboard), Gilang Perdana (drum), Feby Febian (bass), Achmad Afandi (guitar), Buddy Riswandi (synthesizer), Ijo (trombone), Iwan Hermawan (trumpet), Hendike Yao (tenor/alto saxophone). They planned on making a mini album with a single ready to be processed this month.
If you wonder what their music based on, according to Hendike they play fusion. As for the mission, Hendike says the band wishes to be a breathe of fresh air, reminding us of big sized bands (either instrumental or vocal) like Mezzoforte, Snarky Puppy or Brian Culbertson Big band. "Realizing that the trend today is creating band with minimalist format like trio or quartet, we hope to offer something fresh and different." he says.
For you who love the partying style of Snarky Puppy or the joyful, fired-up fusion sound of the Iceland legend Mezzoforte, you should see this band. From the third-storey basement, they are calling you to have a party with them. Don't let them down, do respond their call and share the happy moment with them.
Jam session will be provided after the performances. That gives you a chance to be not only the audience but also a part of the show. It's open for everyone, no matter what your musical background is. Just let us know, we will have you jump right in.
Mark your calendar. This Braga Jazz Walk #27 will come on Thursday, September 22, 2016. AS the theme is "Bandung Jazziversary" to commemmorate Bandung's 206th Anniversary, we look forward to celebrate it together with you. Unlike usual, this time you can enjoy jazz in wider soundscape since there will be 'unusual' instruments used in jazz being featured like Ukulele and Mandolin. Alrighty, see you there!
Braga Jazz Walk #27
Date: Thursday, 22 September 2016
Time: 07:00 pm – 10:00 pm
Location: Braga CityWalk
Jl. Braga 99 – 101, Bandung
FREE EVENT!
FEATURING:
:: CELLINE & UKULELE::
Celline Indrawirawan – vocal and ukulele
Rendy Hardiman – ukulele
featuring:
Michelle Efferin – piano
Richard Sirait – drums
:: BOA ft Jane Doe ::
Boiq (Mochamad Iqbal) – mandolin
Opik Bape  – guitar
Achay (Charlie Septiana) – guitar
featuring:
Jane Doe (vocal)
:: P3 AND THE GANK ::
Muy (vocal)
Armin Fauzy Hamid (keyboard) T-Five
Gilang Perdana (drum)
Feby Febian (bass)
Achmad Afandi (guitar)
Buddy Ridwandi (synthesizer)
Ijo (trombone)
Iwan Hermawan (trumpet)
Hendike Yao (tenor/alto saxophone)