Every event we make has some important missions. We want to introduce jazz in friendly ways to public, making it accessible in the easiest way possible and letting everyone know that jazz can offer so, so many variations that they can choose to love. We also want to make it entertaining and educative at the same time. Meaning, while the audience can enjoy the performances, the students/musicians can always learn something from what they see. They can even participate in the jam session afterwards, or being featured in one of the editions. From the community point of view, everyone can get new friends and gain benefit from it. We have seen new groups emerged from our event, fruitful collaborations and projects, or simply helping one another in order to pursue their dream of being successful musicians. We are happy to feature newcomers to gain experiences from performing in front of real audience, we gladly welcome the experienced bands that wish to share their music and knowledge, we introduce bands with unique styles and invite those who wish to promote their new albums or current works to music fans. Everyone can play, everyone can watch, everyone can have a good time We try our best to make each event more than just a show. Everyone should be able to get something from it, no matter who they are.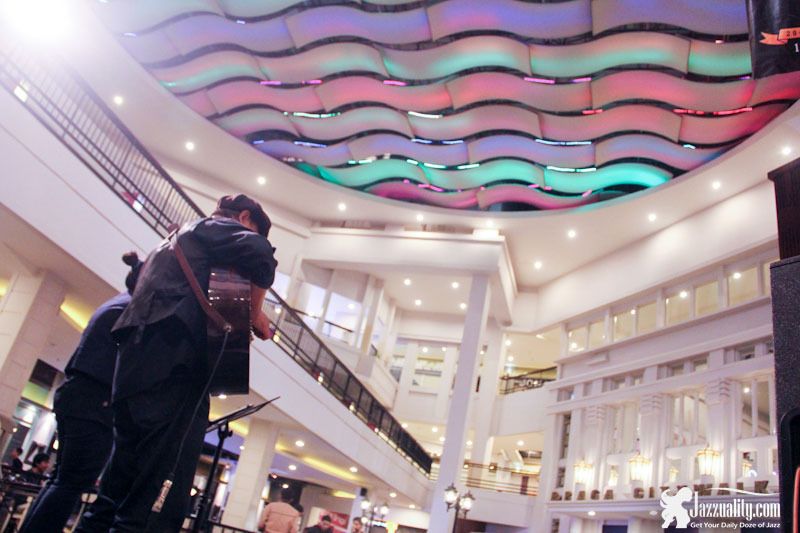 As we are marching in to the end of November, Braga Jazz Walk is ready to launch its 17th edition. In this edition we are preparing multi jazz colors presented by bands/groups with different styles. What you are going to get this time is soulful, swingin' acoustic jazz, pop jazz, jazz-rock fusion and modern jazz that stays true to the traditional jazz idioms, presented by newcomers to the experienced ones. If last month we featured a 7-piece acapella group from Jakarta, Pitupella, this time we are proud to have another guest from the capital, a brand-new jazz trio named N/T/P. Just like usual, we will open the stage for free jam session after all the featured bands rest their case. The Braga Jazz Walk #17 is brought to you by the cooperation between us Jazzuality.com with the venue Braga CityWalk and KPH Music who sponsored the instruments and equipments. The event is 100% FREE and open for public.
The showcase is going to be divided into 4 sessions, featuring 4 bands/groups with different jazz styles. Curious to know who they are? Allow us to introduce each of them to you.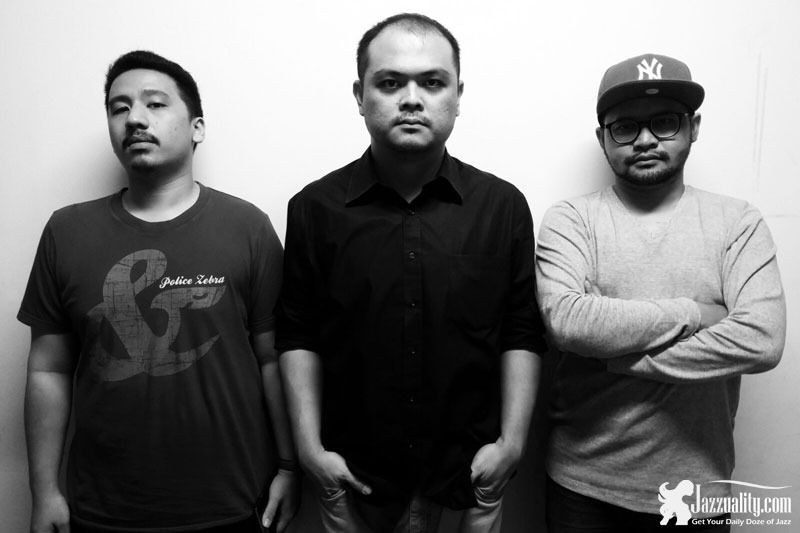 First things first. We are delighted to have N/T/P (Neo Trip Project) from Jakarta. N/T/P (stands for Neo Trip Project) consists of three players: Julius Ferdian (piano), Dave Rimba (drums) and Indrawan Tjhin (bass), This band marks the return of our dear friend Indrawan (Twitter: @indrawantjhin, Path/Facebook: Indrawan Tjhin) to the jazz stage. This Koninklijk Conservatorium of The Hague, Netherlands alumnus found his first step of success as a member of Shadow Puppets Quartet. ther than this band, he also established his own project, Indrawan Tjhin Group (@ITG_music) resulting one album titled "Present". We haven't heard from him for quite some times (except when he joined the JPCC Worship in 2013 and his frequent appearance at the Java Jazz Festival). So when he told us about his return on jazz field, we felt excited and invited him to take part in Braga Jazz Walk.
If you wonder how N/T/P was born, it came from pianist Julius Ferdian who longs to play modern jazz without leaving the traditional jazz standards idiom both in repertoire and instrumentation. N/T/P's arrangements are built within original compositions influenced by Brad Mehldau, Aaron Goldberg and Robert Glasper. Julius is an alumnus of Universitas Pelita Harapan (UPH), majoring Jazz and Popular Performance. He learnt from Julian 'Joy' Marantika, Boby Limijaya, Nial Djuliarso and Sri Hanuraga. Dave Rimba is a young drummer from Bintaro who currently is still studying at UPH. He learnt drumming from Handy Salim, Elfa Zulham and Tobias Ringga.
We haven't heard them just yet. But based on the formation and the man standing in each corner, we are sure this is going to be something. The N/T/P is inviting you all to enter their new trip to modern jazz that upholds the traditional jazz idioms in full respect. We are proud that Braga Jazz will be one of the first stages they ever encounter, may there be many marvelous achievements from this starting point.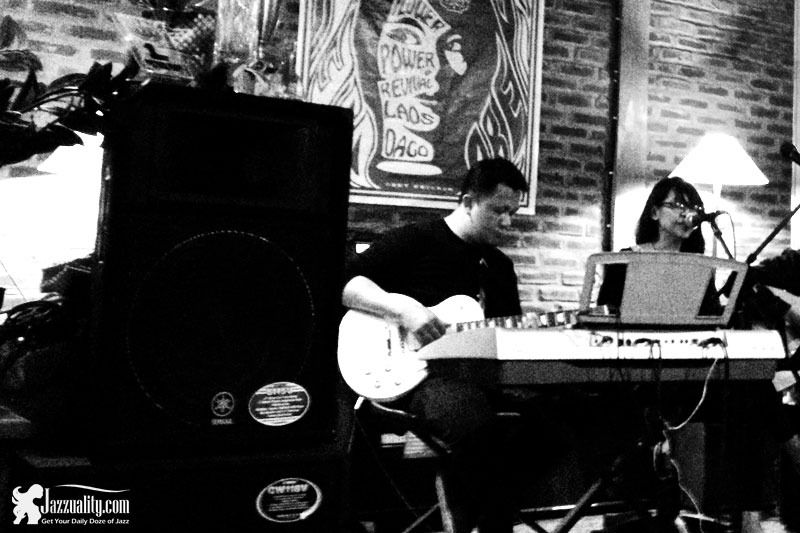 Next, Uku et Alia, a dynamic duo starring Puspallia Panggabean (vocals) and Benyamin 'Benny' Mattarang (guitar). Their musical journey have quite a story. It began when Puspall was introduced to Benny some times in 2010. Realizing that they got chemistry, soon after they played a couple of times in some cafes. After that, Benny was on hiatus, away from his guitar. But it wasn't for long because he was back in 2013. The duo of Puspall and Benny then played regularly in Warung Laos, Dago area, Bandung. During this period they explored many songs and be connected tighter than ever. It was all good, but in 2014 Benny quit playing in there and they went separate ways again. Recently they met again at the TP Jazz Bandung Festival. They decided to go side by side again and this time they establish a solid group with a name, Uku et Alia.
Puspall mentions Benny as her partner. For us, this is one of the match made in heaven, musically speaking. Another thing we should mention is that Puspall is now getting more and more exposure in the capital by playing with legends and big names including Oele Pattiselano, Benny Likumahuwa and Nial Djuliarso. With her busy schedule, it's not easy to bring her in. But we are fortunate to be able to bring her, with her reliable partner into this edition. We hope Braga Jazz Walk will work as a starting point of the new chapter.
Fusion is one of the most popular jazz styles among the youngsters since they can enjoy the high energy of rock and some other styles into jazz. If you like this sub-genre, do come because there will be a newborn band named BlackTail who fancy it. The band was established just a couple of months ago, on August 20, 2015. The personnels came from various bands who met while participating in the Independence Day celebration at one of the housing complex in Bandung. They are Firdi (vocal), Osep (lead guitar), Reno (bass), Dico (guitar) and Dewa (drums). Their music covers the area of classic rock, heavy metal, ballad and jazz fusion. Osep is no stanger to us since he has come to the event several times before. If you like hard, edgy rockin' side of jazz, this one would fit you.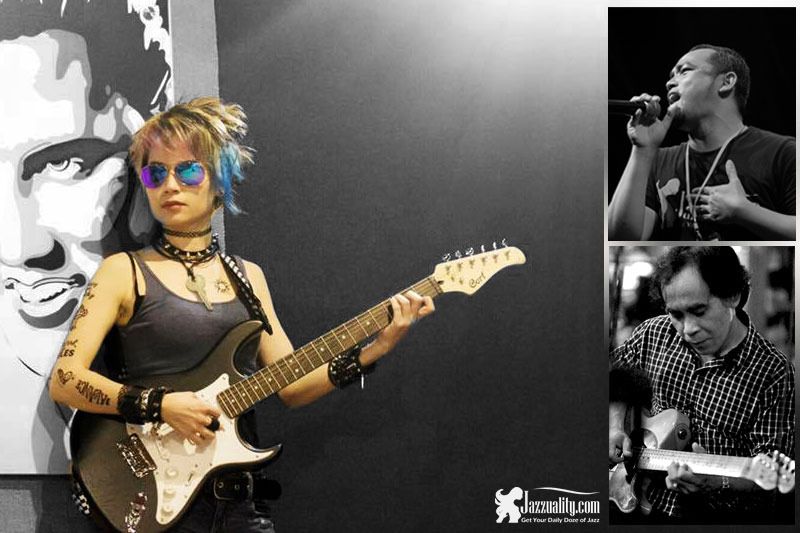 Speaking of rock, there will be a lovely lady with unique, eye catchy fashion style which combines the rebelious punk-titude with colourful Harajuku style. Her name is Caroline. She already realized her passion in music especially singing since she was still very young, but she didn't get much chance to dig it. Around a year ago she started learning vocal with our own Erick Gabe that successfully directed her not only vocal-wise but also the emotion. Not just singing, she also learns guitar with senior all-rounder Jhonny Sitompul. By having two great holistic mentors, it didn't take long for her to grow. She was brought here and there to perform, and that shaped her mentality to stand in front of people. She was shy, but not anymore. She now has good control over her voice and enjoy each song with her heart.
In the previous 16th edition Caroline sang one song as the opening before the show began (http://jazzuality.com/jazz-event-report/braga-jazz-walk-16-the-report/). Now it's time for her to enjoy one full slot. For this occasion both of her mentors are featured too. What will they do? What song will she choose? Since she is the type of lady singer who also plays guitar at the same time, will there be two guitars at once? We don't know. But hopefully this will be a good debut for Caroline that we all can enjoy.
So that's it for the showcase of Braga Jazz Walk #17. Remember, there will be open jam session afterwards that will be available until the mall reaches the end of its service hours.
Suppose if you're in Bandung on November 26, 2015 and have nothing to do, or if you're looking for a jazz event that charges you nothing on that date, do come and join us. Other than serving 3 hours of jazz-tertainment from 4 groups with different styles, you can learn some technique too especially from the trio from Jakarta. You will support the community event by simply come. Your present will mean a lot not only to us but also to the jazz development in Bandung as a part of the bigger frame, Indonesian jazz. All said, see you there!
BRAGA JAZZ WALK #17
Date: November 26, 2015
Time: 07:00 pm – 10:00 pm
Location: Braga CityWalk
Jl. Braga no 99 – 101, Bandung
FREE EVENT!
Featuring:
** N/T/P (Neo Trip Project) – Jakarta **
Julius Ferdian (piano)
Dave Rimba (drums)
Indrawan Tjhin (bass)
** UKU ET ALIA **
Puspallia Panggabean (vocal)
Benyamin Mattarang (guitar)
** CAROLINE **
Caroline Boenardi (vocal/guitar)
Erick Gabe (vocal)
Jhonny Sitompul (guitar)
** BLACKTAIL**
Firdi (vocal)
Osep (lead guitar)
Reno (bass)
Dico (guitar)
Dewa (drums)