So many talents, so little space. That's how it is. There are many bands connected or related to jazz that are waiting to be a part of the Braga Jazz Night, our monthly event in cooperation with the Braga CityWalk that has been running for almost 5 years. We only showcase 3 bands per edition in order to let them play comfortably and freely with no time restriction, which is an essential matter for the band, and of course the audience would have the chance to enjoy them with no rush. We understand that there's queuing and waiting list, we try our best to provide them the slot as soon as possible. We appreciate their patience and response to our humble regular community event, and certainly this great response stimulates us to keep going.
In this month of October, the Braga Jazz Night is reaching the 64th edition. It's coming soon on 24 October 2019, starting from 7:00 pm onwards at our usual ground zero, the lobby of Braga CityWalk. In case you don't know, this event is totally free of any charge and open for public.
For this edition we are featuring a new groovy urban jazz band from Jakarta, a band with three bassists at once and a fusion guitarist who play all by himself. Interesting formation and rich variety of jazz hopefully will make you able to enjoy jazz in wide spectrum.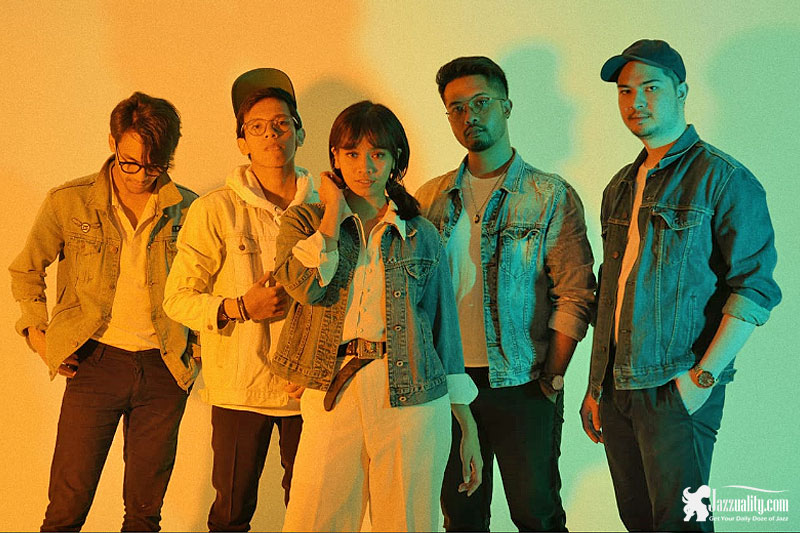 Let's start with the new sensation. As we mentioned earlier, the band is new, but they are moving fast by entering the studio for recordings, managed by the amazing bluesman from the new generation, Ginda Bestari. It's HARRA.
Harra is a collective music established earlier this year consisting of 5 members: Isaac G. Mondi (vocal), Asilah Andreina (vocal), Rainer Bangsawan (guitar), Haryo Tejo (guitar) and a boy no stranger to us for he's been performing many times in this event, Henokh Vico (keyboard). Their music lies on the groovy urban pop/jazz where the roaring sound of keyboard and synthesizer blend with the electrifying guitar sound modulated almost at its peak plus the dynamic drum beat and two vocals, producing a complete treat to wow your ears and eyes.
At this current time Harra has produced three songs titled "Tersesat Dalam Tanya", "Jelajahi Rasa" and "Bertamasya Di Angkasa", produced by LALEILMALINO ((Lale and Ilman Maliq & D'essentials, Nino RAN). They are done with these just nearly two months ago.
The Urban Pop Jazz is always fascinating because it can reach wider audience for its ear catchy, easy to chew pop side. At the same time, its groove can force you to tap your feet, and its modern style suits the younger segment of listeners. Whether you like jazz or not, this music can always fill your inner feelings with joy. If you like Maliq & D'Essentials, Ran, Incognito and the likes, you got to see Harra. We have listened to their songs, and our prediction? If they are keeping themselves on track and keep being productive, this band will reach the top just like their producers. Do come and enjoy a famous band in the making.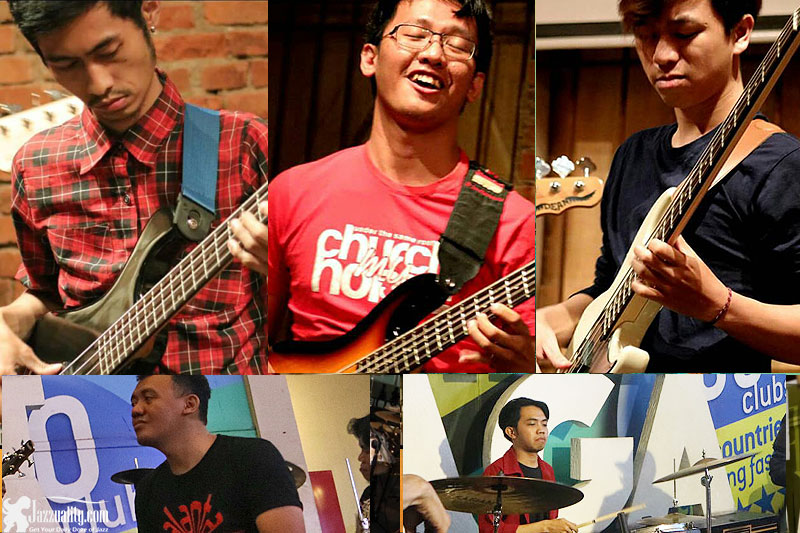 How many bassist could you find in a normal band? Mostly one, and there are some who find a formula to run with two. Now, how about not one, not two but three bassists join forces inside a band? That would be something right? If you think that's impossible, wait a minute, because Bandung has it. The band's called BASS FRIENDS.
The idea of a band with this unique formation appeared not in a music club or anything related, but simply took place at a coffee shop. At that time, three friends who all play bass agreed to form a group as a playground where they all can have fun together.
We invited them to this event a couple of months ago. Unfortunately, one of the bassists couldn't make it, forcing the band to perform only by two. This time the band's promised to bring the original idea with complete three bassists. Three, but with different players. Today the bassists found in this band are Joe Bastian, Langga Jati and Jere Fernando. Joining them are Yopi D Nafis (keyboard) and Ian Kalangie (drum).
Cooking up this concept should be tricky, not only because the bass players should lead the main melody, but also because they have to be able to understand their role, part and turn. What would two of them do when one lead the part, and how to make smooth transition from one to another. Then, how to make a harmonious sound when all three bassists run wild, how the interaction with other players would be, and how they rearrange the composition to fit this idea. For us all are very interesting. We always believe that there are always open possibilities in jazz, and something like a group with 3 bassists would certainly prove that point. Our stage is and will always provide new inventions and concepts. Let's see what three bassists will do on stage.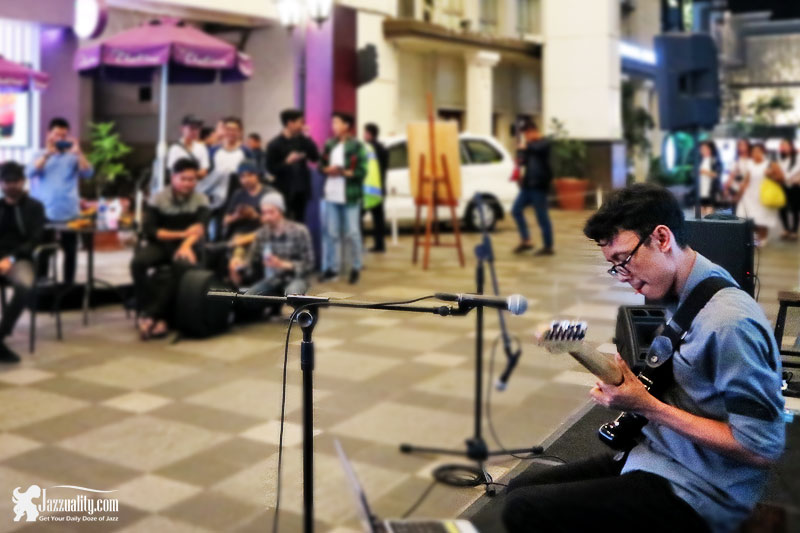 There have been musicians we tried to invite, but then they had to pass not because they didn't want to join, but simply because they got no one to play with. Especially if one is a jazz-rock fusion musician. How could he carry the concept if he only plays all by himself? So it's totally understandable. But hey, there's a young man who dare to go against all odds. He doesn't care if he has to play in a band or alone, he will just go for it, using whatever he got with him. He is Rian Ahmad Fauzy aka RAF, his stage name made by using his initial.
We met him for the first time at a jazz competition last year. It didn't take long for us to notice that this man has big potential. He's skillful, passionate, creative and has good stage appearance. He has his own style, a distinctive fusion style which naturally blends jazz with rock and funk, even some other flavors such as traditional musics both from his own land and beyond. While he has calm presence on stage, his fingers utilize guitar as a deadly weapon. As a prove of his creativity, this man who resides in Majalaya city has written some original songs, ranging from smooth-sailing to intense high octane action to spiritual.
He made his first appearance on this event last year in the 47th edition to celebrate the Holy Month of Ramadhan. At that time he introduced his single titled "Bertaubat" (Repenting) and some of his earlier works. More than a year's passed, we think it's time to have him in again. When we contacted him and offered the slot, he told us that he's been staying away from performing to focus on finishing his album. But luckily he makes an exception this time by accepting our invitation. If you think it's impossible to have a good jazz fusion gig by having just one player, do see RAF. He's a solid one man band that offers rock solid compositions. It's a good chance to for you to take a peek into his upcoming album.
The Braga Jazz Night #64 is coming soon on 24 October 2019, taking place at the atrium (the lobby/main entrance) of Braga CityWalk, starting from 7:00 pm until the mall's closing hour. As usual it's totally free and open for public. Three showcases are ready to entertain you, and by coming you are giving your support to our movement and the bands. We do hope to see you then.
BRAGA JAZZ NIGHT #64
Date: Thursday, 24 October 2019
Time: 07:00 pm – 10:00 pm
Location: Braga CityWalk, Jl. Braga 99-101 , Bandung
FREE EVENT!
FEATURING:
:: RAF ::
Rian Ahmad Fauzy (guitar)
:: BASS FRIENDS ::
Joe Bastian (bass)
Jere Fernando (bass)
Lingga Jati (bass)
Yopi D Nafis (keys)
Ian Kalangie (drum)
:: HARRA ::
Isaac G. Mondi (vocal)
Asilah Andreina (vocal)
Rainer Bangsawan (guitar)
Haryo Tejo (guitar)
Henokh Vico (keys)