Christmas is just around the corner! As usual we are ready to dedicate the December edition of our currently on-going jazz community event, The BRAGA JAZZ NIGHT to celebrate it. Christmas and jazz seem really compatible to each other. If you try to count how many 'non-jazz' musicians/singers suddenly turn themselves to jazzy moods when they are releasing Christmas albums, you will loose count. Think of how many swingin' and boppin' Christmas carols you can find throughout the years. You will loose count even more. Once a musician told us that eventhough he doesn't celebrate Christmas, still Christmas is his most favorite season because it's so jazzy eventhough in this particular side of the world we have to have it without snow. You may celebrate it with or without wine, you may trade gifts, let Santa Claus gives your children cool presents and see who's good and bad, you may arrange Christmas eve's dinner, go somewhere for holidays or not, but one thing's sure: Christmas and jazz will always go together.
This month we are reaching the 66th edition, coming soon on December 19, 2019 at our partner's yard, Braga CityWalk starting from 7:00 pm til drop. For Braga Jazz Night #66 we are featuring 3 groups ranging from duo, trio and a band of four. As usual, we wish to keep each edition interesting and unique. Speaking of that, there will be a real-life couple, a band of young dudes and a very gifted little boy who surprised us by playing "Billie's Bounce" very, very well at the age of 7 back in 2014. He's making his return to this event after two years of absence. Speaking of style, there will be pop with indie, free-flowing improvised jazz and of course, swing.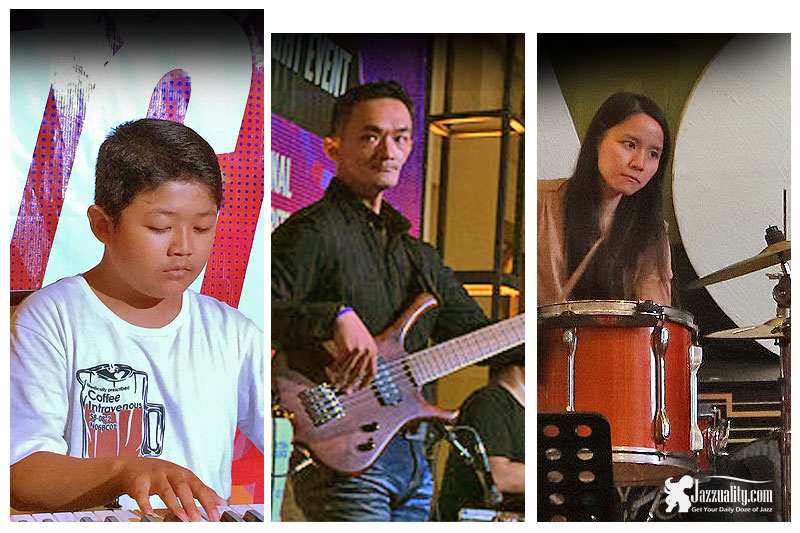 Let's get down with business shall we? First, let's talk about the little jazz boy. He is currently 13, but as we said earlier, he's been suprising us with such amazing talent in playing jazz over the piano since he was still 7 year old. It has no logical explanation how a little boy that age could play jazz like a long time active pro, but we have to agree that God does give grace that exceeds logic. He is JEREMY HUTOMO.
At the 8th edition of our past event Terraz Jazz in June 2014 we got to know him for the very first time. Jeremy came and participated in the jam session, surprisingly pinned "Billy's Bounce." He was still 7 at that time, From that moment on, we have been keeping our eyes on him. Fast forward 2 and a half years later, finally we showcased him in this event. Jeremy surprised us even more by appearing with a trio, featuring his father Hasto Hutomo and Evan Natanael on drum.
Tracing back to his early life story, Jeremy started learning piano at the age of 7, but at that time he didn't do it too seriously. Instead, he was more into playing chess which made him representing Bandung in under the age of 8 Chess Championship. He got his first encounter with jazz when he turned 8, learning from Yahya Salam for several months. He digged blues and classical for a while before he decided to get deep with jazz seriously.
Now at the age of 13, he's ready to make his return. Like before, he's going to play in a trio with daddy Hasto Hutomo (bass) and Marissa Wiguna (drum). We can't wait having him back especially at this special season. We are looking forward to see him swingin' us with Christmas carols. For us, Jeremy is one of the solid proofs that miracle does exist. We are excited to see him again. Do join us and see how a boy his age could tackle pure jazz effortlessly. Can't wait!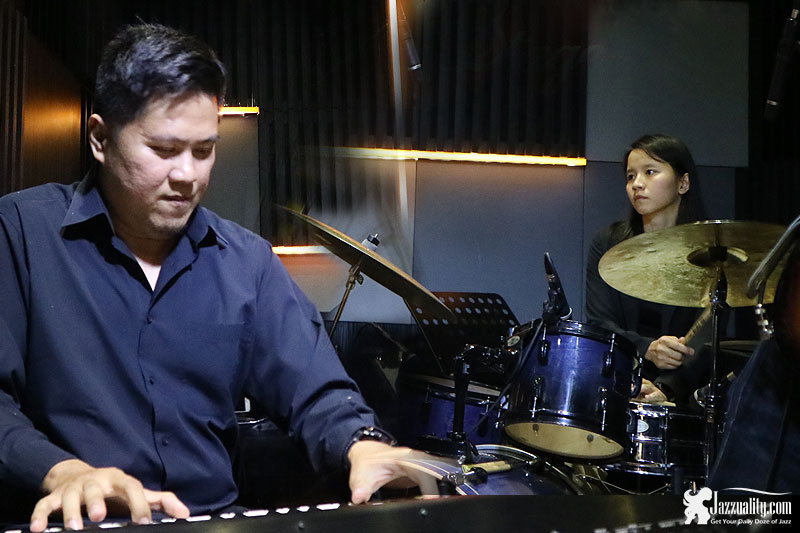 Now move on to the real-life couple, husband, keyboardist Widiyanto Sutanto and wife, drummer Marissa 'Caca' Wiguna. This side-project that brings drum-keyboard connection is back again to our event after 5 years. The duo is called CABERAWID. In Indonesian language, the name is a twist of cayenne pepper, that small-in-size thing but really hot. But for them, it's an abbreviation of Caca Bersama Widi, in English: Caca together with Widi.
The idea of this duo was approached by us inspired by the electric duo project of Brad Mehldau and Mark Guiliana, Mehliana when they released an album called 'Taming the Dragon' back in 5 years ago. We challenged Widi and Marissa to go for it, and they responded positively by making up a name for their experimentative duo called Caberawid. The duo debuted at the Terraz Jazz in 2014, cementing their free-flowing jazz full with goodies in our memory, something that we still remember until now.
Widi and Marissa met at church, when both of them served as the praise and worship team. They became friends, then fell in love, which led to their marriage a couple of years ago. Both of them were also co-founders of Out of 7, a jazz-based acrobatic band that was actually achieved quite success before went on hiatus just 2 years later. Today both of them are still devotedly serving God at a church, running their successful wedding entertainment business W.id and working for some projects here and there. Marissa has even building her career as a drummer by joining some of the great artists such as Agis Kania, Nissan Fortz and a blues and rock senior guitarist from Singapore, just to mention a few.
We've been wondering would a piano-drum duo work on taking Christmas themed gig. This year we'd be happy to give a try. And we don't have to worry since this husband-wife connection are individually talented and great as a unit. Their chemistry is unquestionable, even before they got married. Both of them love to improvise, which is never fails to wow the audience considering the skill and chemistry between them. After 5 years, here we are going to have them again. A dangerous jazz pianist and genius female drummer on Christmas songs? That's a big catch.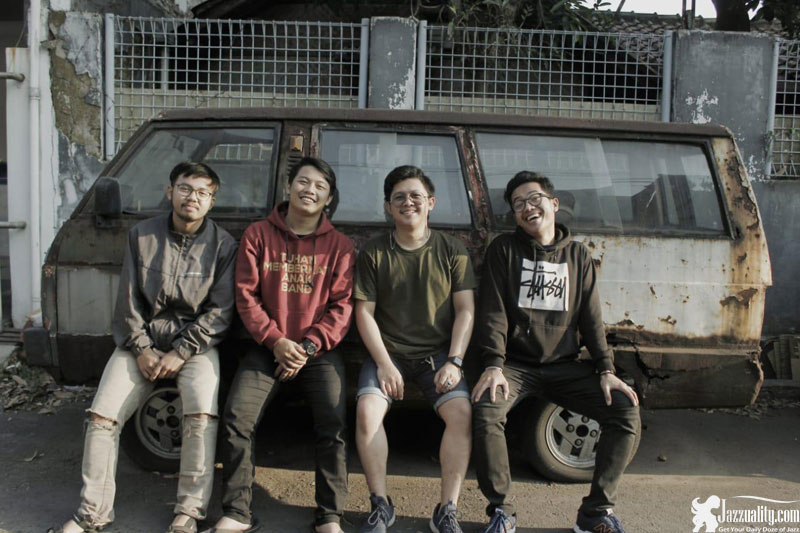 Also joining us is a band consisting of four dudes. This band has been standing strong for a little bit more than 5 years, but only this time they will finally arrive at this event. It's a band that's having friendship as the most important thing in life, It's TEMAN MUSIK.
Teman Musik – in English: Music Friend – was established on 20 October 2014 at the inter-school music competition by Nadha Pratama (drum), Yoga Andika (guitar), Meiadi P Aritonang (vocal) and Adi Setiadi (bass). Their music draws influences of vastvariety of bands/singers, from Coldplay, Efek Rumah Kaca, Payung Teduh, The Beatles, Nirvana, Bon Jovi, Ed Sheeran, The Trees and the Wild to Michael Buble among others.
While they are still playing covers, the band already has 3 original songs: "Kenyataan Tak Nyata" which is used as a soundtrack of a musical drama, "Berkat Tuhan Ku Jatuh Cinta" and "Terbunuh Dalam Mimpi."
In case you wonder why they have "Teman Musik" as the name, it's related to their slogan: "Looking for friend from friends, to be friends with." Meaning, other than playing music, they are always looking for friends, and hope that their music would be friends with the listeners' ears.
They have been playing in so many gigs during their 5 years run. From schools to colleges, from cafes to festivals. How about television? Yes, they have appeared on iChannel twice last year.
Their name and philosophy suits our spirit. We always welcome any band to be a part of the family, we are always looking for friends just like they are, and we are always happy to welcome them. We have been in touch with them since last year, but due to some reasons it has to be a year until finally this band's set to land on our event. It's always good to greet new band, let's welcome them and enjoy their music together.
Once again, the Braga Jazz Night #66 is coming on 19 December 2019 at the Braga CityWalk, starting from 7:00 pm onwards. In case you don't know, this event is absolutely FREE of any charge and open for public. It's time to have a swingin', free flowing jazzy Christmas, but if you don't celebrate Christmas, you can still enjoy the performance because as usual, our event is made for everyone. All said, hope to see you soon.
BRAGA JAZZ NIGHT #66
Date: Thursday, 19 December 2019
Time: 07:00 pm – 10:00 pm
Location: Braga CityWalk
Jl. Braga 99-101 Bandung
FREE OF CHARGE
Featuring:
:: TEMAN MUSIK ::
Nadha Pratama (drum)
Yoga Andika (guitar)
Meiadi P Aritonang (vocal)
Adi Setiadi (bass)
:: JEREMY HUTOMO ::
Jeremy Hutomo (piano)
Hasto Hutomo (bass)
Marissa Wiguna (drum)
:: CABERAWID ::
Widiyanto Sutanto (piano)
Marissa Wiguna (drum)