The venue of Braga Jazz Night (formerly known as Braga Jazz Walk), our partner in crime, the Braga CityWalk was built in 2004 and started running on the Asian African Conference in 2005, before it was even finished. After running for some years, this mall went into heavy reconstruction on July 2013 and reborn on 18 May 2014 with huge celebration presenting Kahitna. The mall established itself as a hangout place and carried ethnic and heritage as its theme. The renovation proved to be successful, which can be seen by getting quite high rating (more than 4 stars) on Google Reviews. Not long after its rebirth, on September 2014 we began our service of making the regular jazz event in this mall, continuing what we have built in other place. The cooperation has been highly nutricious because we are still working together side by side until now.
As we are now in the month of May, Braga CityWalk is celebrating its 3rd Anniversary. Calling it "Bragaversary", Braga CityWalk has been running various celebrations and events starting on 20 April until 18 May, the exact day of anniversary where the 35th edition of Braga Jazz Night coincidentally takes place. Realizing that, we prepared a grand celebration and give the Braga Jazz Night #35 a speial theme: JAZZIVERSARY. One band from Jakarta, one band to give its promo album gig, one all-star project and a solo debut of a young girl are on the list. From the achievement view, two bands have performed in Java Jazz Festival, some players from the project have been there too. Jazz Fusion seems to be the highlight, but as usual, we don't want any edition to be monotone. So, you can be sure to have rainbow-like colors of jazz and some related genre like RnB and Soul, even splashes of ethnics. Some of them have established themselves (and their bands) successfully, some are walking towards that direction and some are just started. Above all, we want it to be festive in accordance with Braga CityWalk's 3rd Anniversary.
The Braga Jazz Night #35: Jazziversary is coming next week, on Thursday, 18 May 2017 at the Plaza Stage (right in front of the entrance near Gold's Gym) starting at 7:00 pm until the closing time of the mall. For you who still don't know our philosophy of creating jazz event, it's totally FREE of any charge and fully open for public.
Perhaps you want to know more about the lineup as seen in the flyer. Let's break them down one by one.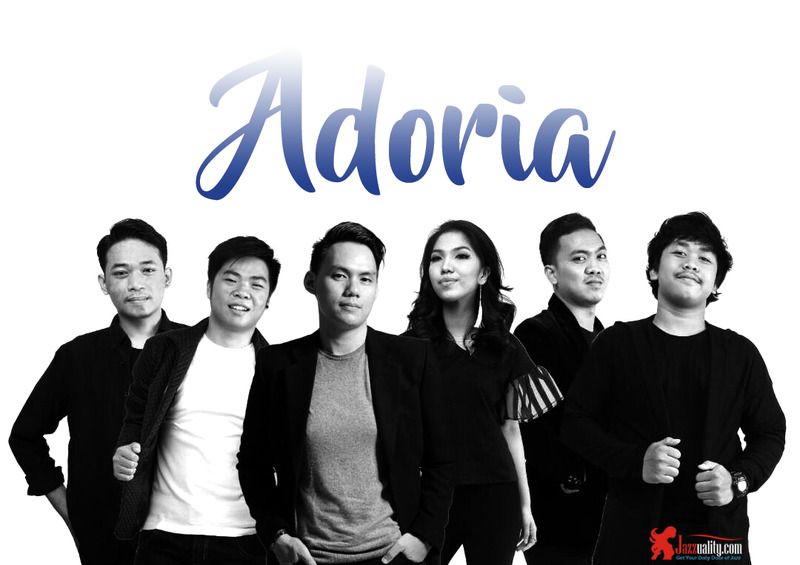 First, we warmly welcome an amazing band consisting of genious young lions from Jakarta: ADORIA. This band was formed on January 2016 as MLD Jazz Project. The personnels of the project were selected through MLDare2Perform, a competition that choose talented young jazz musicians from all over Indonesia. In case you wonder, this competition ain't easy. The contestants were judged and mentored by the likes of Aksan Sjuman (drum), Nikita Dompas (guitar), Syaharani (vocal), Indro Hardjodikoro (bass), Devian Zikri (saxopohone) and Azfarandra 'Adra' Karim (keyboard).
What you find inside Adoria are the winners of MLDare2Perform Jazz Competition Season One. They are Kiara Riz on vocal, Karel William on drums (proudly endorsed by SAKAE drums, Murat Diril Cymbals and Wincent Stick), Aghil Nur Prambudi on bass, Mikail Al-rabbdia on guitar, Michael Setiawan on keys and Rizal Sianturi on saxophone.
Adoria is still less than 1.5 years old. True. But make no mistake, as a winner of that prestigious competition and due to their amazing individual skill and rock solid as a unit, Adoria has been moving on up real fast. Other than playing at the Java Jazz Festival 2016 as the result of winning the competition, Adoria has performed alongside Trio Lestari on Trans TV, AnTV Musik Keren – Rolling stone Cafe Jakarta, MLD Stage Bus Jazz Tour 2016 visiting more than 6 cities, Old Town Jazz Series vol 2 – Jakarta, Jazz Atas AWan – Dieng Culture Festival, Jazz Market By The Sea – Bali, Prambanan Jazz – Yogyakarta and Jazz Traffic Suara Surabaya, just to mention a few.
Apparently the judges didn't just deal with the skill but also their mental, attitude and other personality aspects. As the evidence, we could see that although the winner of the second MLD Jazz Project for 2017 has been declared, their friendship still lingers on. They wish to walk together for many years to come and make more breakthroughs as one solid unit. The skill, the chemistry, the braveness to go beyond limit and the good vibes they create have been very well noted. Being the winners from hundreds of participants from all over Indonesia is just the beginning, Adoria will write many, many more monumental stories on the next chapters. They are that good, trust us. Grab some bites while they are here in Bandung.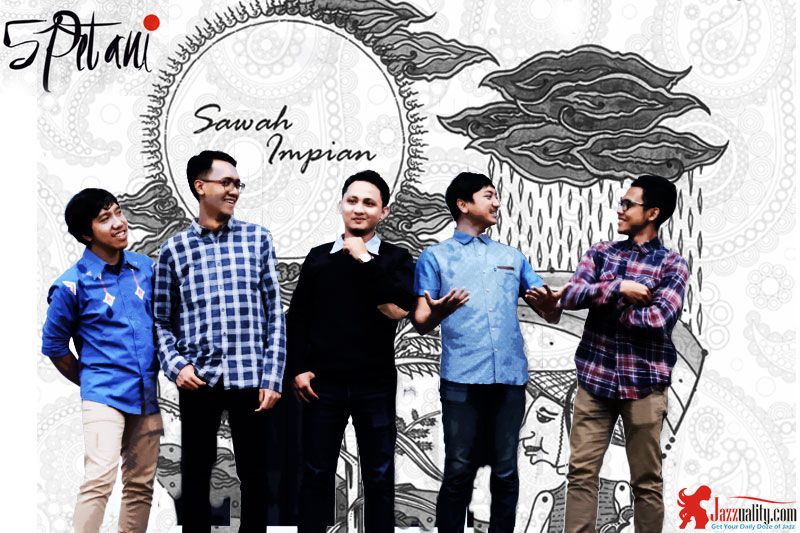 Speaking of the next chapter, we are excited to welcome back the 'farmers' on that matter. The story began when some excellent young musicians frequently met and played together in series of jam sessions at the ButterfieldJazz Society. Realizing that they shared the same dream and passion, they decided to estabish a 'home' where that could accomodate their ideas. Then, 5Petani was born.
Just in case you wonder where the name 5Petani (5 Farmers) came from since the size is way bigger than that, it's because they see farmer as the hero of the nation. While their keyboardist is also studying at the Faculty of Agricultures, another reason is that everyone inside the band agree that agriculture is the prime mover of the Indonesian economy, and farmers stand as the tip of the spear, that's philosophy that the "5Petani" hold in mind in sharing beautiful jazz tones to their fans and listeners/audience. The number 5 is not refering to the number of personnels but to the number of place they met and established the band.
This band is unique because they don't just play music, they have fun on stage like a pack of farmers enjoying a harvest feast after getting good crops. Their fusion cooking is excellent. Clean, neat and festive. Great compositions, cool arrangements and fine executions, all these remind us of how the super Fusion Band Karimata was in the early stage of their career. That's why we like to call them The Modern-Day Karimata.
As we said earlier, 5Petani is now writing a new chapter. Recently they finally released their debut album entitled "Sawah Impian" (Dream Rice Field), comprises of 6 original songs. The album is distributed nationally by DeMajors.  This debut album establishes them in the higher stage of their career after triumphantly went all the way to perform at the grand Java Jazz Festival last year. The album "Sawah Impian" speaks about everything they feel especially about the nature and world that we live in, except "Zefania" which talk about the fight of a young man in expressing his love to a girl. This great fusion album is out, to give easier access to get the album, you can buy it in this event. Another reason of why we call them The Modern-Day Karimata is how they infuse the ethnic/traditional sounds into their musical canvas. This album is recommended for jazz fusion lovers out there, especially those who fancy the likes of Karimata, Halmahera, Krakatau, Mezzoforte, YellowjJackets, Casiopea and so on.
As they are currently promoting their album, we invite them to have one of the album promo gigs in this event. Seriously, you should see this band that we take as one of the most interesting things happen in Bandung and Indonesian jazz scene today. Oh yeah, the band was formed by Yoga Wardana (acoustic guitar), Frank Navayo Pattinasarany (electric guitar), Gerson Valdo Siahaan (keyboard), Fauzan Rijal (bass), Arbi Wardani (drum) and Athina Niassrin (saxophone). But since Athina has to focus more on his formal study and Arbi goes into military, they got substantial helps from saxophonist Yudha Rahadyan, drummer Raka Rizkyandi plus two more players who have been supporting them all the way, Hilmi Ridha on bamboo flute, bangsing and some other traditional instruments and Rezki Delian on percussions.
These farmers are going to cultivate the Braga Jazz Night #35, planting some fusion plants and let us enjoy their harvest fest. Do join them and find out why we recommend their album to stay among the favorite ones on your CD rack.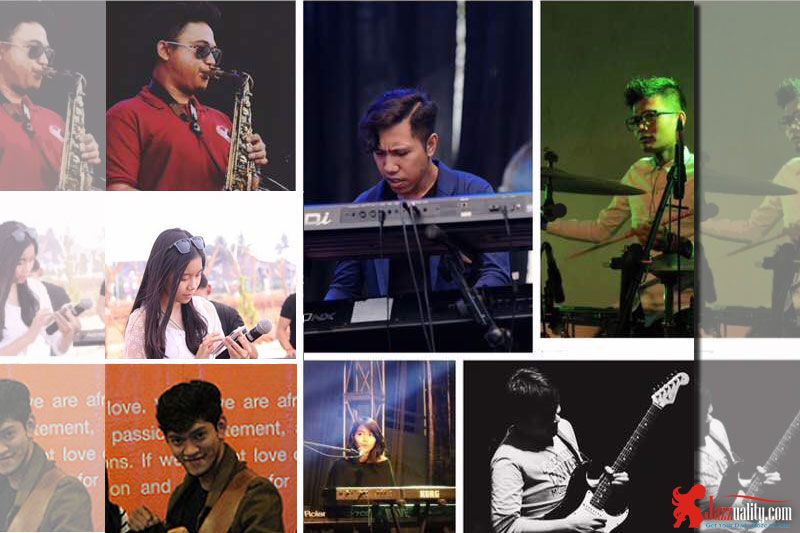 Not only band, we also support the movement when some musicians go further in creating special projects. Usually we can get something different from them when they come out expanding their horizon. A couple of months ago, a fantastic young jazz guitarist who shines out of his limitation, Anjuan Julio Siahaan of AFA Trio told us that he was planning to make a project. The name Gerson Valdo Siahaan (keys) of 5Petani came first, followed by more names. He updated us in every step of the way. In the end, the project turns out to be a quite large band of 7. Joining the two mentioned musicians are the unique all-round drummer Galih Cahya Nugraha, the high demanded bassist Ilham Septia Inda Nugraha (both are the members of Etudiant), former 5Petani Athina Niassrin (saxophone) and two ladies: Ratih Putria (keys) and Rosaline Ocha (vocal).  The group is called Restoration Project.
According to Anjuan, this project is built upon pop jazz, fusion and smooth jazz, drawing inspirations from Krakatau, Jeff Lorber Fusion, Mezzoforte to Chick Corea Electric Band and Snarky Puppy. Although we heard everything about this project from Anjuan, he refuses this band as his own project but more of a joint project. We know their skill, passion and capability from each of their bands, we are curious to see what they are going to bring through the union. Let's check it out together.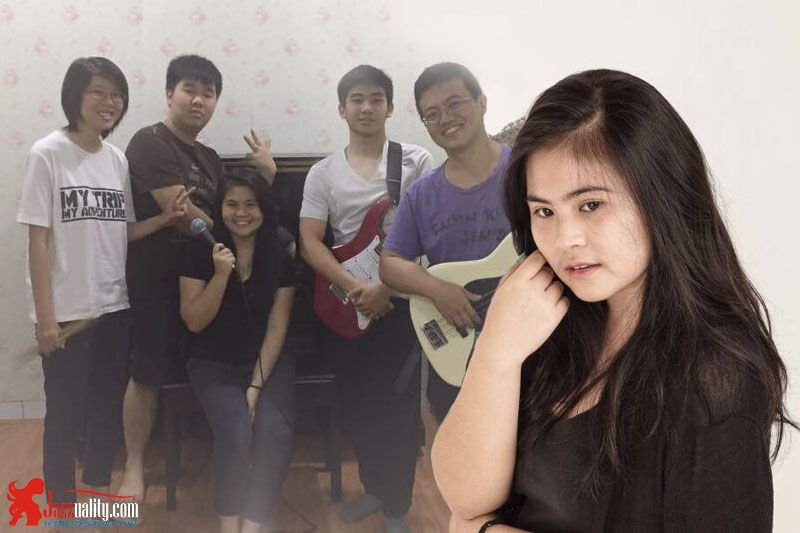 As how we core this event to push the regeneration of jazz musician, we regularly open the stage to hold debut gig. In this edition by cooperating with a fruitful music school, M.E. Music Centre, we are happy to feature one of its students who we think is ready to stand under the spotlight. Her name is Madeline Abigail Dione. To make it easier, let's just call her Madeline.
This girl has started learning piano since she was still in the elementary school (2nd grade) followed by vocal lesson not long after. She is still doing it until today in her 16 years of age, first grade in high school.
Madeline actually is no stranger to us since she has been appearing on our stage since last year, but not as the main performer. She supported her teacher and music school owner Michelle Efferin's shows and joined the Australian renowned jazz singer Jessica Kung's show in this event last February. Eventhough she was only in the line of backing vocals or one of the vocal group, we notice that she has the potential, therefore we want to push her forward. By doing this, we hope to help her hatch early and grow faster in establishing music as an important part of her life.
For her debut gig, Madeline is supported by lines of talented young musicians also from M.E. Music Centre: Jostein Adams (guitar), Indra (bass), Jennifer GM (drum), Kevin Chrisandy (piano).
According to her teacher Michelle Efferin, Madeline is into neo soul and RnB as she is listening to Alicia Keys, Jill Scott and the likes. We don't want to force her to do something she doesn't feel like. We share the same idea with Michelle, thinking it's important to let her learn what kind of artist she wants to be. But from what we notice, she will still sing some jazz standards too. Not only that, we are also told that she is going to sing and play piano at the same time. "She got so much in her.. I want to bring them all out. I'm so proud of her." says Michelle. Yes, we are too. We know this is the time. We hope by pushing her we could contribute to the regeneration and development of jazz and music in general. There are some talents now achieving success after debuting from our event, we look forward to see Madeline to follow their footsteps.
Once again we remind you that the Braga Jazz Night #35 : Jazziversary will come no longer than next week, Thursday, 18 May 2017 at the Plaza Stage of Braga CityWalk, starting at 7:00 pm until 10:00 pm, the closing time of the mall. This event is totally FREE of any charge. All you have to do is come and enjoy the performance.
This edition is made to suit the Braga CityWalk's 3rd Anniversary and is a part of the Bragaversary program, but even if you don't think it's important for you, you can still enjoy 4 bands delivering the magical world of jazz for 3 hours straight. Mark your calendar, see you there.
BRAGA JAZZ WALK #35
Date: Thursday, 18 May, 2017
Time: 07:00 – 10:00 pm
Location: Braga CityWalk
Jl. Braga 99 – 101, Bandung
FREE EVENT!
FEATURING:
:: ADORIA :: (Jakarta)
Kiara Riz (vocal)
Karel William on drums
Aghil Nur Prambudi (bass)
Mikail Al-rabbdia (guitar)
Michael Setiawan (keys)
Rizal Sianturi on (saxophone)
:: 5PETANI :: (Promo Album Gig)
Yoga Wardana (acoustic guitar)
Frank Navayo Pattinasarany (guitar)
Gerson Valdo Siahaan (keys)
Fauzan Rijal (bass)
Raka Rizkyandi (drum)
Yudha Rahadyan (saxophone)
Hilmi Ridha (bamboo flute, bangsing)
Rezki Delian (percussions)
:: RESTORATION PROJECT ::
Anjuan Julio (guitar)
Gerson Valdo Siahaan (keyboard)
Ratih Putria (keyboard)
Athina Niassrin (saxophone)
Ilham Septia Inda Nugraha (bass)
Galih Cahya Nugraha (drum)
Rosaline Ocha (vocal)
:: MADELINE ::
Madeline Abigail Dione (vocal)
Jostein Adams (guitar)
Indra (bass)
Jennifer GM (drum)
Kevin Chrisandy (piano)