The Indonesian music scene especially the jazz corner was shocked and deeply grieved by the passing of a highly respected virtuoso, Riza Arshad last month on January 13th, 2017. He died of heart attack at age just 53. This terrible message struck us like a lightning since he didn't show any sign of health problem before. In fact, he was still active until the last day as we heard he was practicing with his world-acclaimed cross ethno-jazz progressive ensemble simakDialog.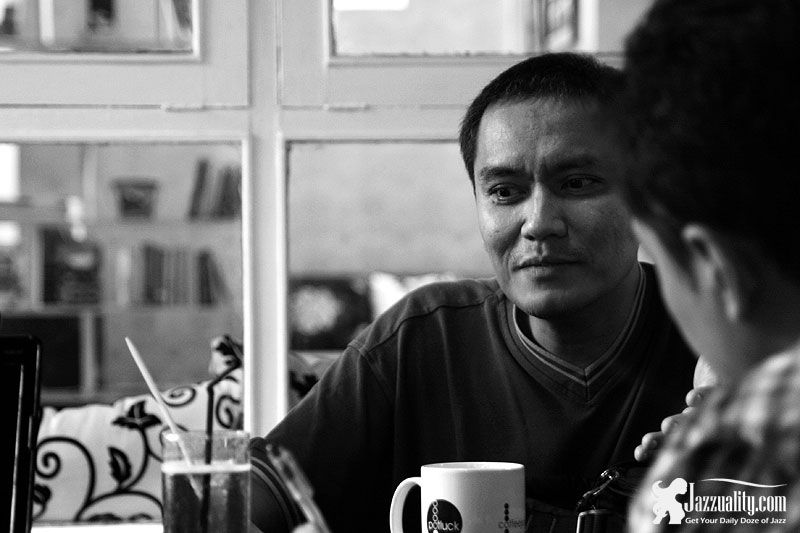 To us, he is a dear friend, brother, mentor and source of inspiration. In any condition or situation, he never lost his smile and kept on being positive. He was a genius who never stopped evolving and inventing. Highly respected among musicians, a great person to learn from. We started working together with him when he served as the curator of Serambi Jazz then supported his works from simakDialog, Trioscapes to Tuslah among other appearances as a guest star or solo projects. We noticed his work on several projects, like Pasar Jazz and series of gigs at Cafe Au Lait for example. Speaking of his career as a musician, we always wonder how could a man stay so true developing and evolving his band for more than 20 years, the way he showed with his monumental ensemble simakDialog. He is also an open-minded artist as we could find him in so many indie bands outside jazz. Of course, it's important to mention his legendary art rock fusion band, Rara Ragadi which was on scene from the late 70's.
He has released, produced and involved in many albums throughout his more than 30 years career, there is even an album which is going to be released posthumously. He was a master on piano and keyboard, but don't forget that he was an amazing Rhodes player, someone who could produce really 'creamy' sound from this electric instrument, also an accomplished accordionist. Other than being a maestro or key-virtuoso (we love to call him key-wiz), he is also a genius composer. Indra Lesmana stated in one of his tweets for Riza: "If as a keyboardist we might have seen the regeneration, as a composer there's none like him. He is truly one of a kind." He was a humble and friendly person, a favorite among our team, past to present. Speaking of regeneration, he was like a father to young musicians. He cared and tried to push the young guns anytime with any which way he could. He even called us a couple of times just to inform some of the young musicians that he thought we should keep our eyes on.
We miss him and still saddened by the fact that he is not here with us anymore. As he was really close to us, we have to dedicate one of our regular events to honour him. It was supposed to be last month, but the event was already made before his passing. So in the february edition (number #32), of Braga Jazz Night, we decided to make it for him, calling this edition "Braga Jazz Night: For Riza Arshad". It's coming soon on Thursday, 23 February 2017 located at the regular ground zero, Braga CityWalk. As usual the event will start at 7:00 pm and FREE of any charge.
What we had in mind while creating the concept for this 32nd edition is more than just asking the bands to play some of his works or songs that he was related with, but we wish to give the highlight of his projects, formations, music styles and his heart to the young musicians in jazz and beyond. As once he told us to keep searching for new talents and helps them to grow through our regular community events, we take it as a legacy and will do anything to keep it alive.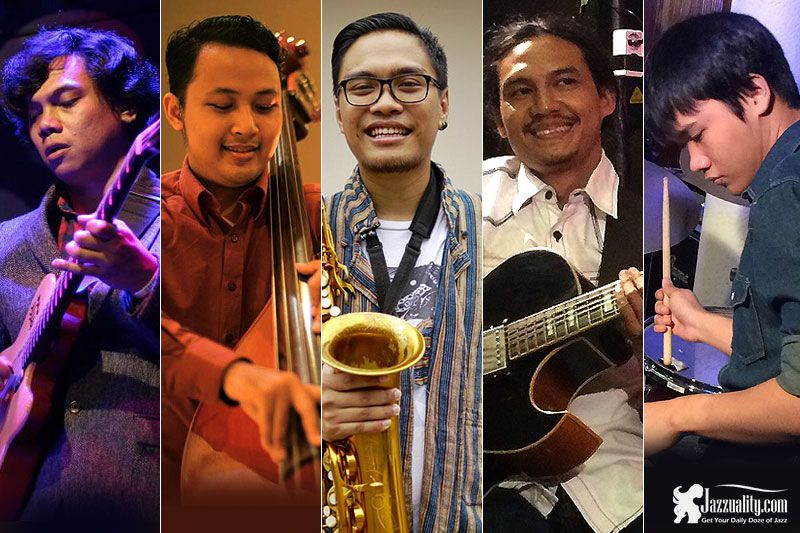 Regarding to the plan, we proudly feature a project intiated by Riza Arshad himself a couple of years ago called Serambi Jazz Collective. As you have probably know, Serambi Jazz is a two-monthly event made by Riza Arshad for Goethe Institut Indonesien existed over the period of 2009 to 2014 which we fully supported from day 1 (read all Serambi Jazz-related articles here: http://jazzuality.com/?s=serambi+jazz).
For 5 years this event didn't just showcased many wonderful musicians who dedicated their lives to jazz, it also provided chance for musicians to learn through series of workshop, especially when internationally acclaimed musicians from Germany were featured. This workshops have borne fruits as we saw many successful bands and musicians emerged after following this educational side of Serambi Jazz. But Riza thought there was still things he could do in utilizing the alumni. From that thought, he discussed the idea with an alumnus, guitarist Arnando Putra. As shown by the name, it is a collective project could be takenby any Serambi Jazz's workshops alumni. Other than having Arnando in charge, Riza also planned to join the band wherever they land. That was the idea, but unfortunately he passed away too soon before it happened.
Arnando told us that he wishes to keep the band alive as a legacy. He knows that Riza would want the band to keep alive by having his spirit. As this project is on its way to play at the upcoming event "simakDialog: Riza Arshad Berkarya" at Gedung Kesenian Jakarta on February 22, for you who are in Bandung will get the chance to watch it right here in Braga Jazz Night. The team for Bandung are the members of Triology: Arnando Putra (guitar), Indra Bayu Rusady (contrabass) and Nicolaus Edwin (saxophone) and an alumni from Bandung Hardi Suryana (guitar). For the drummer, since the original drummer of this project Yusuf Shandy Satya won't be able to join, Alman Naufal is ready to secure his position. Serambi Jazz Collective is a unit where we could feel Riza Arshad's passion and spirit. It's his legacy, a fruit of what he has built for years, a group of talented musicians who are commited in jazz and the home of future jazz greats. We have heard about this brainchild of Riza Arshad, now we invite you to see the performance together as they are marching in to this event.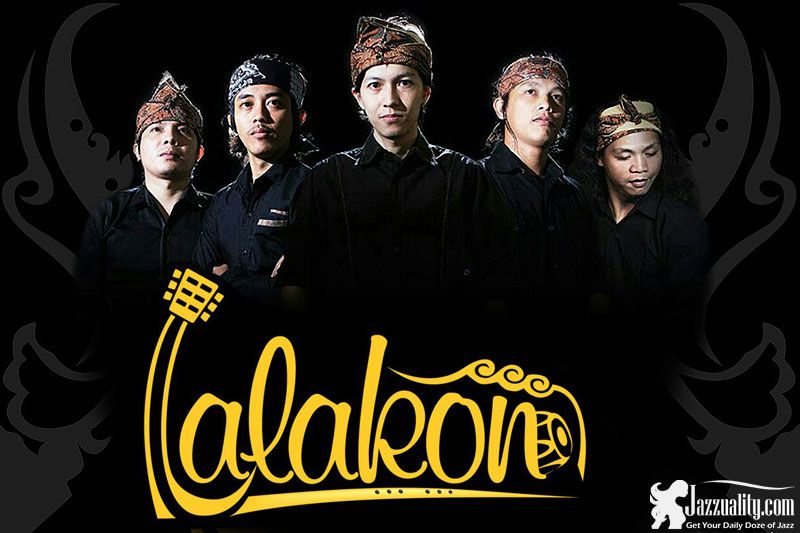 If we talk about Riza Arshad, we have to talk about the way his brain produced jazz in wide scopes. So wide until he consistently evolved the magical mixture between jazz and Sundanese traditional music, progressively for over 20 years. Thus, it's quite impossible if we don't involve the Sundanese crossover band in this event. There are some really good ones that we know of, for example West Java Syndicate who we featured in previous January edition. For this edition, we proudly introduce a cool ensemble where the traditional and modern live in nutricious harmony: Lalakon.
Lalakon is a Sundanese language means more or less 'The Main Roles/Characters". This stunning team consists of players with different musical backgrounds as reflected in their musicality. Rian Rastian (Rian Lalakon), the guitarist is a member of BGC (Bandung Guitarist Compilation). Lian Sianipar (Gepe) is also the bassist of rock band Orock, the homeband of Antv's program Selamat Malam Indonesia. Then there's Cilprayoga Sandy (Acil), the bamboo flute player who is a member of Indonesian Bamboo Society (IBS). Rasyid Vanadi (Acid) from Komunitas Iket Bandung and the gamelan player of LISENDA (Lingkung Seni Sunda) Itenas is positioned on kendang. Last but not least, Septian Yusuf (Abah Ucup) is the drummer and cajon player of the band.
As mentioned earlier, this band plays crossover music (including the progressive jazz) with thick Sundanese flavor. If you see their repertoires, you will be surprised to find wide array of selections, from Tohpati Ethnomission, Karimata to Earl Klugh, Sting and David Foster. A really fine and creative quintet, from them you will be able to see that music is an amazing world of endless exploration. There are so many things to try and discover, which in the end could create something new. Speaking of Jazz Indonesia or Indonesian Jazz, more specifically Sundanese jazz with rainbow-like colors, Lalakon has it inside their veins.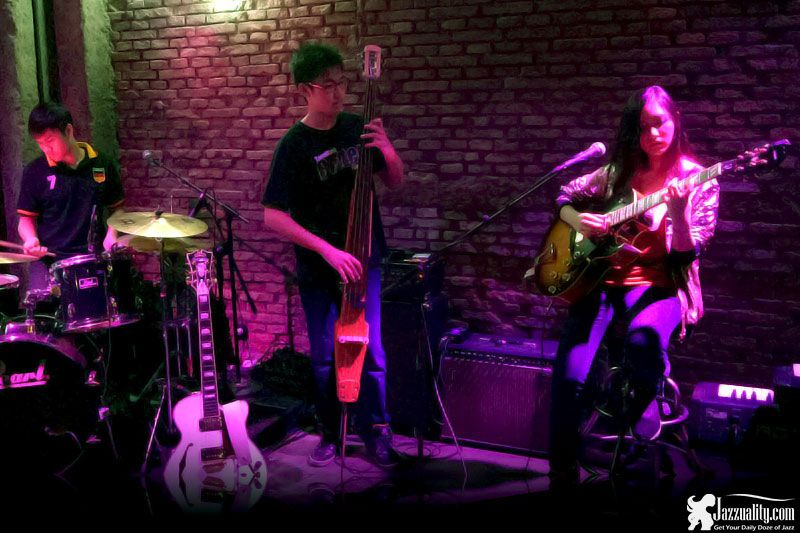 Indonesian jazz scene has been shaping up very well in the past few years with so many interesting and potential newcomers. One of these sensation is a young girl, still 16 years old who resonates the vibes of Joe Pass' style. What's amazing is that she just began around two years ago, but have been showing hard work and efforts ever since by practicing around 6 hours a day. She is Nayra Dharma.
Nayra inherits the DNA of her father, legendary bassist Pra Budidharma, the co-founder of supergroup Krakatau. That could be a reason of why she could speed up in building herself, but she is also dilligent and commited to fulfill her dream as an established jazz musician. We have been following her movement for more than a year, acknowledging every progress she makes which she often post in her social medias. If a couple of months ago she started involving ukulele in her gig, the most recent update is that she has extended her musical territory from solo to trio called The Nayra Dharma Trio. Joining her are two young fellas, a very talented young boy Nicholas Dheo on bass and the wild rider Alman Naufal on drum.
This girl doesn't just play guitar, she sings too. So far we really enjoy her swingin' and boppin' over jazz and bossanova standards. We are curious to see what's new after having two compatriotes. We have invited her a couple of times, it's time to check out her new package as the Nayra Dharma Trio.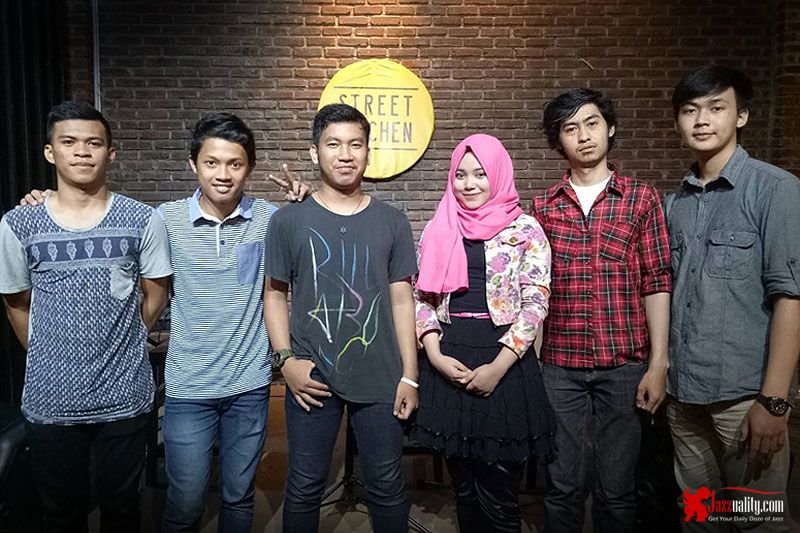 From time to time we bring in new bands to participate in our event. Let us introduce to you a band consisting of young players who are clearly passionate in jazz. The name of this band is Lala & the Mates. This would be a great choice for you who want to heart soulful voice over easy listening jazz and blues.
Lala & the Mates can be considered as a new band, but actually most of the personnels have been playing together for quite some times. They have even existed since last year under a different name, Fussionary. This band has made some impressive achievements, but then they had to go through some changes and decided to make a new start under a new name. From Fussionary to Lala & the Mates, they are looking forward to make even better achievements in this next chapter.
Lala & the Mates consists of 6 players. First, the vocalist, Lala (Full name: Fadhilla K Pramastij). This girl owns a lovely thick soulful voice which enables her to sing from Soul to Rnb, Jazz to Blues and everything in between. She has been consistantly active in talent searches shows for some years, from TransTV in 2010, X Factor in 2015 to The Voice. She hasn't found any luck just yet, but for us she is a good singer with feeling. We have big hope on her and happy to finally have her land on our stage. On guitar is Anthony Joseph. He is certainly not a stranger to us since he has participated many times in our events with numerous bands since three years ago. Joe Bastian is the bassist, who is actually good in guitar too. Like Anthony, he's been with us quite often, including two performances where he shows how good he is in playing bossa with guitar. On keyboard/synthesizer is the sensational Omega Touselak, a young musician who currently does very well as a part of Grace Sahertian's team. Two more players are found inside the band: Dony Manurung (keyboard) and Kevin Bernad (drum).
While the band is considerably new, we know most of the players inside, in person and skill. We also don't have to worry about the chemistry since they have been playing together and supporting one another many times. We look forward to have their great first appearance as Lala & the Mates and hope the band to last long.
With these four bands, we hope to pay our respect to the late Riza Arshad who has inspired us in many things. We invite you to come and honour him together, also to enjoy the performances of this month's lineup. Once again, this event is coming soon on Thursday, 23 February 2017, starting at 7:00 pm at the only mall in the historical Braga street, the Braga CityWalk. Mark your calendar, see you soon!
Braga Jazz Night #32: For Riza Arshad
Date: Thursday, 23 February 2017
Time: 07:00 pm – 10:00 pm
Location: Braga CityWalk
Jl. Braga 99 – 101, Bandung
FREE EVENT!
Featuring:
:: SERAMBI JAZZ COLLECTIVE (JAKARTA) ::
Arnando Putra – guitar
Nicolaus Edwin – saxophone
Indra Bayu Rusady – contrabass
Hardi Suryana – guitar
Alman Naufal – drum
:: LALAKON ::
Rian Rastian (Rian Lalakon) – guitar
Lian Sianipar (Gepe) – bass
Cilprayoga Sandy (Acil) – bamboo flute/woodwinds
Rasyid Vanadi (Acid) – kendang Septian Yusuf – drum/cajon
:: THE NAYRA DHARMA TRIO ::
Nayra Dharma – guitar
Nicholas Dheo – bass
Alman Naufal – drum
:: LALA & THE MATES ::
Fadhilla 'Lala' K Pramastij – vocal
Anthony Joseph – guitar
Joe Bastian – bass
Omega Touselak – keys/synthesizer
Dony Manurung – keyboard
Kevin Bernad – drum