Borneo Jazz 2011, Malaysia: An enchanting fusion of music and adventure!
The Miri International Jazz Festival, one of Asia's premier boutique jazz festivals, is now re-branded as Borneo Jazz. and the line-up this year features terrific emerging and established artistes. It will be held at the same venue as the previous festivals: ParkCity Everly Hotel in the city of Miri, Sarawak, eastern Malaysia (May 12-15, 2011).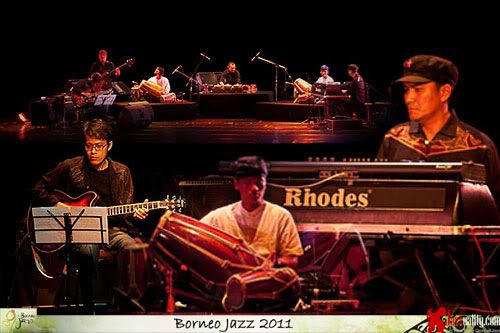 The sequencing of acts on each day and orchestration of the grand finale by festival artistic director Randy Raine Reusch promises to be exciting again. I caught the festivals in 2009 and 2010, featuring artistes such as Michael Shrieve (drummer for legendary guitarist Carlos Santana), blues harp legend James Cotton, John Kaizan from Japan, Rumba Calzada from Canada, simakDialog from Indonesia, and Jazz a la Mode from Australia (see my 2010 article here and earlier pics here).
Grammy award winning bluesman John Hammond has played with the Who's Who of blues, including Muddy Waters, Howlin' Wolf, Eric Clapton, Duane Allman, Mike Bloomfield, JJ Cale, Tom Waits, and John Lee Hooker.
Multiple Grammy nominee Maria Muldaur has released more than 35 records and has a Grammy nomination in the Traditional Blues category for her 2005 release "Sweet Lovin' Ol' Soul." Her other tracks cover jazz and R&B. SIU2 features Hong Kong's Ng Cheuk-yin on sheng (mouth-organ), who will take this five thousand year old instrument well into the 21st Century jazz format along with the sanxien and the zheng.
Fernanda Cunha from Brasil and Ray Piper from Australia together chart new territory in post-bossa groove. Les Doigts De L'Homme mash up gypsy jazz with swing, rock, and even punk. C'Quence from Malaysia are a Latin dance band who bring a flavour of the carnival to Asia.
I had the good fortune to interview the artistes Dhruv (from India), State of Monc (Holland) and Victor Yong (Canada), in preparation for the jazz festival next month.
Dhruv Ghanekar is a composer, producer and guitar player from Mumbai who has performed and collaborated with Richard Bona, Zakir Hussein, Trilok Gurtu, Raul Midon, Etienne M'bappe, Ranjit Barot, and Louiz Banks. An alumnus of the Berkelee School of Music, he is one of the founding partners of Blue Frog Production. His 2009 album 'Distance' blends jazz with contemporary Indian roots and rock. His next album explores African sound.
Dutch sextet State of Monc blends jazz with pumping dance and complex breakbeats. They effectively blend slick electronic sound with pure jazz on acoustic instruments. Born in Miri and now living in Canada, Victor Yong makes his musical return to Malaysia with his Latin inspired Carnival Band. He blends Latin jazz-rock fusion with infectious rhythmic groove in his Electric Carnival Band.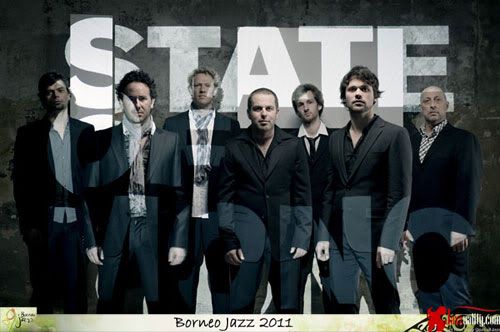 State of Monc – picture taken from State of Monc's official website
State of Monc's Hielke Praagman
On how the group was founded
I met Arthur, the trumpet player, on a camping site in France. Our vision was to form a group in which both jazz and electronic music would fuse together to something new. I would like to tell an amazing story about the name, but the name of the group doesn't mean anything!
Leading musical influences on the band
Artists that influenced our music come from both jazz, like of course (70s and 80s) Miles Davis and Weather Report. Also, the electronic sounds were based in the sounds formed by electronic artists such as Autechre, Squarepusher and today I am listening to music coming from the London Dubstep scene.
Profiles of Hielke's fellow-artistes
Most artists in the band know each other from some time ago, from the Rotterdam music school. They are all very good players within the Dutch music scene and play or have played in various groups. The drummer Tuur Moens for example is a still rising talent who has just started his own group but also is playing around the world with various soul, jazz and world music groups. Ben van den Dungen, our saxophone player, is well known in the Netherlands. We once invited him as a special guest and now he is still with us. He plays all around the world with his Tango Quintet, and was leading one of the most progressive jazz groups in our country back in the 80s.
On music and social messages
Arthur and I both have strong political opinions, and with the current right wing government in our country it is sometimes hard to remain positive. But our music has always been something unattached to social or political views, rather a tool to use to forget the world's miseries I guess…
Their new release
We are now working on some studio tracks which are more atmospheric than our previous tracks. The tracks are more open, and focus more on the groove then on solos. We are playing to release them (digitally) on an EP this coming autumn.
Highlights of their previous Asia gigs
The absolute highlights were the two shows we did last year on the Java Jazz Festival. Both the shows themselves and everything around them were a fantastic experience. We sure hope to be able to play more in Asia, where people really seem to be digging our music.
What we can expect to hear at their Borneo Jazz performance next month
We still play a lot of older compositions, but we recently changed our concept of playing live. We have a fantastic new bassplayer which I think is of great influence on our new style. We will definitely perform some new compositions we are currently working on.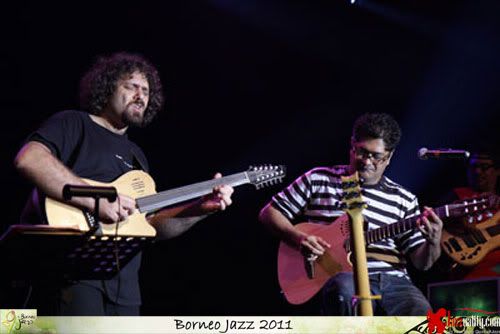 Dhruv at Java Jazz Festival 2009 (Doc. Jazzuality.com)
Dhruv Ghanekar, Mumbai, India
On the leading influences in his music career
I grew up listening to pop music from the 70s and 80s whilst studying Indian classical vocals. In my early teens I gradually got into more progressive rock bands like Rush/Toto and also a plethora of instrumental guitar music. Soon after that I was introduced to Pat Metheny, Chick Corea and Scott Henderson and that totally changed my concept of music. From there on it has been quite varied and wide. Since I also compose music for films, I am listening to everything from soundtrack music (film scores), to artists like Lionel Loukle, Electronica and U Shrinivas.
Profiles of Dhruv's fellow artistes
Gino Banks, son of the legendary pianist Louis Banks, is playing drums. Sheldon D'silva, an all round fantastic bassist, has played with so many artists is such a short time: Ozomatli, Trilok Gurtu, Zakir Hussain. F.A. Talafaral on saxophone and keyboards from Madagascar is a fantastic musician as well. This is a new band and everyone is totally charged up and raring to go!
On some new directions in his music
For the past 5 years or so, I've been listening heavily to a lot of music from Africa and some of that sound is probably rubbed off on me. So my next album will have an African scent!
His previous Asian gigs
Its always interesting playing outside your home country, people react to the music without any preconceived notions. Recently we played at the Kathmandu Jazz Fest and before that Java Jazz Festival in Jakarta — we had a terrific response for both gigs!
What we can expect at his Borneo performance next month
Every performance is a bit different, depending on the vibe of the place. Expect a lot of rocked out  improvisation!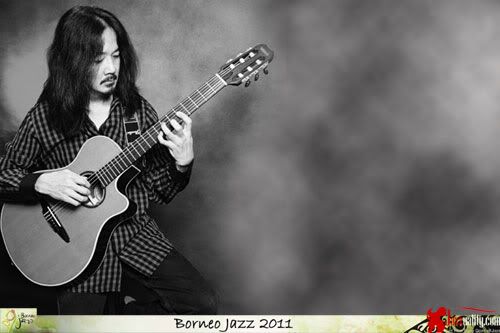 Victor Yong, photo taken from Victor Yong's official website
Victor Yong and Electric Carnival, Canada
On the founding of his group
The name came about from the image I got doing my first album. It's quite Latin, very tropical and played with electric guitar – at times with distortion – hence the Electric in Electric Carnival!
His favourite musical influences
It is hard to name just a few players or composers and it changes all the time. I enjoy listening to great singers as much as great instrumentalists or composers. Lately I had been getting into Andrew Lloyd Webber stuff. But in my very early 20s, I was obsessed with jazz and jazz-rock fusion and listened to a lot of Frank Zappa, Sonny Rollins, John McLaughlin and Eric Dolphy, strangely more so than Coltrane and Parker. I don't know why. But in my teens, it was rock music of course. And the early days of Deep Purple, Johnny Winter and Alice Cooper were a big influence. And of course, the Beatles.
On his previous musical collaborations
I have done some sessions for the Chinese Cantopop scene: backing up people like 70s HK Superstar Yip Chan Tong and this past May and June for Lui Fong under the leadership of musician/composer Tony Arevalo Jr.
About the message of his music
I'm writing for the love of music. And putting forth my years of influences to create something slightly interesting and new. I hope it will put a smile on listeners' faces when they hear it. Or maybe make them feel like dancing — or maybe shed a tear or two.
His new forthcoming album
I'm working on my second album and it will be something very different and this one is a hell lot of work. Far more work, not to mention cost. And the thought of it is overwhelming. But I'm very excited about it!
Stay tuned for more infos/news of Borneo Jazz 2011 at Jazzuality.com!
Written by: Madanmohan Rao
Editor & DJ; World music & Jazz
-Global Correspondent for Jazzuality.com-