Once known as the rock city, Medan, the capital of North Sumatra has been showing its jazz face clearer and clearer for the past several years. It has jazz community where many young talents grow in, they have regular jazz events, and probably what's amazing is it does have its own annual jazz festival. The name of the festival is NORTH SUMATRA JAZZ FESTIVAL (NSJF).
This festival was presented to the public for the first time in 2011. The main idea was to provide jazz event in the form of festival, but with specific and unique shape which embraces the local wisdom. The organizers persisted that it has to be different than the jazz festivals elsewhere which are coming more and more in the past 5 or 6 years.
While some of them fail to keep their existance, this festival in North Sumatra is still alive. It even grows bigger and better, thanks to the hard work and effort of the initiator Erucakra Mahameru with his Waspada eMusic in cooperation with indiejazzINDONESIA. They realize they have to keep fighting in order to keep its existance at the best they can.
Five editions passed, now here is the 6th NORTH SUMATRA JAZZ FESTIVAL 2016. It's right around the corner, ready to bang the city big on May 4, 2016 at the ballroom of Santika Premiere Dyandra Hotel & Convention Center (SOCC) Medan.
You must be curious to see the lineup for this year right? First of all, we said this event will bang the city big because there will be some big bombs to explode. That, and eruption too. Speaking of eruption, the supergroup, megaband, the legendary, the one and only KRAKATAU is confirmed to pour its fusion magma. For you who have been following the music scene since the mid 80's until 90's, your heart should be filled with joy whenever you hear this band being mentioned. They did have some formations throughout the active years, but the most famous one probably is the third formation which comprises of Donny Suhendra (guitar), Dwiki Dharmawan (keyboard), Gilang Ramadhan (drum), Indra Lesmana (keyboard), Pra Budidharma (bass) and Trie Utami (vocal). This formation produced so many hits who are still popular until now. This formation placed itself at the top of the list since their first selftitled album in 1987. The huge success story continued on with more albums until 1990.
There are many factors that make this band amazing. True, they have jazz/fusion gods inside. By having such unit, their on-stage performances are always a bomb. Some mentioned it complicated, against the main stream, tough, explosive, powerful with many magic moments. The band played sharp jazz with thick rock nuances in the layers. But what's unique is that in recordings they knew how to make it more 'pop' without having to loose the identity and true-self of Krakatau. In total, this third formation managed to sell almost 5 million cassettes (!), which should place them as the most phenomenal group in Indonesia's music history.
But then, storm was hitting the band as they were experiencing partial dissolution. While the Krakatau still carried on by some of them and went more to fusing deeper into traditional ethnic music, this third formation was out for no longer than 25 years. In 2013 a shocking news appeared. They decided to reunite and used KRAKATAU REUNION as the name. Since then,  the band has been showing increasing 'seismic' activity. In just two weeks from now, Medan will enjoy its eruption. The complete third formation will all be there, so make sure to dip into the fusion lava.
Next, the festival is welcoming back the Korean jazzman/drummer, Chairman of Yongin Global Jazz Festival (YGJF) and CEO of Global Green International Jazz & Cultural Exchange Center (GIJCEC), Phil Yoon and his band, Phil Yoon Group. This Berklee College of Music alumnus is ready to reprise his great performance from last year's edition. What's different is that he is bringing diferent troops. Joining him this time are Jonghwon Lee (saxophone), Jinho Heo (bass), Myoungguh Lee (piano) plus a beautiful female vocalist Ahhye Cho. In the midst of K-pop fever all over the world, Medan will once again find out that jazz is still pulsing strong in Korea too. Let's call it K-Jazz, Phil Yoon Group will show you how it is.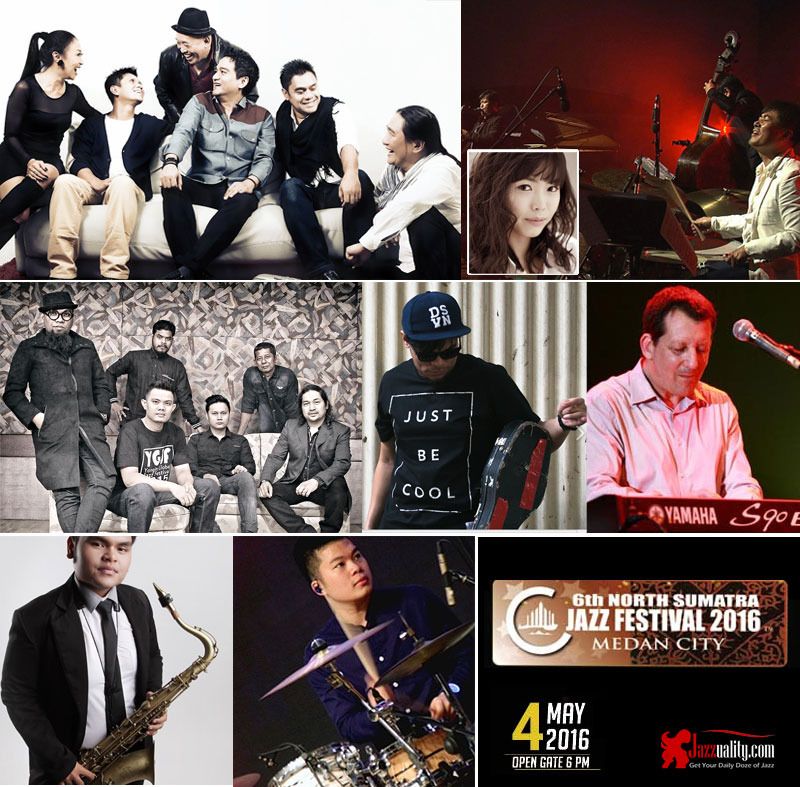 The initiator Erucakra of course will have the stage too with his band, Erucakra C Man Band. Just like Phil, Erucakra is also an alumnus of Berklee College of Music. With his C Man Band he explores challenging music that on the surface might refer to fusion. But if you listen carefully, you will get that they don't just play normal fusion. Erucakra likes it more to call their music as NeoProgressive Jazz. Other than Erucakra himself on guitar and vocal, the band consists of Omar (lead vocal), Heri Syahputra (keyboard), Rusfian Karim (drum), Brian Harefa (saxophone) and Radhian Suhada (electric bass). The band just got a big chance last November to perform at the 1st Yongin Global Jazz Festival 2015 in Seoul, South Korea under the invitation of Phil Yoon (http://jazzuality.com/jazz-news/erucakra-c-man-to-blast-the-1st-yongin-global-jazz-festival-2015-seoul/). As they had a blast there, it's time for you to guys in Medan and nearby to feel and find out why this band is listed in 'the most extraordinary bands from Indonesia' by Phil Yoon.
Recently more big names are added to the lineup! Java Jazz Festival Hall of famer, the 'in-house residence' of the fest who's widely known as a jazz master who brings elements of funk, R&B, rock and electric jazz as he helped pioneering the genre of fusion is confirmed. He is none other than Jeff Lorber! For almost 40 years he's been nourishing the music particularly jazz with his magic touch. After enjoying his essential supports for many years of Java Jazz Festival in Jakarta, we are excited to have him pushing the jazz forward in the city located on the upper side of Sumatra. Since he was also from Berklee College of Music, it's going to be a nice reunion for him too with Erucakra and Phil. You love fusion, smooth jazz, R&B, with funky chops and bites? Jeff Lorber is the man.
Three considerably young talents who are listed among the nation's top musicians are just in. First, the funky bassist Barry Likumahuwa. Who doesn't know him today? He reached huge success with his independent debut album Good Spell in 2008 followed by the first album with his famous band, Barry Likumahuwa Project (BLP) 3 years later. Other than these two moves, he has made several side projects too and let's not forget his contribution in LLW where he's in for several years, also with papa Benny Likumahuwa, Like Father Like Son and Barry Likumahuwa Experiment among others. He played alongside Joey Alexander before this magic kid moved to USA, and recently he just released his solo album, "Octonary" which for us contains high dose of funky jazzploration in the hiphop urban world. Now his fans in Medan will have he chance to watch him in person.
The saxophone corner in Indonesia got enhanced by Ricad Hutapea. Playing mostly tenor and soprano, this man is highly capable in giving up a merciless sax attack in order to funk you up. When he's going soft, his sax lines are seducing. He has released his debut "Jalan Pertama" two years ago and highly active too as a sessionist/sideman. The last time we met him was when he performed in our own event, the Bumi Sangkuriang Jazz Night #1 in January (http://jazzuality.com/jazz-event-report/bumi-sangkuriang-jazz-night-1-the-report/). Medan will be happy to welcome this North Sumatran native back home.
The last name we should mention is also a young musician who uniquely is listed among the great skilled and highly experienced ones: Yesaya Wilander Soemantri, better known as Echa Soemantri. Born in 1989, he has started playing drum since he was still 2 and a half year and claimed to receive the first lesson from Jesus. When he turned pro, he became the drummer/involved in recordings of so many big names, starting from Marcello 'Ello' Tahitoe to Erwin Gutawa Orchestra, Yovie and Nuno, Tompi, Agnez Monica, Rio Febrian, Glenn Fredly, Base Jam, Dwiki Dharmawan, Dewa Budjana, Matthew Sayersz, Balawan, Indro Hardjodikoro & the Fingers, Tophati, Trisum, Abdul and the Coffee Theory and Iwan Abdie, just to mention a few. Today he is active in Abdul and the Coffee Theory, Dewa Budjana Quintet, Echa Soemantri and Friends, Erwin Gutawa Orchestra, NEWB, Trisum and some others.
With so many stars having their own distinctive jazz style, this year's North Sumatra Jazz Festival 2016 should not be missed, especially if you live in Medan or other cities nearby. The organizer promises to give you one of the most exciting experiences you will ever have. After five previous editions, this year Medan will go jazz, big time. Make sure to be a part of it!
North Sumatra Jazz Festival 2016
Date: Wednesday, 4 May 2016
Open gate: 6:00 pm
Location: Ballroom of Santika Premiere Dyandra Hotel & Convention, Medan
Ticket price:
Diamond: IDR 1 million
Platinum: IDR 750k
Gold: IDR 500k
Silver: IDR 250k
Festival standing: IDR 100k
Get your ticket at:
Harian Waspada
ET 45 Sun Plaza
ET 45 Mangkubumi
Rajakarcis.com (http://www.rajakarcis.com/2016/04/08/north-sumatra-jazz-festival-2016/)