Jazz was born in America, but enjoyed worldwide. Jazz belongs to the entire world and is an integrated part of world's history. That means, having a jazz festival inside a historical site should be an excellent choice. Right at the end of this week, a new jazz festival will be born, taking place at the historical Kota Tua (Old Town) area of Jakarta. The name of the festival is JAZZ @ KOTA TUA, Saturday, December 13, 2014 at Taman Fatahillah, Museum Sejarah Jakarta starting from early in the morning to late at night. And yes, it's FREE!
If you visit Jakarta, you should visit this particular location. Kota Tua is also known as Old Jakarta or Old/Oud Batavia, a small area that still preserves the reminiscence of the city during colonial times in the 16th century. It was once the administrative headquarters of the Dutch East India Company and a trading port. Some places of interest include the Maritime Museum, the Fine Art and Ceramic Museum, Wayang Museum which periodically showcases shadow puppetry and of course the Fatahillah Square, where The Fatahillah Museum (also familiar as the Jakarta History Museum) has been standing tall against the time. This building was built in 1620 as the Stadhuis of Batavia by Jan Pieterzoen Coen and then rebuilt in 1710. Other than being the Stadhuis of the Dutch East India Company, it's also used as a Courthouse, Civil Registration Office, the sermon, House of Sunday worship and City Council (College van Scheppen).
The Fatahillah Museum has around 23.500 objects including the Jagur Cannon, the prison of Untung Suropati and Pangeran Diponegoro, the painting of Dutch East India's governor all the way to some prehistorical stuffs. Another history's added by the appearance of Jazz @ Kota Tua.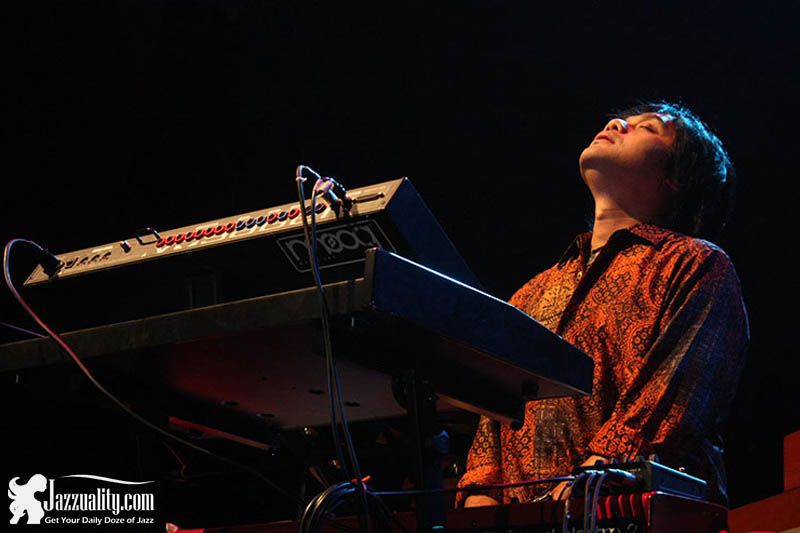 It was Dwiki Dharmawan who had the idea. He thought about it around 8 years ago, but he got no positive reply from the related authorities at that time. But suddenly he was asked to make it happen. In just a short time Dwiki collected everything and everyone. He makes sure the audience to enjoy variety of performers, from the jazz masters to the newcomers, from local to international jazz artists, from rag time to modern jazz, from standards to ethnics. Assorted artistic jazz will be served in the artistic representative of Jakarta in some centuries ago. How cool is that.
Hundreds of musicians divided into more than twenty acts will run on two stages, plus one sharing session/talkshow with the CEO/Founder of MoonJune Records. Leonardo Pavkovic. Leo believes that Indonesia is the next big music country in the world. He has been keeping his eyes on our local scene and so far has recruited almost 10 bands from Indonesia (still counting). Currently he's promoting the IndoJazzia, a division of Leonardo The Vinci Entertainment with Arlo Hennings in charge as the chief operational activities in Indonesia.
MoonJune proudly presents many of its talents too in this festival. The latest recruit is this festival's initiator and director, Dwiki Dharmawan. For this fest Dwiki is going to bring two of his sensational legendary groups: the Krakatau-Ethno and Dwiki Dharmawan World Peace Orchestra. The Krakatau-Ethno is the version that embraces the ethnic music, specify in Sundanese (West Java) traditions. The ensemble utilizes the micro-tonal system of ancient gamelan musical structures that is based on S'lendro scale. About the World Peace Orchestra, well, this is beyond believe. Think of this: an orchestra comprising of musicians from around the world. If all members are present, it would resemble a 'World Music Union'. No gap, no differences, just peace, love and respect to one another. The participants came from USA, China, Japan, Australia, European countries, Malaysia and Indonesia, including traditional musicians from Java to North Sumatra. Wide diversity of backgrounds, instruments and styles. Since it was quite impossible for them to gather in the studio, the recording process took place in various countries. The phenomenal mega project is simply called Dwiki Dharmawan & The World Peace Orchestra.
In this festival, the World Peace Orchestra will be carried by a smaller ensemble yet still reflects the spirit perfectly by multi-national musicians. First, Beledo. Often considered as a real myth among Uruguayan music connoisseurs, the guitar hero Beledo plays with the proficiency of a man that has been sharing life with his instruments for some decades. He was born in Montevideo, Uruguay, but he is a New York based musician and composer. Other than standing as a guitar hero, he is also a prominent pianist. His music lies in between Jazz and Rock with some touches of exotic Spanish-flavored melodies, polyrhytmic rhythms and some other diversely stylish sound. This MoonJune artist isn't far from Indonesian Jazz. As he is listed as one of the MoonJune Records' artists, he has collaborated with the cross ethno-progressive ensemble simakDialog, with its pianist Riza Arshad and guitarist Tohpati in 2013, also as a duo with guitarist Dewa Budjana and recorded with Indonesia's Jazz icon, the one and only Dwiki Dharmawan.
Also joining the World Peace Orchestra is Dale Barlow. The legendary composer/musician from the land of Oz is back again to Indonesia. He is a multi-instrumentalist who plays especially the saxophone and flute. As one of Australia's most accomplished and internationally recognized Jazz artists, he has played with uncountable who's who in the Jazz scene, even once joined Art Blakey's Jazz Messengers in the 1980s, including several albums with his compositions. He was also a member of The Cedar Walton Quartet. After his shiny appearance in Ubud Village Jazz Festival, he's ready to grace this fest as one of the WPO team. The kind-hearted and highly respected percussionist Steve Thornton is one of the catch in this act too.
Dewa Budjana and Tesla Manaf are the other names from MoonJune listed in the lineup. Coming from different generations, both players are amazing artistes who should be listed in the world's greatest guitarist. They will perform under quartet formation. One more MoonJune representative is the cross ethno-progressive ensemble simakDialog. Led by Riza Arshad, this group has gained so many critical acclaims worldwide. Also found on board are Tohpati (guitar), Adhitya Pratama/Rudy Zulkarnaen (bass), Endang Ramdan and Cucu Kurnia (kendangs) and Erlan Suwardana (metal toys). Watch them to see how the using of kendangs as a replacement of drums could open a new musical dimension.
The last to mention from MoonJune is LIGRO. Agam Hamzah (electric/acoustic guitar), Adi Darmawan (electric bass) and Gusti Hendy (drums) succesfully create the mind-bending musical concept wonder since 2004. They give something unusual and might never been or seldom explored by others. They are powerful, chaotic, in some parts can be derange, provocative and even able to deliver some terrors within their music, yet they create lovely harmony.
Bassist Chaka Priambudi and vocalist Nesia Ardi established LANTUN Orchestra to (re)introduce the richness of Indonesian traditional music especially the Batavian like keroncong, tanjidor and the likes. But what's unique, in order to bring it they use jazz elements not only in notations but also improvisations, solo runs and call & response. "We're searching for the similiarities between jazz and Indonesian traditional music especially the Batavian, and that's important because we need to preserve our own cultural heritage and keep deveoping it under today's condition." said Chaka proudly. Lantun Orchestra proves that there are still many music corners to explore with limitless possibilities. They also brilliantly shows that jazz can be used to preserve our own traditional music, and for us, Lantun Orchestra is considered as one of the most interesting new concept at present time. Intan Soekotjo, the proud daughter of legendary keroncong singer Sundari Soekotjo who once made surprise with her keroncong rendition of "Over the Rainbow" is featured in this act.
Two of Indonesian pianist who pursue their career overseas will be here too: Dutch/European-based Sri Hanuraga and New York/USA Nial DJuliarso. The 'El Montuno', Rio Moreno is going to play too. Then the Jakarta-based Big Band who redefine the Big Band's way of performing, HajarBleh Big Band is confirmed too. Ever seen the members of big band took selfies and did high-five during performance? This crazy gang will show you that the member of big band can be funky and trendy too. Born in Jakarta but live in Brisbane versatile guitarist Yuri Jo will have a session under Yuri Jo Collective.
Two ladies with the music that symbolizes the beauty and everything that's 100% Indonesia, Lea Simajuntak and Irsa Destiwi as Bandanaira are in the lineup as well. With the sweet rearrangement of some Indonesian classics and anthems served by top notch vocal technique which appears as the combination of 'soprano' and pop, they will give you something nice and easy to chew yet classy. The 'girl-power' will also shine from a group of five named Ina Ladies. Senior singer and trumpeter Happy Pretty (she's the youngest of the legendary Pretty Sisters) led the team consists of Bonita (vocal, harmonica, guitar), Metta Legita (pianist) and two Starlite members: Sheila Permatasaka (bass) and Jeane 'Alsa' Phialsa (drums). You will never underestimate the power of ladies anymore after watching them. Presenting the traditional music of Atjeh is Keubitbit. Formed by young musicians, this band plays songs with genuine traditional Atjehnese nuance in progressive fusion corridor.
While top national and international have confirmed their involvement, many newcomers/young lions become an important part too of Jazz @ Kota Tua. Farabi sends two groups: Farabi Percussion Ensemble (with GMB's percussionist Adi Prasodjo and Steve Thornton) and Farabi Rising Stars featuring Ita Purnamasari and Ify 'Blink'. Arnando Putra's Triology, WTF and Revival Generation Project (RGP) also represent the great young talents from today's generation. Last but not least, don't miss the Flores proud son Ivan Nestorman and the female singer with shiny international achievements who is famous both in gospel and secular world, Eka Deli.
The most recent update is the final show. It's going to be the group of colourful pianist who plays all kind of music, from classical, jazz, blues, pop to Latin, Nita Aartsen. The show's called  Nita Aartsen for Batavia.  Joining her are all star cast including Indro Hardjodikoro, Jalu Pratidina, Arif Darma featuring Yeppy Romero. You should stay until the very end because this final act will give you a special treat.
Jazz @ Kota Tua is ready to showcase heady mix of talents from Indonesia and around the world. This event is meant to celebrate Jazz in a city which is at ease with its rich cultural diversity and drawing a multitude of venues around the old town of Jakarta. Up to 3000 people are projected to enjoy many genres of Jazz at this historical site surrounded by heritage colonial buildings. You can imagine the magical atmosphere. While getting the best of jazztertainment, you can also romancing the snapshot of how the city looked before the skyscrapers move in. It's time to go jazzy in the Old Town Jakarta.
1st Annual JAZZ @ KOTA TUA
Date: Saturday, December 13, 2014
Time: 09:00 – 22:30
Location: Taman Fatahillah, Museum Sejarah, Jakarta
FREE EVENT
DOWNLOAD THE NEWSLETTER HERE:
1. Front and Back Page
(click the image or this text to download)
2. Inside Page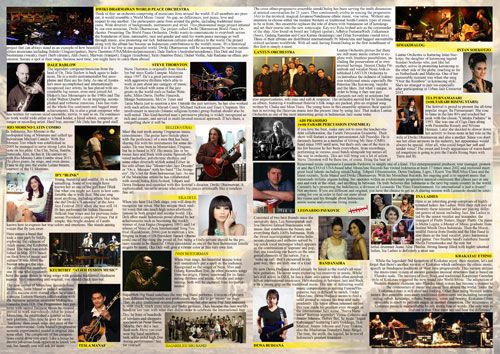 click the image or this link to download)
The newsletter is brought to you by JCreativeWerks, a creative division of Jazzuality.com