The world of jazz suffered a big loss 3 months ago when 7-times Grammy Award winner, the legendary jazz/soul singer who 'played his voice' Al Jarreau passed away at the age of 76 at an LA hospital around 5:30 am local time on February 12th, 2017. The loss is so massive, that one of our contributors sadly said that it was like the end of an era.
No doubt, Alwin Lopez 'Al' Jarreau is one of the most influential singers of all time. In Indonesia, he might be the source of inspiration for so many singers since some decades ago. Especially during the 80's and 90's era, there were so many of Jarreau's hits became really popular in Indonesia, at least since his most commercially successful album "Breakin' Away" in 1981 which contains some evergreens such as "We're in This Love Together", "Easy", "Our Love" besides the title track. Also found in this album is an uplifting funk tunes "Roof Garden". After that, he released "Jarreau" (1983) where he successfully made more classics like "Morning", "I Will Be Here For You", "Trouble in Paradise" and the cool upbeat "Boogie Down" which was featured in the breakdance film "Breakin'".
Jarreau's 7th album "High Crime" contains more hits like "Let's Pretend", "Raging Waters", "Imagination", "Sticky Wicket" and the title track, overall was made in mid and up beat, relatively more cheerful and groovin'. After he re-released his first album from 1965, Jarreau launched "L is for Lover" in 1986. The title song is still deeply loved by many fans until today. Another hit from this one is "Tell Me What I Gotta Do".
Entering the 90's, Al Jarreau released "Heart's Horizon" followed by "Heaven and Earth". In 1994 he released a live album "Tenderness". This album became one of his most popular packages around the world, including in Indonesia. There are many other hits we haven't mentioned yet such as the "Moonlighting" theme, "After All", "If I Break" and the Out of Africa OST, "The Music of Goodbye" (duet with Melissa Manchester). Also don't forget his amazing vocal version of Dave Brubeck's "Take Five" and Chick Corea's "Spain", plus his golden interpretation of Jobim's "Agua de Beber".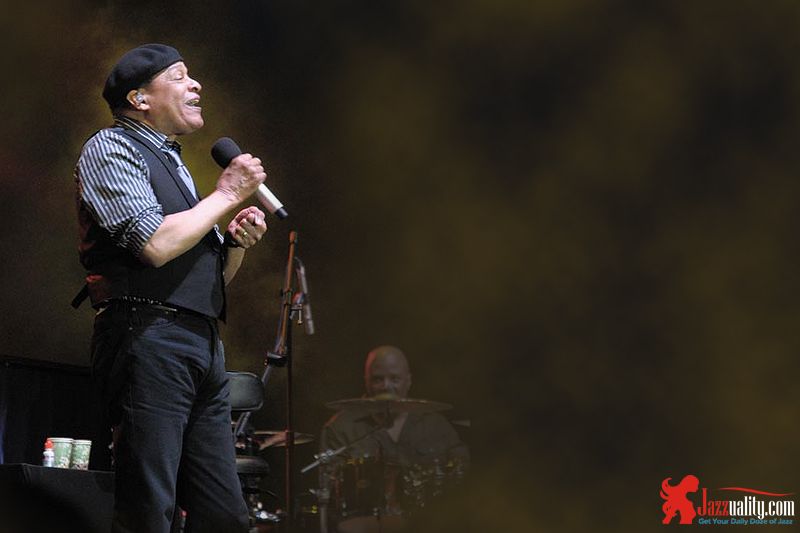 Al Jarreau with George Duke Trio at the Java Jazz Festival 2012 (photo by I Putu Surya KB for Jazzuality.com)
Throughout his life, Al Jarreau has visited Jakarta a couple of times. After the first one in 1992, he came back 10 years later for a big concert at Balai Sidang Senayan (now called Plenary Hall). Then following the release of his duet album "Givin' It Up" with his buddy George Benson, he made another concert in Jakarta in 2008. The last time we saw him here was at the Java Jazz Festival 2012 where we took this picture above. At this last visit, he made a memorable reunion with George Duke Trio. Jarreau and Duke were friends long before they became famous, he also joined George Duke Trio in mid 60's resulting a success which helped to launch both their careers. It was truly a golden moment that would never happen again.
Speaking of his specialties, he was a true vocal master who knew how to utilize his gift more than anyone could ever think of. He could sound almost all instruments with his voice, which made him labeled as a singer with impeccable vocal style that was able to transcend musical genres who 'played with his voice'. He bagged no less than 7 Grammy Awards and many nominations. He became the only singer in history, so far, that managed to win the awards from 3 different categories: Jazz, Pop  and RnB. This includes "Breakin' Away" and "Heaven on Earth". He got many other awards from Echo Awards (Germany, 1977), Downbeat (readers' and critics' poll), Record World NAACP Image to the annual award from Playboy magazine for Best Jazz Vocalist.
To remember him, some of his fans in Indonesia especially in Jakarta are making a special tribute event for him. This event got a great response from many singers and musicians who wish to pay respect to Jarreau. Acting as the organizer is a non-official 'community' named "Al is for Lover" led by one of his fanatic fans, Hendra Sinadia along with a vocalist/vocal coach also a fan of his, Restu Fortuna.
Restu Fortuna will perform together with other singers like Doddy Katamsi, Hans Marcus Bartels, Ivan Nestorman, Dika Aleandra and Kadri Mohamad, plus the only female singer in this event, Netta Kusuma Dewi (better known as Netta KD). Many experienced musicians are found in the lineup such as Canga Anton (drummer), Djoko "SOG" Sirat (bass), Dandy Lasahido (keyboard), Andy Gomez Setiawan (piano/keyboard), Zulkarnain Joel (bass), Devian Zikri (saxophone) and Diddi Agephe (keyboard/synthesizer/soundscaping).
This event is titled "100 Hari Al Jarreau, Reinterprestasi (100 Days of Al Jarreau's passing, Reinterpretation)." It will be held on Thursday, 18 May 2017 which will only be a couple of days before the exact 100 days of his passing. The venue is Lefty's Suites, Foodism Kemang, Jakarta.
What's also important to mention is, just like how colorful the career of 'The Acrobat of Scat', the lineup comprises of musicians/singers from different genres. Each of them will give their best effort in reinterpreting famous songs from the maestro. Thus, the audience will get different and unique forms of music in variety.
Al is for Lover hopes Jarreau's fans to walk down memory lane by listening to the new interpretation of his hits. This event is also supported by sound engineer Deni Yunindra and Gideon Momongan of indiejazzINDONESIA. The lightings is provided by LemmonID, and before we forget, this event will be closed by a Disc-Jockey performance playing Al Jarreau's hits and other famous songs in the 80's in dance remix.
If you are Al Jarreau's fan, this event will give you an unforgettable night. Are you one of them? If so, secure your seat now by contacting tyasyahya@gmail.com . The event will start at 9:00 pm, with First Drink Charge 150k only.
Al may not be here with us anymore in person, but his songs and legacy remains, he will forever be in our hearts. If you are in Jakarta and nearby and happen to be one of Al Jarreau's biggest fans, make sure not to miss this.