Medan, the capital of North Sumatra has been widely known as the rock city for ages. But what's interesting is that jazz actually lives and grows healthily too in there, especially since 2011. Since that year, Medan or North Sumatra officially has its own annual jazz festival. It was founded by proud Medan son, Erucakra Mahameru, Berklee Collee of Music alumni. He gave North Sumatra Jazz Festival (NSJF) as the name and set a solid and steady ground for jazz development in this particular area. Year after year this festival has been showing rapid growth. From using only local artists to international event, NSJF has brought colorful variation of jazz to the society. What's interesting is that the local traditional musics are involved too in each edition, also the jazz and ethno musicians living in the city.
Now allow us to have your attention, especially if you live in Medan and nearby locations. This event is ready to launch its 5th edition. Waspada EMusic (WEM) in cooperation with IndieJazz Indonesia proudly present North Sumatra Jazz Festival 2015 (NSJF 2015) which will come soon on April 11, 2015, taking place at the Grand Ballroom of Karibia Boutique Hotel, Medan. It will start early at 4:00 pm in the afternoon to accomodate more local bands/artists and to give more presentation to the jazz lovers in Medan and North Sumatra in general.
Probably you're curious to see this year's lineup. Starting with the local talents, there are several bands consist of young lions to perform. Among them are Elnino (North Sumatra University/USU), Kalila Project (Universitas Negeri Medan/UNIMED) and Rio Riezky & the Band. These three bands will perform all the way until the Maghrib praying call.
It's going to get hotter right after that, because that's the time for big(bigger) cats to rest their case. First of all, the Medan/North Sumatra jazz-rock and this festival's icon Erucakra Mahameru & C Man is going to open up the main event.
Also starring a senior bassist, Roedyanto. He is the founder of legendary fusion band Emerald-BEX. Roedyanto is no stranger to this event since he was among the lineup for the first edition in 2011 with Emerald-BEX. This year he's going to collaborate with a new-comer who got huge potential to be the next big thing in our music scene.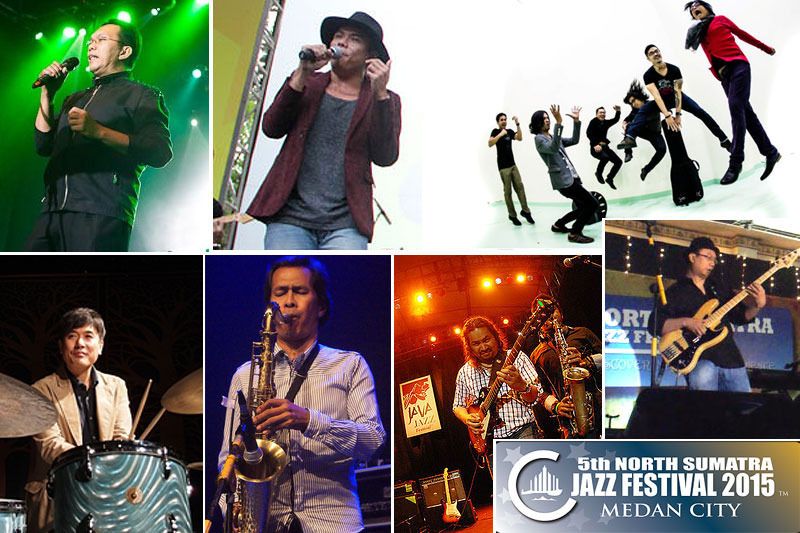 Next, the KadriJimmo. This is a progressive rock-fusion from Jakarta. This band is led by the singing-lawyer who's also known as one of the important names behind the progressive movement in Indonesia, Kadri Mohamad. Kadri and Jimmo are the frontlines of this group, plus the legendary artist who has produced loads of hits especially during the 80's and 90's, Keenan Nasution.
Now, for youngsters, there's a singer you don't want to miss. It's Teza Sumendra, the alumni of Indonesian Idol Season 3. He didn't make it, but that didn't stop him to find his way to the top, because today he's one of the favorites especially among teenagers and youngsters. After series of participation in jazz events including Java Jazz Festival and Jazz Goes to Campus, he's going to extend his jazzy path to this very event.