Surely you've heard the words Big Band. But what is it and when was it born? A Big Band is a kind of musical ensemble which is associated with jazz, emerged in the late 20s in USA typically consisting of brass and rhythm sections, singers and a conductor. In the old days a big band was also called dance band due to its tendency to make people dance during the show. The standard formation consists of 17 players (5 saxophones, 4 trumpets, 4 trombones, drums, bass, piano and guitar. But later it evolved by having more varieties in the instrumentation, for example by adding clarinet, flute, synthesizers or percussions that might change the big band's size. It was started with swing, but then as the time goes on, big band has been playing wider by embracing the popular music of the era, even involving the local traditional musics from wherever country it lands. We have seen big bands play jazz with delicate rock touch, funk, pop and ethnics throughout the years, amazingly without leaving the original sound when it was born. Music is and should be dynamic and progressive. At the same time, jazz has been showing its openness towards all kind of musics. Big Band has been doing it for almost a century.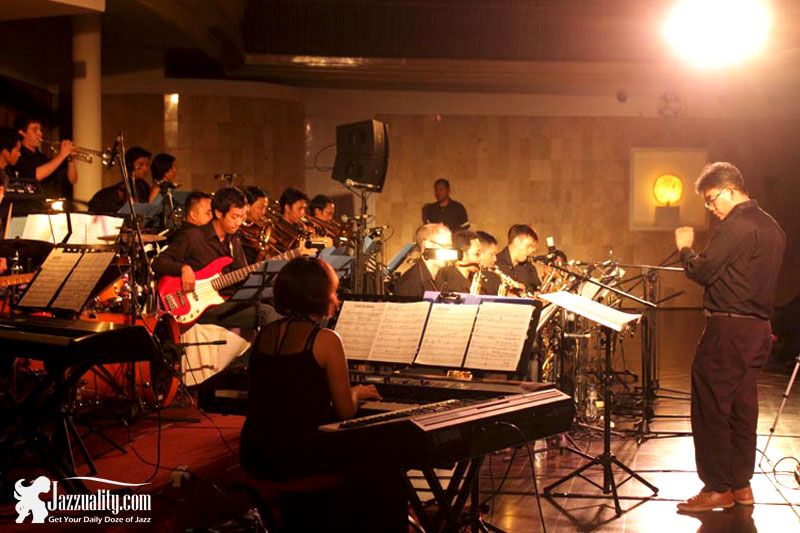 Now let's take a look at a strongly established big band based in Bandung, the good ol' Salamander Big Band.  The embryo was spotted in 1991 by some young students of Insititute Technology of Bandung (ITB), still a brass band at that time. But then it grew bigger by having more friends who have the same vision in. Finally in 2006 the form of Big Band was established, and they named themselves Salamander Big Band. Since their music is not going through today's mainstream, perhaps you could imagine how difficult it is. The fact that they involve big number of instruments and players would make it even more difficult. But hey, they are growing bigger, better and badder ever since. How could that happen? Many reasons. For instance, their persistency level is high, they are passionate and never stop uprading their skills. They have many supporters, one of the most important ones is Goethe-Institut who has been supporting them for at least 6 years.
Salamander Big Band usually serves its concert twice a year, one midyear concert and one for celebrating the anniversary. Occasionally, they also landed on festivals like Java Jazz Festival and JakJazz and some other events. Here comes the 8th anniversary concert of Salamander Big Band which will be celebrated grand by visiting two cities with three shows. Once again The Salamander Big Band Clinic and Tour is organized by Goethe-Institut Indonesien in corporation with Erasmus Huis, set as one of the Indonesian-European ke events in Indonesia's cultural calendar. The program is a part of the initiative "Culture & Development" which was set up by the Goethe-Institut in 2009, with the mission to provide professional qualifications and support the intercultural networks as well as to create cultural and social platforms. With the title of "A Jazz Life", Salamander Big Band is having the legendary Ack van Rooyen on their side at Bumi Sangkuriang, Bandung (September 8, 2014), Erasmus Huis Jakarta (September 9, 2014) and GoetheHaus Jakarta (September 10, 2014). All totally free of charge.
We have seen the growth of Salamander Big Band by playing alongside legends like Dieter Mack and Thorsten Wollmann who also worked in enhancing their skills through workshops. They have been going up one step at the time and surprising us again and again. Now it's time to see them climbing higher ground by having the clinic and play with Ack van Rooyens. Probably you haven't heard his name just yet in Indonesia, but actually Mr van Rooyen is a legendary flugelhorn and trumpet from The Hague/NL. He's now a happy, healthy 84 years old man who's still passionately doing his calling as a musician.