When saxophone was invented in mid 1800, one could have never imagined how important it would become. While saxophone is being used in many genres, it's seen by many as one of main instruments of jazz. Either it's fusion, experimental, or even the sexy, seducing, soulful, and relaxing smooth jazz, saxophone undoubtedly plays a very important role in jazz throughout history.
Indonesia is blessed by having so many great saxophonists over the years. From the late Maryono to Embong Rahardjo, from Didiek SSS to Dony Koeswinarno and Donna Koeswinarso to Devian, all the way to the younger generation like Damez Nababan, Dennis Junio, and others. Now here's a very talented saxophonist with complete skill that you have to know, especially if you love jazz. He can seduce you, he can force you to groove. He can be romantic, he can go funky. His name is RICAD HUTAPEA.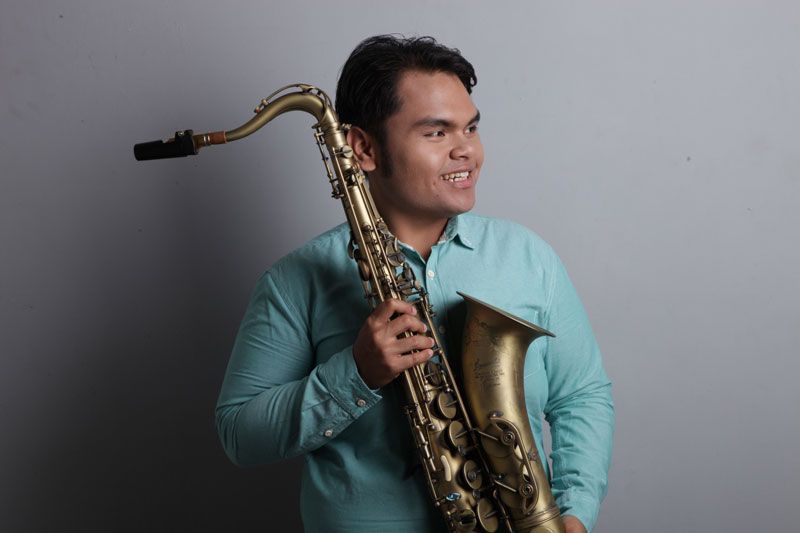 Ricad Hutapea, who plays saxophone in tenor and soprano tunes, adds the long list of greatly newcomer musicians in Indonesia. Music plays important role in his life as he joined a choir when he was little, then started to learn piano and keyboard, until he found his heart on saxophone. Ricad knew for sure he has interest in music since young age, therefore he went to Institut Kesenian Jakarta (IKJ) to learn deeper about art and music with Irianto Suwondo as his supervisor, and he finally lives his passion.
Ricad had a long way in learning classical music but at one point he realized he fell in love with jazz and beyond music instead. Arief Setiadi, Yoseph Sitompul, and F. A. Talafaral are three important people who taught melodious jazz lessons to Ricad. Through his achievement in jazz and beyond music, he could point out his talent up to many big and prestigious stages in jazzy area such as Java Jazz Festival, Jazz Goes to Campus, Serambi Jazz, Jazz Gunung, Indonesian Jass Festival, JakJazz, Jazz Buzz Salihara. Not only it gave him chances to meet and play together with several top jazz musicians as Indra Lesmana and Tohpati, also he happened to join the youngster through a great Indonesian group music, Art of Tree.
It is not enough only talk about Ricad Hutapea music career, lean your ears on some other musician's albums to get what Ricad's play really is. Take a look on their albums: Tohpati, Indro Hardjodikoro, Yoseph Sitompul, Jenny de Fretes, Monita Tahalea (not to mention that Ricad is a personnel of Monita Tahalea and the Nightingales), and DJ Andezzz with whom he produced two singles.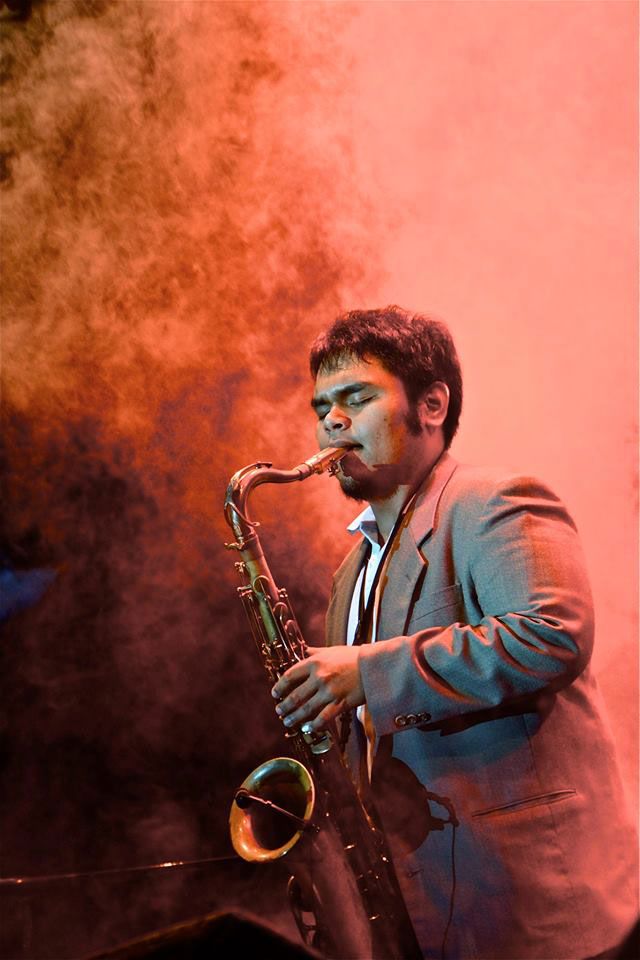 Located at Black Cat, South Jakarta, Ricad Hutapea held an event in order to celebrate his album releasement which is titled 'Jalan Pertama'. This event also became his first show ever together at once made his debut album publicly available. While Ricad was accompanied with a person as Master of Ceremony, that night Rick K, Asti Ashadan, and Richard Christian also appeared on stage as his additional singers.
Simplicity highlights the beauty at its best. It could referred to the stage set and lighting of Ricad's gig where these helped all eyes focusing on his performance only and made it so special. Testimonial video from Indra Lesmana about Jalan Pertama as his kind of support toward Ricad's music career opened the show and suddenly followed by melody from "My Song"'. He looked a bit tense at first but he managed to nail it nicely. Right after greeted his beloved guests at Black Cat, Ricad continued his show with "Suddenly". He must be really enjoy his song that the crowd began dancing along with his music.
Now, let's dig a little deeper of his debut album. Moment becomes important thing in ones life and most of the time we cannot get it twice. 'Jalan Pertama' as a debut album, which is also being one of title song, is one of many necessary moments for Ricad Hutapea. After Ricad had finished his study in IKJ at 2013, his mind was focusing to what he should do with music as his passion. There were lots of possibilities he could choose at that time with all the good and bad on it. Whether he should choose to be an instructor and play music at cafe or restaurant to pay the bills, or he could be a musician who explores jazz and beyond, play high-level and complex music, and produce new kind of arrangement.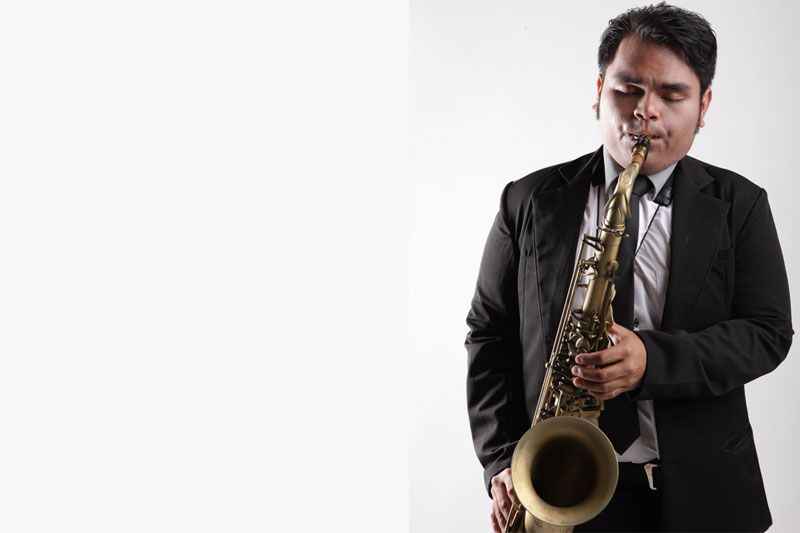 2014 has become a long-great year for Ricad where he finally let other people know about his works and music through his first album, Jalan Pertama. As it is mentioned above, Ricad has known music since early age and he loves music as long as he can remember, but probably we can say that 'Jalan Pertama' is his first stone to step his own music journey. The album contains 10 songs mostly instrumental (except the standard from George and Ira Gershwin, "Someone To Watch Over Me" which is sung by Monita Tahalea). This album is pretty much talk about his life, as a musician ("Struggle", "Jalan Pertama", "Suddenly" and "My Song") and as a person who experience good and bad times, love and loss ("Song for Nando", "VeFe", "Hear Me Cry", "Move On" and "Best Friend"). If you're into Smooth Jazz, you will totally be in love with Ricad Hutapea's debut "Jalan Pertama". In this album he's supported by his friends such as Yoseph Sitompul (piano), Julian Abraham Marantika (piano), Jessi Mates (drums), and his childhood friend OdiPurba (bass). Mixing and mastering was done by Indra Lesmana at his InLine Music.
Back to the album launching concert, the next song Ricad played is "Jalan Pertama" which followed by joyful clapped from the audience that night. This song is a very special one therefore Ricad made it as title for his album. Then, he went on playing "Struggle" and " Here My Cry" with his saxophone where it instantly calmed the crowd because they were touched and felt the deep of its tunes.
Next, "VeFe" was brought up on stage and made some of the crowd cheering because they knew the story behind that song. There was one time when Ricad told the story of one his song because it was specially composed for remembering his brother, Fernando, who died in 2005. The song clearly describes Ricad's feeling about the loss and how he missed his brother so much. His guests nicely accepted his gentle side and praised him with big applause, while some of them gave standing applause. First session was ended by "Move On" which brought back the happiness among the crowd.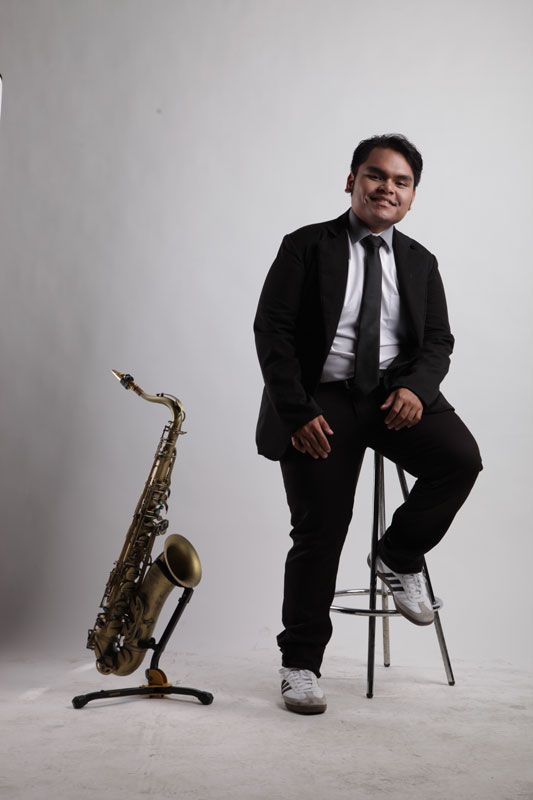 Second session started as Ricad asked Yance Manusama as senior musician to get up on stage and perform, along with two singers, Rick K and Asti Asha. Together they covered a song called "As", "Crazy", and "Never too Much". Not long after that, Ricad once again asked one senior musician to come on stage with him. This time he got Tohpati, his number one favourite guitarist, to accompany him playing "Beautiful Day", a song from Tohpati's album. Although they had minimal concept where they have no band, only saxophone and guitar, they still rock the night. Since Tohpati is Ricad's idol, he must felt really proud of himself to be able playing together with this guitar hero.
Once again, a collaboration with Yance Manusama, Rick K, Asti Asha, and Richard Christian became an epic closing for the show. They played Stevie Wonder hits, "Superstition". This last performance ended all sessions of Ricad Hutapea's release party and after all it was a big success. "This is my first big moment in life", said Ricad proudly. May this first step will lead him to success. Jessie Mates (Drum), Fanny Kuncoro (keyboard), and Otje Stefanus(Bass)  gave their best in making this debut album launching run smoothly. Their supports are very important too in establishing Ricad Hutapea as one of the top saxophonist in Indonesia, and hopefully  in the world. The best wish goes to Ricad Hutapea music career and a strong commitment in order to bring Indonesian music to the next level will lead you to the brightest future.
Photos and coverage are provided by Benny Hutapea