March is a great time to be in Singapore for music fans, especially at the annual Mosaic Music Festival (www.MosaicMusicFestival.com).
The eclectic lineup this year includes musicians from each continent, and I was able to interview a diverse group of artistes ranging from Raul Midon (US) and Angelique Kidjo (Benin) to Christian Prommer (Germany) and P'ez (Japan).
Other featured artistes at Mosaic 2011 include Gotan Project, Manhattan Transfer and New York Voices, along with bands from neighbouring countries such as Indonesia (Adhitia Sofyan) and Malaysia (Tokyo Blue).
Tokyo Blue trio is headed by bassist Hiroaki Maekawa, and includes Indonesian pianist Ywenna Carollin. Hiroaki explored new frontiers by playing the six string bass guitar both as a rhythm and lead instrument, and drew loud applause for dedicating a song to the victims of the tragic earthquake and tsunami in Japan (which would also cause a couple of acts to cancel their appearance at Mosaic).
The festival this year showcases over 400 artistes from 17 countries, up from 380 artistes from 16 countries last year (and over 100,000 music fans in attendance). I had the honour this year of interviewing Angelique Kidjo, Raul Midon and Christian Prommer.
I had the pleasure and honour of interviewing New York-based singer/songwriter/guitarist Raul Midon and attending his performance. Raul has evolved a unique solo and trio style, blending jazz, blues, R&B, and Latin sound, delivered with inspiring and uplifting lyrics and a "percussive, slap-happy" style of guitar playing.
Raul graduated from the University of Miami, and has performed with Latin American stars Shakira, Alejandro Sanz, Julio Iglesias and Jose Feliciano. His debut album, State of Mind, received widespread praise; it featured Stevie Wonder and Jason Mraz on some tracks. Raul also played for Herbie Hancock. His other albums include "A World Within A World" and "Synthesis."
As musical influences on his career, Raul lists Joni Mitchell, James Taylor, Stevie Wonder, Donnie Hathaway and Gilberto Gil, among others. "My music is now progressing from messages to characters," said Raul, in a wide-ranging interview.
"I like fusion music. Music does not have borders," said Raul. Some of his songs have been remixed and included in electronic tracks. "There is good and bad in the electronic music scene," he joked.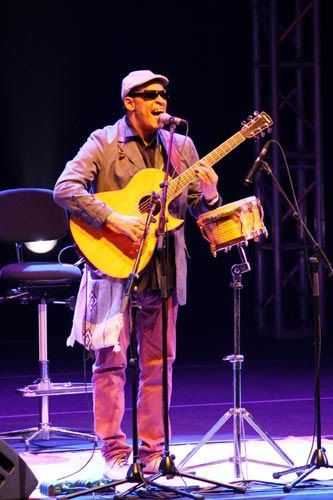 Photo credited to Esplanade/Singapore
"Asia has vitality, there is an openness and appreciation for all kinds of music. Asia is perhaps less jaded than the West," said Raul, commenting on his tours to Asia which often include Japan. "I like Indian percussion; I played at the Blue Frog in Mumbai with guitarist Dhruv," he said.
"I do my heavy composition at home, but also compose while travelling, especially since I am on the road almost half the time," said Raul. He is also working on a book, drawing on his memoirs as an established artiste, on tour around the world.
His father is Argentine and his mother is Africa-American; his father was a dancer. This cross-cultural influence is reflected in Raul's career; he sings in English and Spanish, and many of his songs have a subtle Latin percussive foundation.
Raul prefers to perform in indoor settings. "Outdoors, it is hard to get the balance right – there is a preference for loud energy levels. Indoors I can get more intimate," says Raul.
Tragically blinded as an infant due to an incubator problem, Midon joins an illustrious line of music stars who did not let handicap block musical genius.
"Being blind makes me focus wholly on my music. I have the blessing of being blind – it is easier for me to get over jet lag – I can't tell the difference between day and night," Raul joked!
At the Mosaic festival, Raul performed over a dozen songs in a tight two-hour trio set with bass and percussion. Raul drew thunderous rounds of applause for his lyrics, scat singing, percussion solos and mimicry of a trumpet – sometimes even performed all together!
His percussionist smoothly blended the cajon with congas, and the bassist played a solid supportive role, though I think a couple of bass solos would have been greatly appreciated as well.
The acoustics at the Esplanade Concert Hall were superb, though photography was unfortunately not allowed, and some unforgettable moments could not be captured on film — such as Raul's simultaneous singing in trumpet style along with guitar tapping and percussion. Such rules almost seem out of tune and out of synch with today's world of ubiquitous social media – what a lost opportunity for viral PR and branding, but that's another story.
Raul had a terrific rapport with the audience. He joked how he was once thanked by a DJ for the song "Everyone Deserves a Second Chance" , about forgiving a man for cheating on his girlfriend. "You never know how your song can be interpreted," Raul said.
The reggae song "Where There is a Will There is a Way" , the pleasantly-titled "Tembererana" , and the powerful lyrics in his other songs ("Don't be a Silly Man" , "Immortal Inspiration" , "I didn't choose the day I was born," and "I find love moment to moment") drew loud cheers from the audience.
Raul also humorously commented about his love life: "Being blind, I could not wink at my girlfriend. But I sang a song for her when she was in the audience."
The most endearing moment of the performance was during the encore, when Raul remarked that he was so busy with the show that he forgot today was his birthday! The audience sang a cheery birthday song, and Raul closed the evening with a high-energy rendition of "I Wanna Be Rich."
With this soul-stirring inspiring performance, Raul has won a new batch of jazz fans in Asia, many of whom stood in line after the performance to get their CDs signed by him. Raul has already played previously at Mosaic; we look forward to future performances and upcoming albums by this truly talented artiste.
More on Mosaic Music Festival 2011, here are two more interview snippets taken from the event with Angelique Kidjo and Christian Prommer.
Photos taken from www.mosaicmusicfestival.com
Angelique Kidjo, singer/songwriter
Country: Benin
Languages: French, Yoruba, English
Albums: Logozo, Ayé, Fifa, Trilogy, Oremi, Black Ivory Soul, Oyaya!, Djin Djin, Oyo
On her gift of music:
"If you have a gift, share it! You get more by sharing it than keeping it."
Her message for the audience:
"I want my audience to feel happy, and feel empowered. They must stop living in fear. Fear keeps you in the gutter, joy brings you into light."
Her message to the leaders and people of Africa:
"True leaders don't act like cowards and hide behind their military."
On musical collaboration:
"I like to collaborate with musicians from other countries, but it must be based on understanding, and not just a jam."
On what songs she plays at performances:
"I have so many songs that it is heartbreaking to do just a few during a live performance!"
Her travel schedule:
"I do on average 250 concerts per year. I did 300 concerts in 2007 to promote my Djin Djin album."
Her political stance:
"I left Benin when the government threatened freedom of speech. Musicians and citizens should not be living in fear. Music of courage gives people confidence and strength. No bomb can stop the people if we get over our fear."
On spirituality:
"Organised religion should not become brainwashing. Let people experience spirituality for themselves. God is not a product to sell. Those who preach violence and take other people's lives forget that in every human being there is God."
Photos taken from www.mosaicmusicfestival.com
Christian Prommer, drummer/DJ www.ChristianPrommer.com
Country: Germany
Albums: Alex and the Grizzly; Drumlesson; Liquid Angel; A Closer Look; Teufelswerk; Jet Set Jazz; Minx; Confusion; DJ Kicks; Aquarius
On the music scene in Germany:
"Berlin is the capital of European electro-music; Munich is also a good place for DJs."
About the club scene:
"US clubs are more segmented, European clubs more open; Asia has a great vibe!"
About emerging jazz spots in Europe:
"Italy has a good jazz scene, with festivals like Umbria. Barcelona is also good for jazz. Vienna is the base for labels and electro-artistes like Kruder&Dorfmeister."
On Indian percussion:
"I would like to get into Indian percussion; when I first heard it, I thought it was hippie music! Later I saw Trilok Gurtu playing with John MacLaughlin."
On the power of the Internet as a music resource:
"Thanks to the Internet, students can pick up in days what I took 20 years to learn! Music fans and students can just soak it in online."
On his new trio:
"Our combination of a trio – drums with bass and piano – is unusual."
What he likes about Singapore:
"The good club scene, food and lovely women!"
His message to the audience:
"Everybody is equal! Jazz is the spirit."
Written by: Madanmohan Rao
Editor & DJ; World music & Jazz
-Global Correspondent for Jazzuality.com-