It may be due to his Dharma in living his life as a musician that I Dewa Gede Budjana is bestowed a good Karma for his desire.
Widely known for his work in the pop music scene, he never ceased to pursue his exploration of the fusion jazz genre which he started from the onset of his career. Similar to most fusion jazz guitarists, John McLaughlin is a figure that he looks up to, who has inspired the musical journey of Dewa Budjana. Such fascination also led to him bestowing his children names derived from the two phenomenal groups that John McLaughlin founder: I Dewa Gede Mahavishnu and I Dewa Gede Shakti Dawai Nanda.  It was such details that John McLaughlin's manager, Souvik Dutta, shared during Dewa Budjana's call with the legend. Without hesitation, John mentioned, "We should meet in person."
Souvik Dutta was the first person to relay the message of John McLaughlin's plan to tour Australia and Asia on October and November 2015.  Dewa Budjana tried his luck and stated his interest to bring John McLaughlin to Indonesia.  The deal was struck, and the date for John McLaughlin to visit Bali, Indonesia with group The 4th Dimension was confirmed as part of their tour from Australia to Asia.
The second stroke of luck occurred when related parties decided that the show to be held in Ubud would have different titling from the other John McLaughlin & the 4th Dimension tour, who were promoting their latest album, "Black Light". John' s performance with his group in Ubud was instead called DUAJI & GURUJI, which is a title of Dewa Budjana's song in the album "Surya Namaskar" (2014).  The song was dedicated as a tribute of awe from Dewa Budjana to John McLaughlin.
Unlike the shows of most big stars, John McLaughlin opted not to place Dewa Budjana and group's performance as a complementary nor opening act. Instead, John requested that Dewa Budjana decide which group should go first. The reason being that John believes that both groups carry similar weight. Dewa Budjana undoubtedly placed his group's performance before John McLaughlin and the 4th Dimension's. This is not mere luck, it is an honor bestowed by a legend revered by musicians from all over the world to Indonesian musicians, such as Dewa Budjana.
Having arrived in Bali on 15 October, John McLaughlin, Gary Husband, Etienne Mbappe, Ranjit Barot and Souvik Dutta (and their families) had the chance to sightsee around Uluwatu and enjoy the Kecak dance performance.  Since John had lived in India and has an understanding of the Hindu religion and tales, he was quite critical in digesting the performance.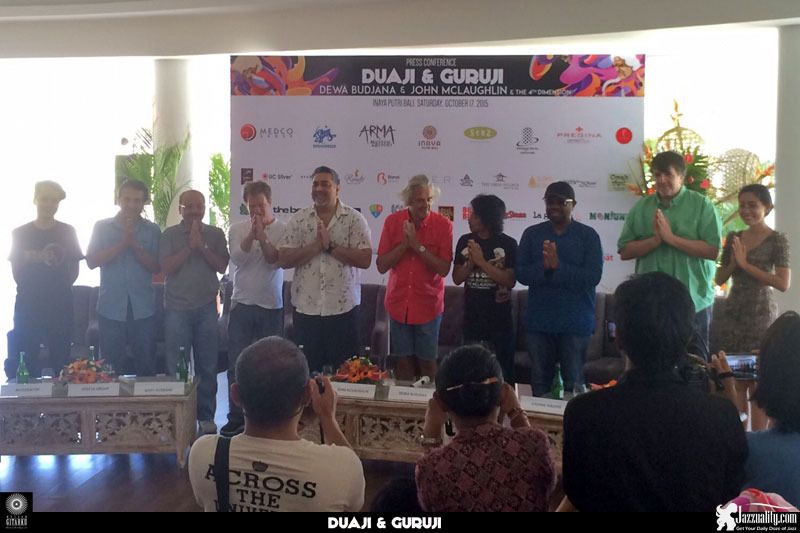 On 17 October, at 1 PM, the press conference for the event was held at Inaya Hotel Nusa Dua, where all touring members stayed. John McLaughlin was punctual and even opted to forego his lunch in order to maintain the timeliness of the event.
Not a single musician present at that afternoon's press conference who did not hail John McLaughlin as a GURUJI. Even his band members refer to him as Johnji – a habit that was then followed suit by everyone else.
John did not favor small talk and preferred to answer questions in a concise manner. He brought forward an interesting point when asked about the stagnant nature of the world music industry. He mentioned that musicians will continue to create nonetheless. He felt that a musician's role to create and go on shows, as it is the calling of the profession.
When he was asked of his opinion on music fusion, considering that he is hailed as one of the genre's legends, John mentioned that every musician essentially tends to fuse all elements within. The music he listens to is not one dimensional, as do other art forms, life and people around us are fused and often give life to the music performed. And this applies to all sort of musicians.
John McLaughlin considered what he had been doing is a natural thing. He had aversion to being called GURUJI, as he considered it as too high a recognition.
With his shorts, roomy red shirt and white hair, John exuded an air of casualty. It did not mean that John took his profession as a musician lightly. After the press conference ended, John immediately picked up his guitar from his room and got ready for a rehearsal at Arma Ubud, the venue of the concert. Although he had rehearsed multiple times and performed the pieces in a couple of Australian cities, John remained disciplined in rehearsing with his group at every new venue.
Arma Ubud was dolled up that evening for the special show. John McLaughlin & the 4th Dimension had fully rehearsed all songs to be performed. Any imperfection in sounds were immediately rectified, polished and rehearsed for perfection. John was not willing to have his audience leave the show unsatisfied. John and his band members emphasized repeatedly that each show was to be performed in the moment. Each show would have its own uniqueness. "The music that we play is the music of that moment. We will forget the next day and we play the new music later."
In front of the stage, a lineup of seating for the audience were prepared under the shade of the big tent. Signature Balinese embellishments were given as decoration. Initially John planned to dismantle the tent, but that did not happen.
During rehearsal, some journalists and musicians came from Jakarta. All admired not only the performance of John McLaughlin, but also the amazing prowess of Gary Husband, Etienne Mbappe and Ranjit Barot. It was no wonder that John McLaughlin mentioned them as his favorite musicians during the press conference. He went so far to hail them as the world's best musicians for their respected instruments.
DUAJI & GURUJI
As the night progressed, the audience started filling in the space of Arma Ubud. A lot of spirited musicians were eager to watch John McLaughlin's premier performance in Indonesia. Gusti Hendy, Adi Darmawan, Agam Hamzah, Krishna Balagita, Dwiki Dharmawan, Tesla Manaf, Bowie Gugun Blues Shelter, Muhammad Rafi, Thomas Ramdhan, Kamal Musallam, Tohpati, Aria Baron, Donny Suhendra, Balawan and Dhani Ahmad (with his two sons), were some familiar faces in attendance.
Bagus Wijaya Santosa, the boss of Wisesa Group, who had been providing continuous support for Dewa Budjana, including for Budjana's recording in the US and in actualizing the Museum Gitarku, was seen occupied in welcoming the guests.
Dewa Budjana and his troops Shadu Rasjidi (bass), Yandi Andaputra (drums), Martin Siahaan (keys) and Saat (flute) kick started the show with the astounding tight medley of "Temple Island", "Joged Kahyangan", "Majik Blue" and "Waturenggong". Performing to open John McLaughlin, they went all out.
During the repertoire, each member was given the opportunity to showcase their skills through solo bit. Following the opening number, they performed "Saniscara", "Surya Namaskar", "Duaji Guruji", "On the Way Home", "Jayaprana" and "Gangga". Between the breaks, Dewa Budjana shared some short stories of the songs they are performing. Admitting as a man of few words, he shared his stories more extensively through his music.
An important segment that happened between the shows, was the bequeathing of the black Paul Smith series PRS guitar signed by John McLaughlin to the Museum Gitarku. This was actually the highlighted moment from the series of activities which occurred during John McLaughlin's visit in Bali, aside from his gig with the 4th Dimension.
John McLaughlin & the 4th Dimension did only perform songs from their albums. John had also promised to also perform former and new songs.
As the opening number, without further ado, John McLaughlin & the 4th Dimension performed "Raju" from John McLaughlin's album "Floating Point" (2008), in which Ranjit Barot was the drummer. Then, they performed "Little Miss Valley" from "Tokyo Live" (1994), in which John McLaughlin collaborated with Dennis Chamber and Joey De Francesco, which was followed by "Abbaji (For Alla Rakha)" from "Floating Point". As the fourth song was "Kiki" from "Black Light", which was John McLaughlin & the 4th Dimension's latest album.
John McLaughlin rarely performs the composition of other musicians. However, as the fifth song of the night was "Light of the Edge of the World" by Pharoah Sanders – a well-known sax player – from the album ""Crescent of Love" (1994). This piece of music is often performed by John McLaughlin & the 4th Dimension since 2011. Following suit was the song "El Hombre Que Sabia", dedicated to John's best friend, Paco de Lucia, also his partner in their trio with phenomenal Al Di Meola (previously Larry Coryell). The clip of this song became the promotional video for the "Black Light" album released in September 2015.
After performing two cool tunes, John McLaughlin & the 4th Dimension brought the house down with "Sully" (from the album "Live @ Belgrade", 2009). It was continued with "Hijacked" – with its highly complex rhythms – from album "Que Alegria" (2009), in which John McLaughlin went all out in exploring various rhythms with Trilok Gurtu. It was during songs like this that the strong rhythm manipulation backgrounds from Gary Husband, Etienne Mbappe and Ranjit Barot were prominently showcased.
The three musicians could perform such complex rhythms whilst still giving their own tinges to the music. Etienne Mbappe with his Cameroon rhythmic accent, Ranjit Barot with the konnakol, a scatting technique that emulates the sounds of traditional percussion, whilst still drumming at different beat, while Gary Husband showcased not only his nimble finger movement on the keys, but also created rhythmic taps on his keyboard. Gary also showcased his proficiency in doing a drum solo to counter the konnakol and drumming of Ranjit Barot. The performance of John McLaughlin & the 4thDimension has awed the audience and shook the musicians. We could hear the shouts of admiration from Bowie and Gusti Hendy from the back row.
After performing "Senor CS" (from album "Industrial Zen", 2006), "New Blues Old Bruise" (from the Grammy Award winning album "Five Peace Band Live" with Chic Corea, 2009), and the song "Mother Tongue" (from John McLaughlin's album "And the Heart of Things Live in Paris", 1998), John McLaughlin called Dewa Budjana onstage to jam.
It is said that for the past 12 years, John McLaughlin has never invited any musician to have a jam session with his band. This is an extreme stroke of luck for Dewa Budjana. He not only successfully brought a legend in the caliber of John McLaughlin to Indonesia for the first time, John was also pleased to give one of his guitars to the Museum Gitarku collection. Furthermore, GURUJI John also shared stories, thoughts and philosophies to Dewa Budjana, in addition to have him share the stage.
The song "Echoes from Then" is part of the John McLaughlin & the 4th Dimension previous album. Dewa Budjana shared a duet with GURUJI John McLaughlin, the figure who has been inspiring and partaking in altering Dewa Budjana's musical journey since his teenage years.
That night, musicians were enraptured by the showcase of prowess by DUAJI & GURUJI making them hesitant to go home. They shared a multitude of laughter and continuously buzzed about Johnji's performance with the 4th Dimension. Not only do they talk about Johnji's performance, but also the skills of Gary Husband, Etienne Mbappe and Ranjit Barot.
Thank you DUAJI I Dewa Gede Budjana from bringing GURUJI John McLaughlin & the 4th Dimension to Ubud, Bali. Indonesia is proud of DUAJI for your accomplishment in having GURUJI to have you stand side by side on stage.
See more pictures:
Written by: Widyasena Sumadio
Photos credited to: Agus Wiryadhi Saidi,  Rully Fabrian, Rio Helmi, Dendy Adhyatma Purnama