One duo project, one newly established trio, and one fast moving jazzy soul train. Yep, that was the menu of Braga Jazz Walk #04. This edition showed our goal, to accomodate the musicians in creating or crafting projects and at the same time, providing happy vibes in jazztertainment. Located at the historical site, Braga street in Bandung, the fruit of Jazzuality.com's cooperation with Braga City Walk and KPH Music has once again drawn good amount of people, from the musicians, the jazz fans and mall-goers. Happy to say that jazz once again penetrated the Braga atmosphere on the second Thursday of November.
A project of two players opened up this edition, a showdown between keyboardist YD Nafis and much younger drummer, Alman Naufal. One important fact: this group is planned as a trio, but they just haven't found the suitable bassist just yet. If other group would rather wait, they decide to keep going duo while still searching for the one to complete the band. Hence, temporarily they called themselves YD Nafis & Alman Naufal Project Duo.
First of all, they performed a number one hit from Nirvana, called "Smells Like Teen Spirit" with more dynamic improvisations. This duo changed the rock pattern to a brave free jazz. Next was "All The Things You Are", a standard  that all jazz musicians should already know very well. It was composed by Jerome Kern, with lyrics written by Oscar Hammerstein II and it had been sung by countless singers including Ella Fitzgerald and Frank Sinatra. Both of YD Nafis and Alman Naufal played impressively in tight teamwork. Britney Spears' famous song "Toxic" became the last tune. They made the flirty nuance of Britney's music disappeared and changed the nuance into a thick jazz vibe.
Interesting project we should say. Alman could match the much experienced YD Nafis without any problem. YD Nafis as usual showcased the combination of skill and experience in one solid package, the way he does in West Java Syndicate or Tesla Manaf ft Mahagotra Ganesha. As for Alman, we always admire his passion and energy whenever he's drumming. The way he tranced during his play kind of interesting to see. But now, as he's learning with Elfa Zulham, he's getting much better in controlling himself. Some European drumming styles seems to be one of the fruits too. They were tough in trading punches but also reflected good teamwork.
Despite of the age differences, the two players communicated nicely. They served harmonious dialogue by using their instruments. We will surely invite this team again when they aleady become trio, but hey, they are already cool even by two.
The second session belong to a newly formed trio, Etudiant (French word for 'student'). This trio consists of pianist Tiurma Tizadya Ramadhani Siregar and two personnels of Isola Jazz: Ilham Septia Inda Nugraha (bass) and Galih Cahya Nugraha (drums). We have known how fluent the boys are in doing jazz, but we have never saw Tiurma just yet. How would these boys be when there's a lady with them, we wonder back then. Now we finally got the answer. The boys got a match, resulting one delightful pure jazz package.
They took over the stage by carrying "Night and Day" from Cole Porter by emphasizing on smooth jazz taste. Their tasty skills shone in the middle of the song. Next was a cover of Indro Hardjodikoro & the Finger's popular song, "Andong".  It kept the cheerful mood from the original song but served in their own way. Then, they back again bopping by bringing "Straight No Chaser" which was composed by Thelonious Monk. "My Favorite Things" became their last tune, it was filled with joyful ambience in a frame of free jazz. The everybody's song "My Favorite Things" was enhanced by their well music cooperation as a team on stage.
The trio's still new? That's right. But they definitely didn't play as a beginner or newbie. Good arrangement, nicely executed. And, they way they execute the traditional jazz is charming and ellegant. Since there are not so many jazz trios anymore in Bandung, a good one like Etudiant hopefully will keep their existance. Speaking of the way the jazzed people up in Braga City Walk, they did hit the spot. Delicious… to the last crunch.
Third and final featured band was Motionvibe. Just like young, modern Kahitna with beatbox. What? That's what our first impression when we heard their single, "Mati Rasa" for a very first time and saw their performance. Just like the previous two groups, this band of six is considerably still new. They are not even two months old just yet. But they surely move fast. They built a professional team, they established strong concept and made a strong single that we think have a big chance to win the heart of music lovers out there. They are soulful, groovy when needed, got the flavor of RnB but also has jazzpression. They are energetic and know how to have fun together with the crowds. They clearly showed how happy they were to be on stage and created that vibe throughout the venue. The players found inside Motionvibe are Agung and Boang (vocals), Raka (drums), Edho (keyboard), Farhan (bass) and Wahyu (guitar).
How many band can make prestigious achievement in its first month? Not many. But Motionvibe is one of the rares. Just two weeks ago they won a competition in Yogyakarta as a part of Festival Kebudayaan Arab Gajah Mada University (FKA UGM). Farhan, Agung and Boang went there representing the band and brought the remix of an Arabian song by adding some blues, jazz and so on. They bagged the first prize in bass and battle beatbox categories. Impressive isn't it?
At this show, they brought an additional player on saxophone, his name is Raka. They started with a very happening song from Magic, titled "Rude" with a touch of nu-jazz, a blend of R&B, jazz and soul. A tune that was taken from Justin Timberlake's album called "Suit and Tie" was served with  similar flavor. Their dynamic performance made the audience felt like moving their heads and feet. They took a short moment to wish the manager happy birthday complete with cake and candles.
Just as they promised earlier in their Path and Twitter, they sang the first single "Mati Rasa". Based on the lyrics that suit the world of youngsters and the catchy melodies, this nice groovy pop song has a big chance to succeed in the market.  "Hari Ini" as the fourth song is also their own single. Again, we could feel the groovy vibe and creamy melody from these dudes. Then they sealed their performance by playing one of The Beatles' hits, "Come Together" served spicy with rock nuance and sprinkles of funk, plus the cool beatbox by Boang.
Happy mood and positive vibes were transfered by the Motionvibe. Speaking of soulful groove with RnB and some jazz flavors, we do have some successful names from the era of Kahitna to Soulvibe for example. But we simply can't get enough can we? Especially when a band can offer something new or unique inside the circle. Good skilled players are found in every corner and the beatbox, mouth-trumpet and other vocal works by Boang worked perfectly as an attraction. Motionvibe is promising, and we wish them all the best.
We believed placing them as the final performance would help to set a good platform for jam session, and yes it was right. The heat was still on to make some musicians jumped onto the stage to have fun.  It was Erick Gabe and Guntur Satria who started it in front, pinning "Englishman in New York".  On drums was Joe Yang of Chakraborty and Ilham stood tall once again on bass. Two piano players abused the same instrument: Nicodemus Horisson and YD Nafis. That created a unique scene in this edition's jam.
Erick and YD Nafis left the stage but the rest carried on with Bob Marley's "Waiting in Vain".  Billy of Find Taste stepped up to sing the final song for the night: "Fly Me To The Moon". Again, two players positioned themselves on piano: Nicodemus and Andre Arizky.
Providing good quality of live jazz entertainment on a regular basis isn't easy, especially when it's about meeting the standard of public and the needs of musicians plus the regeneration and development. We will always try our best for it and try to improve in every edition. But so far we are very happy to see the response. Many fellow musicians have been visiting frequently, some of them even join the jam session. They mingle with the audience and together they form the happening crowds.
From the side of featured bands, this edition is interesting since all of them are still newly formed. But the personnels are certainly not new players. Each band is promising in their own way. So, if anyone still measures a band from how long they have been established, it has to change because based on this edition alone, newborn bands can be really surprising.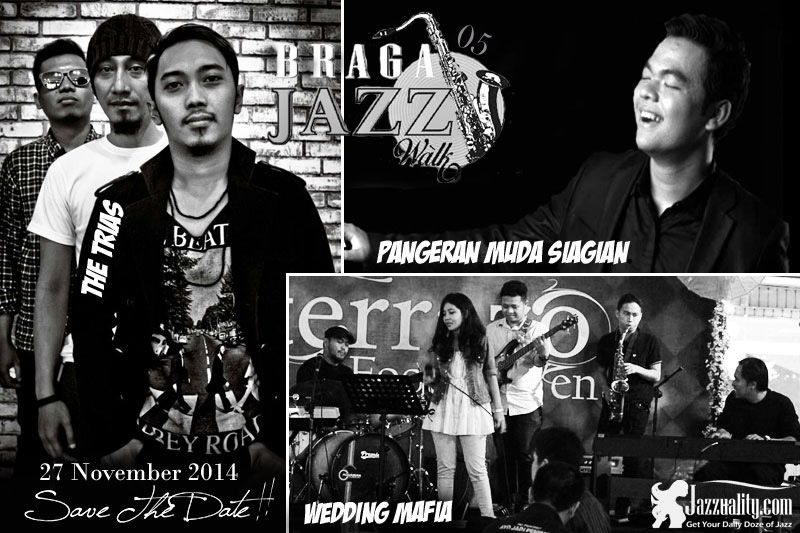 That's the recap of the Braga Jazz Walk #04. In the next edition (November 27, 2014) we will feature a rising star from Jakarta that many people thought a little brother of Tulus. He's an Indonesian Idol 2014 alumni (top 20).  His name? Pangeran Muda Siagian. Wedding Mafia from our partner KPH Music will also be there. And don't miss a very special performance by a trio firstly established in Ruang Putih, still famously based in there, has a lot of fans and friends and just released a new single, "Cantik-cantik Kok Panasan" (Pretty but Hot Temprered). It's a group formerly called Trias Acoustica but now settled with The Trias. See? Plenty of cool stuffs for this month, hope you won't miss anything. See you!
Watch the highlight on our Youtube channel
See more pictures:
Reporter: Riandy Kurniawan, Bintang Stania
Photographer: Titus Firmanto, Nia Kurniawati
Video Editor: Vierna Mariska Kurniawan