TOKU is a very talented jazz musician and singer from the Land of the Rising Sun, Japan. He is one of the rare flugelhorn player in Japan that also blessed with a unique baritone vocal. No less than 8 album has been released by TOKU, the recent one, "LOVE AGAIN" was released last November. (see the album review here)
At Java Jazz Festival 2009, TOKU gave a strong performance, a performance that was really enjoyed by the audience, as stated by some audience that I asked after the show. (check out pictures taken from his performance at Java Jazz Festival 2009 here). As the result of his great performance, he got many new fans that night. TOKU spent some time to meet the fans outside the concert room, signed his CDs and took pictures with them.
We got the chance to interview him, thanks to TOKU's manager, Mr Takashi Umemoto. Let's get deep with TOKU,  learn more about the flugelhorn, what he thinks about his performance at Java Jazz Festival and much more through the interview.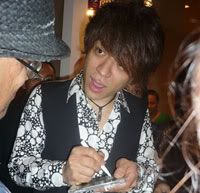 Hi TOKU, first of all, I really enjoyed your performance at Java Jazz 2009!
It was a great show!
How do you feel to participate in Java Jazz Festival 2009?
I'm really honored to participate in this big, world famous festival ! I'm really impressed !I had a great time to meet all the people I met there, to play for new people there, to meet my friends from the U.S. and UK like Roy Ayers, Matt Bianco, Harvey Mason, it was just great !
It was a fully crowded show at your stage. What do you think about the audience?
I think they are really warm and cheerful people, respect what they love.
They gave me a lot of energy, and I and my band members were giving our
energy back to them from the stage. We were exchanging our energy !
From your point of view, how's jazz doing in Japan today?
I think it's getting more popular gradually. All the record companies try to find good young players and make their records. But, economy situation is going down ( which is happening all over the world), so all the jazz clubs are screaming because people don't spend money for live music. We have to keep on playing music to make people's heart warm !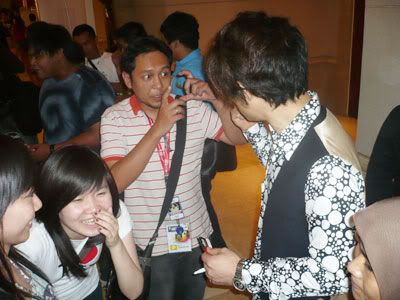 I'm sure many fans want to know Who TOKU is in the daily life, outside of the music scene. Can you share us a bit about who you are beside a great jazz musician?
I'm just a guy who loves music basically ! Well, I know it's not enough, so I'll try to describe more about me.
I'm "my own pace" kind of guy, I like to smile, laugh, and make people happy. I always hope world peace. I get lazy sometimes…
As my hobby, I like photography, always carry my camera and like to capture moments of people's life, especially musicians, when they smile from bottom of their hearts. Or when they concentrate on what they do, playing music. I wanted to be a photographer before I started playing jazz.
Not many artists play flugelhorn, especially in Japan. From what I heard, you are the only Japanese flugelhorn player. Why did you choose that instrument?
Because I like that sound !! By the way, if you can play the trumpet, you can play the flugelhorn, too. It's the same way to play them. So, lots of trumpet players play flugelhorn, but not mainly like me.
I think flugelhorn is a really interesting instrument, yet I think not so many people are familiar with it. What's the difference between flugelhorn and trumpet? And what's special about it?
Again, it's the sound. Trumpet has more solid, sharp sound, but flugelhorn has softer, deep, warm sound. I like both, but I guess I like flugelhorn better ! But I play the trumpet sometimes, especially when I think that I need that sound.
As what I know from your biography, series of coincidences made you as a jazz artist. Like from your school day when you got noticed by a jazz musician, then a jazz pianist room mate, and so on.. (read TOKU's profile here) what do you think about that? do you think it was a destiny?
When I first met jazz, I thought, "This is what I have been searching for !!" So, I guess this is a destiny.Jazz got me ! Completely blew my mind. Jazz is really humanic music.
I notice you are active playing in many festivals or events. Is there anything special you got as an experience from those festivals and events?
I have played at many jazz festivals in Japan, and a few festivals out of Japan. When I played at Paris jazz festival in France, I had standing ovation. I was really honored, and happy that people enjoyed music.
From the whole 8 albums, which one is the most special one for you, and why?
All of them are special for me !
I remember one of your group called TKY, with Kenji Hino and Yosuke Onuma. It was a super collaboration. Is the group still active until now?
No, it was for only 2005, one year band. Because we wanted to make it special. But we play separately sometimes.
Let's talk about your new album, "Love Again".Can you tell us a bit about the album?
This album was recorded mainly in Atlanta, where I was inspired by many great musicians I met there 3 years ago, through Takana Miyamoto, the piano player who played at Java Jazz festival with me, the co-producer of this album.
This album was made by everybody's love who involved in this album ! And I hope people like this album, I can make people happy through this album.
Will there be anything new coming from you soon?
Not for now, but it will!
Like Japan, Indonesia also has many great musicians. Would you like to collaborate with Indonesian musicians someday?
Of course ! That's my favorite thing! I think it's important to play with new people, and inspire each other.
You have a lot of fans in Indonesia now. Is there anything you want to say for them?
Hi ! How are you ? Hope all of you enjoyed Java Jazz Festival, and being happy !
I had a great time on this first trip to Indonesia. I really hope I can come back soon and meet you again !!
Love and Peace,
TOKU
Interviewed by:  Riandy Kurniawan
Photographer: Glen Carolus Pattiradjawane, Praditya Nova