Heaven On Earth is such an exceptional band. They know exactly what satisfaction is all about, and that's what they're focusing at. For them, it's important to express their real passion freely without thinking too much on the popularity. The music they played at JakJazz 2008 was superb. Difficult compositions with amazing improvisations were there on stage, played by 3 high-skilled musician. It was fusion at its best, it was complex, yet nice to hear, especially if you close your eyes and let your mind flow with the wildness of their improvisation.
At JakJazz 2008 I got the chance to interview Bhayu, the keyboardist just before they performed on stage.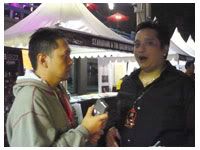 What kind of genre do you play in Heaven and Earth?
We have made 2 albums. In our first album, Musical Journey, we were band of 6. vocal (Boy Calemen Rattamilla), bass (Andreas Wahyudi), percussions (M Tamzil Bachtiar Assegaf), drum (Ossa Sungkar) and myself (Tedjo Bhayu Adjie) on keyboards. We have been a fusion band from the beginning. But in the first album, we were more into latin. The second one, like what we're gonna deliver tonight is like Chick Corea's concept. Now we're consist of three: me (Bhayu) on piano and keyboards, Ossa on drums and Franky Sadikin (also the personnel of Tiga Mawarnih)  on Bass.
So now you're playing just instrumental without vocal?
Exactly..we're full instrumental, and now our style's a bit complex. We're playing modern electric band fusion.
I've heard from several producers that it's difficult to sell a product without vocal nowadays. Is it true?
It's absolutely true. But that doesn't mean that we can't have our style. We never give up to make something. I produce the albums myself. It's an indie label.
What about the distribution? Was it difficult since you're in indie label?
For the first album, we sold it at Disc Tarra, Aquarius and also Soho, nationwide. It was released sometimes around 2005, and it was available until 2007. But after that, it wasn't there anymore, because we took it back.
Why did you take it back?
Because we were making a new musical chemistry, new concept, just like what we're gonna have at this JakJazz 2008 festival.
Since you said your music was a bit complex, and kinda against the trend today, the listeners might be limited. Does that fact bother you?
As a musician I have wide-scale working spectrum. Deep inside my heart I still have the passion to play the music that I really, really love. Therefore, I thought, it's okay if the album don't go good enough at selling. What matters most is my idealistical side explored fully. I'm satisfied. Because you know, you can't reach complete satisfaction in music with just about money. Music is a unique "creature". If you have lots of money, but inside you feel unhappy, you'd feel something's missing inside you. This is purely about my soul's satisfaction.
Do you think people can still enjoy complex composition like free fusion today?
I think they can.. it depends on the packaging. If we only take the main root, maybe only small amount of people would like it, but look, there are some favorite genres like RAN, Tompi and others that are following the trend. So I think this kind of music (jazz) will never die. It's up to the musician's creativity to give a good packaging on complex compositions so it will become more enjoyable.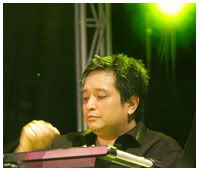 Some artists that I've interviewed said it's better to hide their real identity of jazz. They pretend that they're not jazz, but actually inside they know they love and play jazz. What do you think about it?
I'd say this way.. as one of the musician myself, I never want to state whether my music is jazz or not. I have no right to do that. Yes, I make music, that's my job, but it's up to the listeners to decide what kind of music I play. I'll never put myself into one box. Let the music be universal. Music is not to be placed strictly in certain boxes. Music has to be colaborated. It's not like a religion. You can't combine religions, but for music, it has to, because from there you'll get a new kind of music.
And jazz can accomodate it perfectly..
Yes. What's best is, don't just stuck too tight on the root, but combine it with many different styles of music. Be open minded. Actually all kind of musics gotta have that philosophy, because if they don't, the music will never be rich. The only key is: open minded. I got enriched because I also play as session player everywhere. In rock to single maker, I've been there. So for me, it's like an accumulate knowledge. The more I hear, the more it enriched my musicality.
But then again, Heaven On Earth describes best of the real you right?
Yes that's right. It explains who I am exactly, with no cover up. (laugh)
Watch Heaven On Earth – Camel Rider at youtube
Visit their website at : http://heavenonearthjazz.multiply.com
Heaven on Earth is a part of Komunitas Jazz Chic's (KJC)
Email them at: heavenonearthjazz@yahoo.com
Reporter: Riandy Kurniawan (jazzuality.com)