With Kyoto Jazz Massive, jazz will never be the same. They brought jazz into the new level, into the new millenium in style. It's the crowd music, Shuya said, or shall we say, dance music, that presented in deep-tasty jazz flavor. It's just amazing, you'll love your stay in Kyoto Jazz Massive's wonderful world. Nu jazz has been emerged since the late 90s as one of the strongest sub-genre of jazz. It fits to the trend, it can reach the taste of house-music fans, and it surely sounds futuristic. You'll never stop dancing with them.
I got an exclusive interview with Shuya Okino just before he performed as DJ Shuya on stage @ JakJazz 2008.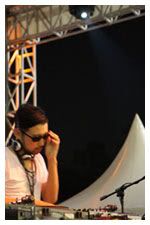 Hi Shuya, nice to meet you. You have a lot of fans in Indonesia you know..
Oh really? Wow!
Jazz, broken beat, dance music. Why did you blend these into the music of Kyoto Jazz Massive?
A lot of generation think of jazz is a listening music, but I wanna play jazz as a dance music. Because in the late 80s, UK's DJ, tried to push dance, of course I have influence of UK dance scene, but now, I mixed everything. Not only jazz, house, techno music. But still jazz is important for my DJ, for my motivation, rhythm, improvisation, so I think jazz is influental jazz music for me.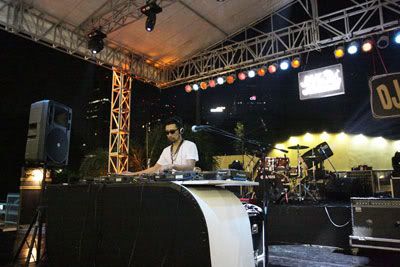 I noticed there was a big contribution of "Shibuya Kei" that changed the path of music. Do you agree with that?
Yes! In the early 90s..this is funny… Buyer made one section. He put good music from different kind of jazz. Like Monday Michiru, Mondo Grosso, Fantastic Plastic Machine, Cibo Matto, etc.. Together, different kind of music. Everything change, but good taste. Danceable. And also very fresh. Not only pop, they mixed everything. Pop, brazilian, underground, everything. After Shibuya Kei, the taste of Japanese younger generation changed.
And that's also very important for Kyoto Jazz Massive?
Yes. Because some people confuse. Band like Mondo Grosso, Fantastic Plastic Machine are consider as pop music. Because agent of Shibuya introduced pop and underground together. That's why we got many influence all kind of music. That's very important.
Is this your first time performing in Indonesia?
No, this is the third times.. but yes, it's the first time in JakJazz Festival.
What do you think about the audience here?
In the beginning they were a bit shy. But when people got groove, people getting exciting. I know they love music. Because in this jazz festival , it's a mixed between jazz, fusion and crowd music/dance jazz. In Japan we also have big festivals, but only jazz. Not Kyoto Jazz Massive, not Monday Michiru.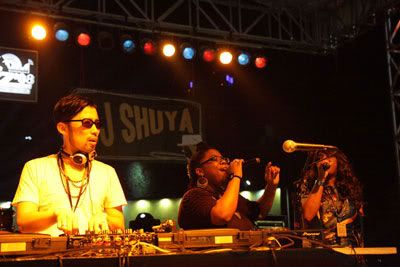 They didn't think you're jazz?
No..unfortunately. I love jazz music, I produce jazz music, I have influence from jazz..but still for younger generation they still don't take my music as jazz, unfortunately.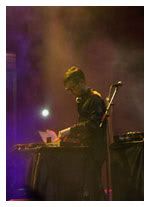 What do you think about the progress of nu jazz/crowd jazz?
I think it's getting developing. For me, japanese crowd jazz getting bigger through the year. Many new artists keep on coming. You remember, acid jazz, in 80-90s was big, but then getting quiet. But crowd jazz is still developing.
Are you friends with DJ Ryota from Jazztronik?
Yes, we have regular party until now. It's once in two months.
What's yours and Yoshi's role in Kyoto Jazz Massive?
I make the melody, and Yoshihiro makes the beat. Also I'm the produser. Yoshi has the record label. We have same taste but different role.
Do you have any message for the fans?
Please support good quality music. Free your mind.
Reporter : Riandy Kurniawan (jazzuality.com)
Photographer : Praditya Nova (kantorberita.com)