3 great singers from 3 generations. Two of them are the legendary singer who has done so much to shape up jazz in Indonesia, and the other one is very popular among youngsters. This group was a brilliant idea that came from Gita Wirjawan. Rien Djamain, the most senior in the group, was a legend with remarkable vibration that nobody able to immitate even until now. Without her, the course of music would have a different history. It was her album, Api Asmara (Love Fire) that soon followed by Margie Segers' first album at the same year, set a new course for jazzy tunes, that was still favored among musicians until the late 80s. Vonny Sumlang was the jazz icon in the 80s. Her deep voice and interactivity was simply irrisistable. While Mawar, the youngest, was famous through a talent search program called AFI (Academy Fantasy Indonesia). Now, three great singers, join forces together. A succesful combination that will speak a lot more in the future. They are preparing the next album right now, planning to attend more events and seriously building their career as three in one. I got the chance to interview them just after their performance at JakJazz 2008.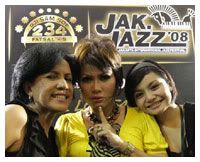 What a brilliant idea that I think no one would ever think of. Combining three generations, three superb singers as one..it's simply brilliant. Where did the idea come from?
Vonny: This group was formed by Mr Gita Wirjawan. We were attending a photo session, he saw the three of us, and then got the idea. I thought it was a great idea as well.
You all have your own style, how does it work in a group?
Vonny: Yes, we all have our own color, but then we just blend it together. We still bring our tone, but it's for the cause of harmony now. We complete each other.
Mawar, you started your career as a pop singer. Why did you choose to sing jazz together with them?
Mawar: Yes, I started from pop, while Vonny and Rien were jazz from the beginning. But still, actually this wasn't the first time I did jazz. Before JakJazz and our album, I already performed at Java Jazz 2008, together with Devian, Andien and Nita Aartsen. I also sang two songs in Devian's album. So actually jazz is not really new to me.
Vonny, what do you think about Mawar?
Vonny: Mawar started from pop, but I think she will go like me. You know, I'm an all round artist. Rien Djamain is like that as well. Remember my album, Ratu Sejagat (Queen Of The Whole Universe), it was so pop right? But since we're musician, and if we're able, we can sing or play in different styles. Look at Rien, she can sing latin perfectly. For me, I can do dangdut as well.
Mawar: well that answered your question, why I sing jazz. The answer is there in Vonny. (laugh)
But do you like listening to jazz as well?
Vonny: I think what matters is wether you're able or not. People can like many things, but that doesn't mean that they're able to do it. And about Mawar, surely she's able. She can do it, and I think she loves it now.
You are consists of three generations.. From Rien Djamain, the torch passed to Vonny..Does this group resembles a plan to pass the torch to Mawar? Is she's planned to be the successor?
Vonny: Not really.. we never think of anything like that at all..
Rien : I think we're not really three generations..actually my age isn't too far older than Vonny you know..(laugh)
Vonny: also, I think music is ageless. Look at Titiek Puspa (a legendary entertainer). She's more than 70 years old now, but her energy is still awesome. She looks a lot younger than her real age doesn't she?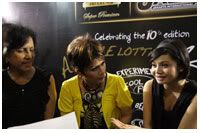 You sang "Selendang Sutra" (a famous heroic song during the Dutch reign period in Indonesia), and turned it in jazz. It was fantastic. Why did you choose to sing it on stage?
Vonny: Well, it was unplanned actually. I sang that song at North Jazz Festival 1989, and I thought it'd be cool to have it again tonight.
Mawar: Look at me… when she (Vonny) already had her career, even went to North Sea Jazz Festival, I was just born. (laugh)
Rien : It will be your turn soon.
Mawar: Amen..
Rien, why did you choose to come back?
Rien: I'm not actually come back, because the fact is, I still perform in many events. From jazz events, to companies that invited me. But in recording, yes I came again. It was funny, when I signed the contract, a Feng Shui expert said that this is a perfect year to do it. (laugh)
I'm going to release my solo album too, soon.
The feeling of doing a new recording, and being in the spotlight must be great. I'm sure it brings back beautiful memories. Do you miss it?
Very much.. very much..
Rien, from what I see, you were a milestone of Indonesian music history. You set the course and changed the trend. The effect could still be felt until the late 80s. So many singers sang jazzy tunes that day.. and it was all started by you, followed by Margie Segers at the same year. I imagine if you both weren't there, I think the trend of music would be just different.
Rien:I think that's true.
Vonny, what about you? where had you been?
Vonny:I'm still active as well. I was just off the recordings. But last year, I was with Andy Bayou and Ivan Nestorman's Vivo. I sang one song in their album, called Isesio.
Mawar: Maybe that's the difference between jazz and pop. When an artist launched a new pop album, there's always a launching event, inviting the reporters.. but with jazz, I think the industry haven't supported us enough. They don't give enough spot and chance.
Vonny: yeah it's true.. we are actually still active, but only a few noticed it.
Mawar, where did you learn to sing?
Mawar: At first I didn't have formal study about singing. I just learnt it myself. After I attended radio and television stars contest, then I went into a music school. But hey, I entered the wrong school..I was in Rock and Blues school (laugh). Still, Mr. Gita Wirjawan convinced me that I could do jazz. So there, I met them both.. I was really nervous at first though (laugh)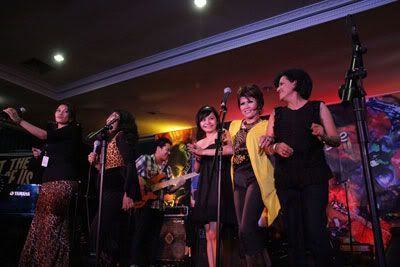 What can Mawar learn from this group?
Rien: This is the chance for Mawar to learn  from Vonny. For me, Mawar is a real entertainer. She's a rising star, on the way to top. Mawar can sing in many styles, she's an all rounder.
Vonny: She can learn Rien's maturity, her consistency.. Rien has remarkable experiences. Her soft voice, the way she interpret songs.. while I'm the contrary. I always make people laugh, or even mad. Rien is calm, not an explosive type like me. (laugh)
I think Mawar is a person who's easy to adapt. What's important for her is, she got to listen to many songs, and she will get it. She has the soul that's easy to adapt.
Rien: Yes that's true. Like me, for example. I always love Nancy Wilson. Her voice is heavy, not like me. Still, I could learn many things from her.
What's your plan for the future?
Rien: We all are going to make our solo albums as well soon.
Vonny: And in our next album, we're going to sing some songs together. And don't worry, our jazz style is always an easy listening type.