It was a wonderful surprise to see Dina Mariana back again, and it was even more surprising to see her sing jazz. I was a big fan of her when I was still a small kid. In the 70s, Dina Mariana was one of the child superstar. Not only kids became her fans, but also parents even elders.  As one of the former top child superstar, she has been really popular, even until now people still can't forget her. Last August she just launched her new album, Nuansa Cinta (Love Nuance), a light and sweet pop jazzy album which you can find in the nearest cd store in Indonesia.
At JakJazz 2008 she performed together with Devian, Indonesian top saxophonist. She performed beautifully and captured the audience's heart with her sweet performance. I interviewed her right after she left the stage. Here it goes.
Great to see you back. Why did you decide to come back?
Thanks.. actually I never quit. I'm still active. But yes, the last album solo of mine was in 1999. I didn't make any album until this year, but during the 9 years gap I still appeared in 3 albums. 2 religious albums, and 1 album with other ex-children superstar in 2007. So I'm always around as a matter of fact..
Why did you choose jazz as your style in your new album?
All of my albums were pop-based. Most of my songs are pop actually, but some of the songs in this new album has a little soft jazzy touch.
Do you like listening to jazz?
Yes, I really do love jazz. It's been in the family. Even my son now play jazz, as a bassist.
Cool. So, now that you have released an album again after 9 years, will it be followed by another ones in the near future?
Absolutely. I'm planning the second one right now.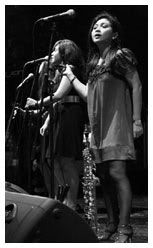 You know, there's something strange this year. I see all the seniors are coming back making new albums. Like Margie Segers, Rien Djamain, Vonny Sumlang, Idang Rasjidi and many others, including you. Is it like a trend or something?
It's funny.. it is like trend, while the truth is, we never planned it together. But as far as I know, it's like that too in the overseas. Look at New Kids on The Block (NKOTB) for example.. For me, actually Adjie Sutama, who has been like my motivator, had already asked me to make an album since 5 years ago. But I wasn't sure at that time..
Why was that?
Well, it's much more difficult nowadays. in the old days, there was only one TV channel, and that made it easier to promote, but now, there are so many TV channels, so many media, and it will be useless to come back without a strong concept. So, if I decided to do the recording again, I got to have something different. I got to have a strong concept.
Have you still in touch with all your fellow former children superstar like Chicha Koeswoyo, Ira Maya Sopha and others?
Yes! We are still texting or calling each other often. Once around 2002 or something, we went on show together.. it's called D-I-D, stands for Dina Mariana, Ira Maya Sopha, Diana Papilaya. The name , D-I-D, came from uncle Bob Tutupoly. We always long to do that again and again, just like the old days when we used to have concerts or shows together.
Reporter : Riandy Kurniawan (jazzuality.com)
Photographer : Praditya Nova (kantorberita.com)