Not many saxophonists in Indonesia dare to lead the band and appear in front as the main performer. But Devian is different. He has made 2 albums so far, and considered as one of the best saxophonist we have today in Indonesia. Not only playing the saxophone, he also makes songs, compositions and the programs.
Devian graduated from Berklee College of Music with the honorary Magna Cum Laude, and established his own recording studio while actively playing with many Indonesia's top musician. His first album, "Spring Time" introduced him to many jazz fans in Indonesia. Then followed by the second album, "Freedom Of A Dream", under a major label, Platinum Records, a great album featuring many top artists like Andien, Tohpati, Mawar, Nita Aartsen, Donny Suhendra, Indro Hardjodikoro (ex Halmahera's bassist) and many others. He's also active performing in many jazz events and festivals including the recent JakJazz Festival 2008. Just after his great performance at JakJazz Festival 2008, I got the chance to interviewed him.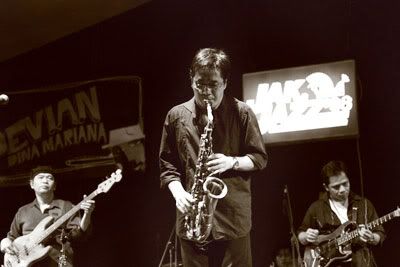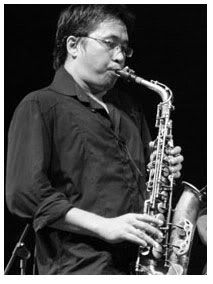 In your opinion, why do we only have a few saxophonists in Indonesia?
I think because as instrumentalists, saxophone is quite difficult. The instrument is kind of expensive, and it really takes a lot of effort to be able to play saxophone. Actually there are many saxophonist, many of them are good, but most of them end up as just session players. Not many of them want to go further, making an album, concept or arrangement..
Not only playing, but you are also a composer, arranger even programmer. Where did you know it all?
When I was still studying at Berklee, I also took some subjects like composer, managing and so on. So I can also compose songs, arrange, even work in the studio, that frankly, not all the saxophonist can do. I also make a lot of programs by myself.
I heard that you started with guitar as your first instrument, then you switched to saxophone later on, until today. Why?
Yes, at first I did play guitar. One day I witnessed the late Mr. Maryono playing his saxophone in an event. Actually before that, I was already interested in saxophone.. when I saw him playing, plus just a night before that I had problems with my amplifier, I just knew I had to do that. The next day, the first thing I did was buying a saxophone. I bought it with only IDR 2.5 million, it was still kind of cheap at that time.. Since I still couldn't play it, I also bought the book, and learned it by myself. I learned that way for about 2 years, got assisted by the late Embong Raharjo.. and finally I went to Berklee College of Music to learn deeper.
Do you have the same band members from the start or do they always change?
I always have changing line ups, except the keyboardist. I like to play with many musicians. Like the recent album, it was more into smooth jazz and free funk, not too deep like Fourplay.. About free funk, Mr Mates (the legendary Indonesian bassist) is the best. (he performed on stage together with Devian at JakJazz Festival 2008). For other occasion, I choose different player..
Like Shadu for example? (Shadu is an emerging bassist, the son of Idang Rasjidi)
Yes, he's really cool. I'd like to play with him someday.
You touched many kinds of genres. I've heard you played smooth jazz, funk, mainstream to bebop. Which kind of style actually describes the real Devian?
For me, I'd say easy listening jazz like fusion, funk.. if I sometimes go further into bebop or mainsream, it's because I also love those, but I do love funk most of all.
I think the style you're playing suits the trend we have in Indonesia today. Any comments about that?
Someone said to me once, "good, you're following the market trend." Then I replied, "no, I wasn't following the trend, it was simply my style." That's how it is.. I didn't plan to follow the trend, but seems like my style and idealistic idea goes on the same road with the market. I like Lee Ritenour, Dave Grusin, Chick Corea Electric Band and so on..
You have a wild exploration on stage, and also improvisation..
Yeah, like on stage, Mates was supposed to run solo in some part, but I went on with him.
Do you really into jazz from the beginning?
Yes, I'm into jazz from the  beginning. But if we're talking about my taste, actually when I was in high school I was into Rolling Stones. When I heard Casiopea for the first time, I fell in love with jazz. I was interested in guitar also because of Casiopea.. you know, the songs like Asayake, Galactic Funk…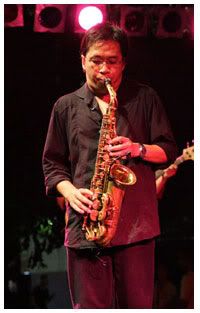 Have you ever regret your choice to leave guitar and go with saxophone?
No.. but there's something I regret, it's the fact that I sold my guitar too cheap. (laugh) Now that I have programs at the studio, I'd be able to record some guitar playing too if I still had it.
Do you have any plan to include some soulful style in your next album, like Grover Washington Jr's style for example?
Yeah, actually I have planned to add some soul in the next album.. hopefully it can be released next year.
There were Mawar and Andien in your second album. Were they good and suit your style?
They were good. Andien was just perfect, because the song was really made for her. About Mawar, they offered her to me, and when I heard her sample, I just loved it. Both of them suit.
Do you have any hopes for the future of jazz in Indonesia?
I hope there will be many more jazz events in Indonesia. I really wish there will be more places giving the chance to play jazz, so jazz can keep growing.
Reporter : Riandy Kurniawan (jazzuality.com)
Photographer : Praditya Nova (kantorberita.com)