It was absolutely an honor to meet Andrae Crouch in person. He has spread the gospel to hungry hearts all over the world for more than 40 years. Sharing the blessings, the love of God continously for those many decades surely is a great achievement.
Andrae Crouch has received 8 Grammy Awards, 4 GMA Dove Awards, ASCAP Billboard and NAACP Awards. He's also the only living Gospel artist, and the third in history, to have a star on the Hollywood Walk Of Fame. His tremendous career has been filled not only by singing, but also as a songwriter, arranger and record producer. With more than 30 albums, many of his songs became an instant classic. He's also a Senior Pastor at The New Christ Memorial Church Of God In Christ, together with his twin sister, Sandra Crouch. All his abilities, his achievements and talents has been provided by the power of God.
Not many knows that Andrae has a special connection with Indonesia. He still remember that moment when he first visited Indonesia for a concert in the big hall at Gelora Bung Karno stadium. He still remember some Indonesian words and still remember the cities he had visited. I'm amazed by his kindness and the love he has. He is really friendly and fun to talk with. A truly humble man that has been faithfully following what God wants. God bless him, the Ministry and everybody in it endlessly.
With the help and kindness of Mr. Ramon Hervey, we had the chance to interview Andrae at the hotel.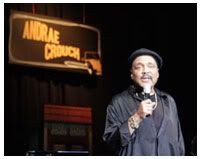 Pastor Andrae, how does it feel to preach the God's love all around the world for over 40 years?
Not really 40 years actually.. At first I only preached around USA. I wasn't a full time. I joined the ministry when I was still young around 1970 something. The first time I went far from America was in the early 70s, and it was Jakarta. I remember it was like a really big hall, I think it's not too far from here.. I was there.
I think it was at Gelora Bung Karno, it's a big stadium.
Yeah, there were many people, they sang amen.. amen.. I still remember how it was. And they said like.."Yesus Juru Selamat" (Jesus the Savior)..
Wow, you still remember the Indonesian words?
Yeah, that's why my brain was good.. (laugh)
Why did you choose to be a pastor?
You know, both my parents were pastors. We had a church and my parents served there, full time. I didn't want to be like them, because I've seen how it made them. People called them at 3 or 4 o'clock in the morning, they needed prayers, and my dad served them. He worked, worked, worked, I didn't want to be like that.
But one day, when I was in church, I saw many people bored with the priest at that time. I saw their face like, "yeah.. i know that already.." Suddenly I heard the voice of God saying: "You!" It was like He was pointing at me. I was like, "what? me? no..!" but He said, "Yes, you!" I tried to run, but the more I ran, the more He dragged me. So I had no choice.
You have started it since you were still a little boy right?
I started playing piano in my father's church since I was still small. It was entirely a blessing from God, that I could play piano. I started writing songs when I was still 10 years old.
Have you ever burned out?
Not burned out maybe, but burned (laugh).I saw how it was being a full time. My dad died from cancer, he was really exhausted. He really loved people, he just worked and took care of them every day. But he died. Church work can kill you.. I didn't want to be like him. So I think it's important to take a break, have a holiday sometimes.. I just need it. You just have to do that, or else it will kill you.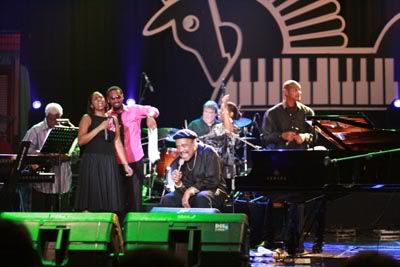 It's hard you know.. like for example, I had to see dead people. I knew them for so long, and then I had to face their dead bodies. Not only that, I had to fix their suits, comb their hair.. actually I can't stand to see dead people, and I could cry louder than their family, because I felt really sad to see them dead.. but that's what God wants me to do, I just have to follow.
But you have many deacons that helps you out right?
Yes, but some of them were lazy. I remember, one time the church's roof leaked, and nobody helped to fix it.. so my dad went and fixed it himself. He was already sick at that time. I asked him, why do you do that? and he said, "I just have to do this. It's important." My dad alone had to fix the roof. He always gave his best for the community.
You know, this is the kind of society. People have too much outfit. There are too many things out there offered by the world, and people just go trying to have everything. They can never be satisfied.
And that's called the needs of flesh..
Yeah. Actually what's important is to get everything God wants us to have, to do everything what He wants us to do. We live according to what God has in store for us, what He commanded us to do, and that's it. God says that if we are faithful over a few, then He will make us as ruler over many. That's when God can trust you, when you realize where everything came from. We can't have everything, it will never get enough, but the best is we do our best as God's wish. That's all.
You served the Ministry together with your sister, Sandra, right?
Yea.. she is a preacher. She couldn't come to Jakarta because she has to preach this sunday.She really takes a good care of the Ministry. She's also really into details. Like if I had to sign a contract, she would read and check the contract carefully. "You shouldn't do this.." , "what does this mean.." and so on. She really takes care of everything. Sandra has been giving attention into my career in every details.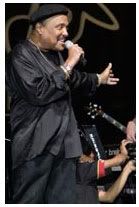 I notice you are one among three Gospel musician to appear on Hollywood Walk Of Fame. You also achieved 8 Grammy Awards, and many other awards. How does it feel?
You know tomb, the stone where your name written on the grave? That's how it feels. (laugh). Grammys and all the achievements are big, but they are also scarry. Sometimes people recognize the signs more than yourself. I remember one particular time, I was there at the Hollywood Walk Of Fame where my name stated with my friends. Some people were busy taking pictures on that, and they were like.."wow.. look, it's Andrae Crouch's!" They were so much into the Walk Of Fame, and never realized that I was standing just next to them! I was like, "hey.. I'm here..! I'm here..!" but they just didn't see. All they care was the stone.
I remember one time I said to myself, "am I died?" because it seems like they don't see me and only care about the stone. One time, when I was in my car, I saw somebody waved at me. He stood in the corner of the street, and at that time my window was really dark. It was kinda impossible for him to be able to see me, but he could see me anyway. He called, "Andrae!" and when I looked at him, he rose his thumb and pointed to where my Walk Of Fame located. And then I thought again, "am I dead?" i thought he was like an angel who could see me through a dark window. So, it doesn't feel like I thought it would feel. Grammys and Walk of Fame are a big achievements, but also kind of scarry. (smiles)
What do you think about your trip to Indonesia, and about JakJazz?
I would like to thank all the people who invited me to Indonesia, especially for JakJazz. This is like a reunion trip. Indonesia is always important to me, because as I said before, it was the first time I went abroad. This becomes a come back recognition for me. I've been to some cities like Jakarta, Bandung, Surabaya and Bali.There was a friend who also has performed in that big hall here in Jakarta. We tried to call him, telling him that we're going to perform in Jakarta, but he wasn't there. He would be surprise if he knew that I'm here, performing.
Do you have any experience on your first trip to Indonesia before?
Yes I do. I had the concert at the big stadium that was full of crowds. Then I went from Jakarta to Bali with a train, economy class. I remember, at that time, the train filled not only with human, but also animals like goat, dogs, chicken and so on. (laugh). On the trip, I saw many small houses beside the river. They were really poor. I thought to myself, I was there on the big luxurious hall, with many people praising the Lord, with nice outfits, well appearance, but look, there are these poor people that don't even know it. They don't have time to think about it because it's already difficult for them to live. They don't have chance to know the Lord. Then I wrote a song based from that, while I was in the train.
Special Thanks to Mr Ramon Hervey for allowing and arranging the interview
For more info, please log on to Andrae Crouch's official website at: http://www.andraecrouch.com/
Reporters: Riandy Kurniawan, Jazzlova (jazzuality.com)
Photographer : Praditya Nova (kantorberita.com) ,Aldi Mahdi (kantorberita.com)