"Never forget your roots or your beginnings" – bass ace Alain Caron
Canadian bass guitarist and composer Alain Caron was ranked Best Bass Player for 10 years in a row by Canadian magazine The Jazz Report, and best Master Bassist by French magazine Guitariste. The numerous albums to his credit include Le Band, Rhythm 'n Jazz, Play, Call Me Al, Conversations and Multiple Faces. He has played at festivals across the Americas, Asia and Europe.
I caught Alain Caron's workshop at the Java Jazz Festival 2015 in Jakarta, and interviewed him later during the Montreal International Jazz Festival 2015. In this conversation, Caron shares with us his views on his musical journey,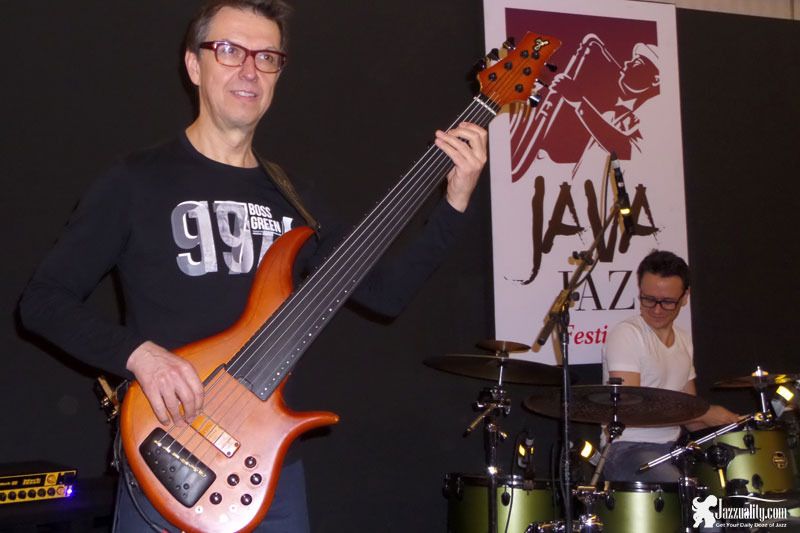 How would you describe your musical journey? 
I was inspired by the bass greats like Scott Lafaro, Eddie Gomez and Stanley Clarke. When I first heard Scott Lafaron play solo on the bass, I noticed it was not like bass anymore – there were unusual lines and it was more sophisticated than just rhythm. From supporting harmony, the bass had a new voice, just like a lead instrument. Later on, I was also amazed by the great Jaco Pastorius.
I started off playing music when I was 11 years old, mostly Top 40 pop stuff. When I was 15, I began to study jazz. I was largely self-taught, and then studied at the Berklee College of Music. I later teamed up with guitarist Michel Cusson, and gigged with Mike and Leni Stern in New York as well in the 1990s.
I have lived in Paris also. After many years of arranging and producing fusion, I discovered my own identity in music and began to work on my own stuff.
I teach masterclasses and guitar clinics as well – there is a lot of interest in jazz among the youth, music schools are all full!
Do you compose music when you are travelling as well?
I do not compose music much when I am travelling; I prefer to be isolated and immerse in my music when I compose an album, which takes at least a month. I like to listen to the silences as well.
What are some other instruments you would like to play with, and dream collaborations? And how about adding a vocalist to your lineup?
I would love to play with someone on the oboe. I like the full symphony sound as well. I would love to play with Herbie Hancock and Chick Corea! But I have not yet experimented with a vocalist in my band.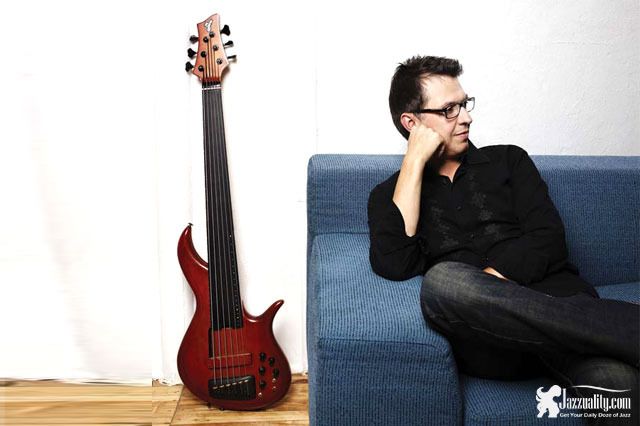 You have also designed your own bass guitar
Yes, I have been playing bass for over 30 years now. I designed my six-string fretless bass with Luthier George Furlanetto of F Bass to have a wider range thanks to the lower and higher strings, and make it sound almost voice-like. It lets me play with higher registers.
It also has an additional belt at the waist so it causes less strain on my wrist. I don't play acoustic bass much because it is a hard instrument to travel with, and I don't like to borrow instruments for gigs abroad.
What can we expect to hear at your upcoming performance?
I will be playing in a string quarter, no drums this time. Sort of like jazz meets Western classical music. I have been doing work with symphony orchestras, and have a new DVD out, called 'In Concert.'
Outdoor and indoor venues are very different, and sometimes even the presence of a wall in the wrong place can reflect the sound badly and create reverberations.
What is your message to the aspiring musicians out there, and to the audience?
Never forget your roots or your beginnings. When you get deep into your career, you tend to forget your roots and what it was that truly made you happy. Fame and wealth can make you forget where you came from and what is true pleasure.
While you keep looking for new things, also touch your roots. Keep an eye on the basics – in the case of bass, it is your fingers and not just technology that matters!
Interviewed by Madanmohan Rao
Editor & DJ, World Music and Jazz; Bangalore
Global Correspondent for Jazzuality.com