<![CDATA[
Goodbye Terraz Jazz, Welcome BRAGA JAZZ WALK!
We were ready to enter the 12th edition of Terraz Jazz, but all of the sudden the venue closed its door and no longer wish to support the event. They must have their own reason But for us, what's important is to find another spot where the musicians especially the youngsters in Bandung can take as home, especially since we got the enormous response coming from the young musicians from different genres.
Thank God we didn't have to wait too long. We're happy to officially announce that the Terraz Jazz will run again in a new ground zero, BRAGA CITY WALK. After a long discussion with the venue, we both agree with the new name: BRAGA JAZZ WALK. This new place should be easier to access since it's located right at the heart of Bandung. The instruments (electric drums and electric baby grand piano) are endorsed by KPH Music., who once again showing their tremendous support. With a promising cooperation like this, we look forward to have even better spot for a better future.
Other than the new spot and new name, the rest are still the same. BRAGA JAZZ WALK is scheduled to run twice a month, on Thursday of the second and fourth week of each month. The show will start on 7:00 pm until 10:00 pm, totally free of charge. And just like before, we open up free-for-all jam session right after the showcase. Whoever you are, you're welcome to join in. The premiere edition is set to go no longer than tomorrow (September 25, 2014). You wonder how to find the stage? Just enter the Braga City Walk then walk straight. You will soon find Giggle Box side by side with Tokyo Connection, the stage is there, placed on the right side.
The History of Braga Street
For you who still don't know about the Braga street in Bandung, let us just say that this historical place is magical in many ways. According to some sources, this part of Bandung was already alive since early 1800s, especially when there was a plan to move the Dutch East Indies goverment center from Batavia (now Jakarta) to Bandung. In the late 1800's there was a famous drama group named The Toneel Braga who often performed in there and achieved success with huge number of crowds. The street became a famous place too, and soon known as the Braga Street.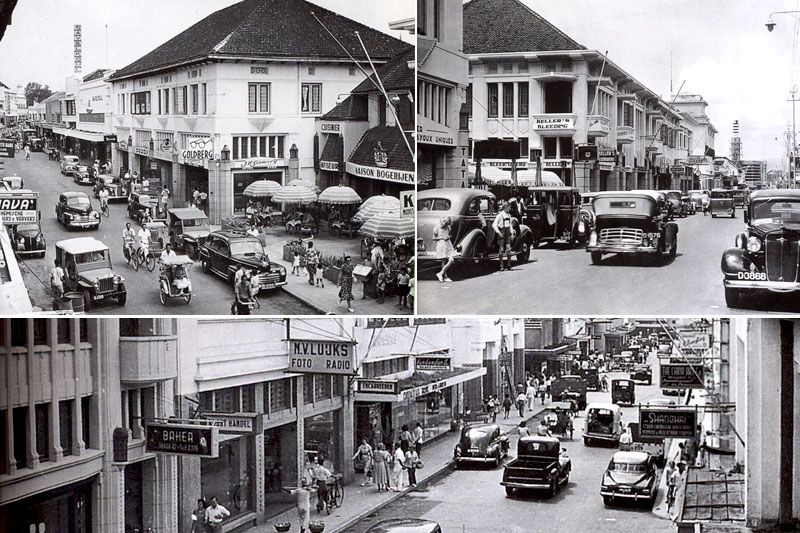 Braga Street circa 1930's-1950's
During the 20's this street was famous as a promenade street. You could find cafes, boutiques and other stores with European ambiance with many art deco buildings (which amazingly still preserved until now), plenty of entertainments and even witnessed a piece of history when the Asian-African Conference was held just at the corner. What does the city mean today? It's actually unique. Try to walk in that area, you will feel so many things. Most of the buildings still keep their originality thus create a vintage scenery. For many senior tourists, this street could bring back some memories or even resemblence the old days of Europe in a way or two. But vintage and history are not the only thing you can find in there. Look at the youngsters who love to hangout around the street, young executives, families and so on. Also this street has strong West Java atmosphere that can make you realize you're in it from the moment you step into this street. Simply put, this old street is so happening with sparkling magical atmosphere that you won't find elsewhere.
Jazzin' in Braga, Anyone?
Will a magical and historical place be good for a jazz edutainment? We believe so. As we wish to support today's generation in pursuing their music career as well as pushing the regeneration by providing a reliable playground, this event should be able to entertain jazz lovers or mall goers too. In this event,  Every musician can use it as they wish. They can have spot to perform as a band or as a jam paticipants, they can have a media coverage which will promote them to the public better, or simply to try a concept in front of real audience. It's no secret that these young jazz musicians are having difficulties to penetrate the market because they have to encounter medias who are getting more and more profit oriented. There are some names who have made it, but there are so many players still struggling to proof that they deserve the same chance too.
If you come to any of our created event, you will see many bands that you might have never heard before. Some still need some works, some others are ready to ride the big waves but need publications or promotions. But they are good and deserve the chance. In each edition we see talents who clearly show their passion to play music. We are here for them. That's why we created Terraz Jazz and its newest form, BRAGA JAZZ WALK. Either as a source of education, training/practicing or having fun, this event can or should be able to fulfill the needs. Let's not forget that the jazz fans or even music lovers can have an entertaining show as well. We always believe that the good entertainment doesn't come only from the big names, these young fellas can be surprising too. If you find it hard to believe, just come and see it yourself.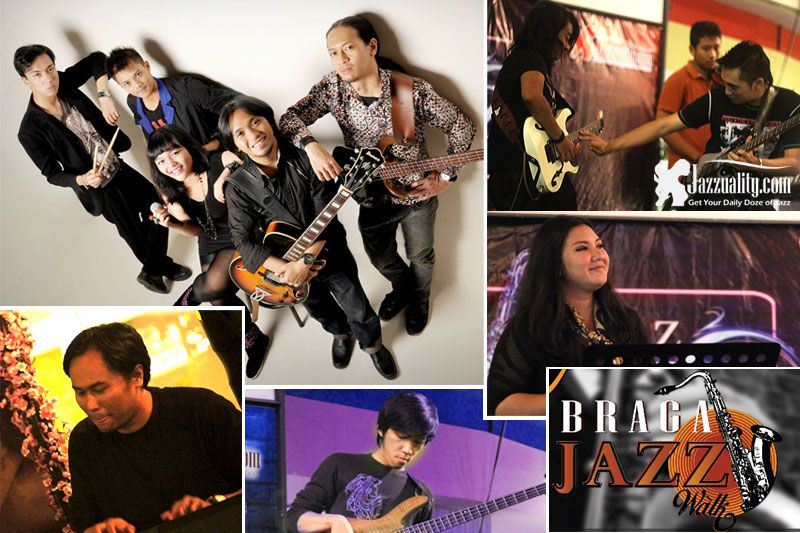 The participating bands/groups for Braga Jazz Walk #01
The Lineup
So, what do we have for the BRAGA JAZZ WALK premiere edition? As usual, we already prepare 3 bands. First, let's take a look at a band that has been supporting us and our event since the beginning. The personnels are like a regular attendances who still come frequently even when they have no schedule to play in the showcase session. It's Chakraborty. This band was officially established on April 17, 2013 at Aru Studio in Bandung. The band consists of Venche Music School (VMS)'s students and often supported by sessionists from other music schools. Said to be rooted in traditional American Jazz, they play wide to cover most of the big jazz corners from Swing, Cool Jazz, Fusion, Blues Jazz all the way to Bossanova.
If you still don't know about the meaning of the name, Chakraborty was taken from the North Indian ancient mythology, a Sanskrit word which means "(becoming) the best" or "(doing) the best". Clearly, that's the goal of this band. The band is led by a fine young drummer named Joo Yang with other players such as Adya Amru Hidayat (guitar), Ayu Sara (vocal), Yosua Setiawan (bass) and Nicodemus Horisson (keyboard). Recently they seem to make great moves by getting more and more gigs, including some big catches. The last one was Tangsel Jazz Festival 2014 just a couple of weeks ago. We have featured them twice but it's already months ago. It's time for us to get their updates. The best way to see it is by inviting them to be in the lineup again.
The next band is still new but filled with familiar faces for their frequent appearance in our events. The personnels are the students of STiMB (Sekolah Tinggi Musik Bandung/School of Musician) and the band's called Setim Project which means a project established by a team of players, but also kind of show where they came from. The band consists of Jerry Gates and Amo Chonka (guitars), Reinhard Woran (bass), Andi Pramundito (drums), Billy Geraldy (piano) and Budy Prama Dongoran (saxophone). Based on the players, our guess is this band will go with fusion. But we predict the fusion will be edgy since Amo is a wild, rebelious heavy metal player. Other than Amo, the rest of the team are just as young but also highly skilled. It's going to be interesting to see the outcome of their show.
That was two. The third and last performing band to mention is Duolid. This is a brand new project of the KPH founder Andre Mangunsong (piano) and the soul powerhouse Agis Kania. According to Andre, the project is made as an exploration ground. A simple duo format like this will work very well if filled with strong players, Andre and Agis are undoubtedly listed in this category. They should be able to craft something special or even bring surprises since both of them know how to give the best of entertainment to their audience. If we've known how good Agis is in a duo with guitar, it's time to see her soulful heart with piano.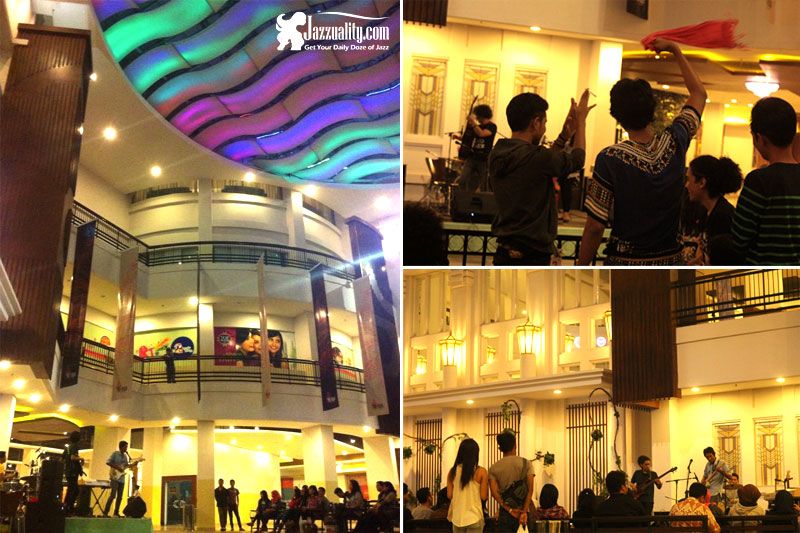 Wish to Join/See the  Jam Session? You Got It!

We intend to keep the jazz tradition alive in this event. So, the jam session is, as usual, provided right after the bands rest their case. It's an open jam, meaning everyone can join the party. Either you're one of the participating bands, the musicians who live in Bandung or happen to be in the city and come to this edition, or you just love to sing and wish to try how it feels to sing on stage, you can always try it. The musicians that still have no band can also take this round. We will keep it open until the mall shuts down.

The BRAGA JAZZ WALK #1 is set to go on September 25, 2014. Remember, the new location is right at the historical Braga Street, inside the Braga City Walk to be exact.  This community-based event is made to meet your needs. Whether you're a musician or band that needs publication, you are a successful player and wish to support the younger generations or even for all the jazz lovers particularly those who live in Bandung and nearby. Fun jazzin', Fun jammin', Fun learnin' is always our tagline. We provide them all without forgetting the importance of giving you a good entertainment. You think these fella' can't entertain you like the big cats? Be there, we will proof you wrong. Community-based event needs audiences and musicians, so your contribution and participation is urgently needed. Other than that, the event is FREE! So just bring your friends and family as many as you can, and let's jazz the night up together!

BRAGA JAZZ WALK #01

Date: Thursday, September 25, 2014
Time: 6:30 pm – 10:00 pm
Location: Main Atrium of Braga Citywalk (in front of Gigglebox and Tokyo Connection)
Jl. Braga 99-101, Bandung

FREE EVENT!

FEATURING:

:: CHAKRABORTY ::
Joo Yang (drums)
Ayu Sara (vocal)
Adya Amru Hidayat (guitar)
Yosua Setiawan (bass)
Nicodemus Horisson (keyboard)

:: SETIM PROJECT ::
Jerry Gates (guitar)
Amo Chonka (guitar)
Reinhard Worran (bass)
Andi Pramundito (drums)
Billy Geraldy (piano)
Budy Prama Dongoran (saxophone).

:: DUOLID ::
Andre Simangunsong (piano)
Agis Kania (vocal)

]]>