Artist                    : Renee Olstead
Album                  : Skylark
Released Date  : 27 January 2009
Label                     : Reprise Records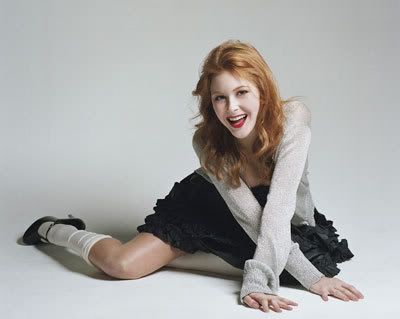 The waiting is finally over. It took so long, but when I listened to this album for the very first time, it was worth to wait in the end. Renee Olstead's new album, Skylark had been announced from 2006, and the release date went posponed several times, until finally the album got released several days ago, on 27 January 2009.
If you love her first album, there are plenty of reason to love this album even more. Renee presented the concept mostly in the glorious swingin' ballroom style. From fast, fun and playful swing to the romantic ballads, she did all brilliantly and beautifully, just like what only Renee could. You can listen to her bluesy side too in some songs. This album is really well done.  Beautiful. Perfect.
There are some classic songs that you'll get in the album delivered in Renee's way.
Skylark, a song written by Johnny Mercer and brought for the very first time by Gene Krupa & His Orchestra and has been covered by hundreds of famous artists over the years. Renee said on stage when she performed in Java Jazz Festival 2008 last year that this song meant really special to her. You could feel her feeling and emotion attached deeply with this song. A very romantic song delivered in the most prettiest way a song can be.
Ain't We Got Fun, the foxtrott signature classic back from 1921, popularized by Doris Day. This song really captured her fun and playful side. Renee's version, by far, is the best rendition of this song I've ever heard.
Stars Fell On Alabama, a jazz standard from 1934, that always reminded me of Ella Fitzgerald and Louis Armstrong, and later covered by many legendary singers such as Frank Sinatra, Billy Holiday, Anita O'Day, Stan Getz, Dean Martin and many more, now brought back again sweetly by Renee. Nice sweet swingy classic that renewed, but still keeping all the aspects that made this song timeless. I love the old tunes in the beginning, I love her version!
When I Fall In Love, the all time hit that has been brought by many singers from generation to generation, from Nat King Cole to Celine Dion, now has Renee's signature on it. She sang this song tenderly, you'll get drawn in your most romantic dream when you listen to this. Featuring Chris Botti on trumpet.
My Baby Just Cares For Me, another song from the late 20's that later popularized by Nina Simone. Also covered by George Michael, Cyndi Lauper, Nat King Cole, Frank Sinatra and many more. Renee's version, again, is one of the best rendition of the song I've ever heard. The fun, playful and naughty side of the song are all over inside her version.
Thanks For The Boogie Ride, a song from 1941 originally brought by Gene Krupa & His Orchestra with Anita O'Day on vocal, brought back again gloriously. Nice swing on this one!
You've Changed, another famous song that was known through the vocal of Billie Holiday, George Michael and Keyshia Cole now appeared again in the most romantic way in a slow swing version. Her voice character really built the feeling of the song perfectly.
Hit The Road Jack. Remember the classic Ray Charles song? Try Renee's version, you'll love this one instantly better than any other version you've heard in many decades.
Lover Man, a famous Billie Holiday track, now arrived in sweet 5 minutes version. Renee's interpretation is drop dead gorgeous.
Plus 4 original songs written by Renee herself, together with David Foster, the producer, completed the album strongly.
Nothing But The Blame, a deep soul and blues touch that will make you fall in love with the song from the first phrase you hear. Great song.
Midnight In Austin Texas, featuring Robert Randolph, the steel guitarist with his deep blues touch. This song shows the best of Renee's blues side. The roaring tunes of Robert's guitar in this song is amazing.
Midnight Man, swingin' in blues song, is just amazing. It's a delicious blend of swing and blues that will make you tap your feet right away.
Hold Me Now, a ballad that I'm sure will become a radio hits very soon everywhere around the world. Lovely, beautiful, sweet, romantic, smooth and tender. Enough said.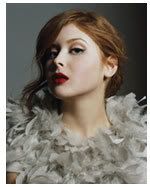 Strong song selections, blending the standard jazz songbook, classic and timeless songs together with great new original songs packed in one very solid album to have this year. This album is a must have, an album that you don't want to miss. It's all worth to wait. Renee sounds more mature, but still as always, so wonderful to listen. She has her own style which makes every song she sings sound so beautiful.  In the world of sound alike and "nothing but the same" styles we're living today, Renee offers something different. This is the album that you will listen over and over again and will never get tired of. With her unique sound, consistency and amazing talents, this album is simply a must have.  buy the CD now at the local CD stores near you.
Tracklist:
01. Midnight Man
02. Lover Man
03. Stars Fell On Alabama
04. My Baby Just Cares For Me
05. When I Fall In Love (featuring Chris Botti)
06. Thanks For The Boogie Ride
07. Hold Me Now
08. Skylark
09. Midnight In Austin Texas (special guest Robert Randolph)
10. Hit The Road Jack
11. You've Changed
12. Ain't We Got Fun
13. Nothing But The Blame
Listen to the Snippet Preview of Skylark


Buy Renee Olstead's Skylark online here
Reviewed by Riandy Kurniawan
Pictures taken from http://reneeolstead.com